Oatmeal breakfast bars are the perfect healthier treat when your craving cinnamon rolls. (Gluten Free, Low Sugar, Dairy Free and Vegan friendly.)
Hold onto your hats lovelies, we have finger licking, dolloping frosting worthy Cinnamon Oatmeal Breakfast Bars coming your way today.
Reasons these Cinnamon Oatmeal Breakfast Bars Rock!
low-sugar
option to being dairy-free and vegan by using vegan butter products!
I've been craving myself a cinnamon roll for some time now. I dream of those puffy cinnamon sugar-swirled pastries with frosting oozing down onto my fingers. Paired with a cup of warm tea, that is the epitome of a perfect Saturday morning.
The unwanted sugar rush and guilt of eating the entire pan are something I'm all too familiar with–no self-control.
These past few weeks, between the thin mint cookies, double chocolate chip cookies, and tagalong cookies,it is pretty evident that I have no self-control.

MY LATEST VIDEOS
My name is Lindsay, and I have no self-control with sweet treats.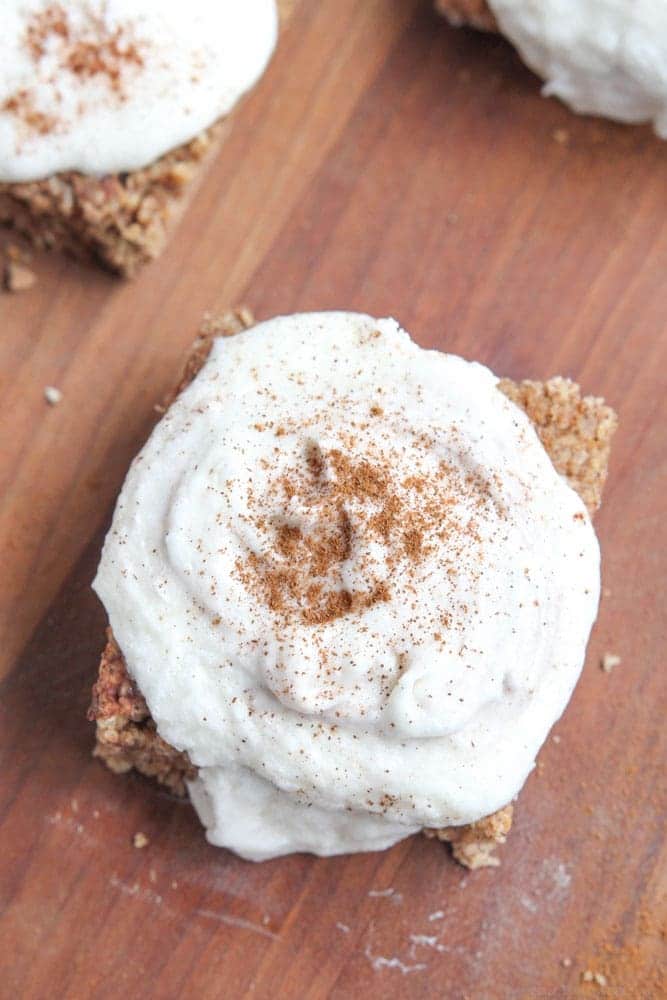 Especially when they involve perfect Cinnamon Oatmeal Breakfast Bars with a sweet vanilla buttercream frosting oozing down onto my fingers. That is the definition of frosting heaven.
Let me tell you a secret though: This frosting is your normal confectionery frosting. However, I've found a way to use less powdered sugar, which qualifies these as low-sugar breakfast bars.
What is my secret weapon you ask?
I know, it sounds very odd and by all means I understand your skepticism. Hear me out.
As I've mentioned in my latest book, potato starch is an amazing thickener for soups and dips. It is also my favorite ingredient for my favorite pre-workout snack, adding some carbs to my routine.
It's the easiest way to get a thick, creamy frosting without using a pound of powdered sugar. Yes, potato starch is my secret weapon.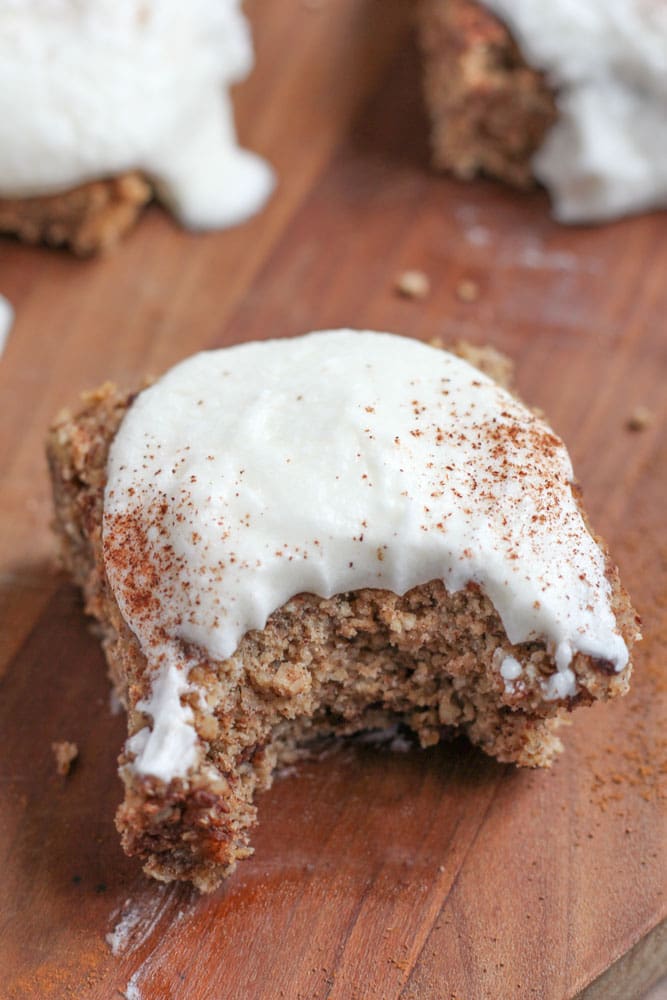 My mother would make this frosting growing up, and it's easily seen as a family recipe you must master. There was no need to twist our arms when teaching my sister and me how to make it. What 10 year old doesn't want to learn how to make frosting?
Having the option to make frosting at any time? Uhhh yeah, count me in on that.
This family frosting recipe has been around for many, many years. I felt a little guilty at first attempting to skinny-fy the recipe, but as soon as I ate a big spoonful of it the guilt quickly went away.
Spreading this heavenly frosting on top of the soft, puffy cinnamon heaven oatmeal bars reminded me of Saturday mornings when I was growing up.
Cinnamon rolls every Saturday was a tradition growing up, which subsequently became a weekend tradition after leaving the house. Without a doubt, it remains the absolutely perfect way to kick off the weekend.
Since going gluten-free, I've been lacking this tradition for a couple of years, but no worries now with this healthier homemade version of cinnamon rolls. These Cinnamon Oatmeal Breakfast Bars are a healthier, gluten-free substitute to fit perfectly into my future Saturday morning tradition.
If you are lacking a Saturday morning tradition, have no fear, Cinnamon Oatmeal Breakfast Bars are here! What do you have planned for your Saturday morning? Making these babies, of course. We'll be breakfast buddies, because I will be making them, too!