Healthy Hot Chocolate Mix made with 2-Ingredients. Low-Sugar, Vegan, Gluten-Free and Dairy-Free. The perfect healthy treat on a cold winter day.
Oooo, yesss. Healthy Hot Chocolate coming your way!
So easy, so simple, and made with just 2-Ingredients.
Seriously, there are zero excuses for not making this right now.
Cocoa Powder.
Cane Sugar.
That is all you need.
Umm, why do we buy the hot chocolate packets in the store? I asked myself that question almost daily once I began eating cleaner and making more things at home.
You can also completely tailor and personalize the sugar content in the hot chocolate when you make it at home. Win!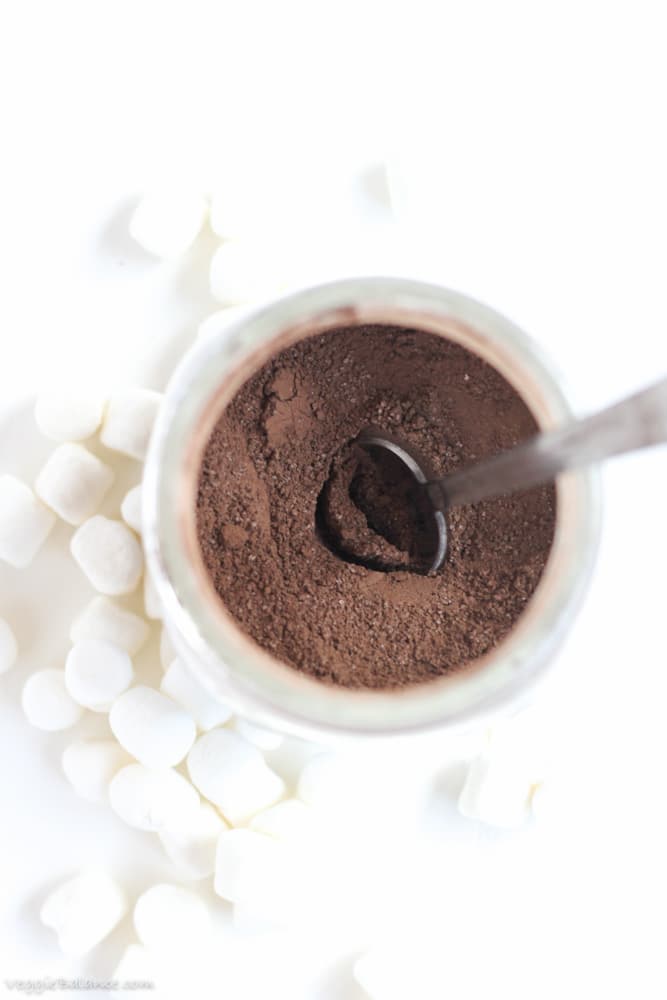 I've been teaching myself to drink hot chocolate with less and less sugar every time I make myself a new batch of this.
I'm currently down to 1/4 cup of sugar in the entire batch! You are more than free to add more, if desired.
My mother just shared with me that she drinks cocoa powder in milk without any sugar or sweetener. Whoa, I'm not sure I'll ever get to that level of epic sugarless cocoa.
That is taking liquid chocolate to a whole new level.
I like the sweetness. This hot chocolate drink gives me a little bit of sugar, the dark rich chocolate flavor, and a warm mug to wrap my fingers around. Destination? I'm in seventh heaven.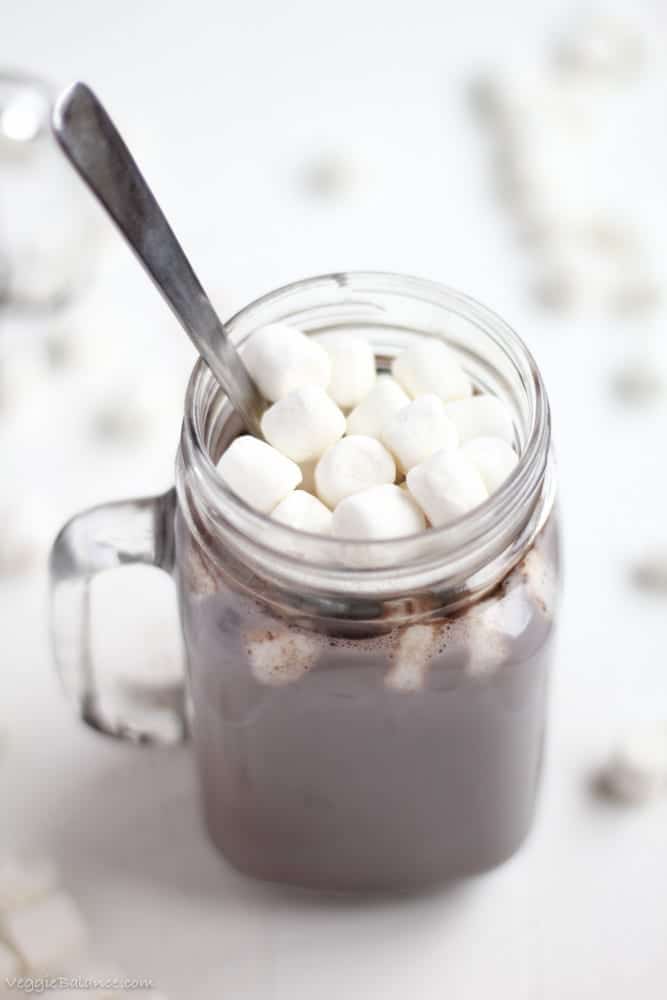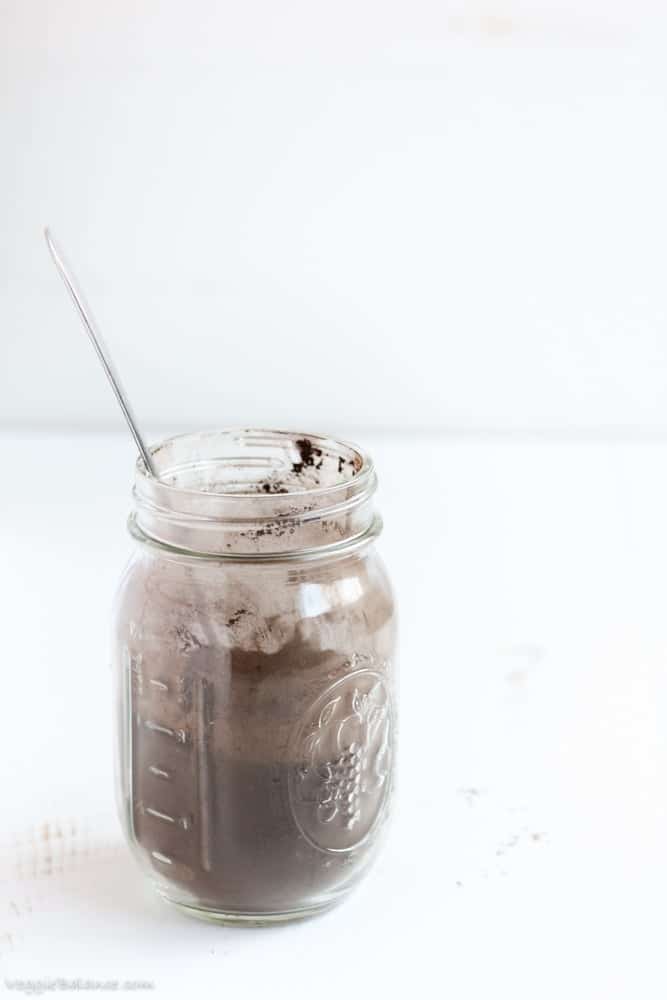 Let's go down memory lane:
There is a memory that always comes to mind when I scoop two spoonfuls of hot chocolate into a warm glass of milk.
My sister rode horses when we grew up; I was the gymnast and she was the horsewoman.
I'd spend many days and hours at the barn. Winter was the worst.
On those cold blustery days, there was almost zero shelter at the riding stable, except for this 'room' above the stalls. There, to my delight, I found a seemingly endless supply of sugar cubes and hot cocoa. It was a 7-year-old's dream.
As I mentioned before, we just didn't have those kinds of treats in the house on a daily basis. When I did have access to such things, I'd totally go ham on it and demolish.
I mean, spoonfuls upon spoonfuls of just hot chocolate in my mouth sans the water or milk. Just plain hot cocoa powder.
Now, every time I make my low-sugar, dairy-free, healthy hot chocolate with almond milk, I chuckle. My, how times have changed.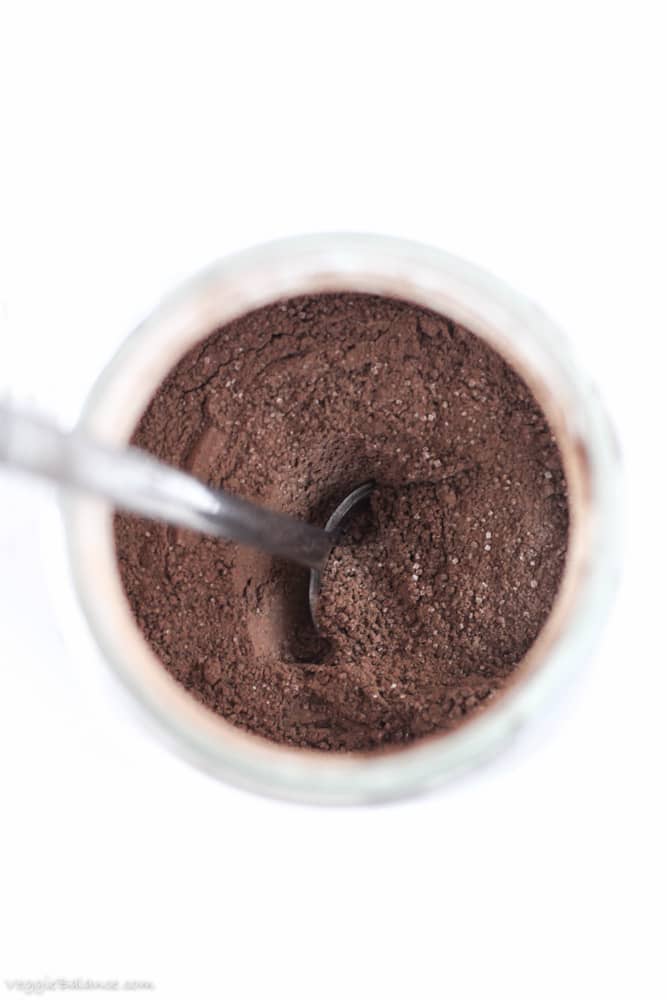 Need a little help on how to make this treat? Check out VeggieBalance YouTube channel and watch the quick video showing just how easy it really is! I'd love to see you over there.
Also, find me on Snapchat (username: VeggieBalance) because I truly love hearing from you guys!
Make some hot chocolate and let's bundle up in blankets and wish this winter away. If I could stay inside and just watch the snow fall all winter, maybe I'd like this season better. Just maybe.