Homemade Peppermints just like your favorite candy Junior Mints. Bring the minty goodness to your table in bite-size fashion. Copycat recipe coming your way!
(Gluten free, Dairy-Free and Vegan friendly)
If there is one thing I've learned in the past year, it's that 99% of the population loves peppermints.
I mean I loveeeeeeeeee chocolate covered peppermints. Growing up (and still to this day) Junior mints are my JAM.
Last year, we published our larger peppermints patties and you all loved it. If there is one thing I've learned also, sometimes people don't read the recipe all the way through. // It's OK, I'm guilty of it too.
When it comes to this peppermints recipe though, YOU HAVE TO READ THE WHOLE RECIPE.
THE SOLUTION TO ALL YOUR PROBLEMS: The trick is slowly adding the milk in with the powdered sugar. Add 1 tablespoon, mix, add another tablespoon, mix, repeat this until it is fully combined and you'll get a little ball of delicious peppermint goodness out of it.
If you pour the milk all in once you'll have a soupy peppermint mess. No bueno.
We don't want that.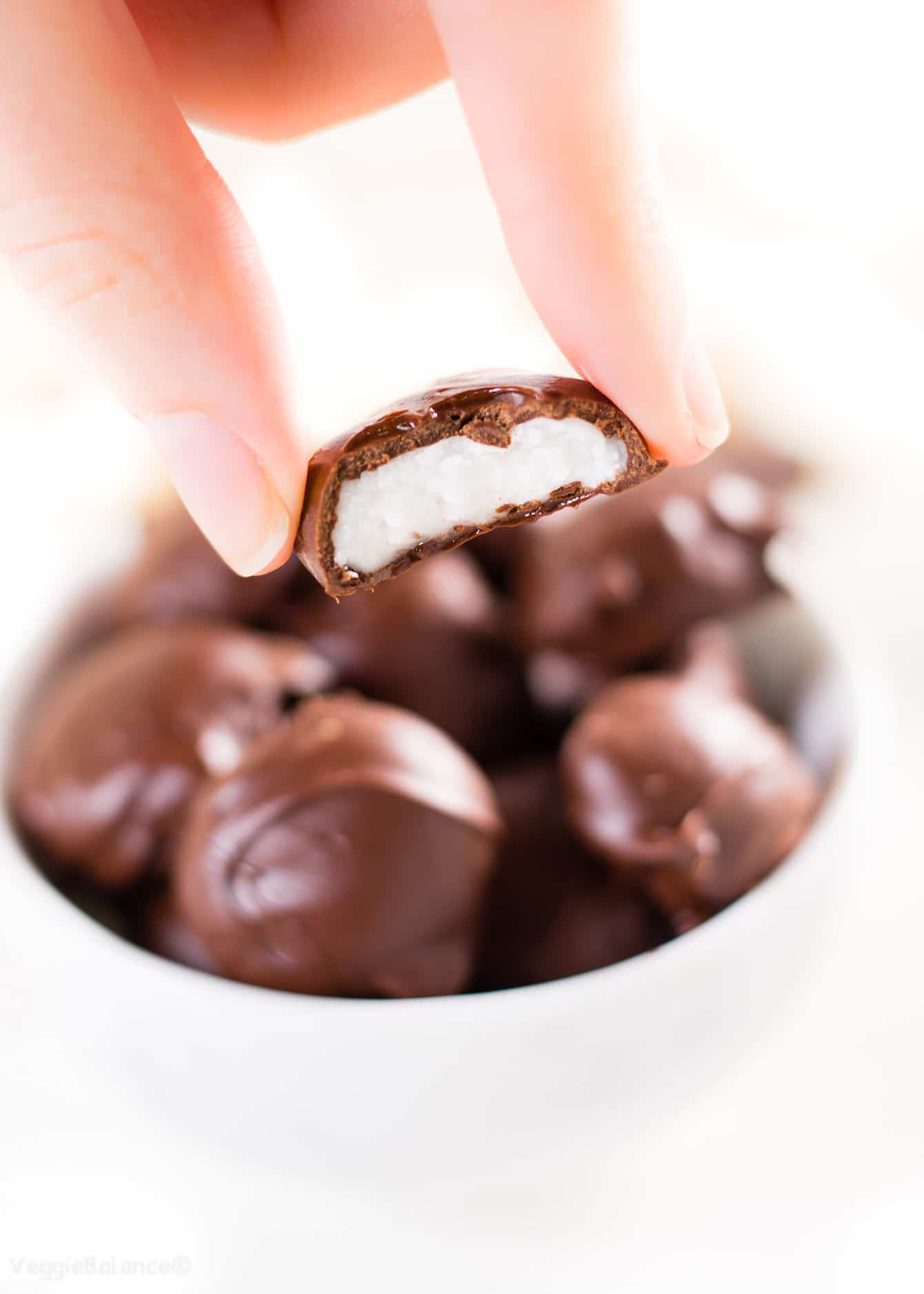 The benefit to me trying to diagnose some readers recipe problems? I had a ton of peppermint dough to play with. Immediately I went to my favorite Junior Mints.
I love large peppermint patties as much as the next guy. But am I the only one who prefers bite-sized mints?
Just plop one in your mouth, let the chocolate melt a bit and then the peppermint flavor takes over and melds with the chocolate. IT IS HEAVEN.
By far one of my favorite treats of all time.
It's the perfect grabable and snackable treat of all time.
Make it for yourself (strongly advise), your family or your best friends. If my estimates are correct, 99% of the population loves homemade peppermints so it's almost a guarantee anyone you make these for is going to love it. 😉