Italian Garlic Bread Twists are a guilty (less) pleasure. Go ahead and dive into this garlicky treat. (Gluten-free, Vegetarian, Vegan)
Fall is coming around the corner. Or so I thought as we are currently experiencing a 90 degree hot and humid day. But besides the point, before this wonky day I was getting the fall bug.
Cool mornings that smell of dew, they always reminds me of the first couple weeks of school waiting for the school bus to arrive. I don't know if that's a good thing, but brings on a nostalgic feeling.
I haven't been in a huge baking bread mood, that is until the fall bug bit me and I am finding excuses to make bread to share and not eat it all myself. Perfectly timed my family came over for dinner. Excuse to make gluten-free garlic bread? I think so.
I made the dough in my bread machine.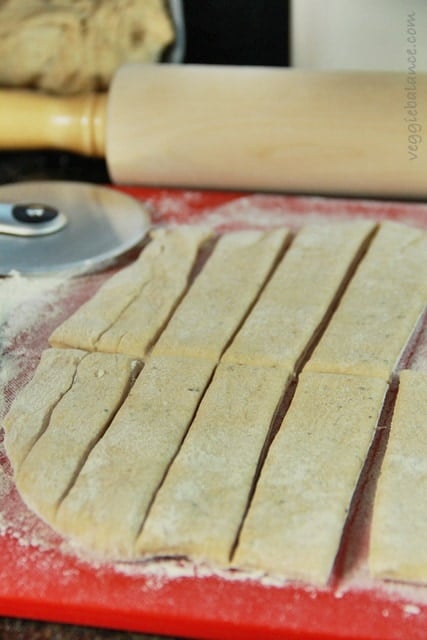 You will want to divide the dough into two balls. Roll them out and then cut like so. I used the 2nd dough ball for a braided bread that I planned on giving away.. that didn't really work, I demolished it in two days. Found out I have a SLAP tear in my shoulder, starting physical therapy to try and avoid surgery has left me in a lot of pain.
Pain + Not working out = sad Lindsay and she eats comfort food.
But luckily the bread is long gone now. Back on track I go. Next time, I immediately get the bread out of my house.
Once you cut your slices you want to twist them up just so perfectly adorable, like this. I didn't really have a technique with them, just twisted them and called it good.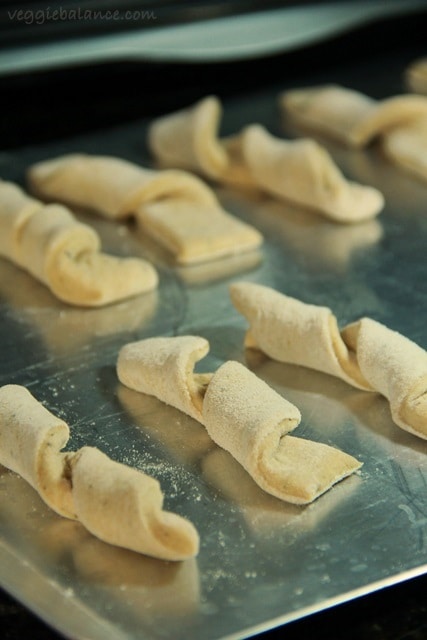 You'll want to let them do a second rise after this till they double in size.
There is one piece of advice I'd advise with this recipe as I experienced it myself. I made these the night ahead as I've done plenty of times before but this time instead of warming back up in a warm oven, I microwaved them. Wrong thing to do, they became chewy instead of the fluffy bread it normally is.