Smashed Sweet Potatoes drenched in garlic butter, making the perfect side dish to any meal. Just 3 easy, natural ingredients needed to make and devour these sweet, tasty sweet potatoes. (Gluten Free, Dairy Free & Vegan Friendly)
These Smashed Sweet Potatoes give me even more reasons to absolutely love sweet potatoes.
As many of you know, it took me a while to join the 'sweet potato train,' but I'm on board now and loving every dish made with this sweet (but also nutritious) ingredient.
These Garlic Butter Smashed Sweet Potatoes are so simple. Only three ingredients are needed!
It just so happens that the three ingredients needed for these smashed sweet potatoes are all on my list of top favorite ingredients:
Garlic . . . More garlic, the better.
Butter (Easily swap out and use dairy-free butter, if needed)
Sweet Potatoes (Holy crap, have sweet potatoes really become a favorite ingredient of mine!?)
TIP:  I found it was easiest to slice sweet potato into 1.5-2 inch disks, then boil in hot water until fork tender.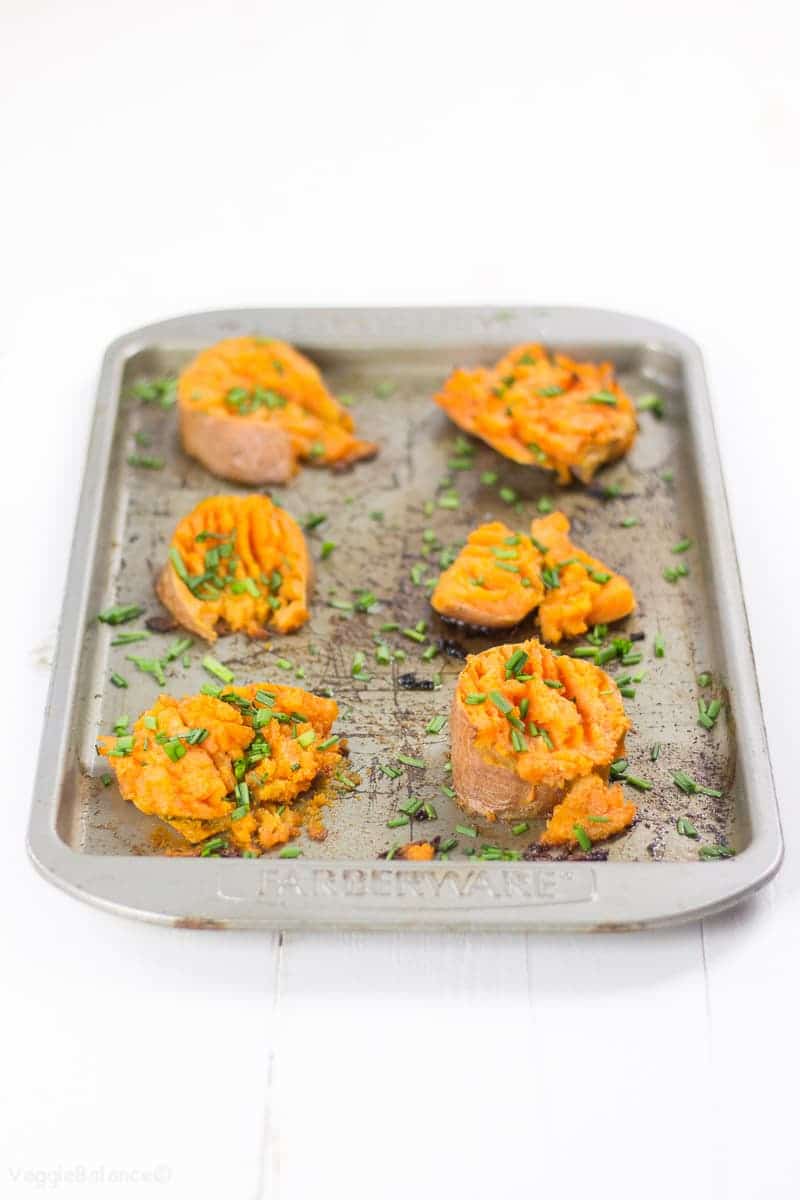 You can 'smash' your potatoes one of two ways: With a fork or with a legit masher utensil. Personally, I like the fork method better. It allowed me to keep the shape of the potato more intact whereas the masher method kind of mimicked a wrecking ball potato splat.
Pictured Potato Left: Used potato masher utensil
Pictured Potato Right: Mashed with a fork
Regardless, the way you smash them they taste the same and are delicious whichever way you choose. In my book, taste is the most important thing; the look of the food is definitely a secondary consideration.
I mean, I know I am a food blogger, so one would think I would be all about the beautiful and meticulously placed meals like the bliss bowls, the perfectly decorated oatmeal bowls, or rainbow smoothies.
Sometimes though, you just need to smash together some basic ingredients and call it a day. These Smashed Sweet Potatoes with Garlic Butter and chives are that day, my friends.