Lemon Tuna Olive Oil Pasta recipe with solid white albacore tuna, freshly squeezed lemon, and a hearty dose of healthy extra virgin olive oil. Refreshing and Easy elevated weeknight dinner or dish for your next dinner party. { Only 5-Ingredients, Gluten-Free & Dairy-Free }
Ready to elevate your next dinner to super-duper expert chef mode kind of dish?? (Heck yeah)
This easy Lemon Tuna Olive Oil Pasta dish is dubbed the expert chef dish in our house.
R loves his dose of tuna, no doubt about it. But the most he ever does with tuna is plop it in a bowl and add pickles and mustard. He eats it straight like that. Gross.
While his method of consumption is rather laid back, he is very choosy about the type of tuna he'll eat. Bumble Bee® White Albacore Tuna with whole chunks in water is the only kind of tuna he will eat. No bueno with tuna in oil. I don't blame him; it grosses out both of us.
Plus, upon opening the can, seeing full chunks of tuna is most definitely a requirement. No mystery meat please, that is just creepy. We all know my stance on creepy meat, like chicken. (blah)
R doesn't cook very much. His cooking involves scrambled eggs and microwaved potatoes, so no surprise that he is satisfied with a simple combination of tuna, mustard, and pickle when he does open a can of tuna on his own.
Let's elevate this to a real person's meal.
When I handed him this dish, I said, "I'm pretty sure this awards me yet another best wife ever award."  (I have many of these awards.)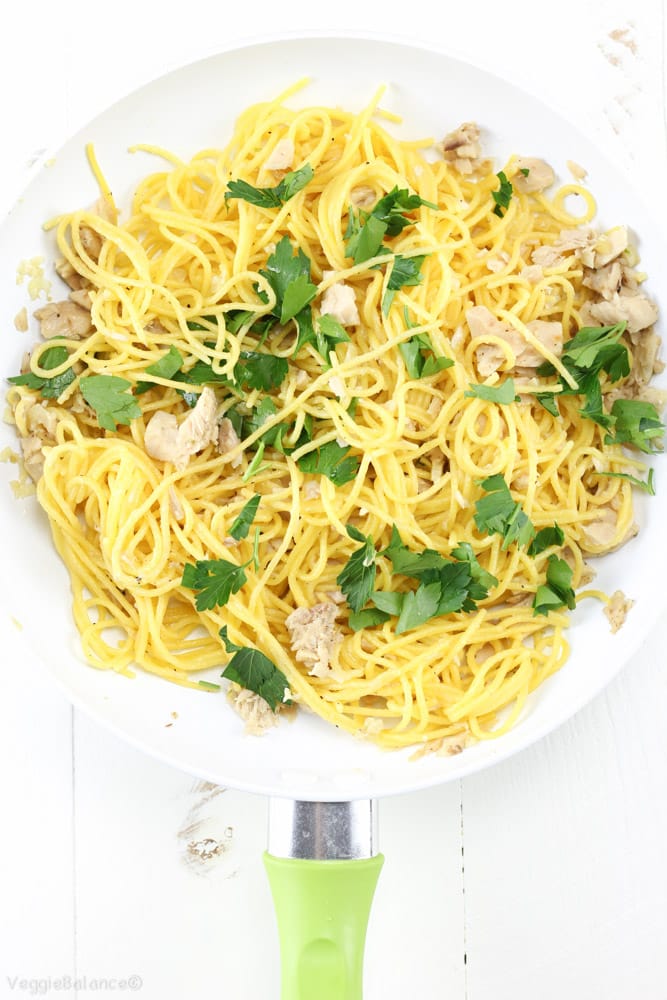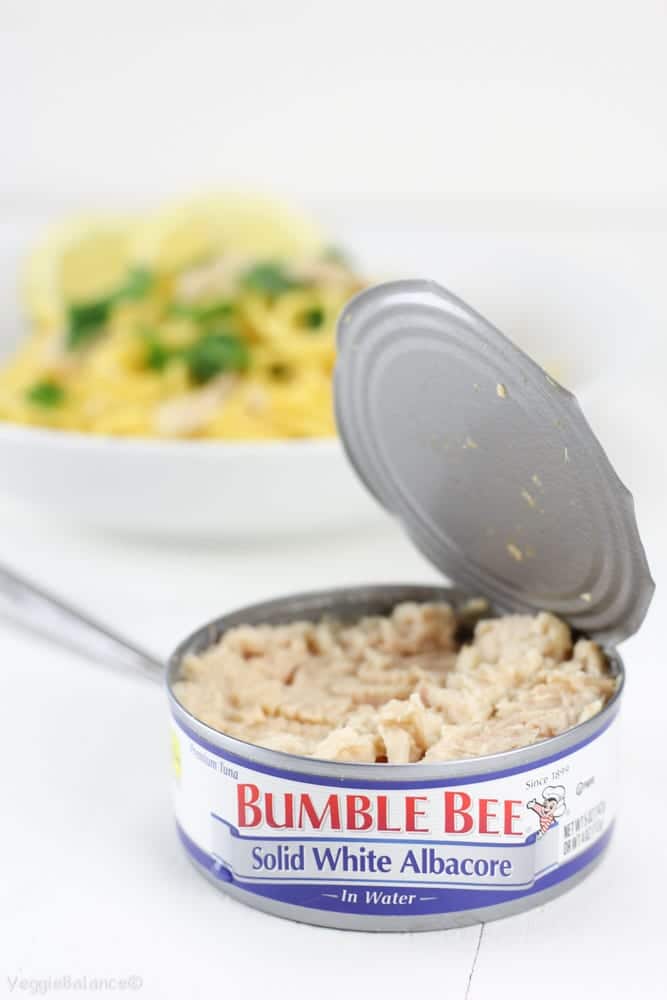 Let's be honest here. Given the amount of flourless chocolate cake, cookies, and food in general that is cooked in this house on a weekly basis, and the fact that I have a happy husband, winning a man's heart is most definitely through his stomach.
Will he make this dish by himself if I'm not home? No, probably not, it would require too much work.
*Sigh*
Sometimes I don't know what to do with him.
5-ingredients, zero prep work, and one pan—is this too much work? (NO)
We've established that if I was not around, he would probably be a lifer at Subway. For breakfast, lunch and dinner. No, seriously.
When I traveled to Ireland a couple years back for three weeks, R admitted the kitchen was not dirtied up once because he ate Subway every single day.
It's up to me to feed him nutritious, protein-packed dishes. Otherwise our money will keep going to Subway. No bueno.
No, we'll quickly whip up a fresh, lemony pasta dish with protein-packed albacore tuna and call that a meal! #fistpoundmoment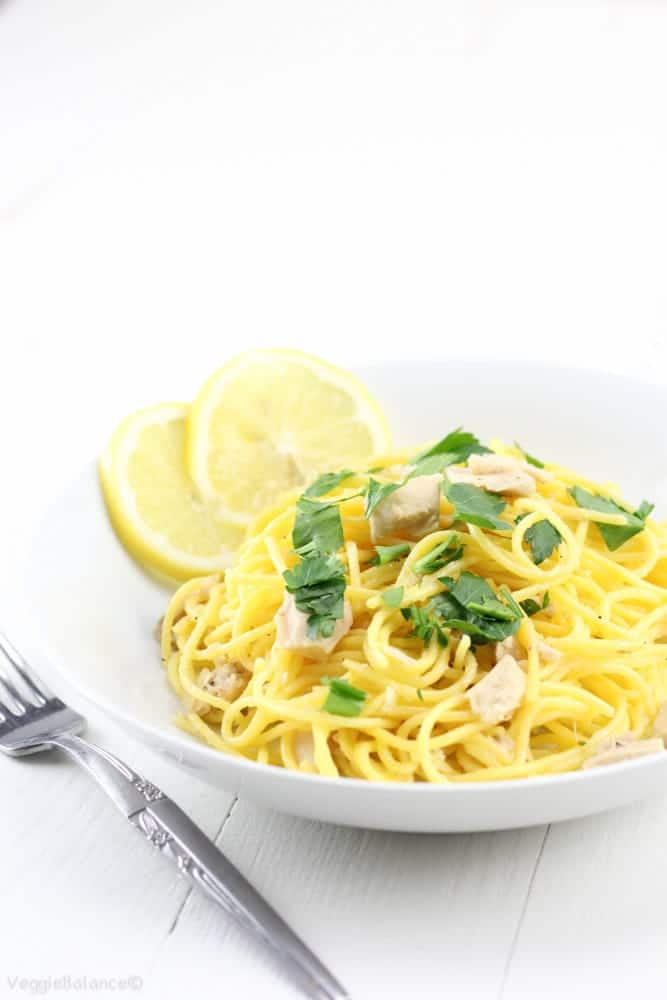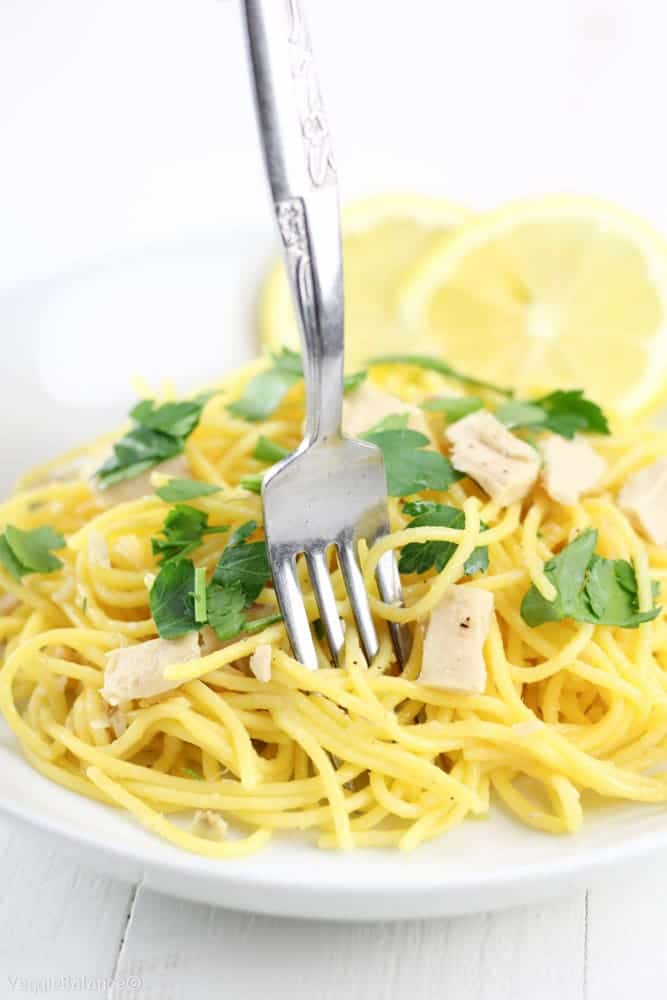 We start by taking corn pasta and adding it to some boiling water.
Add a pinch of salt to the water. This especially helps keep corn pasta from sticking together.
Add the four remaining delicious ingredients (Olive Oil, Garlic, Tuna, and Lemon) to a skillet and we are in business.
Fresh.
Healthy.
Clean.
Classic.
Robust.
Winner, winner, tuna is for dinner!
Lemon Tuna Olive Oil Pasta that is.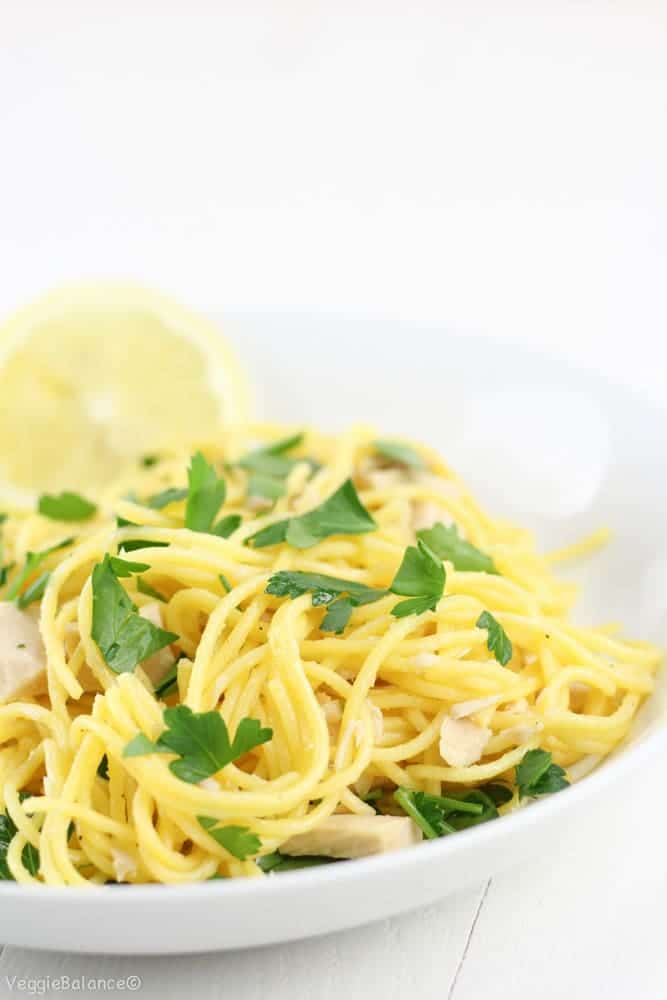 Need a little help making this super easy Lemon Tuna Olive Oil Pasta dish? Check out VeggieBalance YouTube channel and watch the quick video showing just how easy it really is!