Flourless Chocolate Cake recipe is a perfectly decadent, fudgy chocolate cake. This cake requires zero flour which makes it naturally gluten-free! Top it with a dairy-free chocolate ganache and this easy flourless cake is ready to impress.
(Gluten-Free, Dairy-Free, Vegetarian)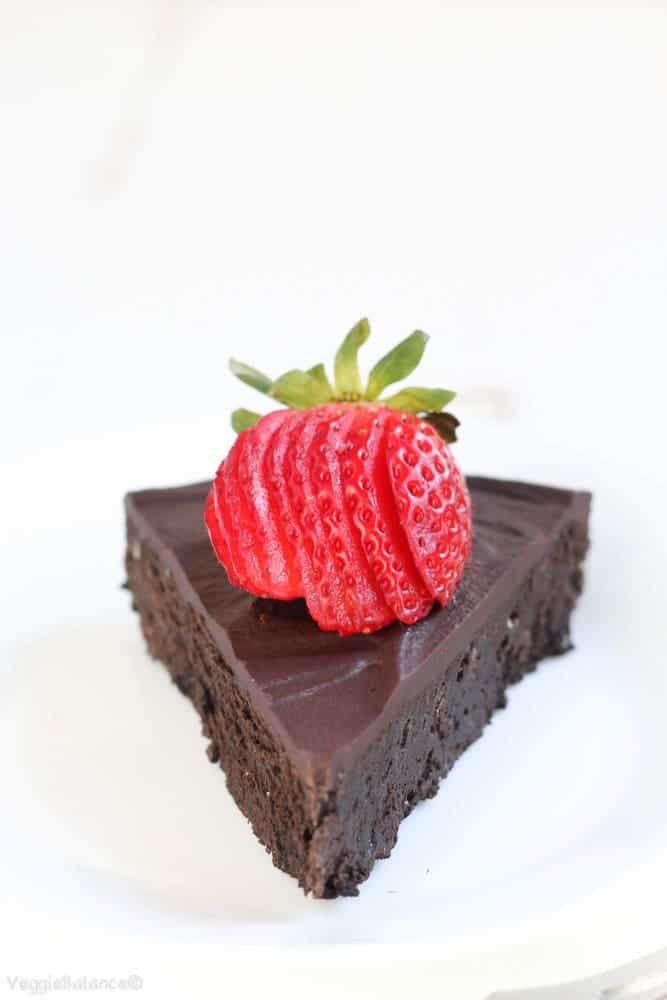 Think chocolate. Delicious chocolate cake with an even more delicious, fudgy, creamy chocolate ganache, topped with a sweet and delicious strawberry.
The bomb diggity bomb, guys. Seriously.
What makes this the best flourless chocolate cake?
It's is 100% flourless which means it is gluten-free!
Easily switched out with dairy-free alternatives to make it dairy-free!
Awesomesauce, right? Fits into so many peoples diets.
This cake will be made at every single possible occasion from here on out.
Gluten-free individuals: We can be gluten-free and eat our cake, too! Best day of my life. If you are looking for a gluten-free chocolate cake recipe that mimics more traditional birthday cake we've got that too.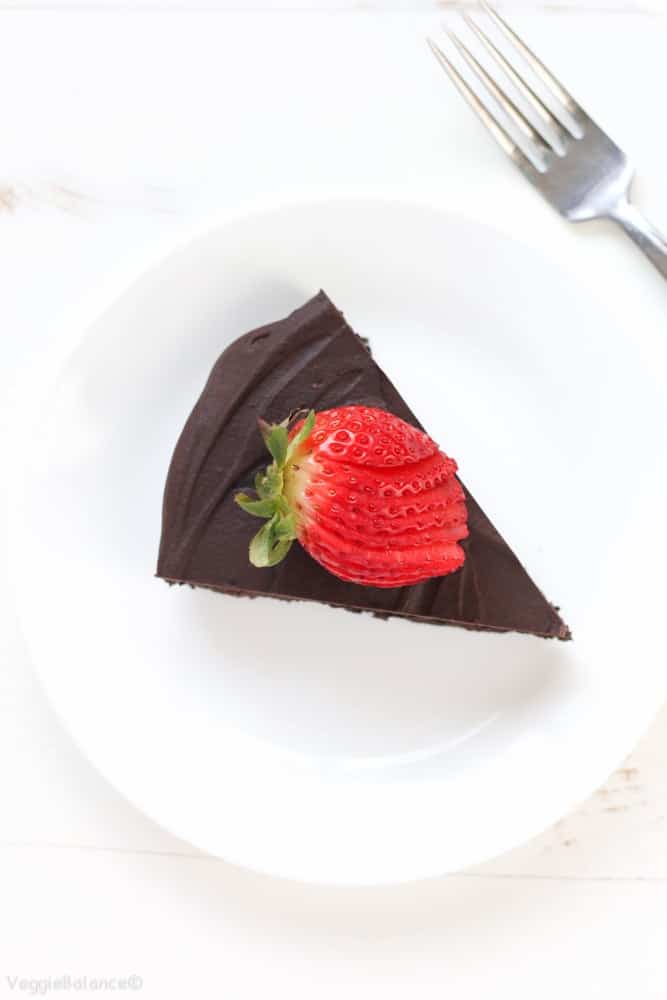 Ways to serve our flourless chocolate cake
Top a decadent slice of this cake with a couple perfectly sweetened strawberries, raspberries
OR scoop of vanilla ice cream. Or our no-churn honey ice cream recipe
This gluten-free flourless chocolate cake has super powers over me.
Make it for a special occasion to make sure you have something to share with that special someone. Best if you have multiple people to share this with.
Otherwise, you'll find yourself with the whole pan, fork in hand, watching Big Bang Theory . . .
It happens.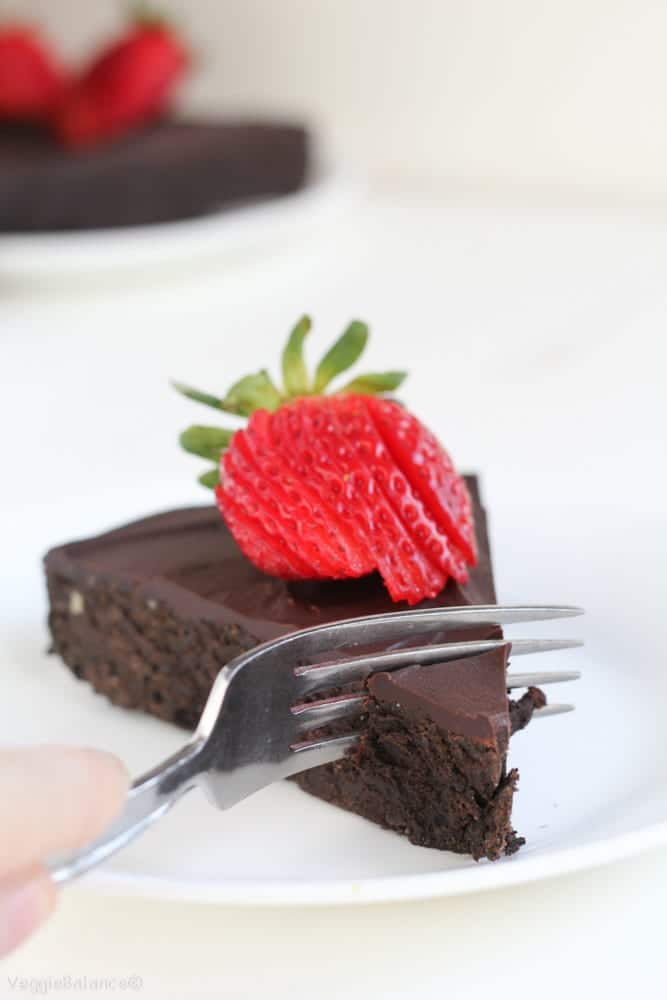 How to make and bake this flourless chocolate cake
I think the biggest struggle for most people is the baking step.
You want to build the foil around your springform pan like a fortress.place the foil down on the counter creating 'X'. With two-four sheets (depending on the size of your foil). Place the springform pan onto the sheets and fold the edges around the pan. There should be at least 1-2 inches around the pan on both sides from a single sheet of foil.
Baking it in the springform pan makes it much easier to get out of the pan without destroying the cake.
However, if you are having troubles still with water leaking in you can bake in a cake pan but still in the water bath.
 I'm afraid it might be slightly harder to get out of the pan if you are not using a springform pan, but if you liberally grease the pan and wait for the cake to fully cool it should work if you just cut and serve straight out of the pan.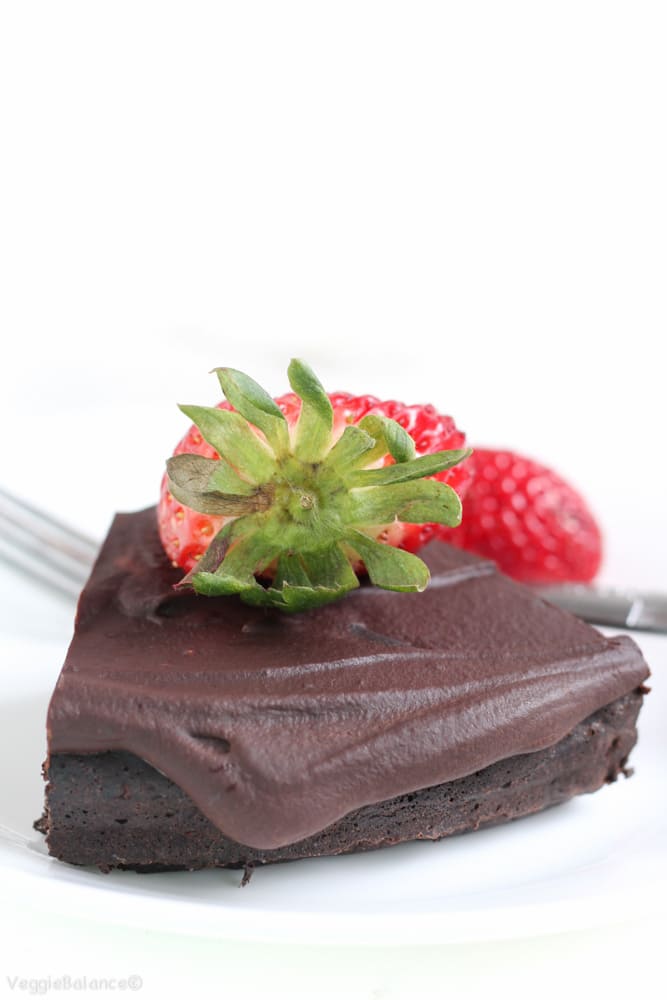 This Gourmet Gluten-Free Flourless Chocolate Cake will wow your guests.
Extra Fudgy.
Creamy Chocolate Ganache.
Decadent.
Irresistible.
Luscious.
Tempting.
Or, if you are making it just for yourself, I don't blame you; I would (and have) too.
Top it with a fresh strawberry though; we need some fresh fruit in the mix to make it ultra-healthy. 😉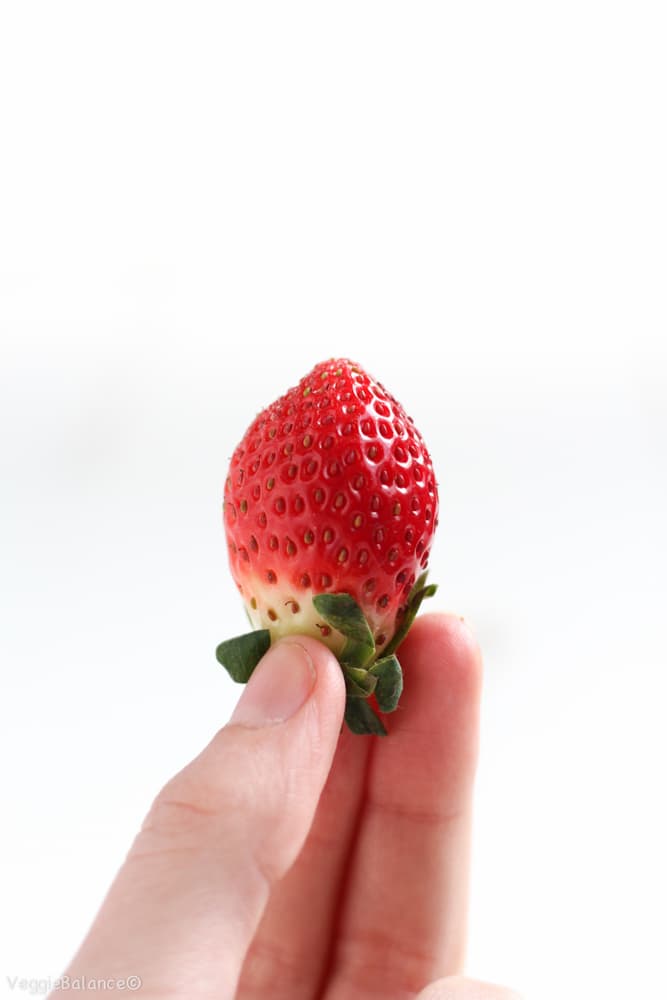 Baking Tips for this delicious Flourless Chocolate Cake.
It is best if made in a springform pan
This was made with both varieties of my favorite gluten-free and dairy-free chocolate chips: Mini Variety or Dark Chocolate Chips
This cake is extremely rich : You do not need a huge slice of it to be satisfied. Nutrition Facts are based on smaller portioned sizes for this reason.