Peanut Butter Blossoms Cookie recipe made healthy, skinnier, and with no butter, oil, or flour. These cookies are gluten-free yet still delicious with all the flavor. Made with just 5-Ingredients.
When I say how much I love cookies, I'm not kidding. These healthy Peanut Butter Blossoms Cookies are by far my favorite type of cookie. It goes back to the peanut butter and chocolate combination. It always goes back to that peanut butter and chocolate combination; they just go together.
Ever scoop out a spoonful of peanut butter from the jar, top chocolate chips onto the spoon, and expertly devour that sophisticated dessert right off the spoon?
No? Is that just me?
Pretty much these peanut butter blossom cookies are just that *cough* sophisticated dessert in cookie form.
Do you need convincing how well peanut butter and chocolate go together?
Step One: I first suggest you at least TRY the spoon dessert; it is mighty handy for a quick dessert (and truly delicious, I might add.)
Step Two: Then, I advise you to make the cookies. Follow these steps, in order, because you must have a quick, delicious snack before making the actual dessert. Yep.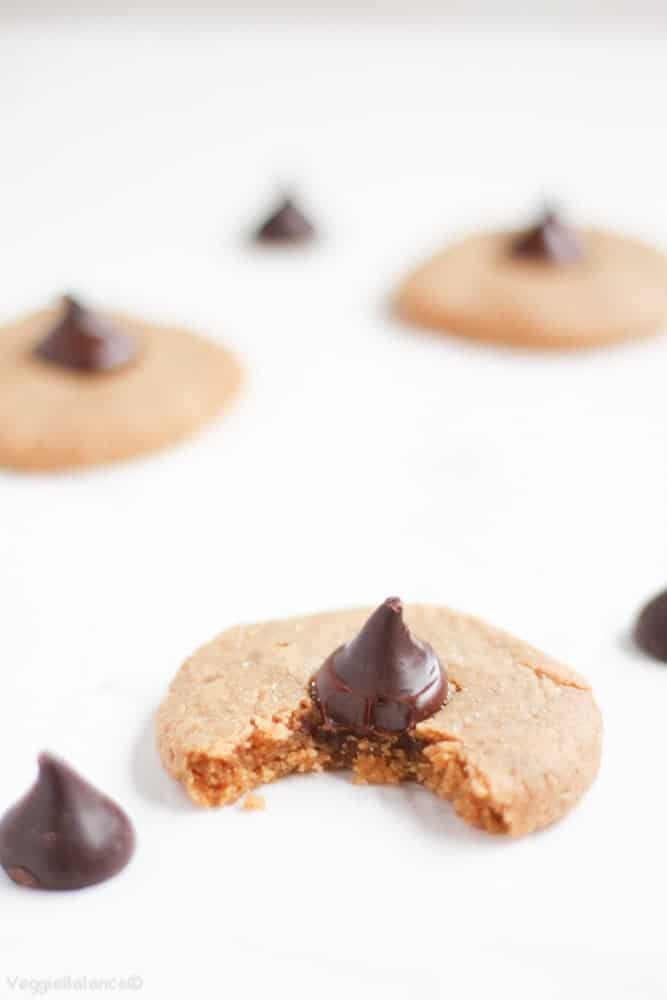 Chocolate and Peanut Butter have a very successful, steady, and long track record:
Chocolate Peanut Butter Granola
Chocolate Peanut Butter Oatmeal (because these most definitely belong in breakfast, too)
Healthy Peanut Butter Buckeyes
More specifically though, cookies. Cookies are the epitome of happiness. I know I said last week that blueberry muffins are happiness in muffin form, but cookies are just plain, bottled up happiness.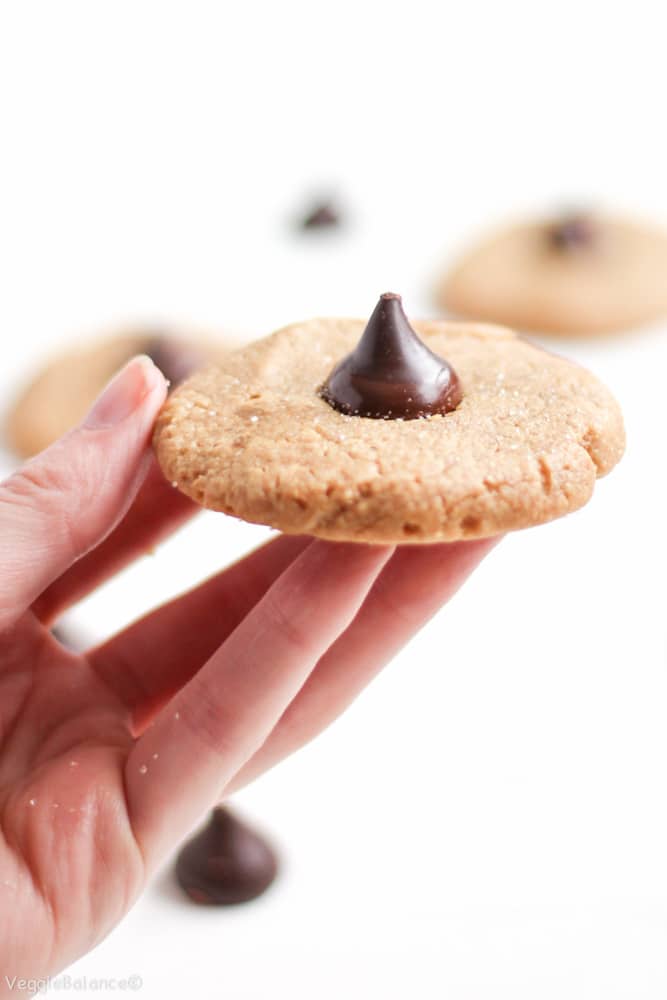 Speaking of happiness, have you seen the movie Inside Out? Well, I fortunately had the pleasure to cuddle up on the couch this weekend to watch it. I have to say, it melted my heart, made me cry, and all around made me think about what goes through my mind when it comes to cookies.
My inner happy subconscious immediately goes wild with cookies around. This just means that cookies need to be in my life more frequently. (Yeah, I like that idea.)
Seriously though, if you haven't done so already, watch the movie. Of course, Pixar yet again makes an absolute knock-out movie.
Also, I have an extreme weakness for talking animals and imaginary characters. So pretty much any movie they make always tugs at my heartstrings.
How to Train Your Dragon. Oh my word, another heartstring trigger that caused this (at the time) 24 year old to buy the movie. (I never buy movies – like never).
I'm pretty sure Inside Out s going to be on my list to purchase.
My name is Lindsay, I am 26 years old, and own only children's movies.
Oh, and I have zero children of my own.
That's my life.  I digress.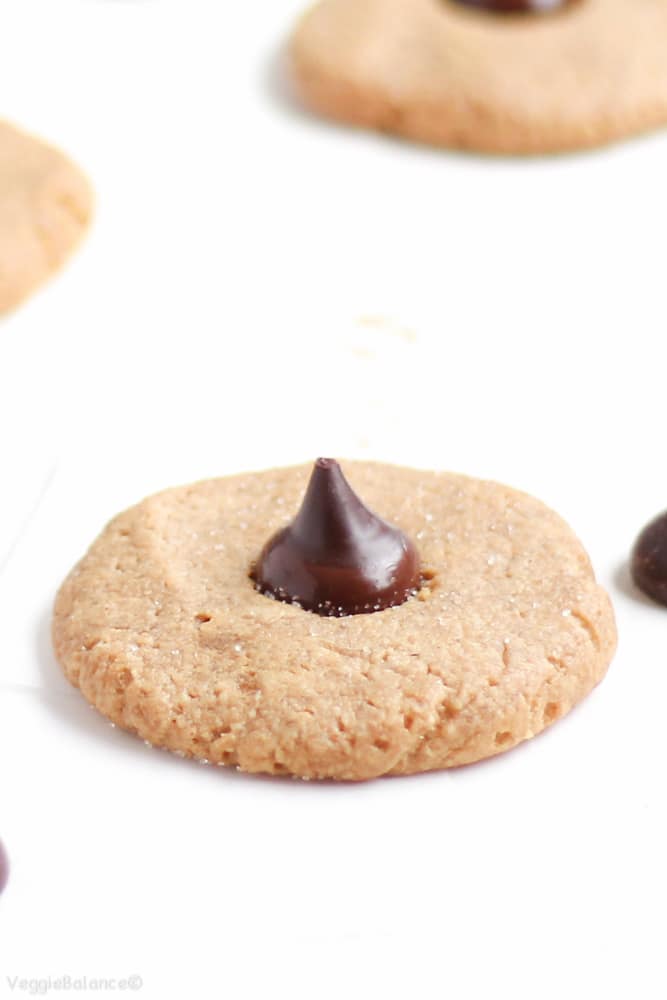 Now, back to Peanut Butter Blossoms:
Chewy.
Chocolaty.
Peanut Buttery.
Fresh Baked.
Flourless.
Extraordinary.
Scrumptious.
Lip-Smacking.
Melt-In-Your-Mouth.
Oh, and healthy? These Peanut Butter Blossom cookies are a dream come true.
Pillowy peanut butter chocolate heaven.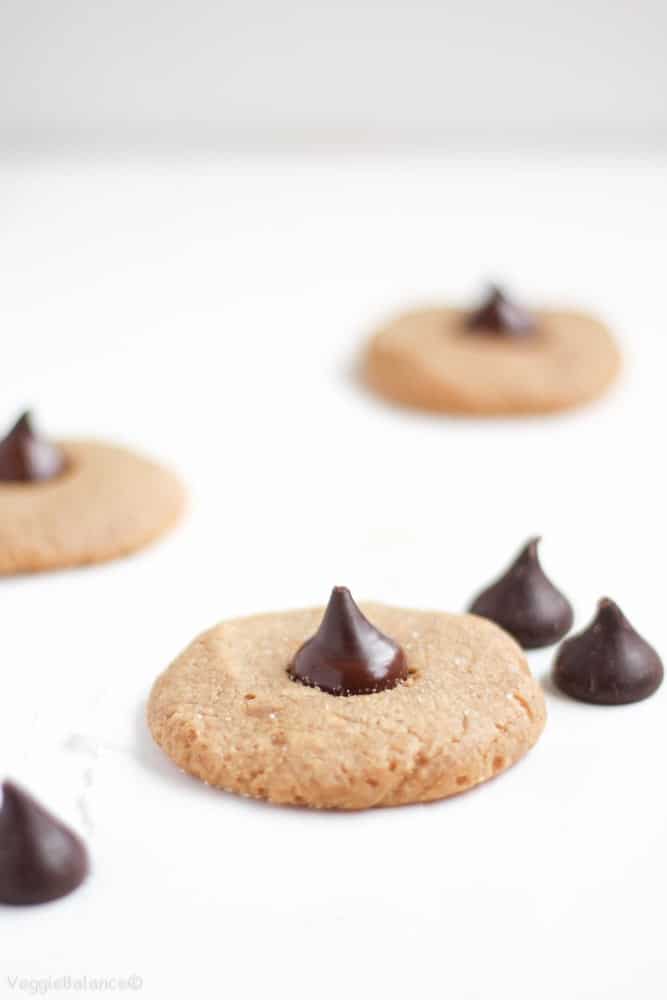 Need a little help on how to make these easy Peanut Butter Blossoms? Check out VeggieBalance YouTube channel and watch the quick video showing just how easy it really is! I'd love to see you over there.
My expert foodie suggestion: Let's make ourselves a warm cup of hot chocolate and pair it with some delicious peanut butter blossom cookies. Put on an epic children's movie and that is what I call a perfect Friday night.
Is this 26 year old starting to act old? Yep. Accepting it, with no apologies.
To be a holiday spin on these check out these Allergy Friendly Chocolate Hearts recipe.