Roasted Brussel Sprouts with Bacon, Apples recipe brings the best of savory sweet salty goodness home with your veggies. Don't settle for boring brussel sprouts.
(Gluten-Free, Dairy-Free, Nut-Free, Low-Carb)
Random fact about me: I can't stand reheated brussel sprouts. I won't eat them unless they come freshly roasted from the oven.
I mean, if I was starving and I had nothing else around and HAD to eat them, I would. Truly not something I'd want to eat by choice.
Making the Perfect Oven Roasted Brussel Sprouts
Toss those sprouts. Tossing the brussel sprouts every so often while cooking with help them cook evenly and while the bacon begins cooking allows them to be evenly coated in delicious bacon grease.
Add the bacon raw? Some have asked why you can't just add cooked bacon later. I wouldn't. Allowing the bacon to cook with the apples and brussel sprouts really does do a heavenly salty sweet flavor you won't want to miss.
Rustle up a pan of these freshly roasted brussel sprouts out of the oven and prepare yourself to HAND OVER THE ENTIRE PAN.
I'm odd, I know. But I feel we have this honesty train here where I'll share how quirky I am to the entire world. Sharing it all to the entire world, that's not weird at all.
When you add some bacon and sweet apples to the mix, eating the entire pan is actually not out of the question. So. Good.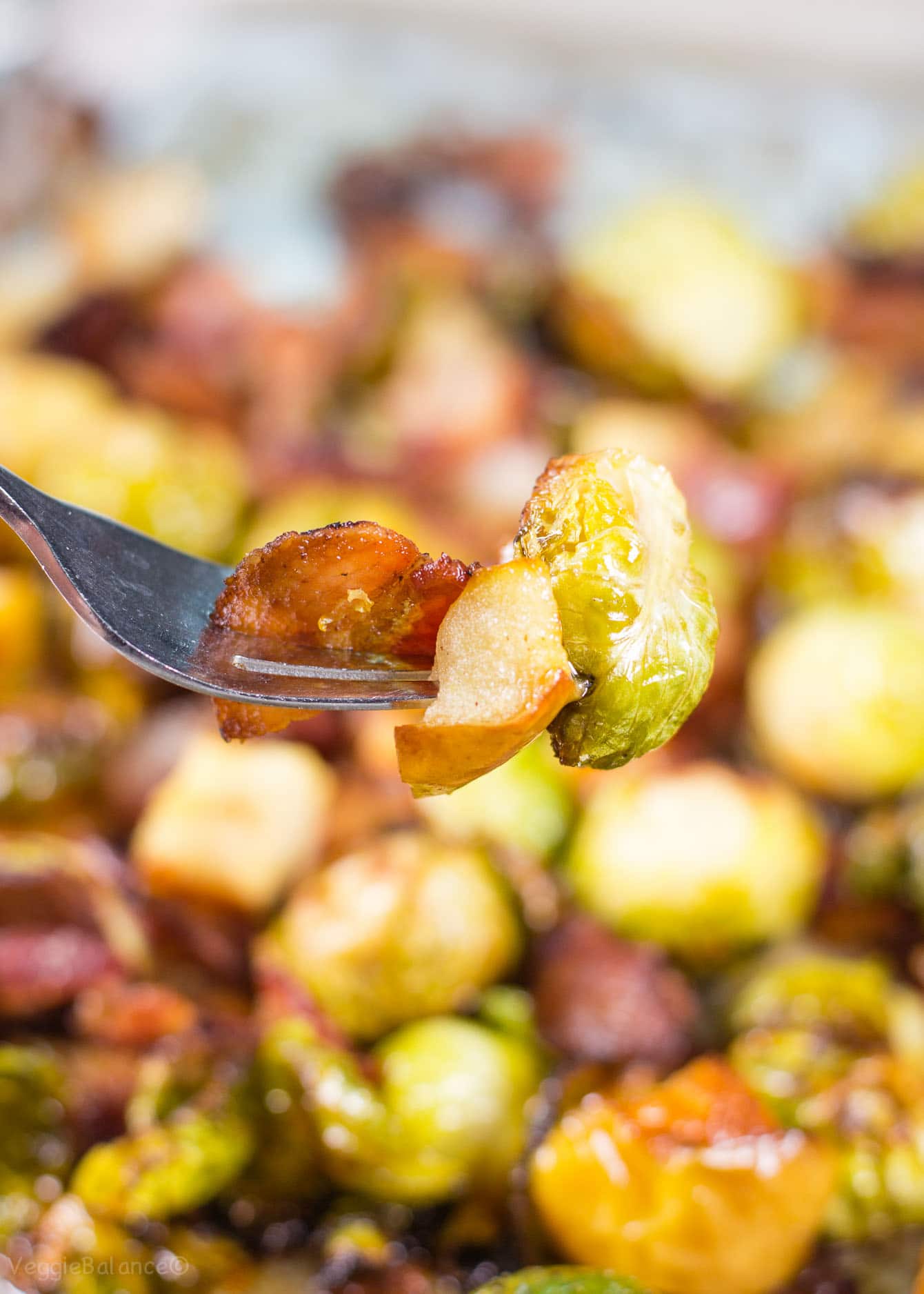 Like our best-ever roasted broccoli – I can eat that for dinner all by itself. These Roasted Brussel Sprouts with Bacon and Apples are right up there.
Pan Roasted versus Over Roasted Brussel Sprouts
Pan Roasted. It 100% a option here. Some may even prefer it if you've got the time to keep an eye on the pan and don't mind the bacon splatter. Go for it.
Oven Roasted. Personally my preference. It contains the bacon grease from going all over my kitchen counters and instead stays inside the oven. It also is more of a place it in there and forget it mentality in the oven compared to the pan roasted method.
My mother never made them when we were growing up. I think it had something to do with the fact she was forced to eat them when she was growing up. If I was forced to eat re-heated brussel sprouts I don't know if I'd ever want eat them ever again either.
Thankfully, my mother saved me from hating brussel sprouts and now I'm old enough to be able to make them how I want to make them. With bacon.
How to Reheat these Brussel Sprouts Up
Warning. The sprouts will smell no matter what you do. This is not a take it to work meal unless your co-workers really love you.
I've found re-heating them up IN THE OVEN is actually way more delicious than using the microwave so if that is an option.
Set the upper broiler on Low – Place the dish under the broiler for about 5-8 minutes. Keep an eye on it to avoid from burning.
It keeps the sprouts and bacon crispy and just like when you made it the first night.
Add a little healthy sweetness with the apples and this is how we do it.
Child of the 90s – did you just break out in song??
So if you've always hated brussel sprouts you've got to try roasting them with bacon and apples. I promise, this will not disappoint. Even brussel sprout pessimist can tolerate it when there is bacon involved. Right?