Slow Cooker Barbecue Meatballs will satiate anyone's cravings sans the gluten. Quickly whip up a batch of our gluten-free meatballs, freeze them for later or throw them into a slow cooker with a sweet bbq sauce to simmer in. Husband approved.
(Gluten Free, Dairy Free)
Yes, yes, another recipe for entertaining! You'd think at this rate I'd have friends and family over all the time. No, my love for easy peasy delicious finger food is just that strong.
So while these definitely are in the entertaining recipe realm, I personally think these blur the lines and cross over into meal territory. Especially with a side of roasted broccoli and a little bit of rice. Yessss.
But if  you insist on being strict or picky about what food dishes belong where? These are great for entertaining.
If you are the more lazy-cooking lover type and think "whatever is is my fridge is dinner" – these are meals for us.
Slow cooker meatballs are a perfect last-minute go-to.
My favorite thing to do is make a large batch of them and freeze them for those "crap, company is coming over!" moments.
I often agonize over what to make while family is over. It's not that they are picky, we share a lot of the same tastes. I just want to bring my "A" game because, hey, they're family!
What I've come to realize that makes a dish a winner on all fronts when entertaining:
Slow Cooker – Throw it in the pot and forget it. The point of entertaining is to be part of the action and the slow cooker gives you a way to do it all. Your guests will see how easy it is and ask for the recipe once they sink their teeth in.
4 ingredients or less – Fewer ingredients is always better.
Natural ingredients – Going into line with our fewer-ingredients-the-better … but also going along without the velveeta cheese and processed sauces that we don't need in our lives.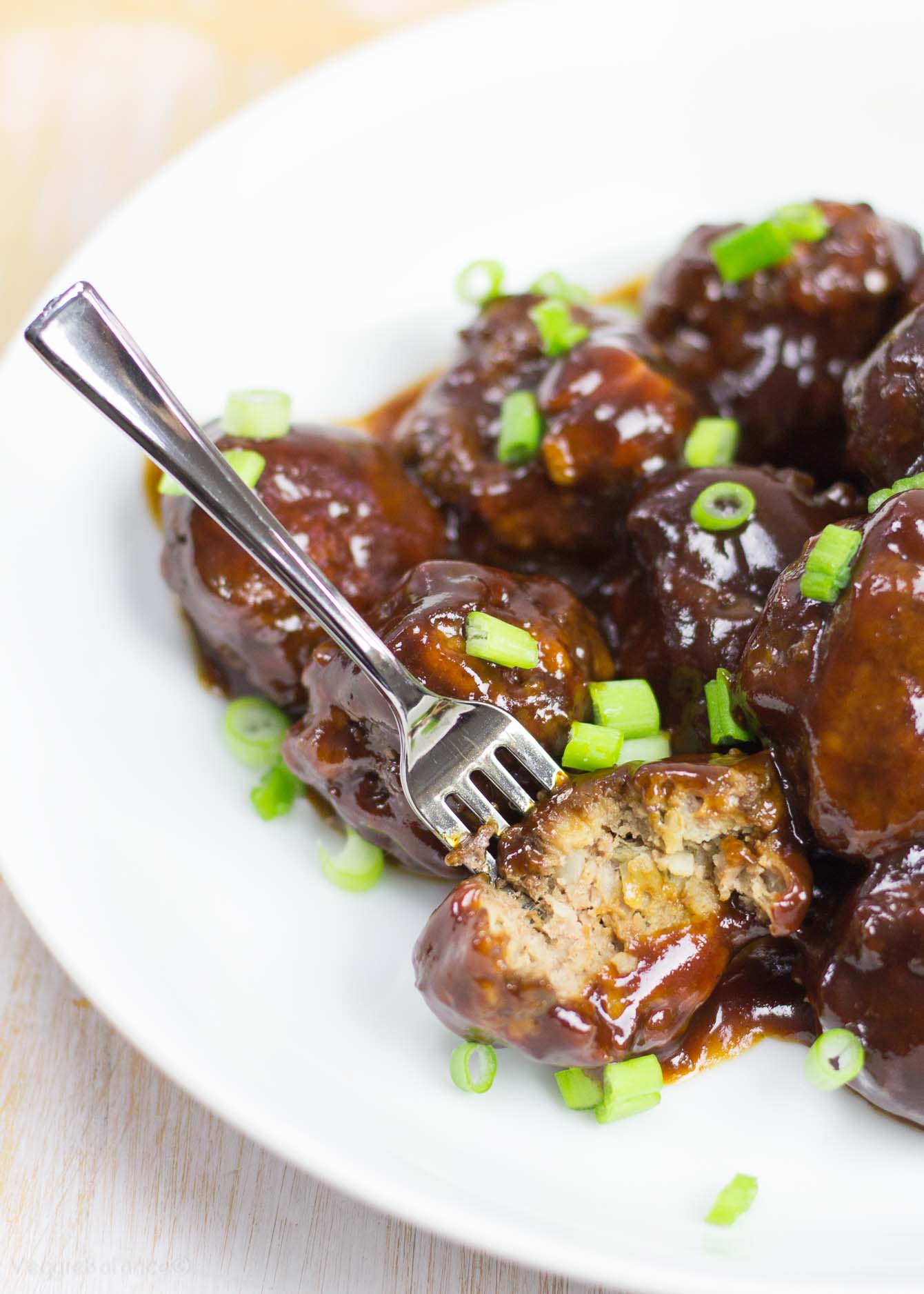 Making the perfect meatballs
As you know, I like to keep things simple – and that goes for my gluten free meatballs as well. I know many account for 1/2 of beef and 1/2 of pork. Honestly, I don't have time for that.
With the right amount of seasoning and perfect amount of binder we have a moist gluten-free meatball either way. Let's be honest, once it simmers in a sweet barbecue sauce you'll never be able to tell the difference anyways.
Whether you make these for your next get together or join me in the belief that these totally count as dinner, these sweet slow cooker barbecue meatballs are perfect for any occasion.