Sweet Potato Fries Oven Baked to crispy perfection using just 3 ingredients. We'll show you how to make the perfect crispy fry (without any frying) simply baking in the oven. Hello healthy snack!
(Gluten-Free, Dairy-Free, Low-Sugar, Nut-Free, Vegetarian, Vegan)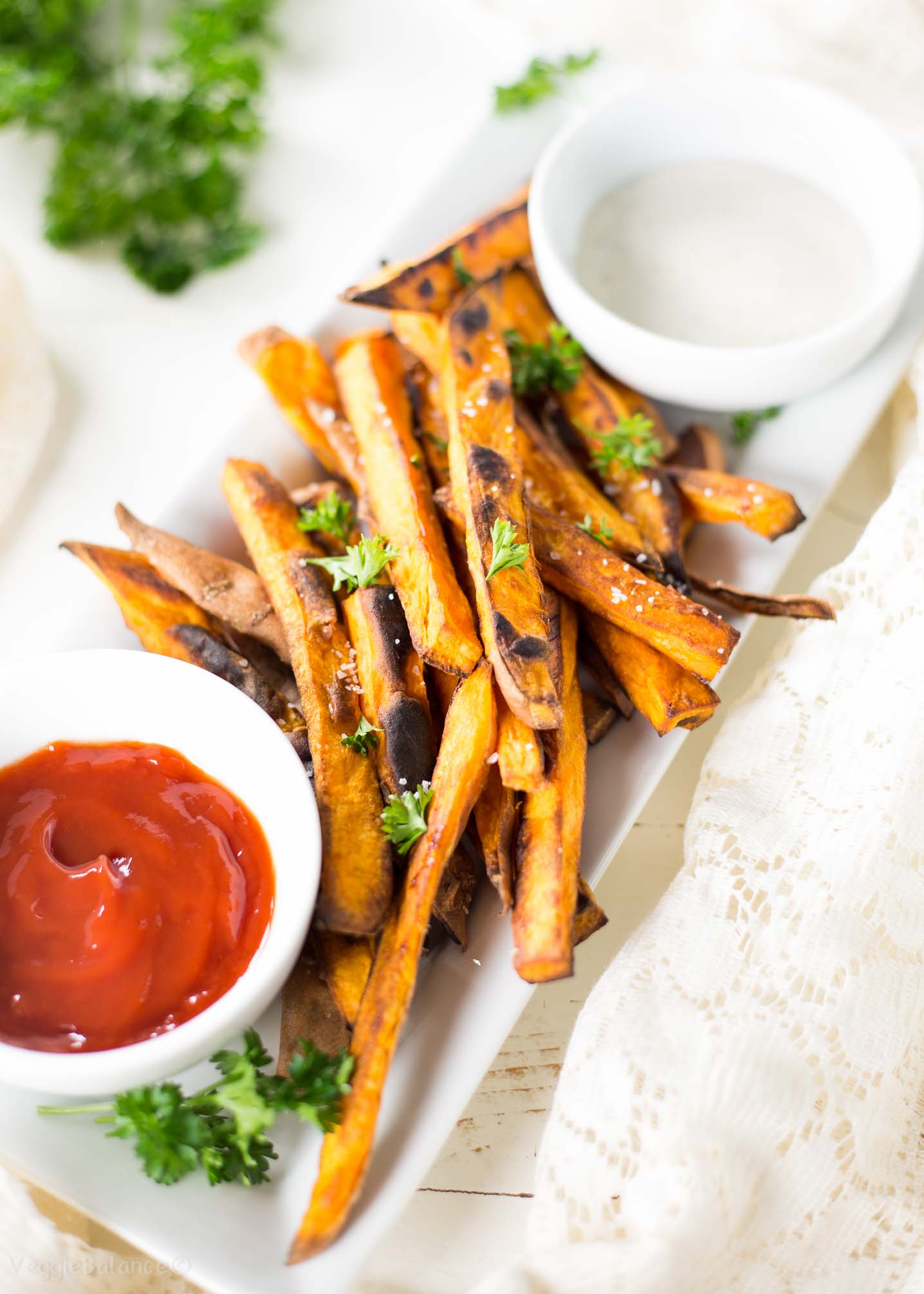 Oh heavenly fries, you are THE comfort foods of all comfort foods. Seriously.
Fries are my weakness. Give me a massive bag of fries and I will be your friend forever. Seriously.
Now there is a strong division in our household.
So being the awesome wife I am, I'll make sweet potato fries for him every once in a while.
It has taken a few tries but I'm going to show you how to get make those perfect sweet potato fries without any frying involved (because fryers terrify me) and it's healthier to make these puppies by baking in the oven!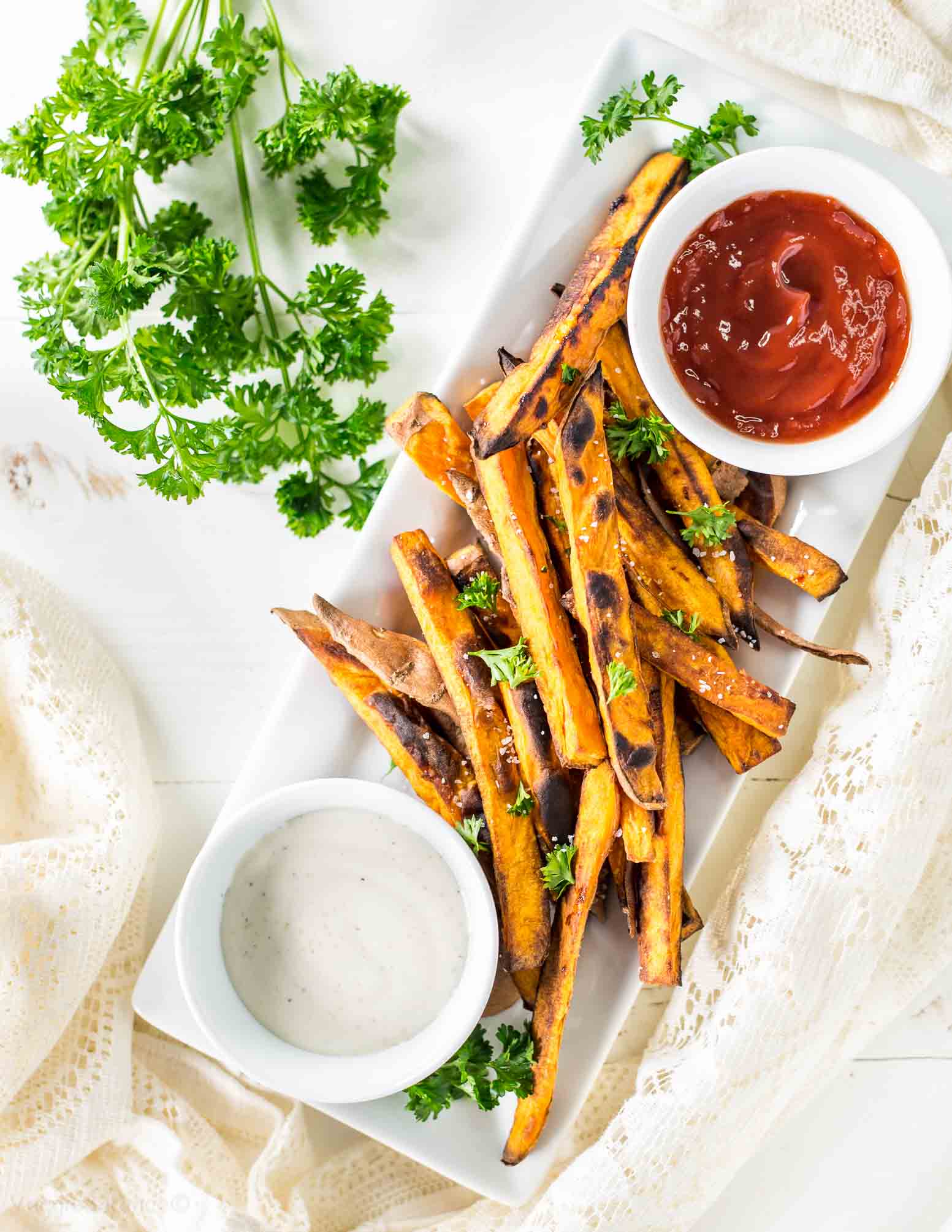 How to get the perfect Crispy Oven Baked Sweet Potato Fries
Evenly chop your sweet potato fries the best you can.
Allow the fries to sit in cold water and soak up to 30-45 minutes. This step is an absolute gamechanger. You'll find that the fries will get crispy on the outside AND the inside
Salt AFTER you bake. The salt will keep the moisture in with the fries so salting after the bake is key to crispy oven baked sweet potato fries.
Use parchment paper. I've tried multiple baking surfaces and the parchment paper is great for easy clean-up, allows the fries to crisp but not overly burn AND makes it easy to toss the cooking fries every time and again.
Extra steps for the perfect sweet potato fries.
Some people SWEAR that lightly coating the fries with cornstarch helps. I've tried it and I'm not sold.  It's a extra step and requires using a bag. We all know how I feel about extra steps. They taste great without the cornstarch BUT if you'd like to try you'll need just about 2 teaspoons to coat 2 sweet potatoes worth of cut sweet potato fries.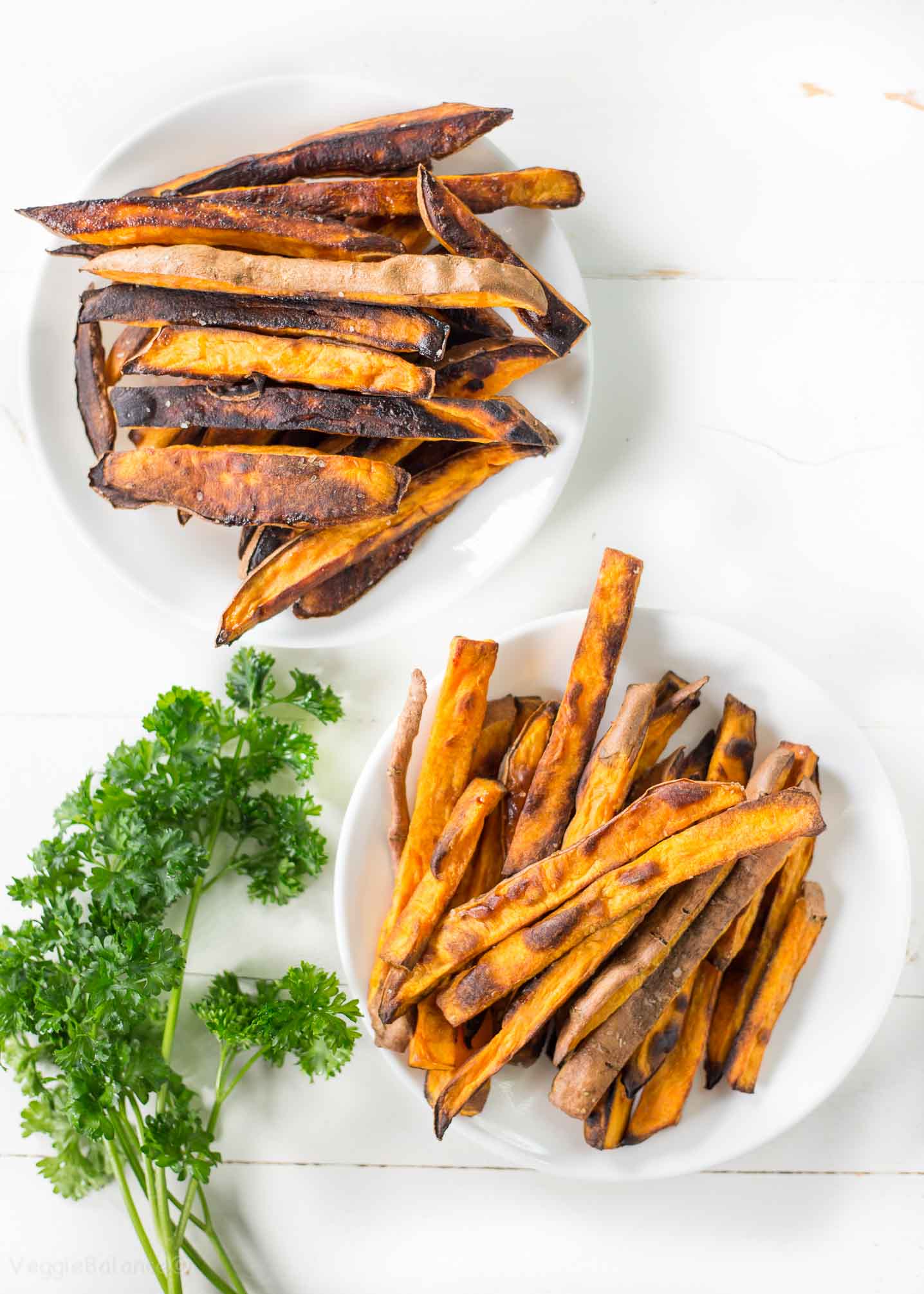 Is there a difference between baking with parchment paper and not? Yes.
Parchment Paper – It help prevent the sweet potato fries from burning. It allows the fries to brown and crisp without overly burning them. You also don't have to flip your sweet potato fries as often.
Using aluminum foil is an option but I found the results similar to using a well oiled aluminum pan. Very crispy fries to the point of burnt on the outside.
Oiled Aluminum Pan without parchment paper means your fries will get very crispy and burnt on some fries even if you continually flip them every 5-10 minutes.
See the results above. Top one is without parchment paper.
Need a Carb-Load but something healthy?
The simple ingredients you need for these banging oven baked sweet potato fries.
Sweet Potatoes
Olive Oil
Salt
Dip in our epic homemade ranch dressing and we are in business. R find that combination odd but I think it'd delicious.
Baked potato fries are seriously something I can get on board of for dinner every night. Whatcha think?