Baked Potato Fries recipe with Buffalo Dip using creamy, high protein Greek yogurt as a healthy alternative. Make a winner for entertaining your next party.
(Gluten-Free, Vegetarian, Low-Sugar, Nut-Free)
Today I give you something so easy and so delicious that it most definitely needs to be made ASAP; like really, make it now. Say hello to Blue Cheese Baked Potato Fries!
These baked potato fries are absolutely perfect to make for the upcoming holidays. My advice is to make a batch for yourself and then make another batch for when friends and family come over.
Let me properly introduce you to my buffalo saucy friend. I bring you blue cheese Baked Potato Fries with buffalo dipping sauce (let the drooling commence).
Best of all, this recipe is not only easy beyond words, but it contains just 5 main ingredients and is definitely a better choice compared to the traditional appetizers. (Chip dip, you are the death of me.)
Note: Another tasty alternative to chip dip; Buffalo Hummus!
Luckily, I also now have this buffalo dip sauce with oh so yummy blue cheese chunks. Maybe I can even officially break up with the chip dip, like seriously.
This is all made possible with a little friend called yogurt.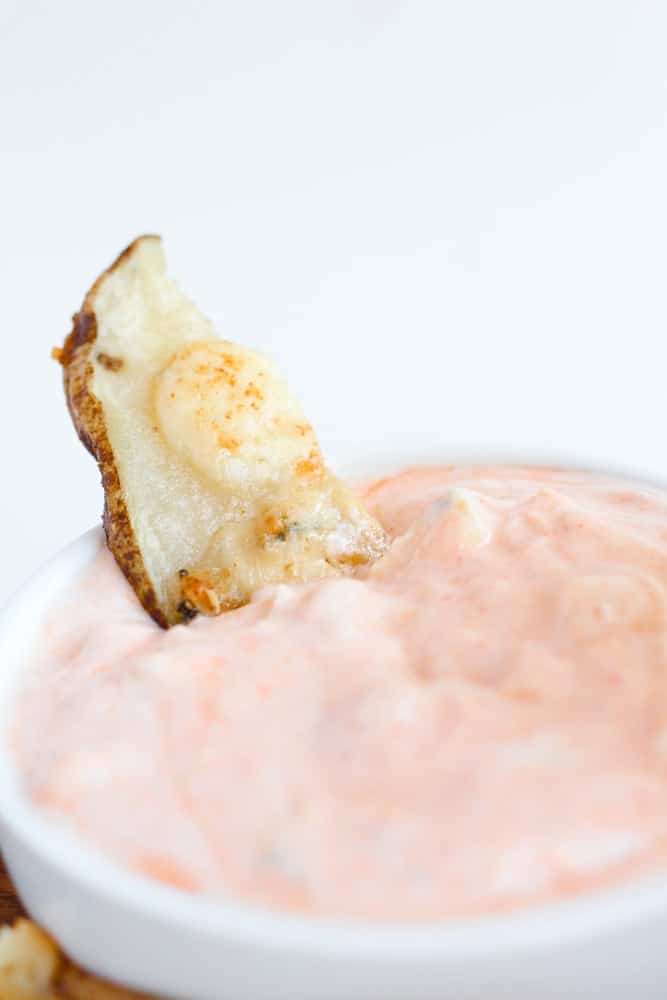 Yogurt is a wondrous ingredient that doesn't just belong in smoothies or breakfast recipes like this overnight oatmeal. Oh no, this protein packed yogurt is the base of this buffalo dip.
Say hello to the best dip I've had in a very long time.
I can almost guarantee I would eat something like that. I could eat it with just about anything–maybe a spoon, perhaps veggies, or more importantly with these blue cheesy, garlicky potato fries (out of this world good).
It is surprising that buffalo yogurt has yet to be created; I mean, who doesn't love buffalo-ly creamy delicious dips? Or just buffalo sauce by itself? Am I a little in love with buffalo sauce? Perhaps.
Adding buffalo sauce to a creamy Greek Yogurt = Best Idea Ever.
I'm already on that bandwagon.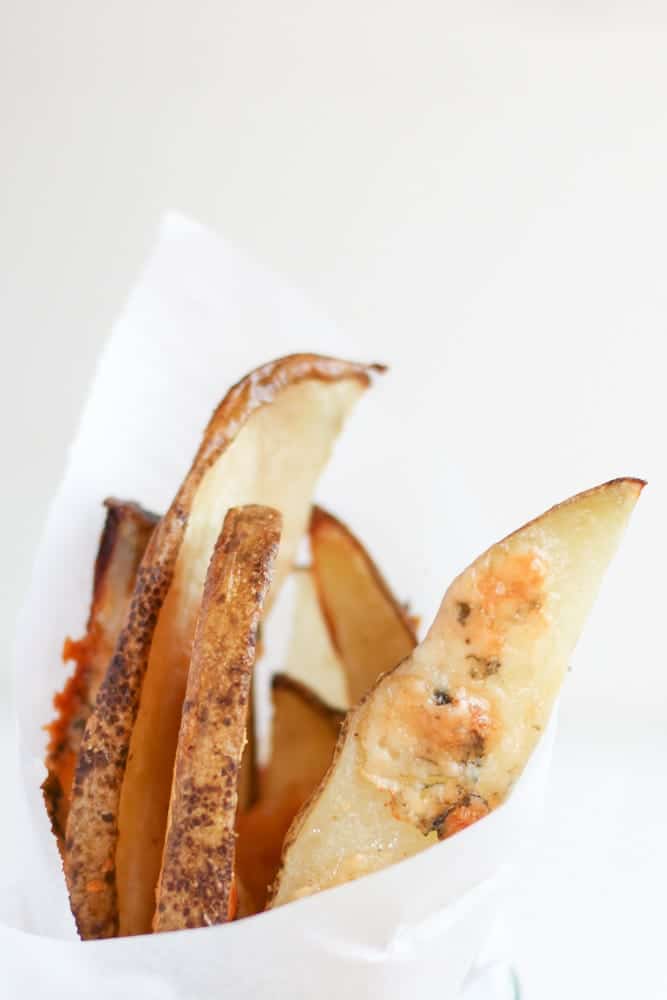 I am also the poster child for keeping recipes easy. Ugh, long recipes with a bunch of ingredients are the plague, right?
These blue cheese baked potato fries are easy beyond belief.
The buffalo dip?  Dude, it is easier to make than the potato fries.
Easy. I call that a must in life. Plus, the sooner they are made, the quicker you can demolish them. That is a win on all fronts.
I would like to mention this dip also goes perfectly with potato chips—totally perfect together. Like best friends forever that belong together.
If you desire to make your life even easier, you can make just the dip, enjoy them with a bag of chips, and call it a double win.
Either way, the dip belongs on your table this holiday season.
I'm officially no longer full from Thanksgiving after eating 50-billion tamales. I'm fully ready for some more holiday food as the season kicks into full swing! Who is with me!? ????????