Tomato mozzarella chicken, fresh off the grill with a balsamic glaze and more balsamic drizzle. Healthy and Gluten Free. (Gluten-free, Low-sugar, Paleo Friendly)
It might be slightly official, this flavor combination of tomato, basil and mozzarella is the diggity bomb. Tomato mozzarella chicken right off the grill with a balsamic glaze and more balsamic drizzle. #HEAVEN!
I never try to use these ingredients during the winter. No use making this when you can't pick the basil and tomatoes right out of your garden. There is a difference people. During the summer though, I make everything I possibly can with this combo. Including last weeks Caprese Salad with balsamic. Yeah, I know it's similar, but suck it up and make this, you won't be disappointed.
I can't believe it's July already. My garden is starting to kick some butt but it saddens me knowing it's all going to be gone in another couple of months.  .
Sadness.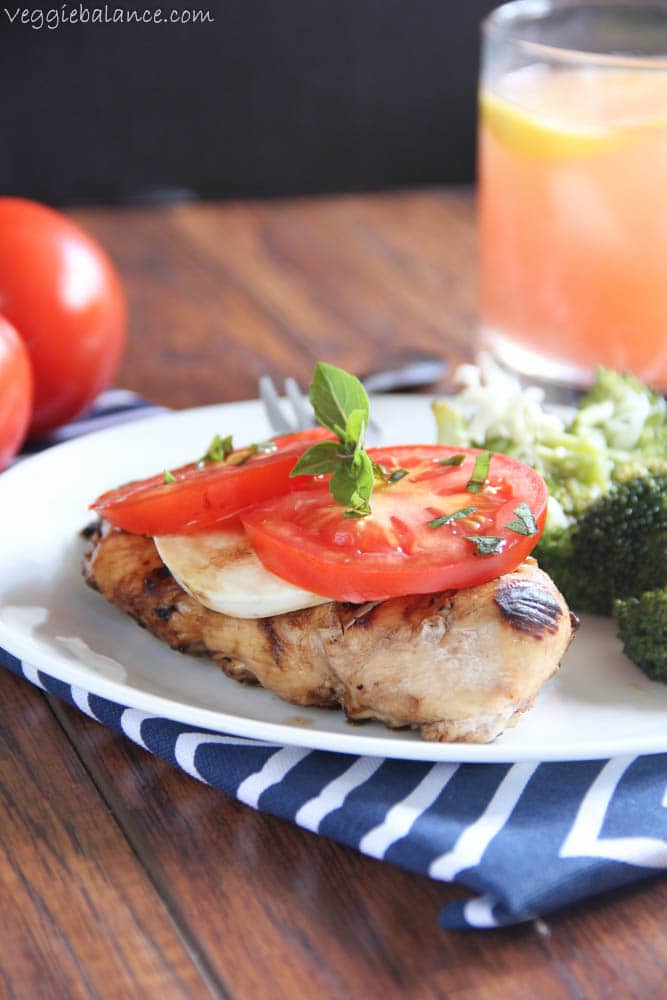 What is even more sad? My lettuce now two years in a row has been a very sad excuse of a lettuce patch. I've tried everything. They grow but end up becoming stunted and don't grow much more. *Sigh* . . .  Next year.
First, I have to take my yard back from the bunnies. This morning we had three bunnies chilling in our front yard. They don't even budge when you walk by them. Its like they're telling me I don't own the yard, it is their turf.
That's right I have a gang of bunnies that destroy my plants and have even began chewing on my deck railings. (Yes, I've been trying the natural deterrent approaches)
Note to self: Do not inhale the habanero / garlic spray. Will not be able to breath for a couple of seconds.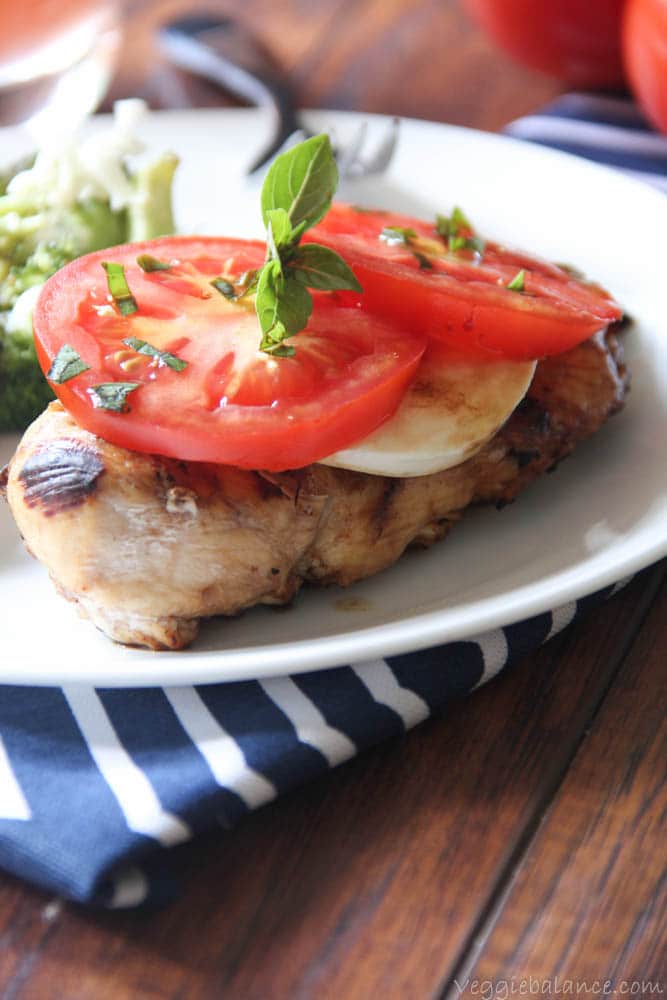 Along those same lines I have a chipmunk that lives in my yard and Cooper is dead set on getting him out of the garden bed. He tries to be a beagle but fails miserably. There should not be 3 bunnies and multiple chipmunks in the yard when there is beagle. They run the yard.
He gets a pass though, he's a sweet little puppy. Plus, he's the next USA soccer goalie in my eyes. (Momma's bias opinion? Yep.)
For everyone out there celebrating the 4th of July please be safe.
Maybe I'll actually be able to fix the 'X' tan on my back that began at the very beginning of summer. Who am I kidding, that is and will be stuck there all year. There is no evening that out. #summertanfail
Fire those grills up, pour yourself a pretty drink, and enjoy the time with your family.
I know we will! 🙂