Healthy Broccoli Salad recipe with easy homemade mayonnaise dressing, bacon and onions. Make this broccoli salad vegetarian easily with a few swaps that we mention below.
(Gluten-Free, Dairy-Free, Vegetarian friendly)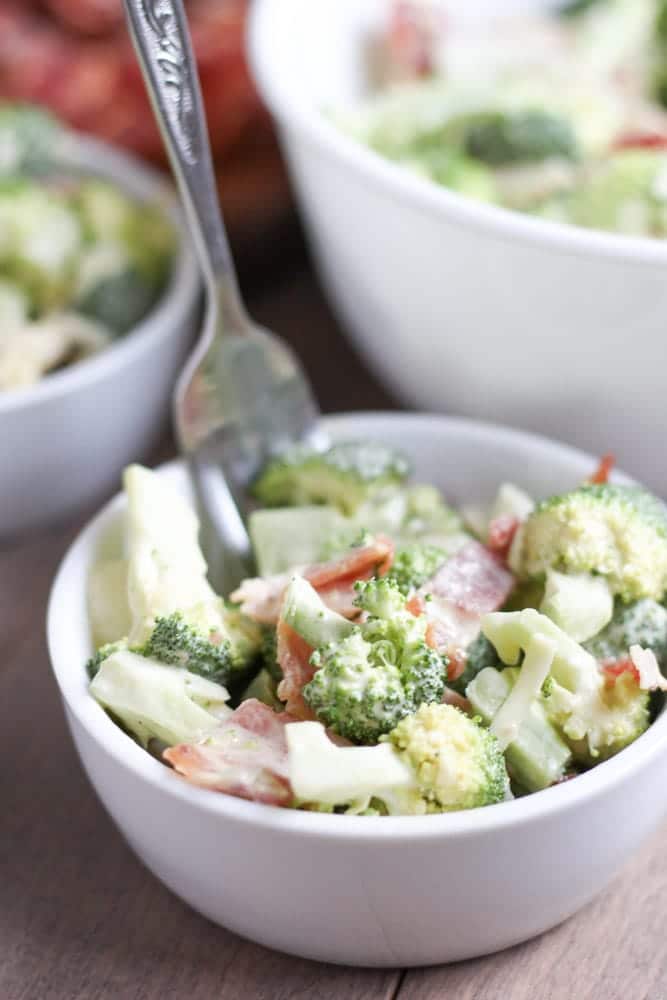 Today I give you a healthier kind of broccoli salad. I mean, any salad that has broccoli in it is most definitely healthy, right? Sort of.
What dressing do we use in our healthy broccoli salad
This particular broccoli salad gives you the opportunity to indulge a little and still be completely free of any nasty processed ingredients, like say . . . processed mayonnaise.
Don't get me wrong, I love mayonnaise in all its glory. But the idea that it sits in a jar on the shelves and somehow is made of 'natural' ingredients just doesn't instill confidence that it is 'good' for me.
Hence,  I concocted my special homemade mayonnaise recipe and shared it in my new cookbook, Gluten-Free Party Food.
There were many moments when I almost gave up on mastering a healthier, processed-free mayonnaise. But the dog on a bone that I am, and multiple jars of olive oil later, my mission for homemade healthier mayonnaise was a success!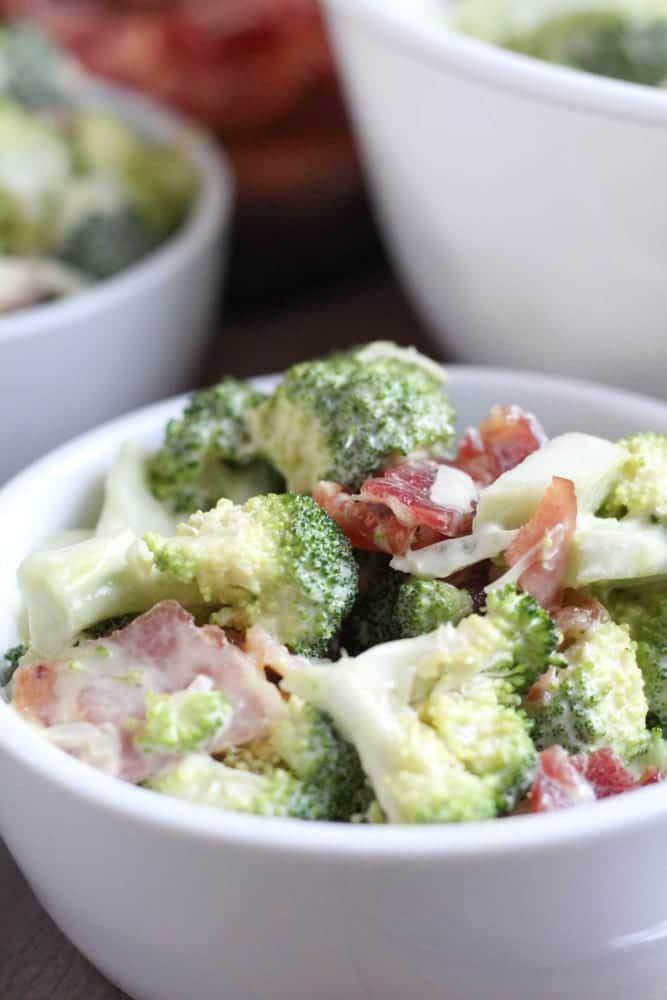 Homemade Mayonnaise + Healthy Broccoli Salad (Broccoli + Onion + Bacon) = Get in my belly.
In my opinion, broccoli belongs in every single dish, if you let me. It is my favorite. Especially when roasted with some fresh grated Parmesan on top. Yes, I will eat the entire pan of broccoli for dinner, I don't mind one bit. (Actually, I did that for almost two years.)
Lately I've taken a side bar from broccoli and focused (obsessed) instead on potatoes and sour cream. Um yumm. Mashed potatoes? Even better.
It tastes just like the salad I ate as a kid on Thanksgiving Day–minus the raisins.
I hate raisins. They don't taste good to me, and they are really high in sugar. Raisins and I are not friends. If you are friends with raisins, then go ahead and throw some in there. They'll appreciate the love, I'm sure.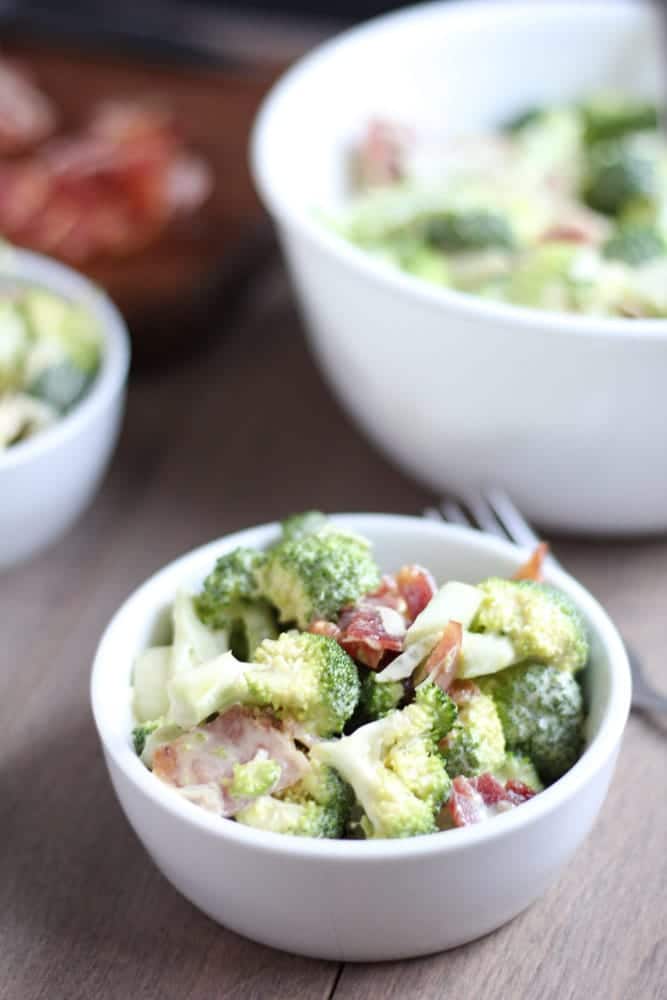 Before we know it thanksgiving is going to be here and we need to start thinking about the delicious dishes that are to come! This healthy broccoli salad recipe deserves a spot for sure.
Of course alongside our healthy pumpkin pie recipe. Because we absolutely need some pumpkin pie. Are we ready or for pumpkin season yet? I can't lie. . . I'm starting to begin craving all things pumpkin.
Vegetarian/Vegan Option for this Healthy Broccoli Salad
If you are having vegetarian/vegan guests we've got some options for you.
Vegan – Make sure you use egg-free mayonnaise and omit the bacon. There are some fabulous vegan bacon substitutes out there so take a look in your local vegan freezer aisle and I bet you can find a direct replacement.
Vegetarian – Simply substitute the bacon with a vegetarian substitute like the one above, Or if you'd like omit entirely add some raisins instead.