Gluten-Free Chicken Parmesan recipe made without breadcrumbs and oven baked! Perfectly moist Parmesan crusted chicken topped with the best homemade marinara sauce.
(Gluten-free, Dairy-Friendly)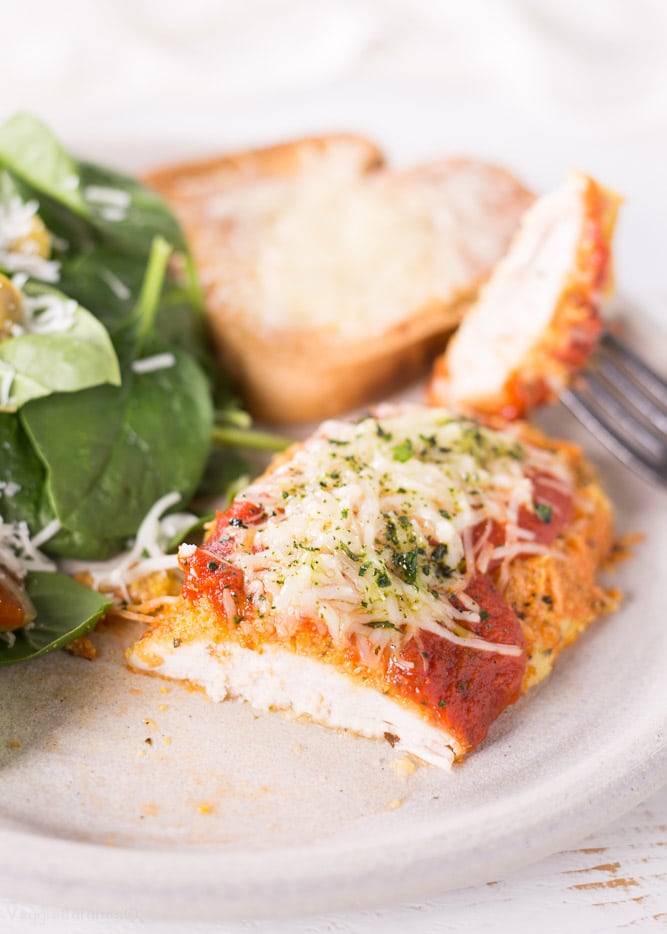 This healthy and Gluten-Free Chicken Parmesan recipe is the perfect Italian feast.
It is made with simplistic ingredients (needing zero gluten-free breadcrumbs). Gluten-Free Bread is a comodity in our house and I try to use cheaper alternatives.
These are so delicious and fancy looking your family or friends will think you've slaved away in the kitchen all day. Lucky you, you'll have dinner whipped out in 30-45 minutes! 😉
What is our gluten-free breading in this Gluten-Free Chicken Parmesan recipe?
Corn meal
Italian seasoning
Parmesan
These Chicken Parmesans have zero heavy carby-ness to them and good ole' fashion protein our bodies need.
Now as many of you know I struggle with eating chicken at times. Having to make the decision to eat some meat since having to go gluten-free this is STILL a issue years later. I've found my ways to work around it.
THIS recipe right here is somehow a miracle and I makes me excited to eat! So if my other fellow comrades are the same way at times this is a fabulous solution.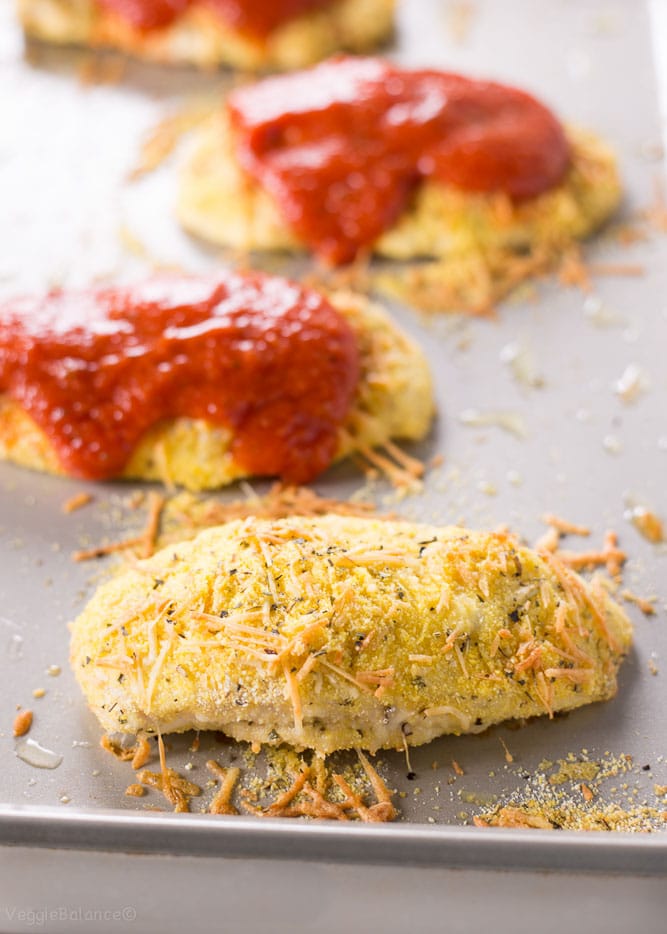 Last weekend R was gone all weekend and I thought about having an Italian feast bachelorette night. But let me tell you a deep dark secret of mine. Anytime R is gone for the night my 'single' dinner is a massive bowl of guacamole.
That is it. Just a massive bowl of guacamole, some corn chips and dinner is served. It is my guilty pleasure.
I couldn't say no to tradition though. I had to go with the guacamole that night. Italian feast was put to the side again. Monday rolls around and I had plans to grill some chicken on the grill and use my fresh basil I planted. Guess what, it rains. . . Goodness I just can't win.
What to do with this chicken? Got to make something with it!
Oooo Italian? Yesssss.
Do I have all the ingredients for homemade spaghetti sauce? Yes.
Don't have enough time? Recipe Tip.
Now if you don't have the time or patience to make your own spaghetti sauce by all means use a jar of sauce from the store! I have done that myself a few times.
What the heck am I going to make with the chicken now? Breaded Chicken Gluten-Free Style? Ooooo yes.
Add some gluten-free garlic bread to the feast and we've got ourselves A MEAL.
Total Comfort Food Deliciousness.