Vegan Oatmeal Cookies laced with the perfect amount of cinnamon for a chewy goodness treat. Whip together in one bowl and under 15 minutes you'll have a perfectly golden brown oatmeal cookie ready to devour. (Gluten Free, Dairy Free, Vegan)
This post is sponsored by Bobs Red Mill. To learn more how this supports VeggieBalance to continually bring you free recipes every week. Find out here
Ever take a bite of something and find yourself instantly transported to your childhood? These oatmeal cookies do just that for me.
For some reason, they really remind me of my grandmother – taking me back to memories of baking in her kitchen when I was just a kid. Good times!
Then one day I was suddenly struck with a huge CRAVING for oatmeal cookies. I went with it, whipping together a batch with a gluten-free twist from my memory and a little innovation.
The first batch was edible but needed some tweaks to perfectly mimic that chewy cinnamon oatmeal cookie flavor I loved so much from my childhood.
A few batches later, mission accomplished. Now I can even make Vegan Oatmeal Cookies from memory.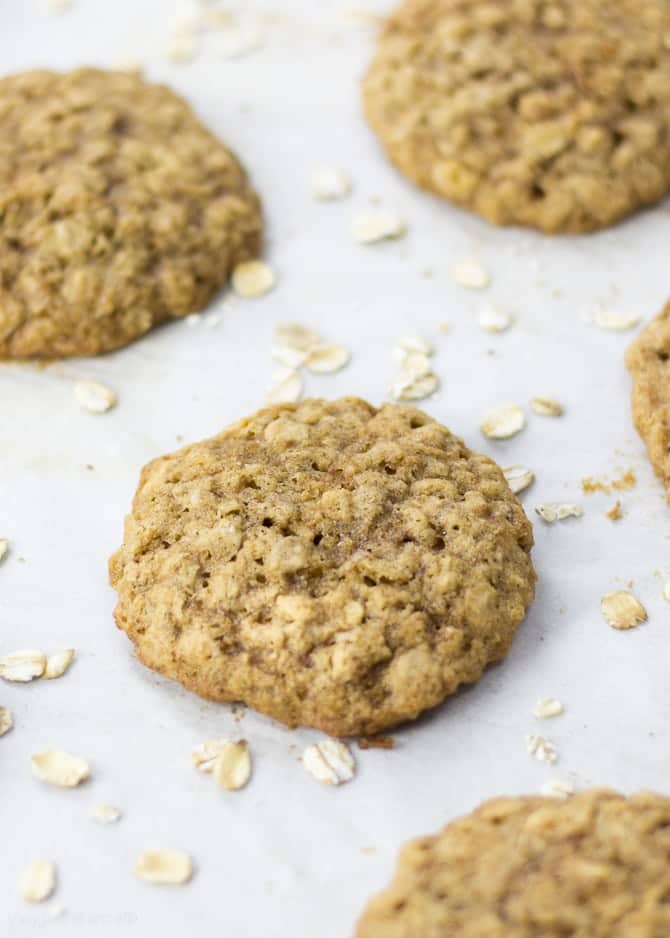 Out of the oven, these are gooey but once they settle on the pan for a couple minutes they turn into the chewy cookie R and I love so much.
Dietary Options for these Vegan Oatmeal Cookies
Gluten-Free – As always, make sure you use gluten-free rolled oats
Vegan – Bob's Red Mill has the BEST vegan egg replacer. When they graciously provided the replacer for me to test drive I used it with another tried-and-true recipe, which came out amazing! If you have an egg allergy or on a vegan diet you HAVE to try it. Flax eggs which can alter the taste a bit, so Bob's Red Mill is a much better option.
Dairy or not to Dairy – This recipe has been tested both ways. Don't need a dairy-free diet? Use normal softened butter! Butter though. REAL BUTTER. #DitchTheMargarine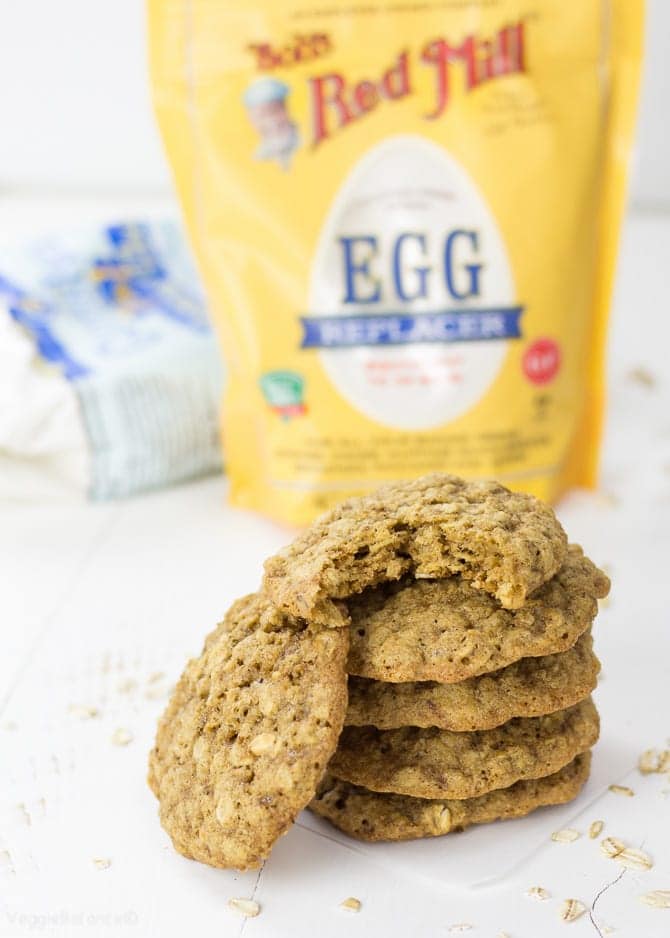 I'm getting back into the swing of things after spending some time in Tennessee. Cooper, our office assistant, has missed our days together and has happily taste tested and approved these cookies.
I mean, come on, could you say no to this face staring at you??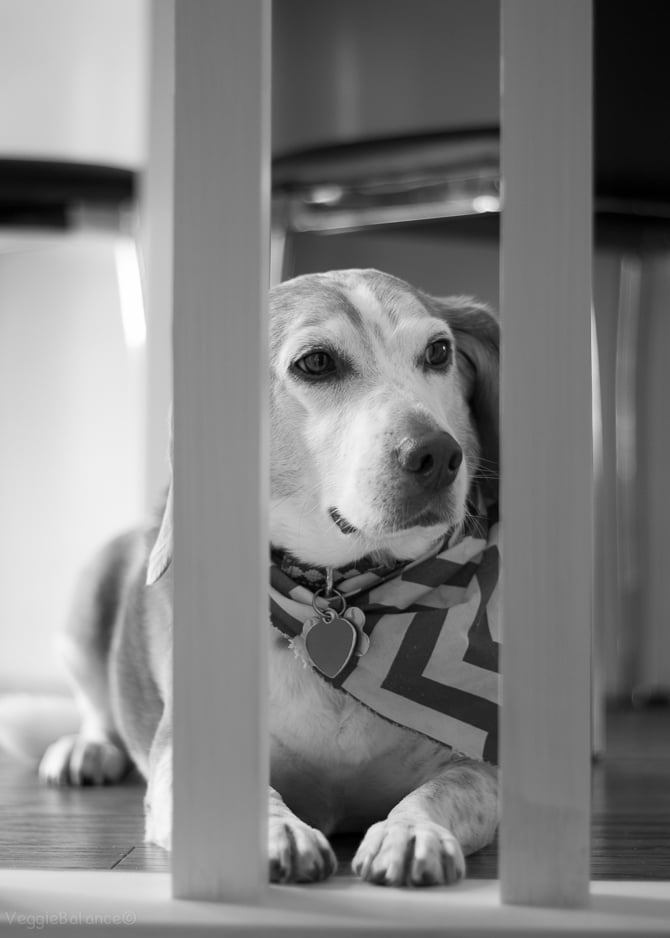 Exactly. He knows he's cute and gets a piece of a Vegan Oatmeal Cookie because of it.
As I said, I've tested this recipe both ways with dairy and eggs and without it. Honestly, we both agree we actually preferred the dairy-free/vegan version hands down.
If you've got a hankering for oatmeal cookies for breakfast these Chocolate Cherry Breakfast Cookies might be a option. If you want to take a trip down memory lane back into your childhood?
These Vegan Oatmeal Cookies are here for that.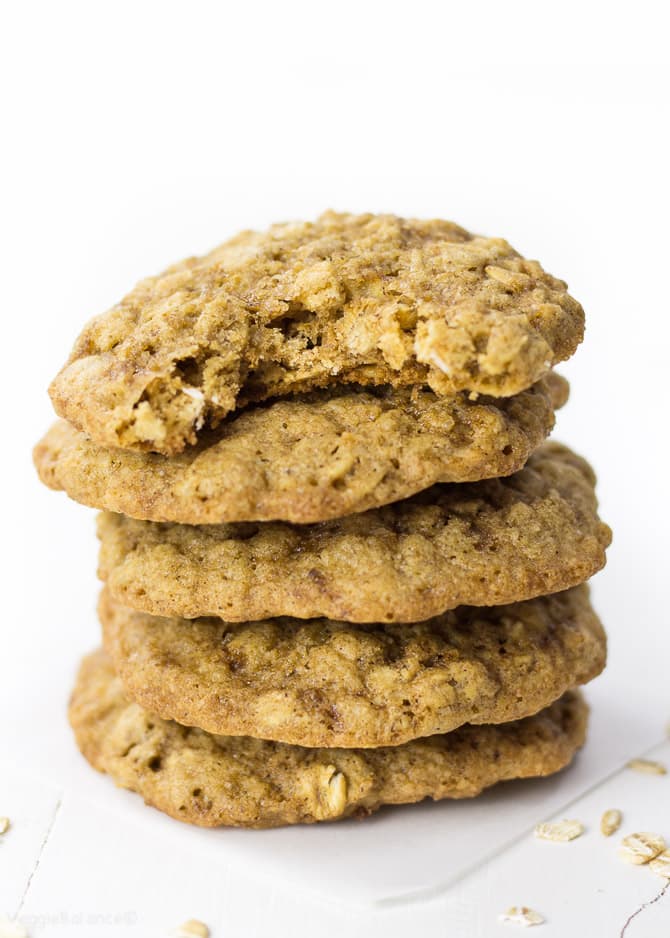 Items You Might Need for this recipe.
Vegan Oatmeal Cookies
Gluten-free, Diary Free, Vegan
Vegan Oatmeal Cookies laced with the perfect amount of cinnamon for a chewy goodness treat. Whip together in one bowl and under 15 minutes you'll have a perfectly golden brown oatmeal cookie ready to devour. (Gluten Free, Dairy Free, Vegan)
Yield: 2 dozen
Prep Time: 15 min
Cook Time: 12 min
Total Time: 27 min
Ingredients:
1/2 cup dairy-free butter (regular butter works also)
1/2 cup cane sugar
1/2 cup brown sugar
2 vegan eggs (normal eggs work also)
1/2 teaspoon vanilla extract
1/4 teaspoon salt
1/2 teaspoon baking soda
1 teaspoon cinnamon
2/3 cup gluten free baking flour
3 cups gluten free rolled oats
Directions:
Preheat oven to 350 degrees F
Prepare cookie sheets with parchment paper.
In a medium bowl of stand mixer, cream together butter, cane sugar, brown sugar. Add eggs, stir in vanilla extract, salt, baking soda, cinnamon, flour.
Mix in oats.
Roll dough into 1 inch sized balls, place on cookie sheet 2-2.5 inches apart.
Bake for 10-12 minutes.
Allow cookies to cool on baking sheet at least 5 minutes before transferring to a wire rack.
Recipe, images, and text ©