Pumpkin Peanut Butter Cups are an unexpectedly delightful treat that will have you asking for more. (Gluten-free, Vegan, Vegetarian)
Are you ready for these? I don't know if you are…prepare yourself.
These are the diggity bomb. Don't judge me on that phrase, these needs a exclamation point and a siren blaring to urge you to make them. Because believe me, you're going to want to make a batch. Then another batch since they will not last long in your house.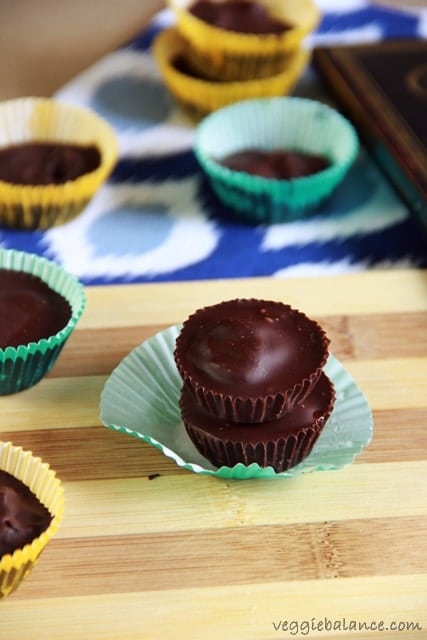 I also realized that it's been over a MONTH since I last posted a dessert recipe. GASP!
Doesn't surprise me though as last time I posted these Healthy No-Bake Cookies is when I went to sugar detox mode as I struggled with my sugar consumption a little during my busy time at work last month. Those no-bake cookies are awesome for a low-sugar dessert. They hit the spot!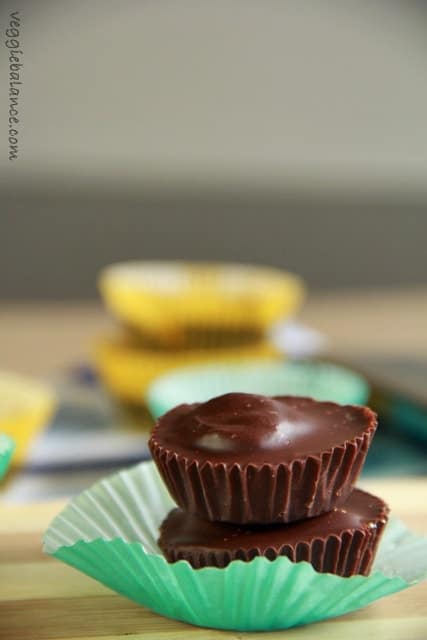 Enough of the cookies, we need to focus the spotlight back on these mini pumpkin chocolate delights. I have the fall bug, I want comfort food and everything that comes with the season fall. That includes pumpkin, I just needed an excuse to use some pumpkin in a recipe.
I went half in half with my recipe, I used a little bit of a bar of dark chocolate that my husband brought back from Latvia. It was dark chocolate but had air bubbles in it? Lots of air bubbles.
It was weird, sponge dark chocolate is funky. So I found a way to use it up, melt it down! You can do that or use the simplistic recipe to make your own chocolate which is almost as easy.
I used Earth Balance Vegan Butter (Soy-free Version) to make up the rest of the chocolate. Coconut oil can easily be subbed for this instead, I opt-out from coconut oil as I have some sort of weird allergy with it. It saddens me as I will never get to make/eat coconut whip!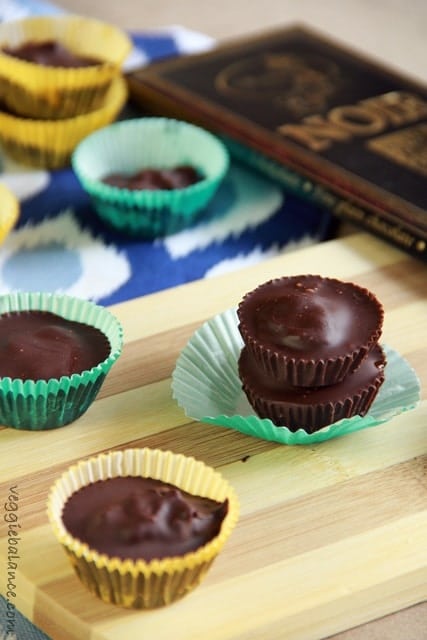 Pumpkin Peanut Butter Cups
Gluten-free, Vegetarian, Vegan
Pumpkin Peanut Butter Cups are an unexpectedly delightful treat that will have you asking for more. (Gluten-free, Vegan, Vegetarian)
Yield: 16
Prep Time: 15 min
Cook Time: 0 min
Total Time: 15min
Ingredients:
Chocolate
1/4 cup cocoa powder
2 Tablespoon maple syrup
1/4 cup melted Earth Balance Spread (Vegan Butter) OR melted coconut oil OR Butter
OR melt approx 3/4 cup of dark chocolate chips instead
Pumpkin Peanut Butter Filling
4 Tablespoon pumpkin puree
4 Tablespoon Peanut Butter
1/4 teaspoon all-spice
1/8 teaspoon cinnamon
Directions:
Prepare a mini cupcake pan with cupcake liners (you could use normal cupcake pan, just will make less and larger cups.
Stir together the cocoa powder, maple syrup and butter/oil of your choice. If it's a little to thick still slowly add a little extra oil to thin it out.
Fill the bottoms of the liners, place in freezer 10 minutes.
Meanwhile prepare the filling but stirring together the pumpkin puree, peanut butter, all-spice and cinnamon. It should be a thicker paste.
Take liners from freezer and top each with the filling, approx 1/2 teaspoon each. Cover with more chocolate and freeze until solid.
If you used the vegan chocolate options it is best to keep these in the freezer, if you used the melted chocolate chips version you can leave them in the fridge.
Nutrition Information:
Serving size: 1 mini cup Calories: 54 Fat: 4 g Saturated fat: 1 g Unsaturated fat: 1 g Trans fat: 0 g Carbohydrates: 3 g Sugar: 1.5 g Sodium: 50 mg Fiber: 1 g Protein: 1 g Cholesterol: 0 mg  Weight Watchers PointsPlus: 1 Point The nutrition facts are based on the vegan chocolate option with Earth Balance Vegan Spread. You can easily use coconut oil as a sub.
Recipe, images, and text ©