Halloween Monster Cookies are so horrifyingly good, your whole family will scream with delight! The scary part is, they won't even know they're gluten free.
(Gluten-Free, Vegetarian, Dairy-Free Options, Nut Free Options)
Oh yes, these Halloween Monster Cookies are FANTASTIC for the upcoming spook-tacular holiday. Perfect to take along for a party, delight the littles or if you're feeling festive, get your coworkers in on the tasty action.
We loved Monster Cookies as kids. They were ooey, gooey and just perfect balance of cookie and chocolate. The name itself SCREAMS fun. So we wanted to kick it up a notch and make our cookies festive for the season by making them into little green monsters.
Have no fear, green is good when it comes to these delicious cookies. 😉
Going green with your Halloween Monster Cookies
Green it up: Use can use from green food coloring gel to get the full effect. Be aware that some food coloring gel is made in a manufacturing plant with different products and could be cross-contaminated so just be sure to double check your labels.
Batter up: For the rest of your batter, you'll need some salted butter, baking powder, brown sugar, cane sugar, creamy peanut butter, vanilla extract, salt, milk, gluten free baking flour blend and gluten free oats.
Add your chocolate: Candy coated chocolate pieces and chocolate morsels add some tasty hunks to these cookies.
The eyes have it: We love finishing off these Halloween Monster Cookies with some candy eye balls to make them super creepy. Or, if you like you can chip off a little bit of a white candy shell to create the effect.
Options: You can swap with an alternative for the peanut butter. Dairy alternatives can be substituted in for the butter and milk.
How to Naturally Turn Cookies Green
If you'd like to naturally turn these cookies green there is a fun and easy way to do this. You'll want to substitute the peanut butter for sunflower butter and add an additional 1/2 teaspoon of baking powder and 1/4 teaspoon of baking soda to activate the chlorogenic acid in the sunflower butter. When they cool down they will turn green on the inside.
It will not be the same vibrant green color if you were to use green food coloring but the inside of the cookies will be a spooky green. 😉 The outsides actually generally don't turn green though so just heads up!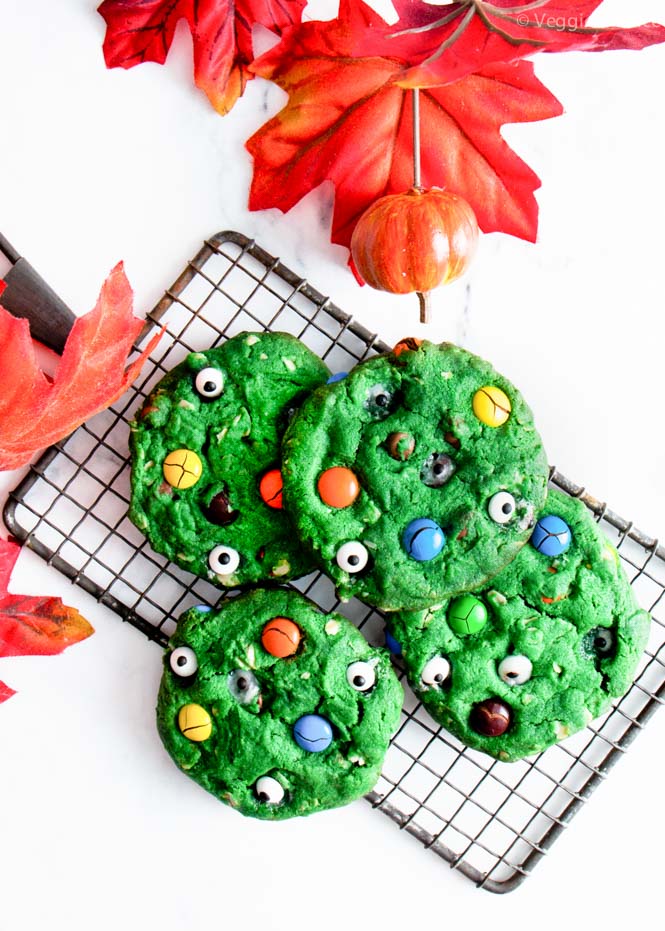 We know at this point you're eager to get baking, we have a few helpful tips before you have a baking horror story unfolding before you. 😉
The dye matters. Don't use any run of the mill liquid food coloring you come across in the store. Go for gel.
Wear gloves that are food safe so you don't turn all sorts of green.
How much? Just enough. If you don't know the very official and not at all made up measurement of just enough, we recommend putting 10 drops to start and increasing by 5 drops at a time until the color is just right.
I mixed, I baked. Now what?
Let your cookies COOL before you removing from baking sheet. If you become impatient and remove them too soon they will break. They are delicate cookies when hot so resist and let them cool down.
While you wait for them to make we've found it is easiest to actually press the candy eyeballs into the cookies at this point. Baking with the candy eyeballs they kind of melt odd so pressing fresh eyeballs into the cookies is the solution to that!
Whatever cookies you can resist eating right away, store those in an air-tight container to keep them fresh.
Enjoy your gluten free Halloween Monster Cookies with your choice of milk or dairy alternative. Keep in mind you can also turn your milk green with just a little dunk.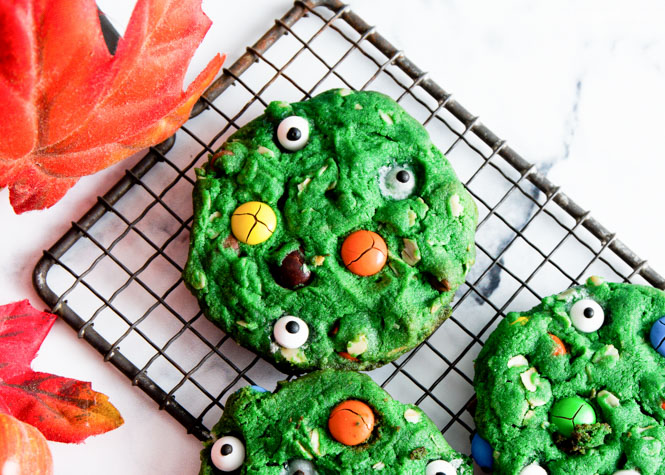 A monster mash up for cookie infamy
So, how did monster cookies even come about? Believe it or not, my home state is their origin!
Also known as in-the-mood cookies or leftover cookies, the amazing Monster Cookies are the devilish brain child of an attempt to make peanut butter cookies – without having all the ingredients to do so. Not enough flour? Add blended oatmeal. Cause nothing should stand in the way of cookies 😉 We've recently shared a Gluten-Free Monster Cookie Recipe to you guys!
The photographer from Michigan State University named Richard Wesley who first made Monster Cookies let his recipe evolve to include whatever he felt like adding. We can appreciate that ingenuity.
We like to think he'd find these Gluten Free Halloween Monster Cookies a hoot.
Gluten free Halloween goodies
Trick or treat, give me something good to eat! You can spooky up some classic gluten-free goodies with some food coloring or eyes. Looking for some easy ones to convert for the holiday?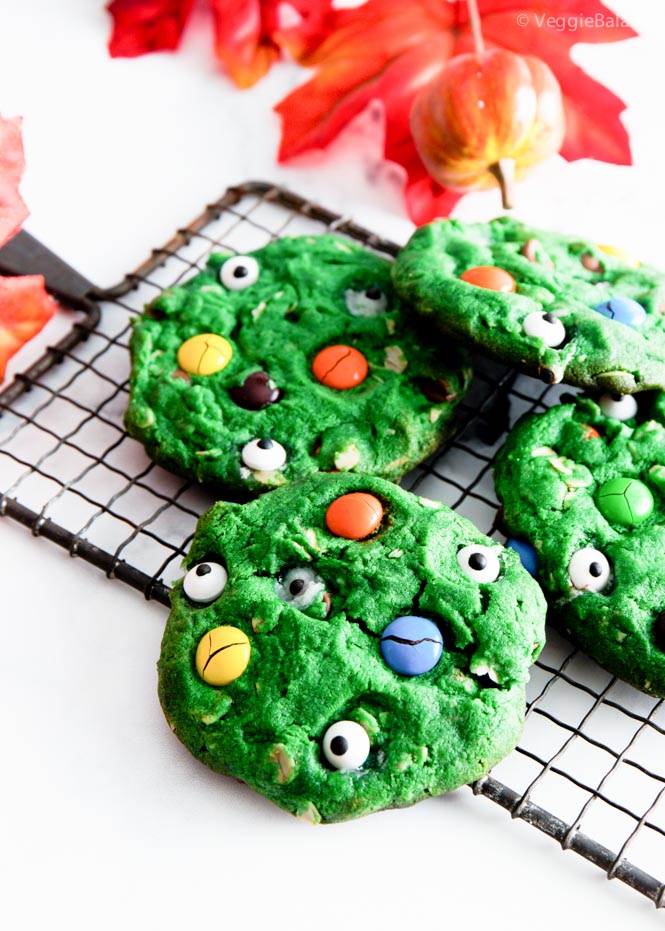 We love this time of year. The food is frighteningly fun and the movie line ups start to make us sleep with the lights on.
These Halloween Monster Cookies are sure to get you in the spirit without the scary gluten.
Save one for us?