Vegan Ricotta Cheese using staple pantry ingredients. Whether you are following a plant-based diet or you are simply out of ricotta cheese and want to make some lasagna, this recipe is for you.
(Gluten-Free, Plant-Based, Vegan, Vegetarian, Low Carb)
At this point majority of the world is in the thick of it of 'what we shall not name'. But I do want to help people be able to make some staple dishes using some basic ingredients.
We've noticed there are quite a few people trying to make their own taco sauce. We are there with you guys.
We recently made some oatmeal cookies using flax eggs because that is what was in the pantry. Major benefits to being plant-based right now.
TIP: Baking weekends have been implemented in our household and I strongly recommend it as it is good for the soul.
So when we pulled together some lasagna the other night we had to make a batch of our vegan ricotta cheese. Fortunately it requires very few ingredients and they should be all sitting in the pantry right now.
Or if you are fortunate and have access to zucchini right now be sure to check out out Italian Stuffed Zucchini Boats.
How to make ricotta cheese without dairy? AKA Vegan Ricotta Cheese
All you need is three main ingredients: Cashews, Nutritional Yeast and Lemon Juice
Alongside salt and water to make it.
It's actually extremely close to our vegan cheese spread.
Soak the cashews in water for AT LEAST two hours – ideally if you can soak them overnight is best though. Add the rest of the ingredients in a food processor and pulse it until it's smooth and the consistency of traditional ricotta.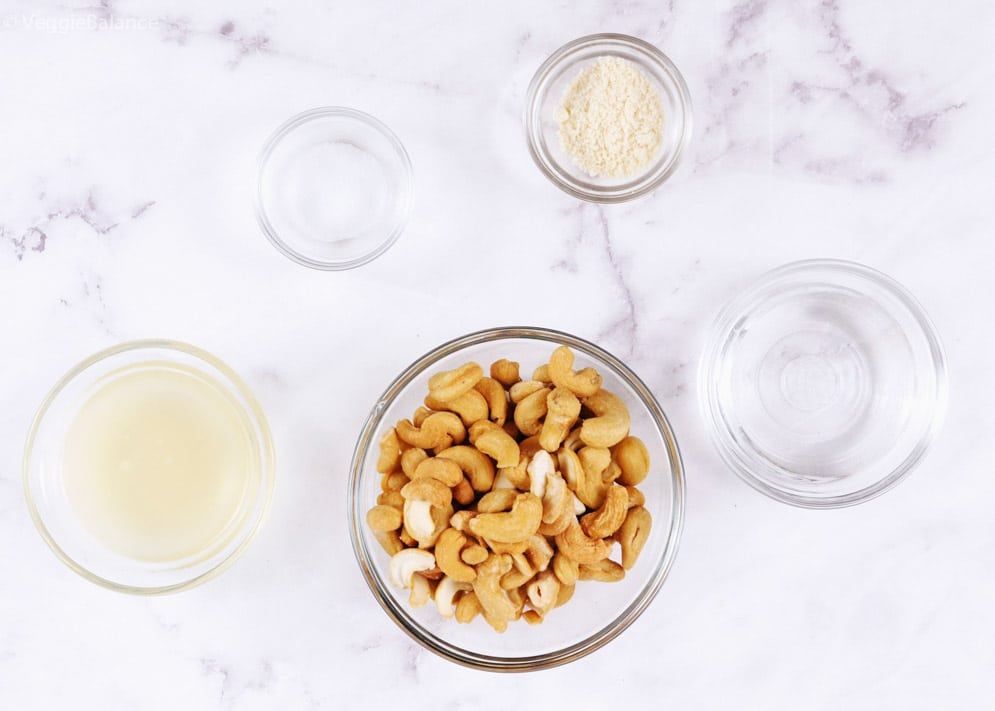 Can I only use cashews for vegan cheese? What is vegan cheese made out of?
You 100% can use other nuts. Our family personally always has cashews on hand as they are my favorite snack but there are various other nuts that you can use.
Type of nuts you can use in replacement: Blanched no skin on almonds, walnuts, and sunflower seeds are all really good alternatives. I do find that nuts without skins are the best so if using almonds try perhaps the slivered skins removed types OR soak and peel off the almond skins that way. If you aren't picky about the texture of the ricotta then it all doesn't really matter.
If however you are looking for it to look and texture wise be really similar to traditional ricotta. No skins.
So what is vegan cheese made out of? All of the above. I've also seen soybeans, tapioca and rice flour in some vegan cheeses as well. But since our goal is to make this out of pantry ingredients. Thought we would keep it simple.. we like simple.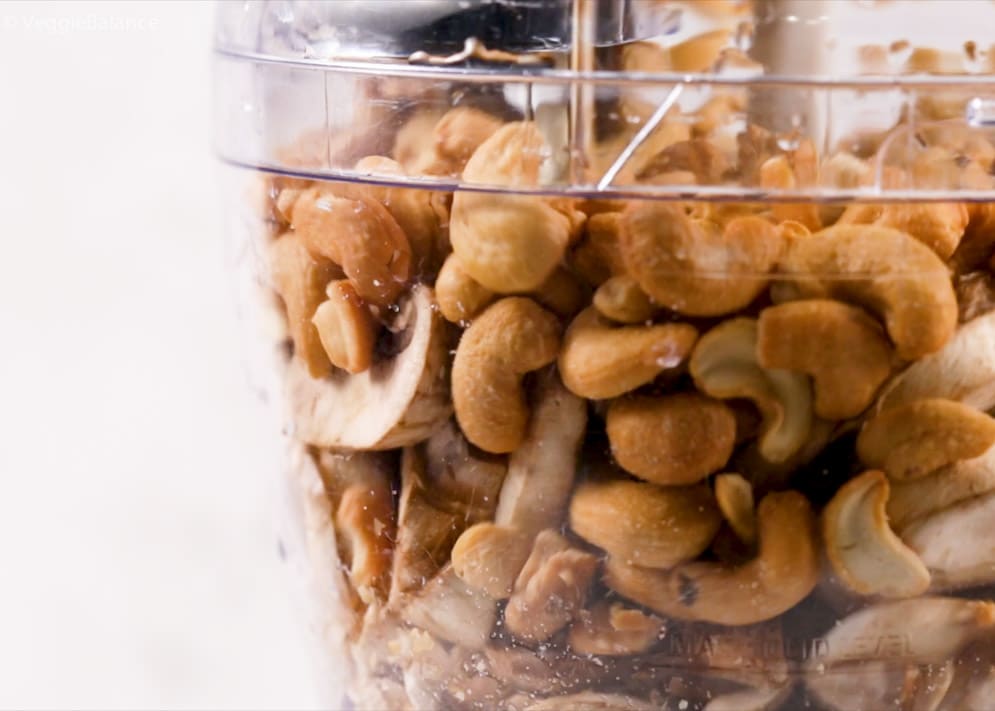 All our recipes you can make using this dairy free ricotta cheese.
We've made quite a few recipes over the years with this base. It's actually similar to our vegetarian meat replacement, once you you find something you enjoy as a good replacement AND it's simple. You tend to use it a lot.
One random thing we've realized is we don't have a traditional lasagna recipe but we do have our crockpot lasagna recipe AND this zucchini noodle lasagna so I guess the point I'm trying to make.
We'll make a point to sharing our vegan lasagna recipe using our vegetarian meat replacement because it's fabulous and a fantastic recipe to make during 'what we shall not name'.