This Caldo de pollo recipe is a healthy, all-natural Mexican chicken cabbage soup. We'll show how unbelievably healthy and easy this is to make. It's the ultimate comfort food.
(Gluten-free, Dairy-Free, Nut-Free)
What is more ironic than a white girl making a Mexican dish? Well, honestly I don't have an answer for you on that. I think it's pretty ironic.
This Caldo de pollo is anything but ironic though, it is delicious. A perfect medium between stew and chicken soup. Throw it all into the soup pot and let the magic happen on the stove top.
Simple way to elevate and make the Caldo de pollo the best ever.
Freshly squeezed lemon juice before serving. Oh my heavens it brings a flavor I have never experienced in a soup. Don't be creeped out by it, it is heaven.
Freshly Squeezed lime juice is another option. Our family prefers the lemon ourselves.
Add some heat: Add a couple splashes of your favorite hot sauce if you'd want a bit more spice.
Marrying into a Mexican family and carrying that last name I'm often assumed to be Mexican now. You'd think having the first name Lindsay they would realize I'm a married into Mexican name?  Pandora plays Spanish advertisements for me now.
I've been with R for going on 11 years. Since as long as I can remember this man would talk about caldo.
Caldo, whenever I made any kind of soup he'd compare it to his childhood caldo. Anything made with vegetables in soup like this vegetable soup was compared to caldo.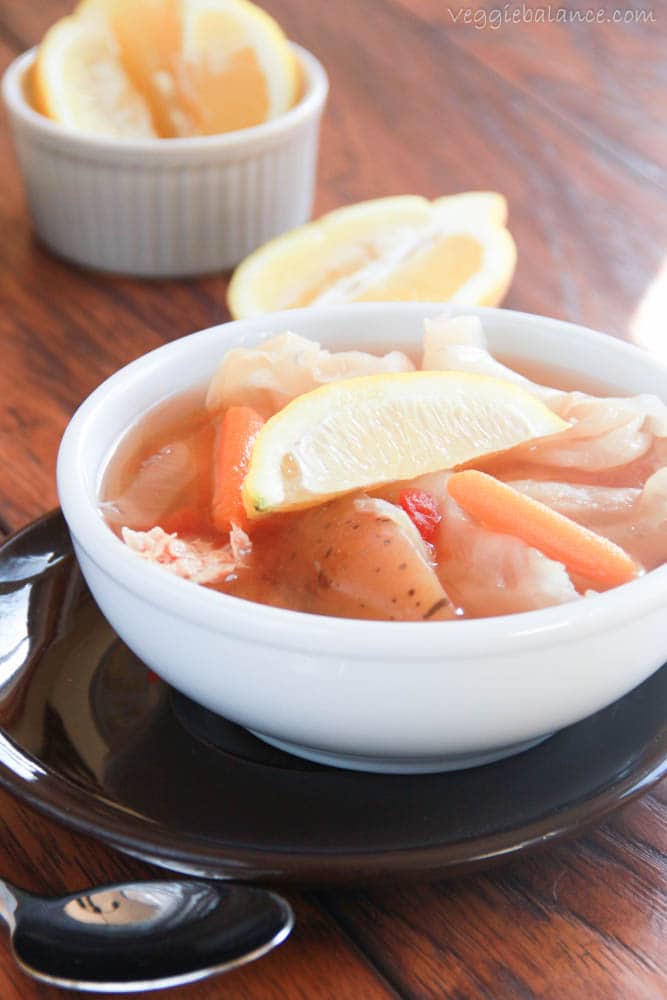 Caldo de Pollo Requires Minimal Work. (BONUS)
VERY Roughly Chopped Vegetables: I tried to get to the bottom on why it's made this way from the family. No one had an answer. To be honest, it's amazing. Throwing whole chicken breasts, large cabbage leaves, roughly chopped and skin on potatoes along with carrots. It's a lazy cooks dream.
You Can Chop These into smaller bites if you'd like. I prefer the minimal steps and it's Garza approved.
After subjecting R to my nostalgic childhood cabbage rolls and then also making our cabbage roll in a bowl a few weeks back the caldo was brought up, yet again. Since the cabbage rolls had well, cabbage in them his beloved caldo growing up also had cabbage.
So it was in order to finally make this caldo de pollo soup. That and I had some cabbage leftover from the unstuffed cabbage roll soup.
I reached out to my mother in-law to see what the fuss was about this caldo and based on her description I winged it with their guidance. Turns out being married to a Mexican has given me the ability to make a Mexican dish. R said it tasted just like he remembered. (Drop the microphone)
How-To Make Caldo de Pollo
Roughly chop your chicken, potatoes, carrots and cabbage.
Throw it in a deep soup pot
Add chicken broth.
Add some seasoning
Simmer until chicken is cooked through and vegetables are tender.
Spoon into your bowl and juice a lemon right over it.
Isn't that just the simplest thing ever?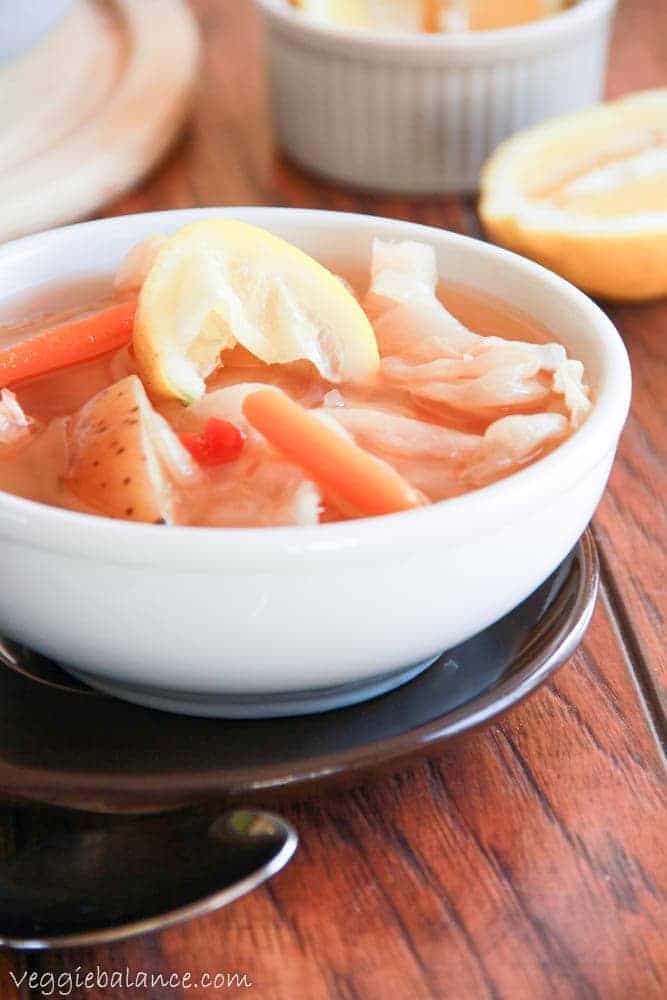 This Mexican soup is the easiest homemade chicken soup to make.
Really the easiest soup I've ever made in my life that didn't include a slow cooker. Which, I bet you can make this in a slow cooker or Instant Pot!
Barely any chopping needed, quarter the potatoes, whole carrots, whole cabbage leaves and whole chicken breasts.
If you'd like a little extra heat add a couple splashes of your favorite hot sauce.
If you like cabbage soup it's very similar to that with just a little twist. Then adding some fresh lemon juice and oh my word cannot get over with the lemon juice.