This Egg Roll in a Bowl recipe bring you the Chinese Egg Roll goodie you've been missing, sans the gluten and packed with healthy vegetables.
(Gluten-Free, Dairy-Free, Low-Sugar, Low-Carb, Vegetarian/Vegan friendly)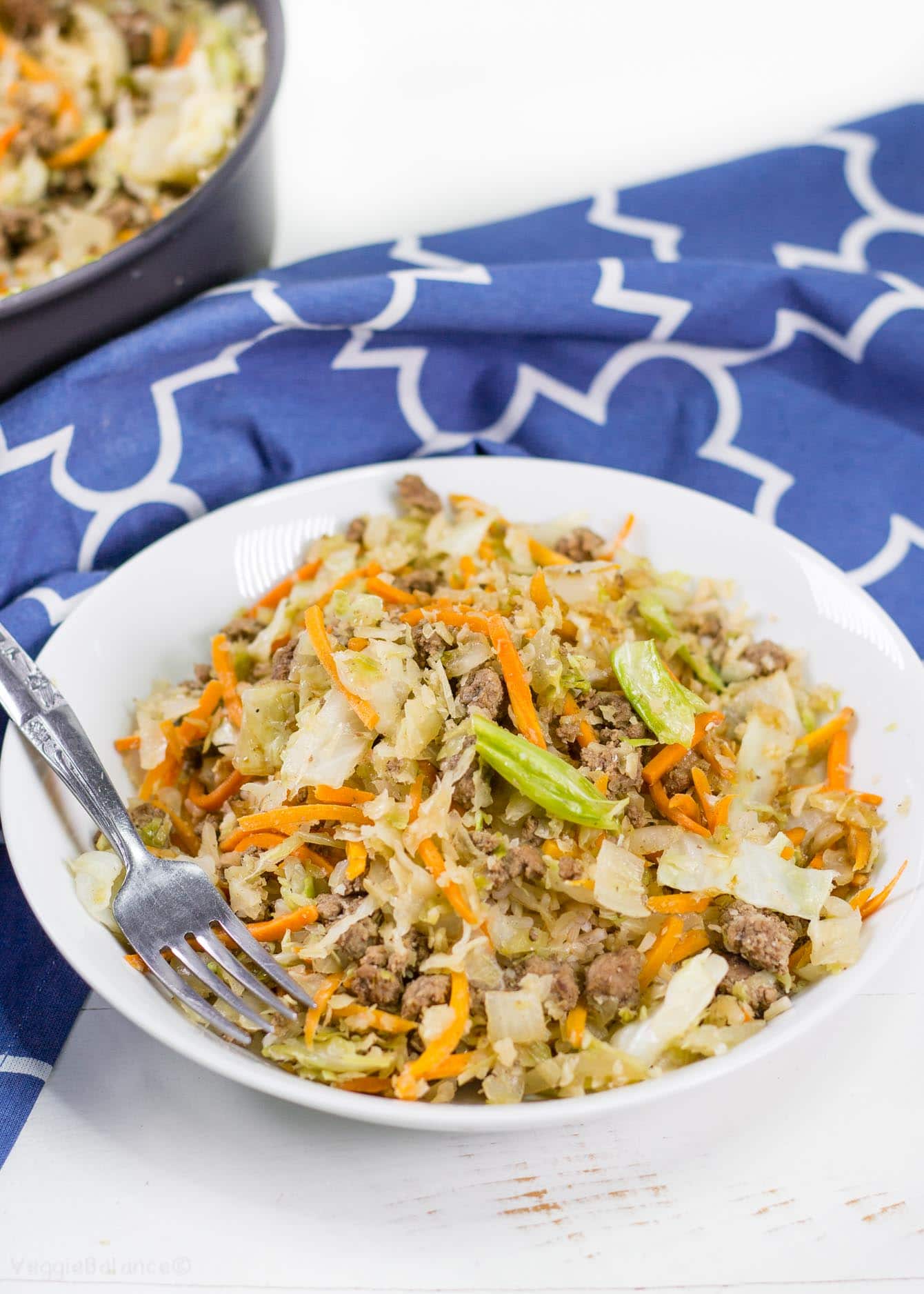 All my fellow celiac and gluten intolerant individuals – I know there is something we miss with a fierceness.
Take-Out Chinese Food. And to be even more specific, those delicious egg rolls.
Don't worry, if you don't miss these foods I still will be your friend (But seriously, how could you NOT miss it?)
Being able to quickly grab some Chinese food on your lunch break is a thing of the past for the gluten intolerance/allergy crowd.
However. . .
This Egg Roll in a Bowl recipe helps almost ALL allergies and diets.
Gluten-Free : Since it is made without wonton wrappers we are all set but be sure to use gluten-free tamari sauce.
Paleo : Instead of using tamari sauce swap it for coconut aminos instead.
Low-Carb: Omit the honey entirely and swap the tamari sauce for coconut aminos. Top onto cauliflower rice, if desired.
Dairy-Free: All naturally dairy-free and ready for you to devour.
Weight Watchers: Swap the beef for Turkey if desired but this dish is very weight watcher friendly at just 8 points per serving! It is so filling too.
Back in the old days I absolutely LOVED grabbing a pint of vegetable fried rice and eating straight out of the large cardboard carry-out container for breakfast, lunch and dinner. #NoShame
I went for our mock-up Pho Soup in a Jar after having to go gluten-free. Tis' was a good solution.. until this freakin' delicious protein packed dinner came along.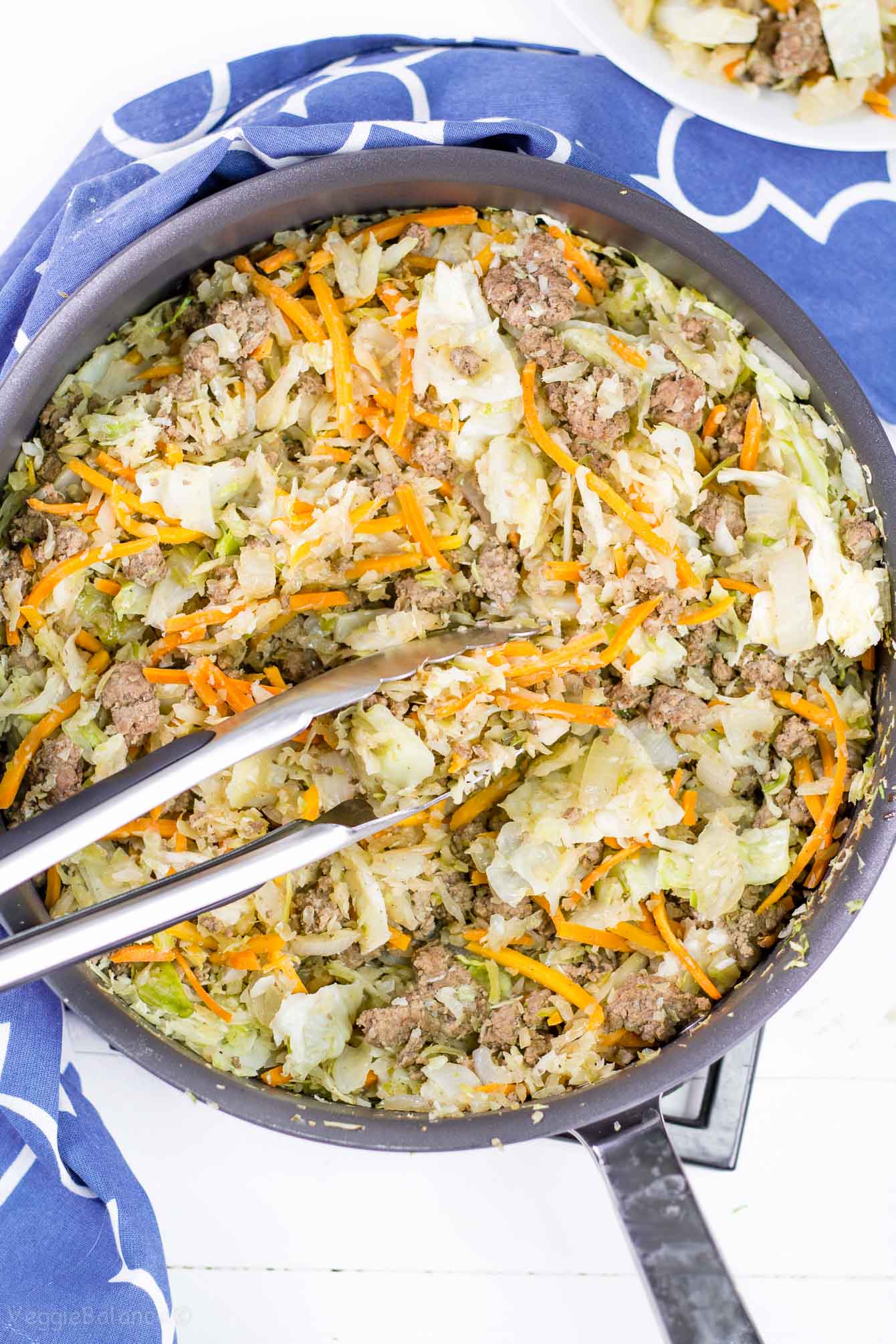 After that it paved the way to make gluten-free vegetable fried rice at home, I felt at peace with my Chinese Take Out limitations.
Up until this point. . .
Where the Egg Roll in a Bowl Started…
I've seen it around on the web before. I then made the Egg Roll in a Bowl recipe by Whole New Mom and I said OH-MY-WORD more please! I made a couple changes to the recipe myself. Somehow, I had forgotten how much I was missing Egg Rolls!
It is seriously so simple, healthily packed with veggies and I just KNEW everyone here in the VB community would love it. (Because, I freaking absolutely love it myself and we have a lot in common.)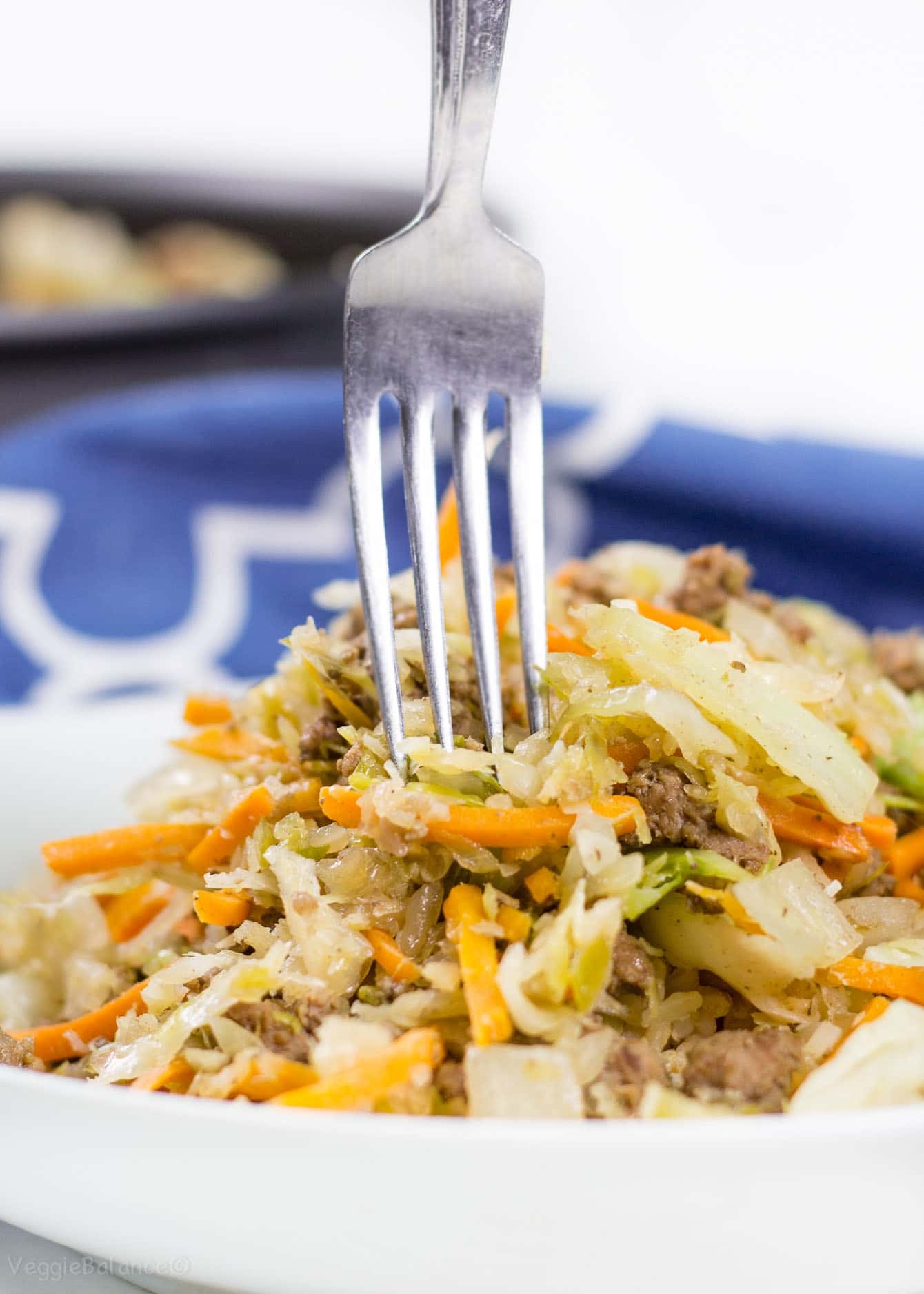 This recipe is craveable and delicious, I've made it multiple times! Which being a single person household for the last 7 months you'd think I'd be sick of eating it. Nope. Give me more.
Meal-Prepping with Egg Roll in a Bowl
Two Words. DO IT. You'll be so happy you did. This heats up perfectly for lunches and meal-preps!
Or don't heat it up, R eats this cold.
This Egg Roll in a Bowl recipe fits perfectly with our busy lives. We deserve more easy in our lives.
In the mood for some easy seafood? Egg Roll in a Bowl pairs well with Gluten Free Coconut Shrimp from Flippin' Delicious!
Other Recipes you might love like this:
Check out just how easy this is to make!