Gluten Free Pizza Bagels are the snacks your family will attack without fear of the problematic protein. No gluten, all the awesomeness. Prepare to fall in love with these.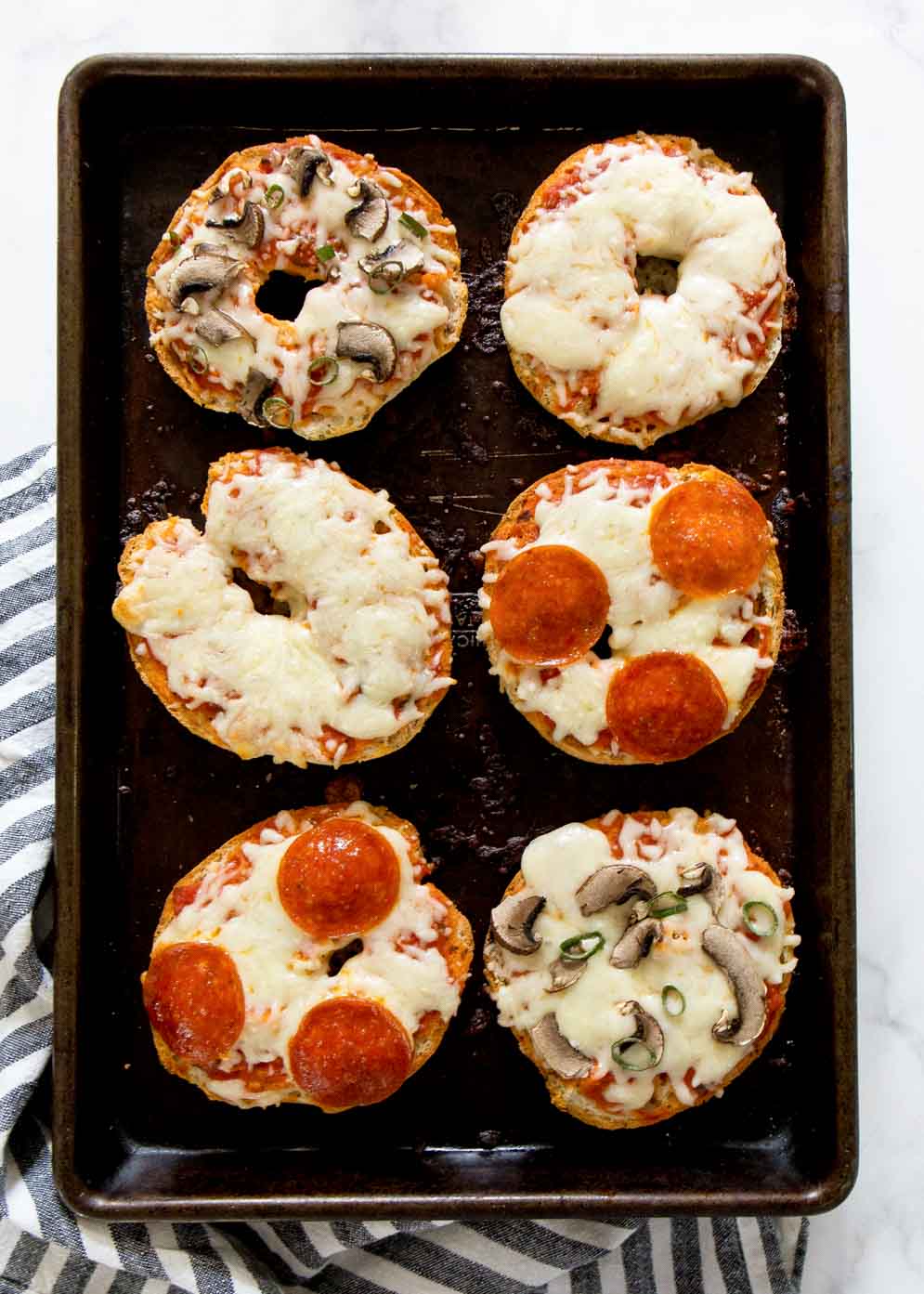 Gluten Free Pizza Bagels are simply put, nibble worthy amazingness. We've always had a fondness for pizza bagels. Even the really bad for you processed ones. They are chewy and filling, with the ever-so-loveable pizza flavor. Our childhoods are filled with pizza bagel memories.
These pizza bagels are EVEN BETTER.
Gluten Free Pizza Bagels 101
You'll need: Gluten free bagels, pizza sauce, toppings and cheese. It's as simple or as complex as you want it to be.
How to store: If you have any pizza bagels left over, it's absolutely imperative that you store them in the refrigerator. The dairy in the cheese is NOT your friend if left out too long. No siree, it is not. These are best eaten within 3-4 days.
Can you freeze gluten free pizza bagels? Yes, you can! Place your bagels on a cookie or baking sheet and place flat in the freezer. Once the bagels are frozen, place them in a freezer bag. A toaster oven is the best method to defrost, lightly toasting the bagels at 350°F for a few minutes until hot. The bagels will last about 3 months in the freezer, but how you could resist them that long? We don't have a good answer for that. 😉
History of deliciousness
Legend has it, the origin of pizza bagels was created in 1974 in California. Or 1959 in Ohio. Perhaps 1970 when a copyright registration was submitted.
Yup, as with most things awesome and edible, there is some contention about who/when/where the Pizza Bagel became a thing.
The one thing we know for sure. Whoever created it was a GENIUS.  Simply deliciousness.
Speaking of genius, check out our 5 ingredient gluten free bagel recipe.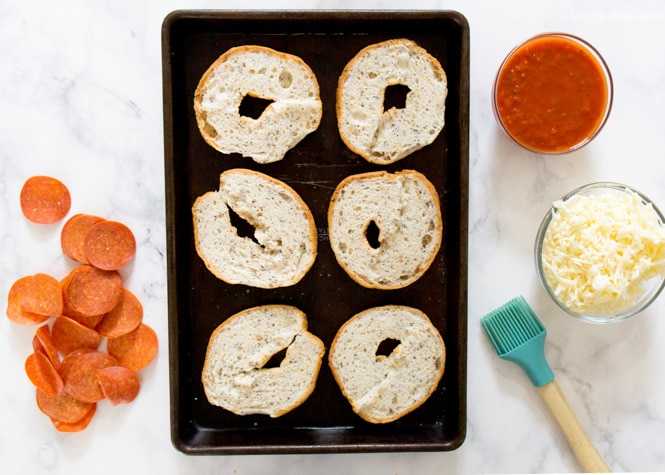 Top it off: Pizza Bagel options
Cheeses: Mozzarella, feta, cheddar, goat cheese are our favorites. Easily can sub for a dairy-free cheese alternative and make it full-on vegan.
Meats: Bacon, ham, sausage, pepperoni, shredded chicken, pastrami, crab.
Sauces: Alfredo sauce, marinara, pesto, barbecue, salsa, ranch.
Veggies and other good stuff: Onion, tomato, green pepper, red peppers, yellow peppers, basil, jalapeno, mushrooms, mint, garlic, sweet potato, eggplant, apples, pineapple and SO MUCH MORE!
Our favorite combinations
It's true, when you REALLY love a versatile food such as gluten free bagel pizzas, it's hard to have a favorite. But without further ado:
Our favorite: Light, sweet bbq sauce with fresh mozzarella, shredded chicken, a drizzle of bbq and a drizzle of ranch. SOOOOO good.
The other favorite: Light Alfredo sauce with minced garlic, fresh mozzarella, crab and red onion.
Our OTHER other favorite: Marinara, fresh mozzarella, bacon and red onion.
Our other … ok so we love them all: Marinara, fresh mozzarella, mint, feta crumbles and a drizzle of balsamic. (Seriously, so good, light and fresh!)
Last but not least: Pesto sauce (light), fresh mozzarella, tomato slices, fresh Parmesan crumbles and a drizzle of balsamic.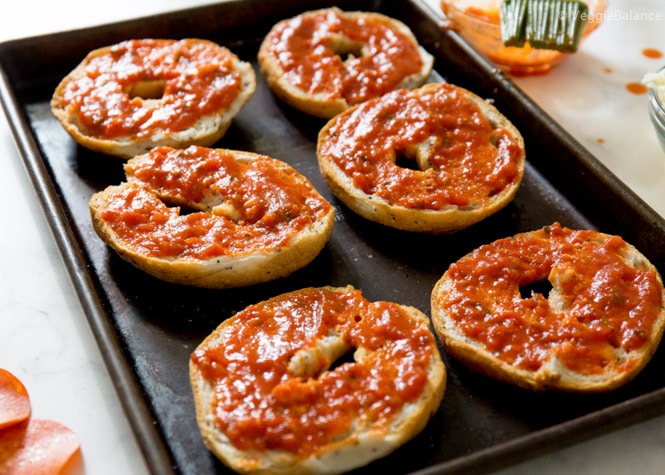 In all reality, the possibilities are endless. And with your pizzas being on bagels, you don't have to limit yourself. Try a few combinations and you are sure to fall in love with gluten free pizza bagels.
Keep in mind, these are a great after-school snack if you make them and freeze for kids to reheat. These actually use to be my FAVORITE growing up. Happy to have them back in my life.
Or just to have on hand for one of those longer-than-you-expected days.
From time to time those days happen. No regrets if we open the fridge and remember that our past selves prepped for future self to have a rough day adulting.
Actually I've found that these bagels are fantastic for traveling! I've come to love cold pizza for the plane rides.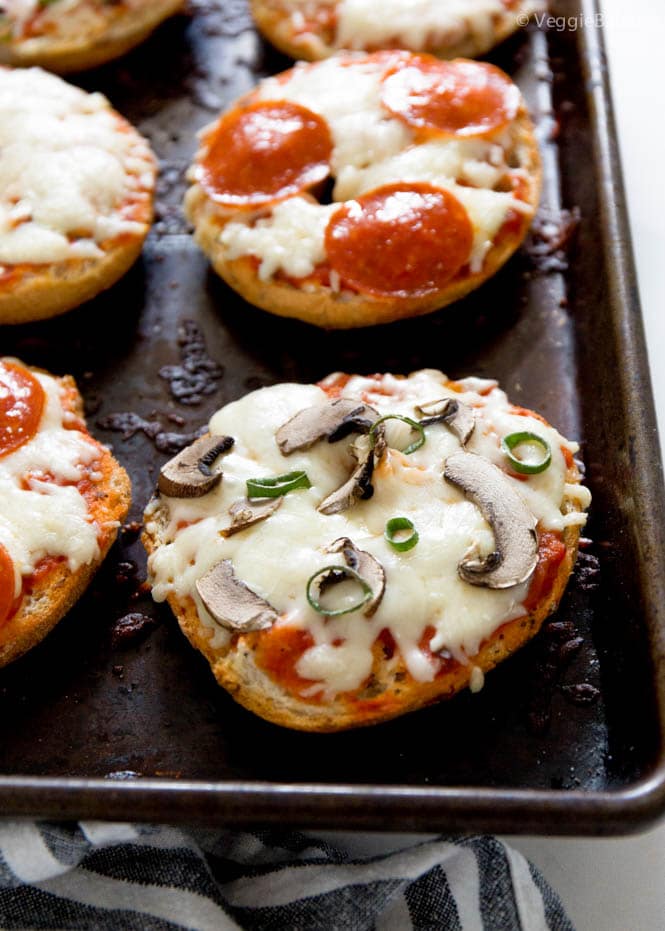 Some recipes you might like: