Chocolate Quinoa Crunch Bars is the sweet, savory culinary combination of our love of chocolate and quinoa. Make your own homemade gluten-free chocolate from scratch in under 10 minutes and combine with some quinoa for a healthy, crunchy treat.
(Gluten-Free, Dairy-Free, Vegan, Low-Sugar)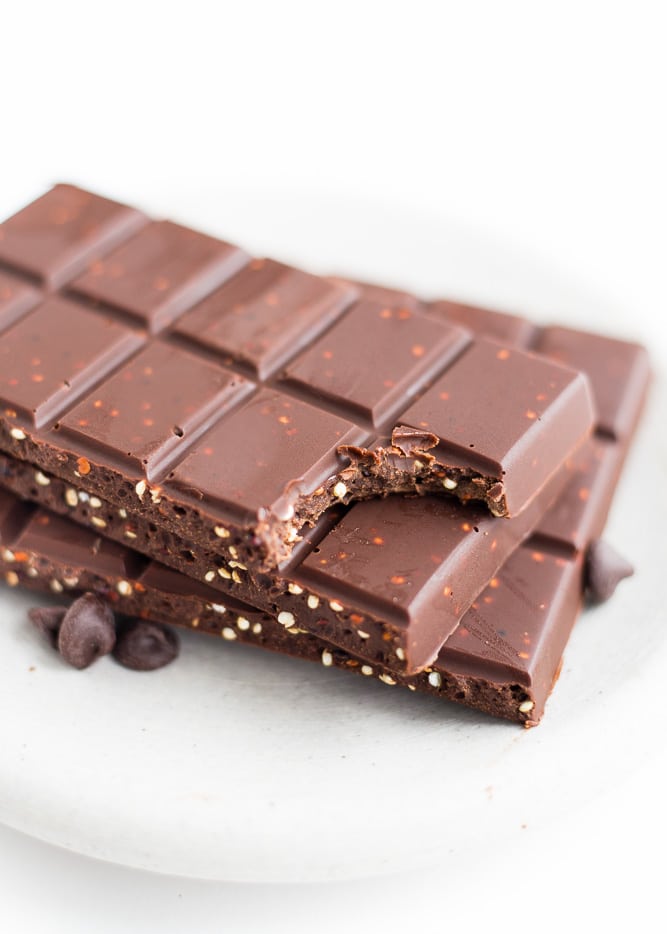 This post is sponsored by Bobs Red Mill. To learn more how this supports VeggieBalance to continually bring you free recipes every week. Find out here.
There is no denying it. I am a chocolate fan. What I've recently come to terms with is that I LOVE chocolate with a crunch.
Chocolate Quinoa Bars are the love child of savory homemade gluten-free chocolate and healthy fiber packed quinoa. I think it is safe to say, we can happily eat this almost every day. After all, chocolate IS love!
This chocolate quinoa recipe was created after making our homemade peanut butter cups so be sure to check that recipe out at well!
How to Make Gluten-Free Chocolate at home:
I actually prefer to make gluten-free chocolate at home. It is a cheaper alternative to buying certified gluten-free chocolate. Extra bonus? We get a chance to play around with flavors!
You will want to create a double boiler (boiling water in a pan and then a glass bowl on top). This is the most effective way of making chocolate. I've found when microwaving if you give it too much time your chocolate will stiffen up … and it is a lost cause at that point.
So whenever I make chocolate, a double boiler system it is! Melt together coconut oil, cocoa powder and powdered sugar for flavorful goodness.
How to melt your chocolate with a double boiler system:
Take a small saucepan and a fill halfway with water. Bring water to a boil. Turn heat down to low.
Take a glass bowl and place directly over the saucepan.
Add chocolate ingredients into glass bowl and whisk together until everything is melted and chocolate is smooth.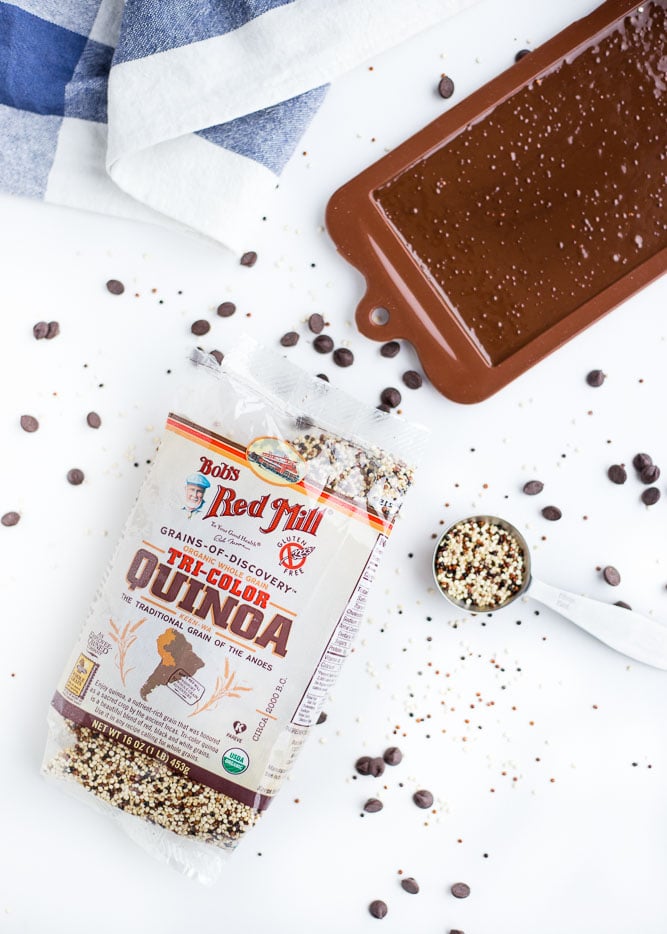 This is a good time to remind you that you'll want to be one step ahead, be sure to rinse your quinoa and toast it before added to the chocolate.
It's important to make sure there is no moisture remaining in your rinsed and toasted quinoa as the water can affect the outcome of your chocolate once you mix it in.
How the Chocolate Quinoa Bark is created
Now that you've created your chocolate and toasted dried quinoa, mix those babies together!
Pour into a chocolate mold… and the worst step is next. We wait.
You can quicken this waiting stage by popping our chocolate quinoa bars into the freezer.
Once it has hardened, we are ready to devour! This lovely chocolate quinoa combination is amazing.
That crunch, that sweetness, that chocolateeeeeeeeee. Oh and the extra fiber from the quinoa. Amazinggg.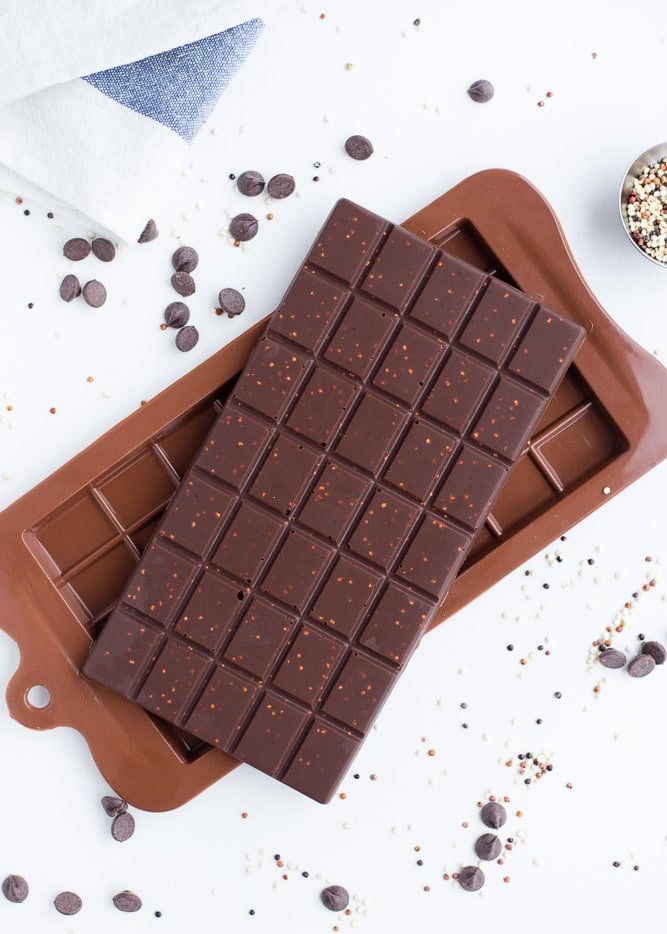 Other ways to spruce up our Chocolate Quinoa Bars:
Now that we've got a base, you may wonder what's next for this Chocolate Quinoa Recipe. Oh-so-many flavors and options!
Mint – Couple drops of mint extract and you'll have Mint Chocolate Quinoa Bars.
Orange – Couple drops of orange extract and orange zest for Orange Chocolate Quinoa Bars. I LOVE orange and chocolate together.
Red Pepper Flakes – Sprinkle in a teaspoon of red pepper flakes for some heat to make Zesty Chocolate Quinoa Bars. I've tried this, it's actually really good!
Sea Salt – Sprinkle a teaspoon of sea salt in (or on) your chocolate bars for Salted Chocolate Quinoa Bars.
Caramel – Make a delicious caramel sauce like the one we use in our Apple Coffee Cake and we've got sweet, salty and crunchy combination for Caramel Chocolate Quinoa Bars.
The combinations are endless and all it takes is whatever you are craving that day! One thing is for sure, you need this Chocolate Quinoa Recipe in your life. So rally up some Chocolate Quinoa Bark or Chocolate Quinoa Bars, whatever flavor combination that tickles your craving fancy.