Grilled Peaches with Ice Cream are a summer dream. Everything you need to know about how-to grill peaches on the grill. It's the perfect all-natural, lower sugar, gluten-free and healthy dessert.
(Gluten-free, Vegetarian, Vegan, Plant-Based, Low-Sugar)
Grilled Peaches with ice cream….. *SIGH*. Summer you are just too good to me.
Ice cream and me, we go together like flies on honey. So when you place a scoop of ice cream on top of some fresh in-season peaches that came fresh off the grill… Guys.. It just WORKS.
Grilling peaches on the grill might sound a little out of the box kind of crazy but just trust me on this.
These are good. Like I can't stop eating them kind of good. Warm gooey peaches melting in your mouth on a warm summer evening… Oh my word can we say perfection! I'll admit though, even after these peaches I still was dreaming of the double chocolate chip cookies. Can I eat them together?
If you make these the next time you heat up the grill, I'll be your best friend forever. You of course have to bring me a bowl. Yes we will be friends forever all because of grilled peaches – with ice cream, of course. We CANNOT forget the ice cream. If you forget the ice cream, we might not be able to be friends (kiddinggggg)…. Maybe.
We've made so many different ice creams over the years. Here are some perfect ice cream recipes to put on top of your grilled peaches.
There are many different kinds of ice cream out there these days. You have low-carb ice cream and dairy-free ice cream galore to choose from so these can easily fit into any dietary needs.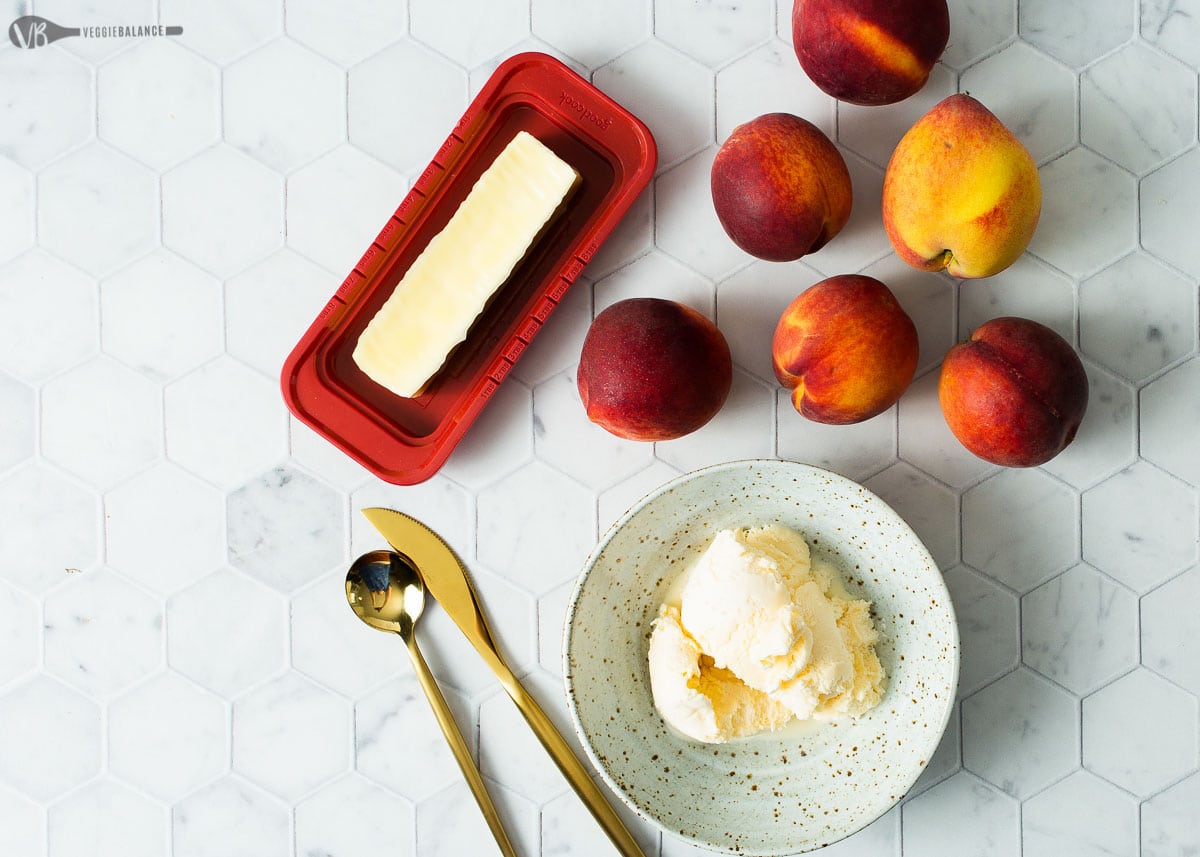 2-Ingredient Grilled Peaches
Two ingredients, that is all you need. Some butter and fresh peaches.
How to Grill Peaches
How to cut a peach for grilling – you will want to cut the peaches before grilling. You first want to slice them in half and remove the pit from the peaches. It's much more difficult to do this after the fact so be sure to not skip this step.
How long to Grill Peaches – in total you want to grill them for at least 8 minutes. 4 minutes on one side and 4minutes on the other. Anymore than 10minutes and you may find them becoming a little difficult to pick up off the grill with tongs so just keep that in mind if you cook longer to have a spatula handy to pick them off the grill that way if you set them and forget them.
Can you grill peaches ahead of time – I really think this comes down to personal preference. We personally prefer them fresh off the grill. Cooking them ahead of time they end up becoming rather mushy and then when reheating them again they'll really just break down even more. So if presentation is what you are going for I would not recommend grilling them ahead of time.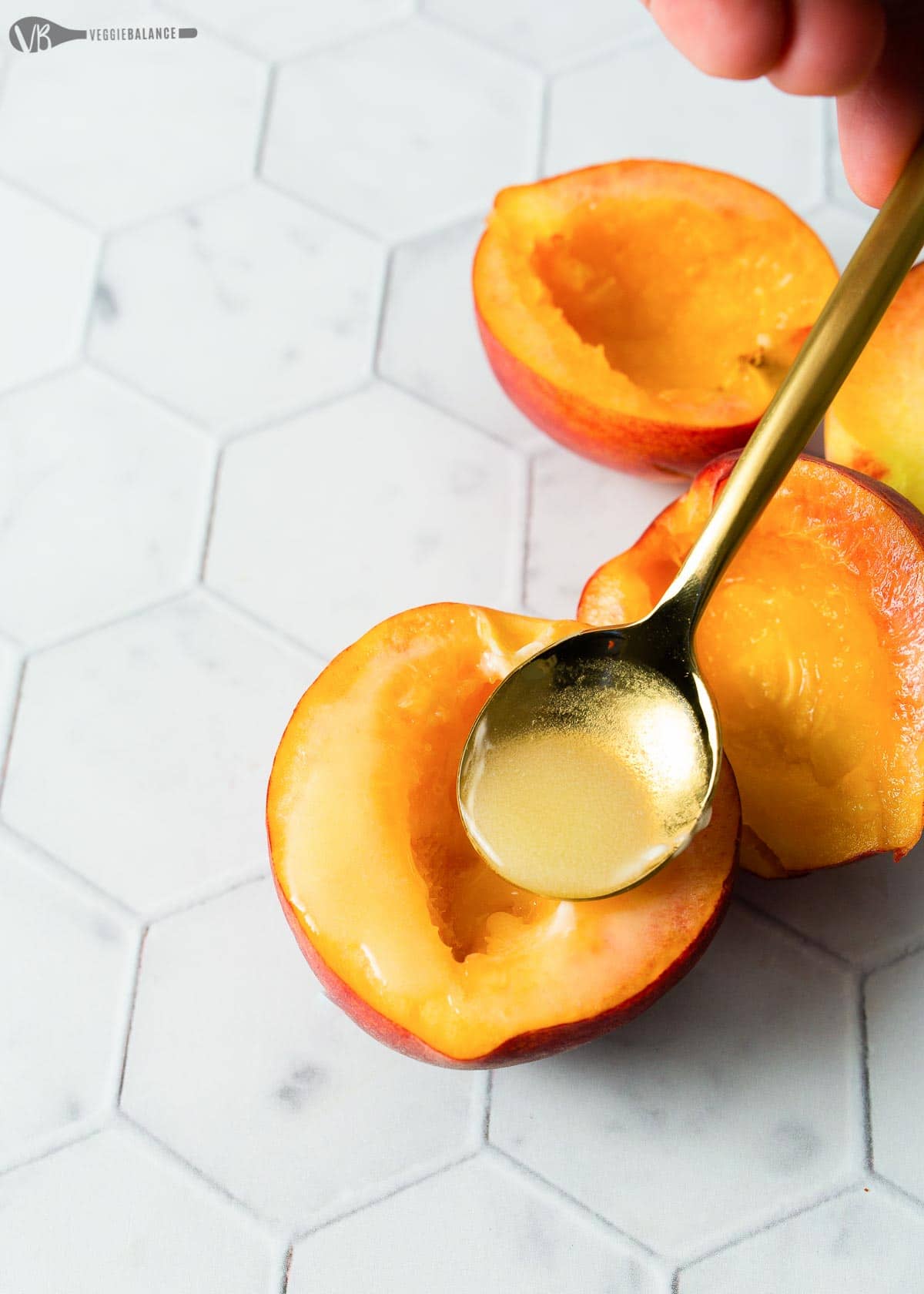 How to grill peaches without a grill
We ourselves no longer have a grill so you I know that people out there are like us but still want to enjoy grilled foods. There are a few options.
Panini press or a George Foreman Grill is by far the easiest way to get those grill marks and grill essences.
Grill Pan like cast iron is another alternative. Best part is you can do this in your oven since cast iron can go in the oven.
This is what we do with the Grill Pan for Grilling Peaches
Place the cast iron in the oven ahead of time and set the oven to 400F. You really want the pan to get hot.
Prepare the peaches by cutting and brushing with butter.
Pull out the cast iron, place your peaches face down onto the pan and place back in the oven for 5minutes.
Flip the peaches and cook for another 5minutes.
Remove from the oven and enjoy with some fresh ice cream or whipped cream.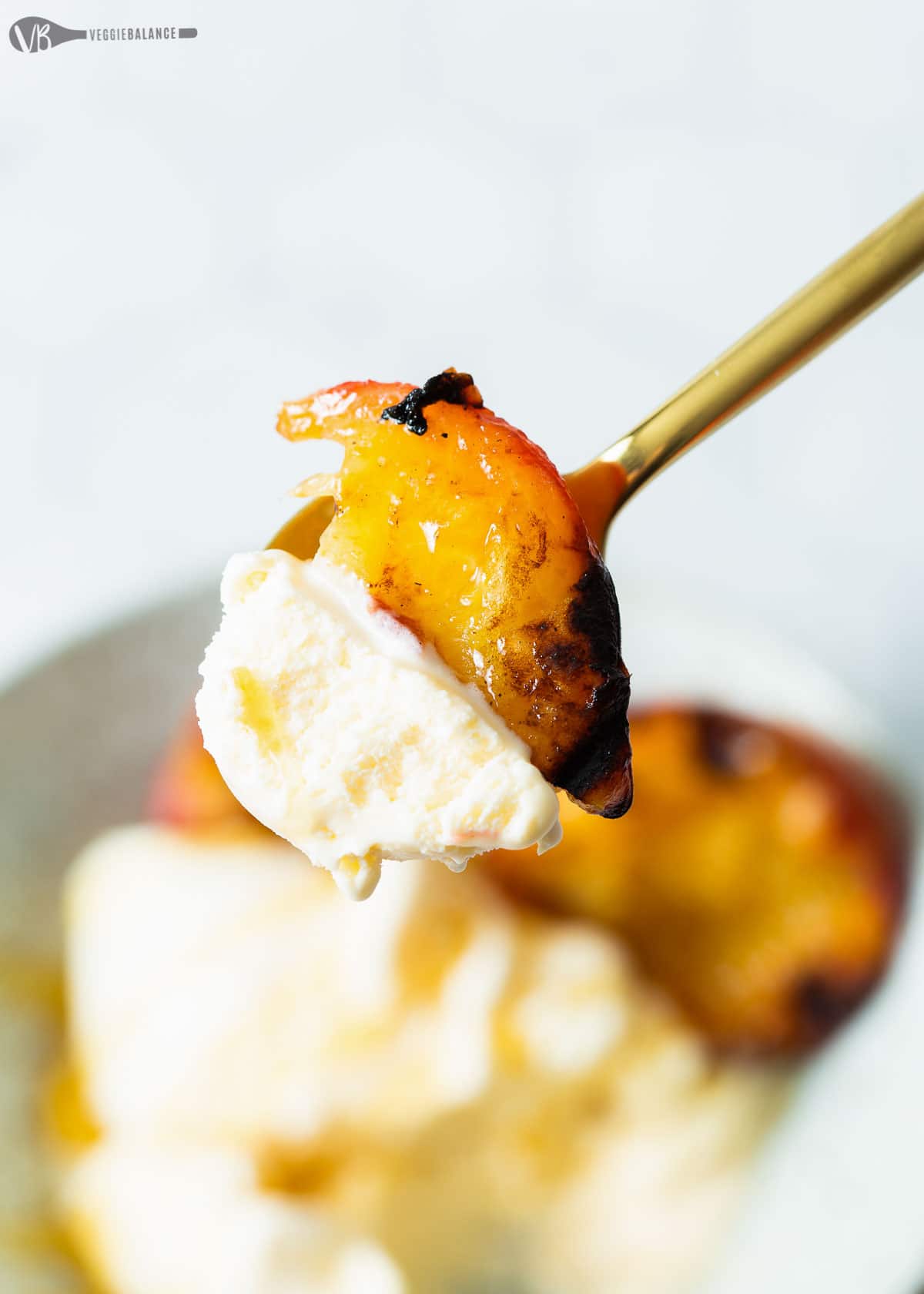 While I know our summer has not exactly gone as planned this year this is still something we can do – EAT GRILLED FRUIT. 😉
Summer + Ice Cream = EPIC COMBINATION THAT IS A REQUIREMENT
Now go face plant yourself into some grilled peaches with ice cream. It's summer right?
Other recipes you may enjoy: