Crockpot Potato Soup that will bring the comfort for a delicious dinner. You'll be spooning it up in no time and loving it! (Gluten-free, Vegetarian)
I recently had a birthday. Hello 25! You know you are getting older when you are asking for kitchen appliances for your birthday presents. My requests this year? Immersion blender and a food dehydrator. Crockpot potato soup, here I come.
What does this mean? Lots of soups, dried apples, plantains, and herbs. So get use to this soup obsession, it's here and staying, just in time for winter.
I never new what I was missing. I have found a lover of all lovers … potato soup.  I've always avoided potato soup as it never appealed to me and it's bad name of being super unhealthy with zero health potentials.
Of course, I fixed this pesky unhealthy situation without effecting flavor one bit. Making it at home was always a drag having to puree the soup in batches in the blender.
Ugh. That was until I finally got a immersion blender! I might be 25 now, but that did not stop me from doing a happy dance when I got it! Seriously, if you don't have one yet. Get one now. They are a necessity.
Potato soup of course is Roland's favorite soup. With a pound of cheese/bacon on it.
Surprisingly he has gobbled this up with little cheese and bacon and OK'd when I asked if he'd eat another batch with me. Yes, that is how much I am in love with this soup. We made multiple batches back to back.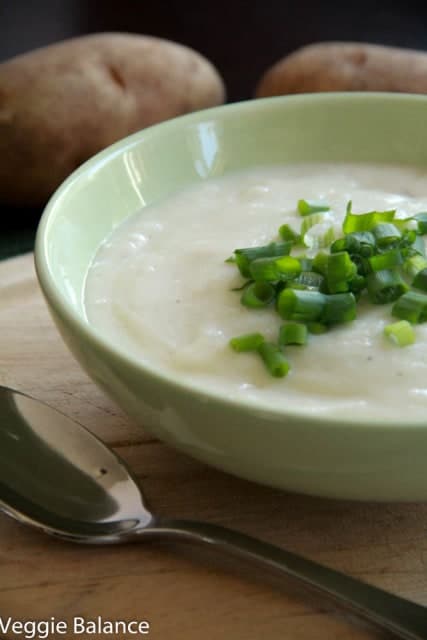 I had a moment earlier this week. Feeling under the weather for the last couple weeks I've been struggling with getting the every day to day things done like cleaning (ugh), meal planning (love), grocery shopping (ugh), and exercising (love/hate).
Roland took a new job recently and has been getting up super early and working very long days has us both uprooted out of our normal routine.
We've taken to eating what we have around the house and just winging it. These are my 'shine moments', it pulls the kitchen creativity out of me and lets me wing things. I love it.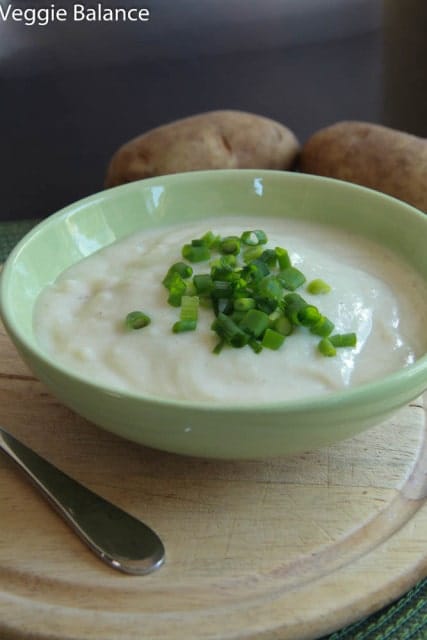 So my moment, it was a Tuesday night after working all day. We didn't have a dinner planned. I was still feeling blah so I decided to make another batch of comforting potato soup.
Peeling the potatoes, chopping the onions, pulling my homemade veggie broth out of the freezer while in complete and utter silence of my home. It was pure absolute bliss.
I realized that something so enjoyable such as preparing meals brings me such serenity. I put it up there with meditating. I came to the thought of this.
I feel so blessed to have had people push me to of stepped out of my comfort zone and creating Veggie Balance. To of been able to share such a passion of mine has been such a blessing and I thank everyone who comes and joins me in my little Veggie Balance world. So thank you. 🙂