Cucumber Strawberry Salad is the perfect sweet and savory combination for your next cookout. Strawberry, Feta and Cucumber meld into delicious perfection.
If this doesn't scream summer to you I don't know what would. This Strawberry Cucumber salad is a must for the next cookout. Honestly though, I don't know if you are going to want to share this. This is one of those moments you'll want to be greedy.
I'll tell you right now, you're going to want to make this salad, find yourself a fork, stand over the bowl just continually grabbing bites.  If one bite turns into 100 bites it's OK because it's secretly healthy! It is that good.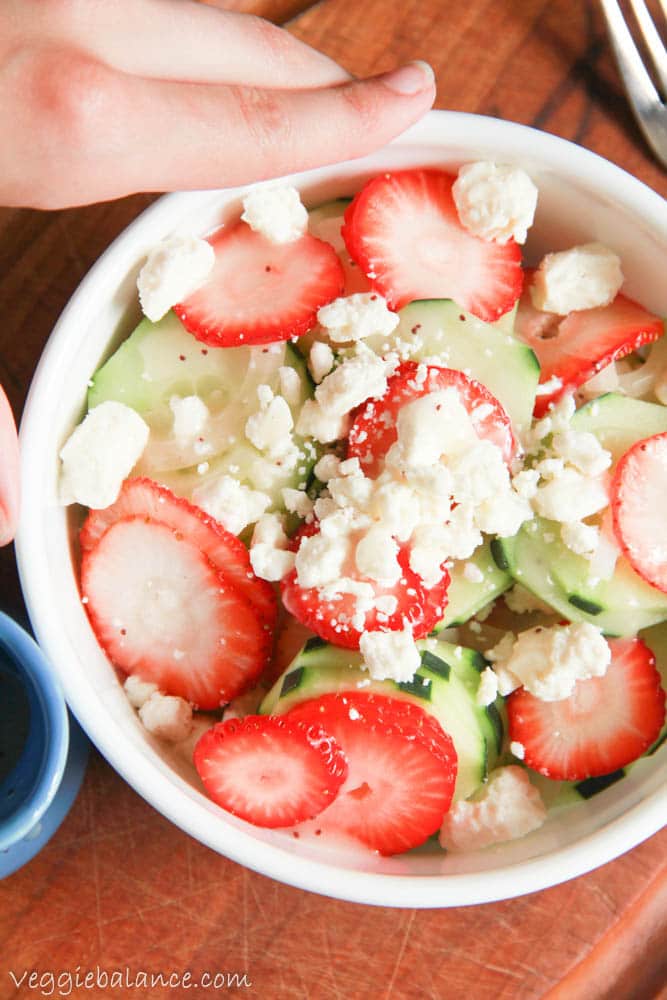 Fresh summertime ingredients melding into one glorious bowl. It is truly healthy foodporn at its finest!
Oh these glorious strawberries I have oh so missed thee. During the winter fruits are really non-existent up here in Michigan. You could buy a $4 carton of flavorless strawberries doused in chemicals.(meh) Or organic strawberries that are so outrageously priced and molding on the produce stand.
Delicious, ripe, organic strawberries during the winter are like unicorns, they just don't exist.
I wait for the good stuff. That's right, I wait all freakin' winter. I just stop even trying to find them. At first it's super hard and you find yourself perhaps giving your right arm to have one last ripe and juicy strawberry. But that will pass.You get use to it over the winter and eat lots of root vegetables.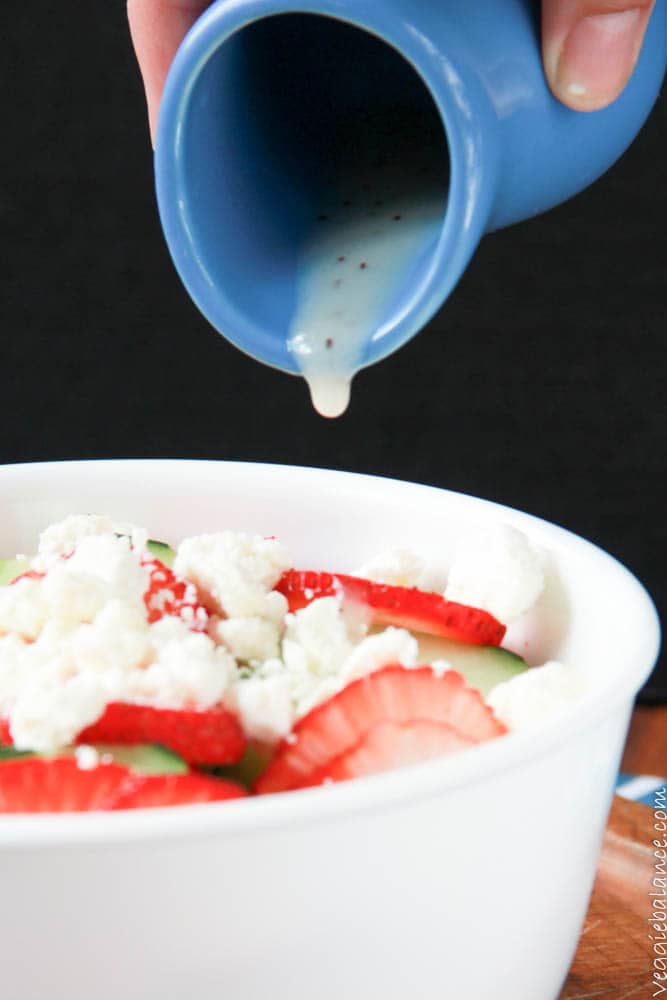 I'm telling you though, when you get that first bite of a strawberry after not having it all winter. It is the most heavenly thing you've ever experienced. Screw chocolate and sex you don't need those (well, yeah we do) but we also need fresh strawberries! I'm hooked again and will give anything to be able to eat these for breakfast, lunch and dinner.
So grab yourself that fork and dig in my friends. Add it to your blackened chicken dish or if your feeling like a potluck salad kind of day make this broccoli potato bacon salad and cucumber salad to go with it.