Healthy Banana Bread Bars recipe are the perfect way to welcome a morning with the soft, chewy low-sugar banana bread topped with a healthier creamy buttercream frosting.
After creating Gluten-Free Cinnamon Oatmeal Bars, I knew these Healthy Banana Bread Bars were next up.
Create, Taste, Devour.
Yep, that is pretty much how long these lasted in my house. On a beautiful Saturday morning, paired with a cup of hot tea, these were gone.
It happens.
When banana bread bars are this decadent, it's almost impossible to not eat them in the blink of an eye.
Almost done with the Thanksgiving leftovers?
No worries, I have you covered with these Healthy Banana Bread Bars. Regretting Thursday's binge, but somehow just want to keep eating junk?  Yeah, I feel you.
Say hello to your new weekend morning breakfasttttt. Or every breakfast for the rest of your life.
Helloooooo.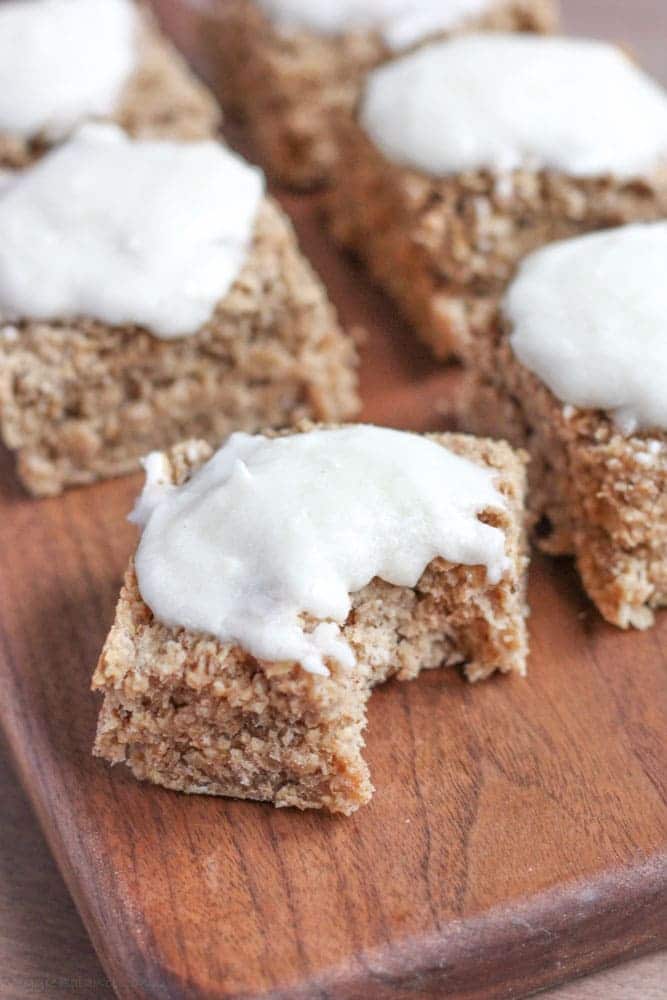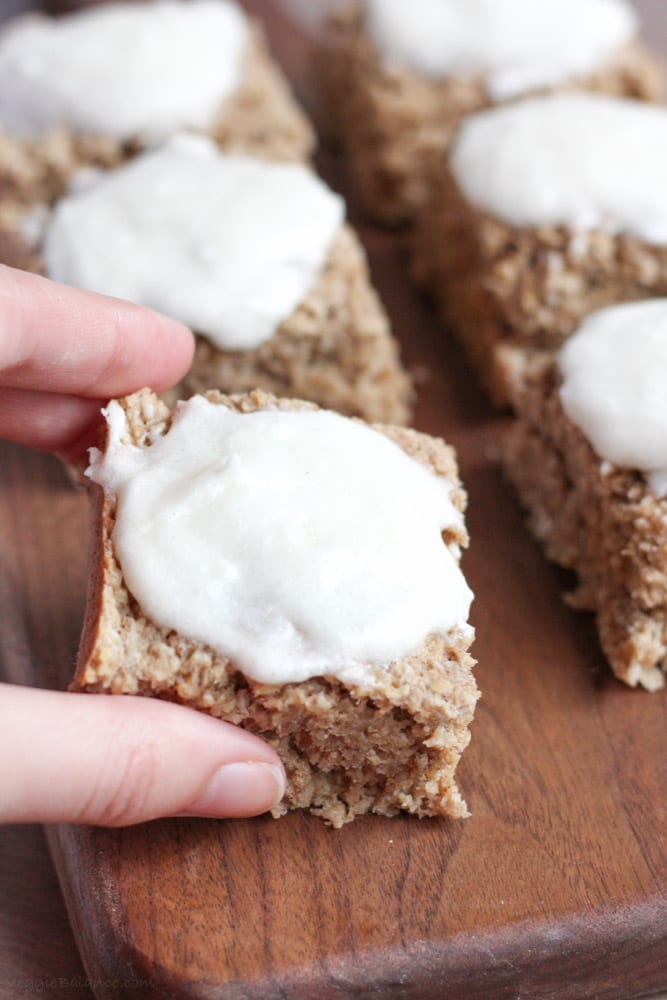 Eating Thanksgiving leftovers is by far my favorite.
By the way, I have decided it is totally and 100% possible to survive on pumpkin pie and mashed potatoes. It is possible.
Gluten-free Cinnamon Oatmeal Bars on Saturday. Healthy Banana Bread Bars on Sunday. I think we just may have created the best weekend ever.
Did we just become best friends? Yep!
Feeling especially self-indulgent? You can make Low-Sugar Vanilla Buttercream Frosting on Saturday, pile it on these breakfast bars, and have two delicious, cozy, heaven-in-your-tummy kind of breakfasts.
Whoa, why did I not think about this to begin with? It's official: Every weekend needs to be an oatmeal/banana bars kind of weekend.
Especially now that it is so frigid outside! Every inch of my body is begging for warm, cozy dishes to keep me warm. Not to mention, my fleece blanket has practically become attached to my body. Must keep warmth in.
Eat Banana Bread Bars.
Eat some more leftovers.
Best weekend ever.