Gluten Free Angel Food Cake is a little slice of baking heaven. Light, fluffy perfection so you can have your cake (and eat it too) without the gluten.
(Gluten Free, Dairy-Free, Nut-Free)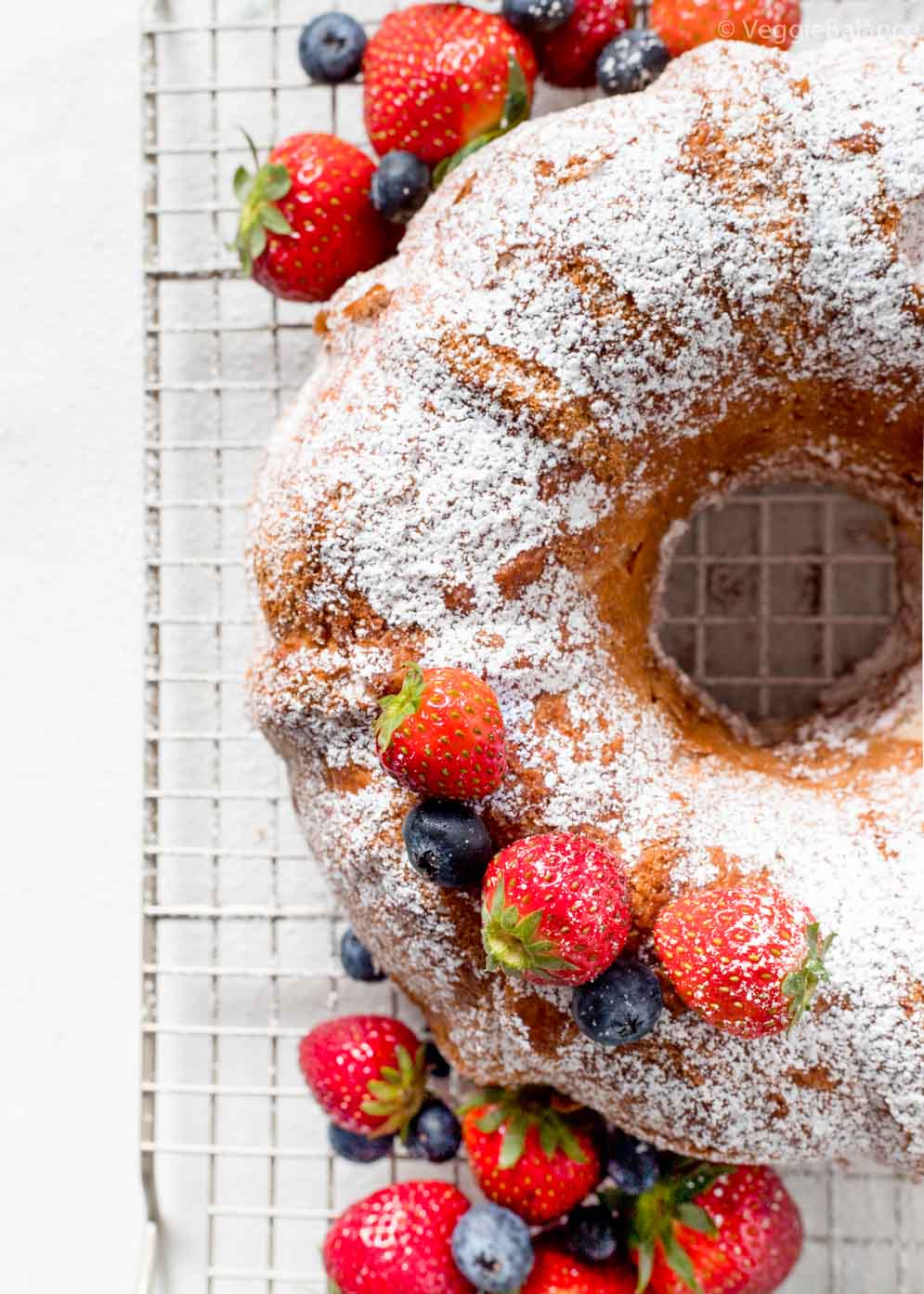 This post is sponsored by Bobs Red Mill. To learn more how this supports VeggieBalance to continually bring you free recipes every week. Find out here.
Gluten free angel food cake is one of those classic cakes perfect for any occasion. Especially when it is made from scratch (and from the heart.)
Gluten free angel food cake 101
The best part of a good angel food cake is the versatility of this sweet and light dessert. A few things to know about angel food cake:
How is gluten free angel food cake different? Angel food cake is unique from other cakes because of the lack of butter used. It it popular as a light and fluffy texture.
What kind of pan should I use for angel food cake? We opted for a 10 inch round tube pan for this cake. We should note that even though angel food doesn't use butter, we found it was important to grease the pan very lightly so the cake will come out properly. Traditionally this is not recommended, but if you find your cake is being stubborn in your pan, this may just do the trick. It's also important to allow the cake to cool completely before removing.
How should I store my cake? The best way to keep your gluten free angel food cake fresh is to place in an airtight container in the refrigerator. It will keep for up to a week.
Can I freeze angel food cake? Yes, you can. Wrap your cake in plastic wrap (or foil, if you prefer) and place in a freezer bag. This will keep for a considerably long time in the freezer, provided the temperature stays consistent.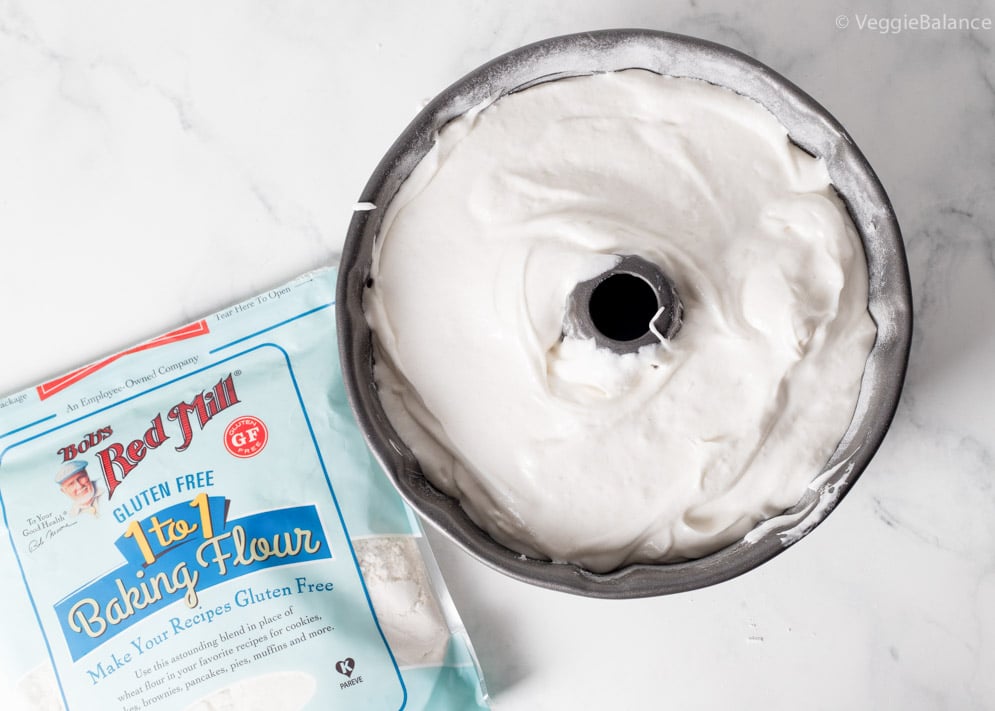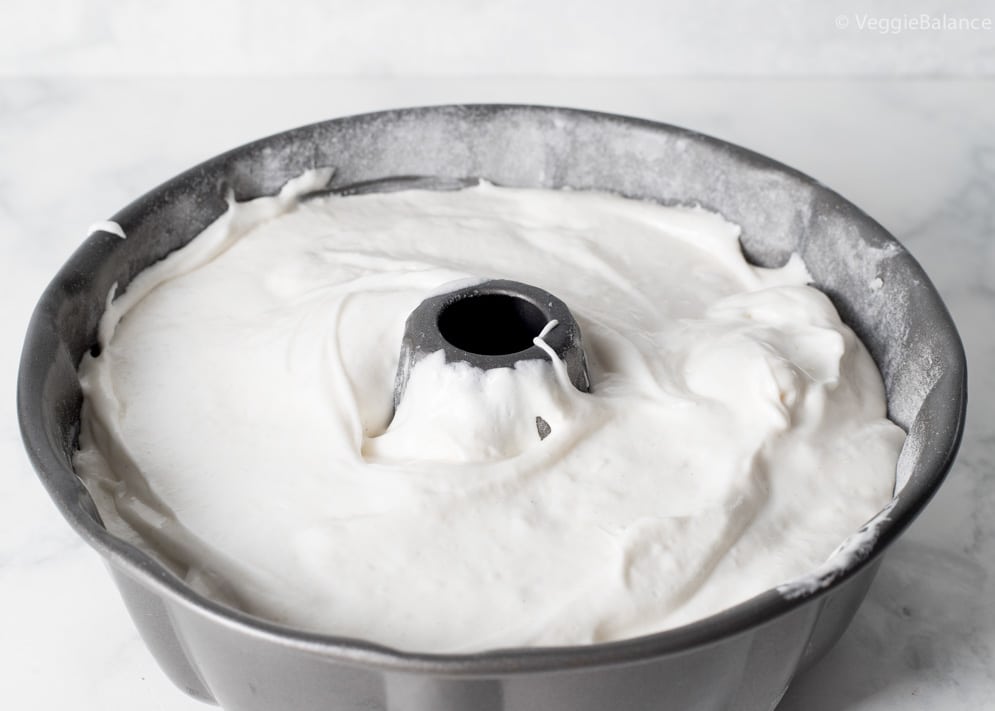 Mistakes that will ruin your cake
Cold eggs are a no-no when it comes to angel food cake. Take a dozen eggs out of the refrigerator about an hour before it's time to get down to business.
Unsanctioned substitutions will go sideways. Yes, we know this is a twist on the classic angel food cake, but it's tried and true. If you swap other ingredients, you'll have a devil of a time.
Soft peaks are the goal of your whipped eggs. Too much whip will make your cake chewy and heavier.
Don't peek. In the oven, that is. Let your cake bake without being exposed to different temperatures through the process. It's worth the wait.
Fold, don't stir. When mixing your cake, you want to fold instead of straight up stirring. Light and fluffy requires folding.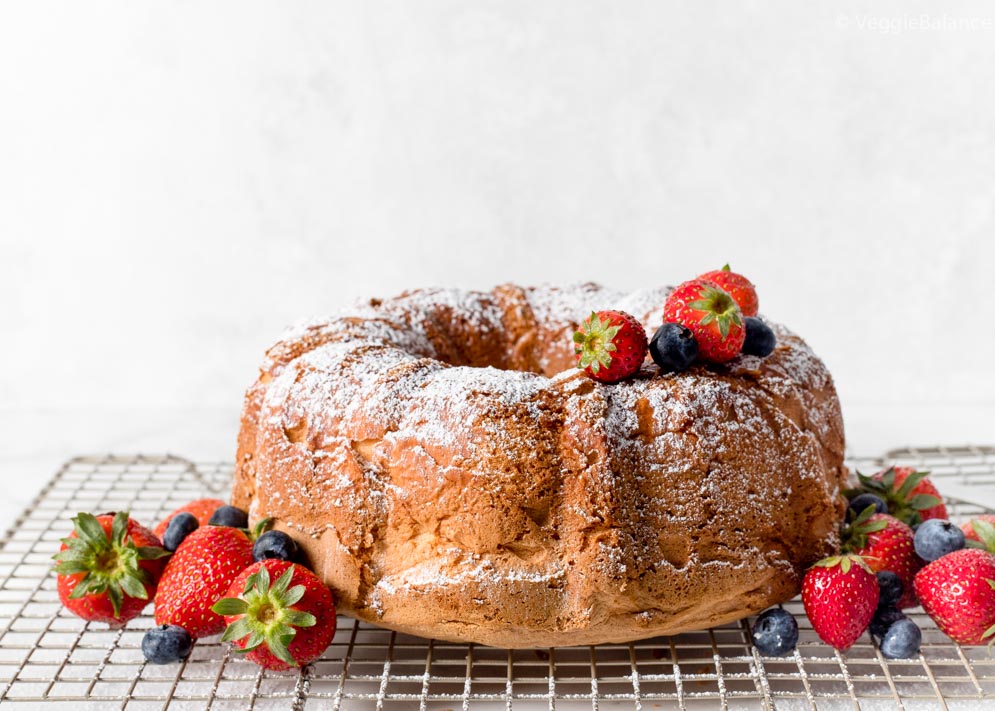 Is gluten angel food cake healthy?
Oh, the ultimate cake question from hopeful cake lovers everywhere. Because we all want to be able to have our cake without a big fat slice of guilt to go with.
The down and dirty truth: Yes, it really is. Just a little bit.
A little less guilt, served with a smile. Personally, we encourage you to not limit yourself with guilt and love what you eat. Life is about balance.
But angel food cake offers fewer calories and less fat (thanks to the no butter!) – so yes, it is by some margins a healthier cake option. Light, fluffy and healthier for the win!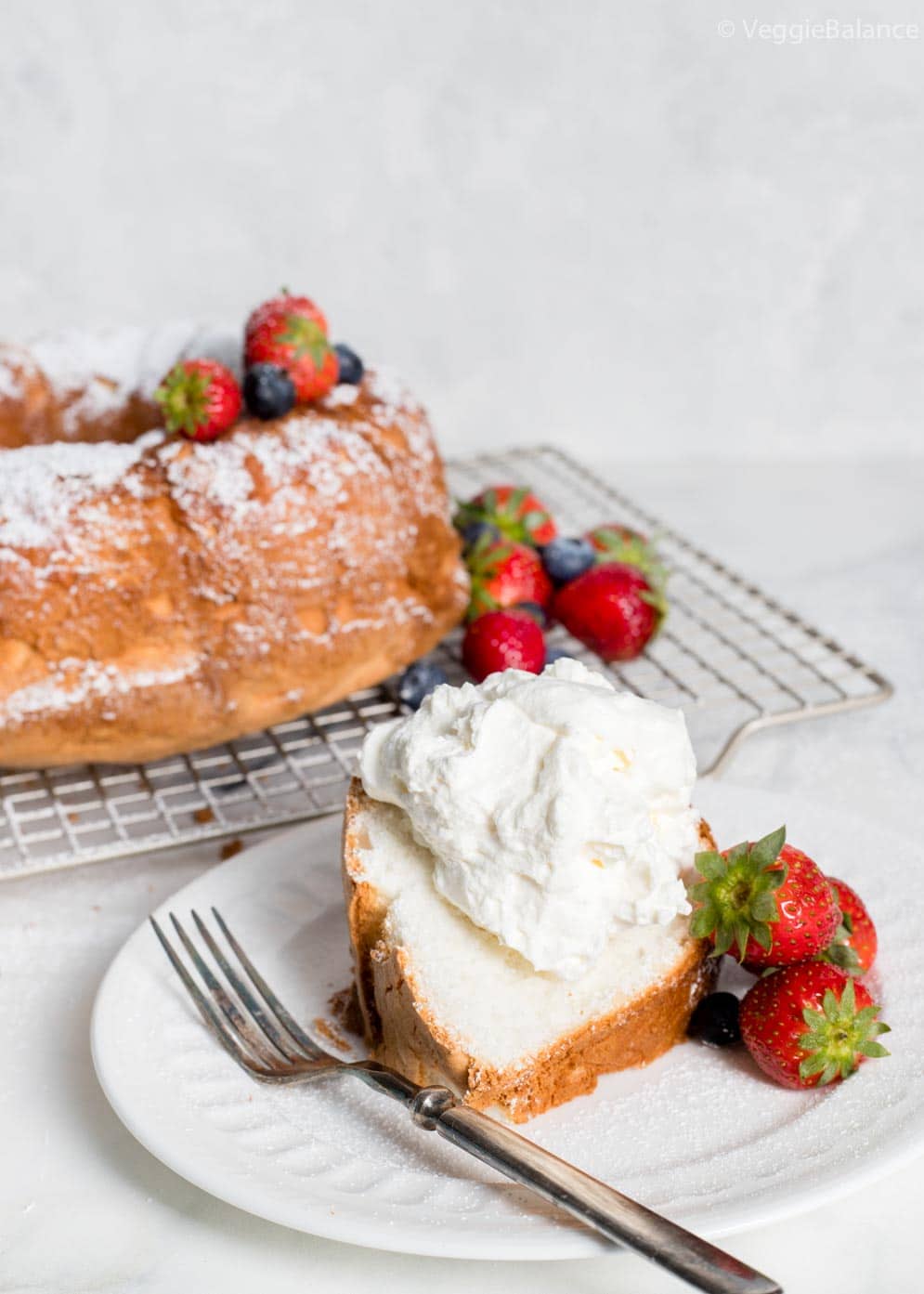 What to serve with
Just because gluten free angel food cake is a staple dessert, doesn't mean you have to settle for ordinary. Angel food is a blank canvas, ready for your culinary creativity.
Strawberries and whipped cream are our go-to. Lots of different berry combinations work as well. Blackberries are also quite nice.
Lemon curd or lemon sauce drizzle
Caramel sauce, salted optional
Sundae toppings: Nuts, whipped cream, fruit. (YUM!)
Chocolate or mocha ganache
Chocolate whipped cream
Some other recipes you might like: