Garlic Sauteed Spinach packs a Popeye-worthy punch with a tasty twist. Jump on the veggie bandwagon without sacrificing your taste buds. (Gluten-free, Vegetarian, Vegan)
Last post I took you on the dessert train. Healthier, but a dessert nonetheless.  Today we are going on to the vegetables train! Woot woot! Lets eat our veggies, bring on the Garlic Sauteed Spinach!
Spinach is such a powerhouse. Kale and chard can take a side seat and let spinach shine for a moment. In my opinion spinach tastes better than both of those. Massaged kale lovers can love that as much as they want. It's just eh to me.
Spinach truly is my go-to veggie. I eat a 16 ounce container of spinach every week. I'm like Popeye my friends. Now, if only I could get some bulging arm muscles out of this deal..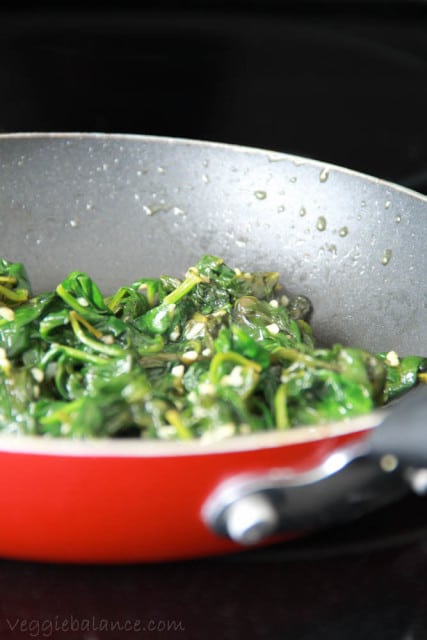 Ok, so since my Popeye dreams will probably never come true I'll move on.
Spinach, these little leaves are my favorite because they are so mild in flavor and are packed with iron, zinc and niacin along with many other nutrients our bodies need. I find myself feeling off if I haven't had my daily humongous spinach salad.
Plus, it is currently a germ war zone in the VB household. Roland is very sick and I'm doing my best to not quarantine him to the couch and continue to love him and take care of him. I do not want to get sick!
Returning back to work I'm around 4 different bugs going around my office and then it's also at my house. I cannot escape! My excessive perhaps compulsive hand washing is getting the best of me. Is it a problem that my hands hurt to wash them because they are so dry?
I'll take dry hands over getting a bug. If it knocks Roland on his butt for 3 days means it'll knock me out for a week. Gotta eat these greens!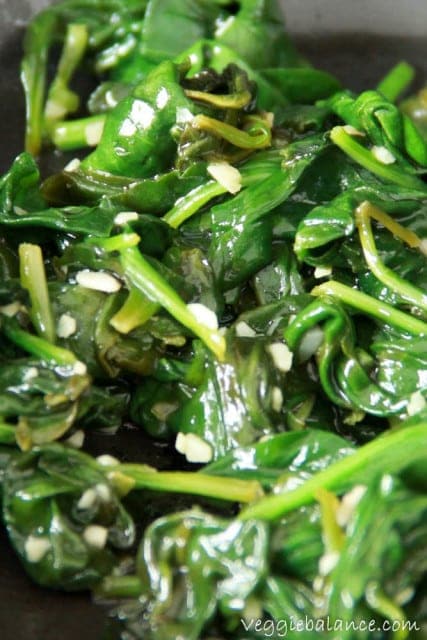 It's a win win, grow some Popeye muscles and fight of the sickness that plagues around me.
Here is by far the reason I love garlic sauteed spinach. You can eat 10x the amount of spinach cooked down then when eating it in a salad. Plus, drenching it in healthy fats and smothering in anti-bacterial cold fighting garlic it's a powerhouse side.
No worries, I'll have something next posted where we will jump right back onto the dessert train. Balance my friends, perfect balance. 🙂