Buffalo Chicken Lettuce Wraps (AKA Buffalo Sloppy Joes) are a fun and spicy twist on the classic Sloppy Joe. Dinner in under 30 minutes can't be beat with this delicious Sloppy Joe recipe!
Gluten-Free, Low-Carb, Dairy-Free Friendly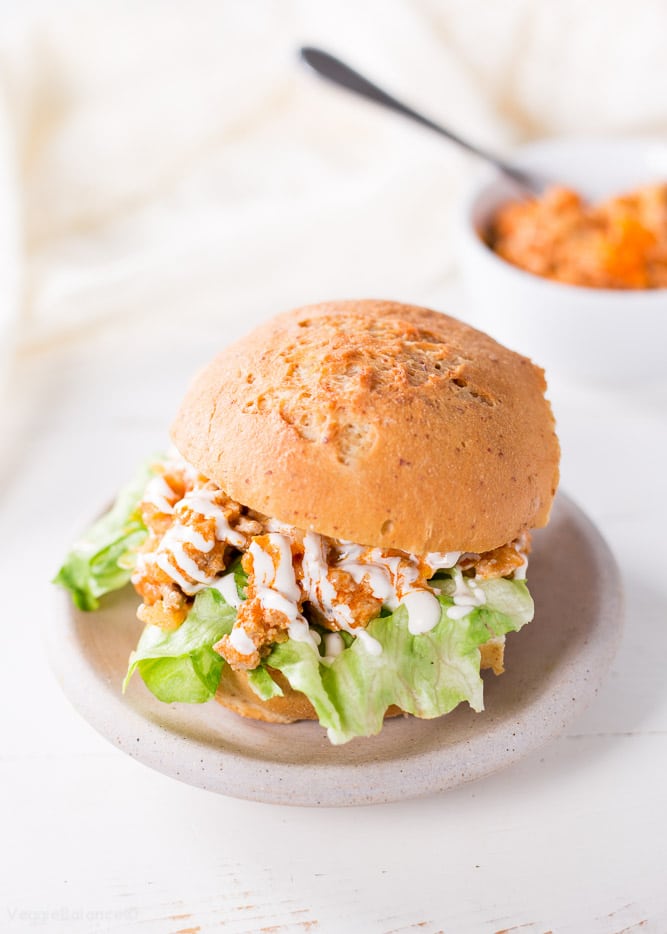 I must confess, this Buffalo Chicken Lettuce Wrap is a dinner I can get on board with every single day of the week.
We hide some extra veggies inside our Sloppy Joe base so the family will have zero clue they are eating something so good for them. 😉
Even with hidden veggies, these Buffalo Sloppy Joe wraps will be devoured and seconds are inevitable.
If you are looking for a traditional Sloppy Joe base that is deliciously vegan, try out our Vegan Sloppy Joes. Amazing!
In my household, R just needs (or he thinks he needs) meat so I need (actually need) to find ways I can enjoy eating it as well. This recipe is a perfect solution for us – using ground chicken.
Possible Vegetarian Option: I've been meaning to try it with our vegetarian meat base but just haven't gotten around to it. So if you do, let us know!
Two Ways to Devour our Buffalo Sloppy Joes
Lettuce Wrap if you are going the low-carb route or just prefer to consume fewer calories for a super healthy dinner.
Gluten-Free Burger Bun if you want to get the FULL Sloppy Joe experience. Which, let's be honest, we all kind of need this in our lives once in a while since going gluten-free. There are times I just want a bun and feel normal again.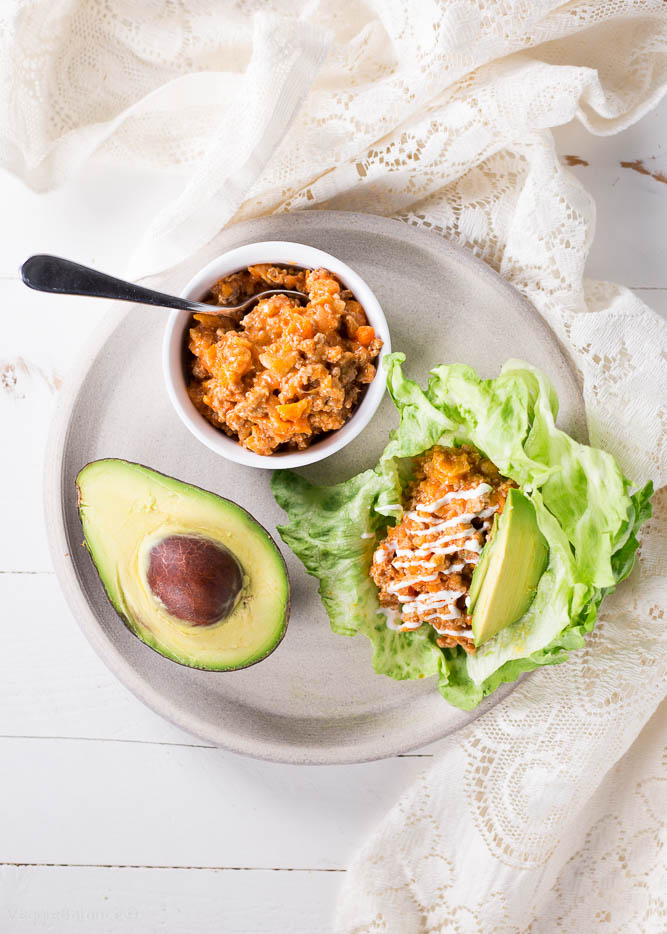 What type of meat to use in our Buffalo Chicken Lettuce Wraps:
Ground Chicken – This is probably a given with the name of the recipe but there are a few other options.
Ground Turkey – If you can't find or don't have access to ground chicken, ground turkey is a fabulous alternative.
Vegetarian Option – Now I haven't tried this but I don't see WHY it wouldn't work. Once we get ourselves a food processor again, I want to try it by using our Vegetarian Meat Base from our Vegetarian Taco Meat or Vegan Sloppy Joes recipe
My Dairy-Free peeps <3: We've got you covered. Simply using our Vegan Ranch Dressing in this recipe the Buffalo Sloppy Joe base is entirely gluten AND dairy-free for you. Woot!
Don't forget: We also have our rocking Homemade Buffalo Sauce that is dairy-free and gluten-free, so it works perfect for this recipe!
It really is a versatile dinner that can appease everyone in the family. Now let's get cooking and in about 30 minutes you'll be biting into a delicious Buffalo Chicken Sloppy Joe with all those delicious flavorssss … and hidden veggies. 😉