These easy Gluten-Free Bagels require no yeast, no boiling and just 5 ingredients. We'll show you how to make these homemade bagels. All those bagel flavors can be yours again and 100% homemade!
(Healthy, Gluten-Free, Low-Sugar, Vegetarian)
Have you seen the infamous 2 ingredient bagels out there? Like many of you, I was intrigued but knew with gluten-free baking to get the same result we needed to play with it a bit. Homemade bagels are coming your way today!
So the 2 ingredient bagels have turned into 5 ingredient Gluten-Free Bagels. No yeast needed but see what other ingredients that you'll need!
Gluten-Free Flour Blend
Whole Fat Plain Yogurt
Egg
Baking Soda
Salt
While I haven't gotten the chance to test this recipe out with dairy-free yogurt alternative I'd imagine it works with a coconut yogurt. If you try it that way, please let us know how it goes by the comments below or tagging us @veggiebalance.
How to Make bagels is rather simple after that.
mix in a bowl – Create a well into the center of your dry ingredients for your wet ingredients. This will help with combining the ingredients together correctly without overmixing
roll into bagels on a well-floured surface. You will need to kneed the dough a bit to form a round ball and split into four sections. You can make them however small or large just keep in mind of the baking times may vary.
bake!
Hello homemade gluten-free bagels. I love you.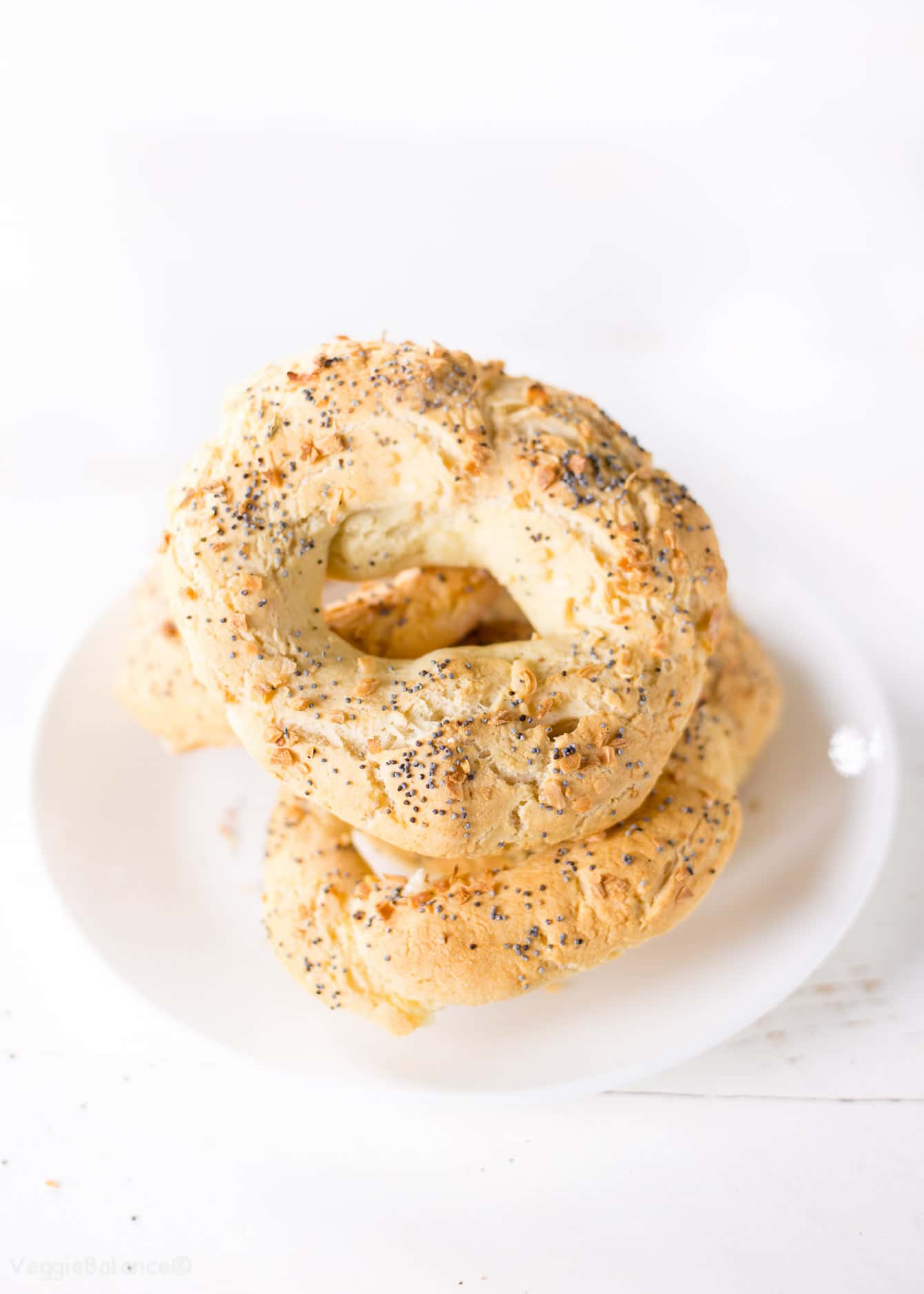 It's a no-yeast dough that can be used in numerous ways!
Pizza (of course) is the first thing that comes to mind.  I love my low-carb pizza but really any pizza is my jam. Like these bell pepper pizzas.
Rolls
Pretzels
Bagels
OH! WHAT ABOUT PIZZA BAGELS!?! Ok, thats next.
Does this 5 ingredient dough entirely replace all doughs? No, I'd still prefer my gluten-free drop biscuits, pass me the butter and watch me to go my happy place, face all stuffed with biscuits.
But if you are looking for something a tad bit healthier, simple and a quick way to curb your craving, this dough is perfect since it requires no yeast whatsoever.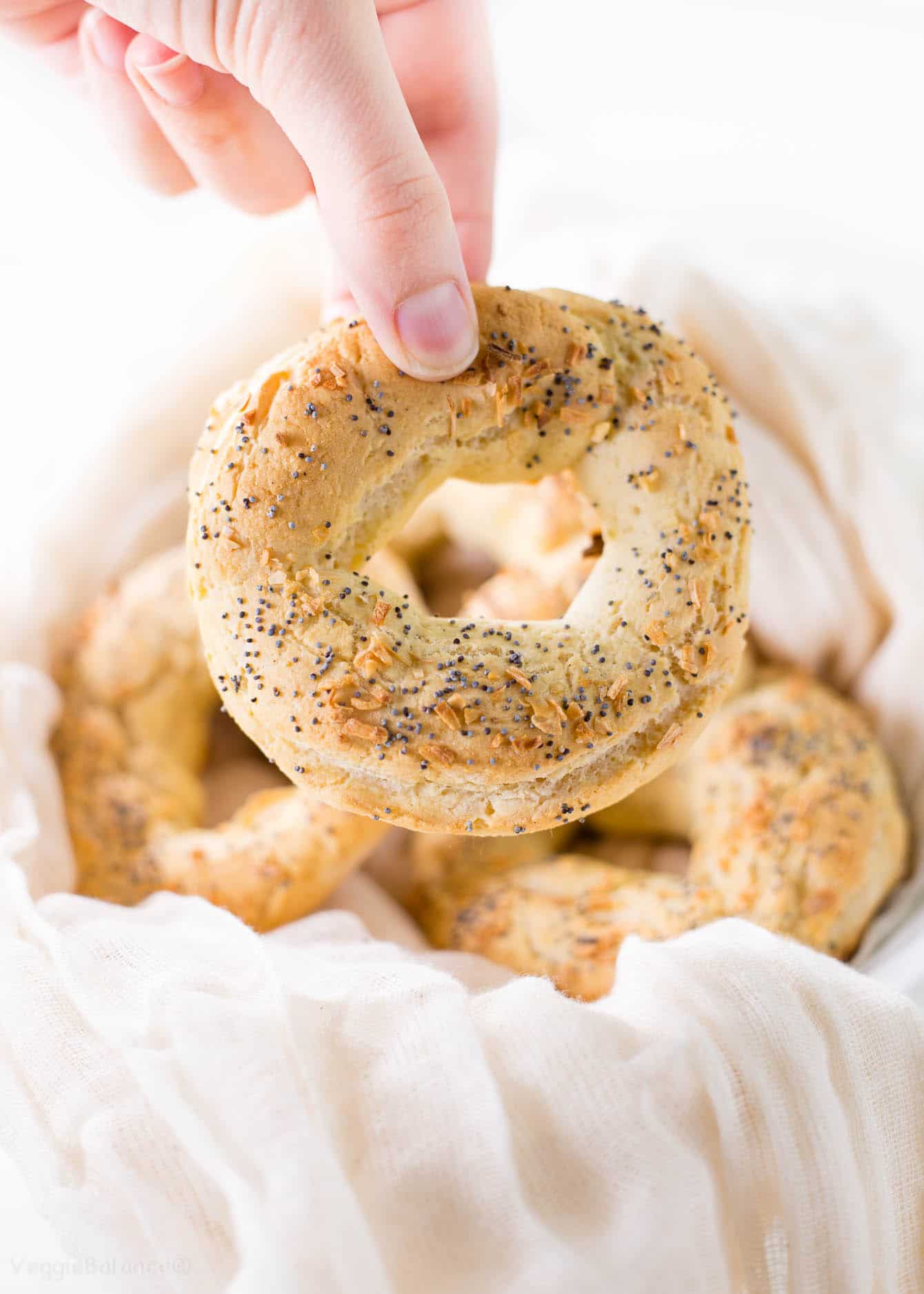 I hadn't had proper onion and poppy seed bagels in almost 5 years. This was my chance and it was everything my heart so desperately desired. I LOVE LOVE LOVE onion bagels.
Is there a flavor of bagel you've been missing that you can't buy gluten-free? This is your chance.
Poppyseed
Cinnamon Raisin
Everything Bagels
Any of flavor that I'm forgetting?
Look no further if you've been eyeing that 2 ingredient dough  getting tossed around the internet. If you tried it and were disappointed, the egg and whole fat yogurt from my experience will turn your opinion around and have you making gluten-free bagels in no time.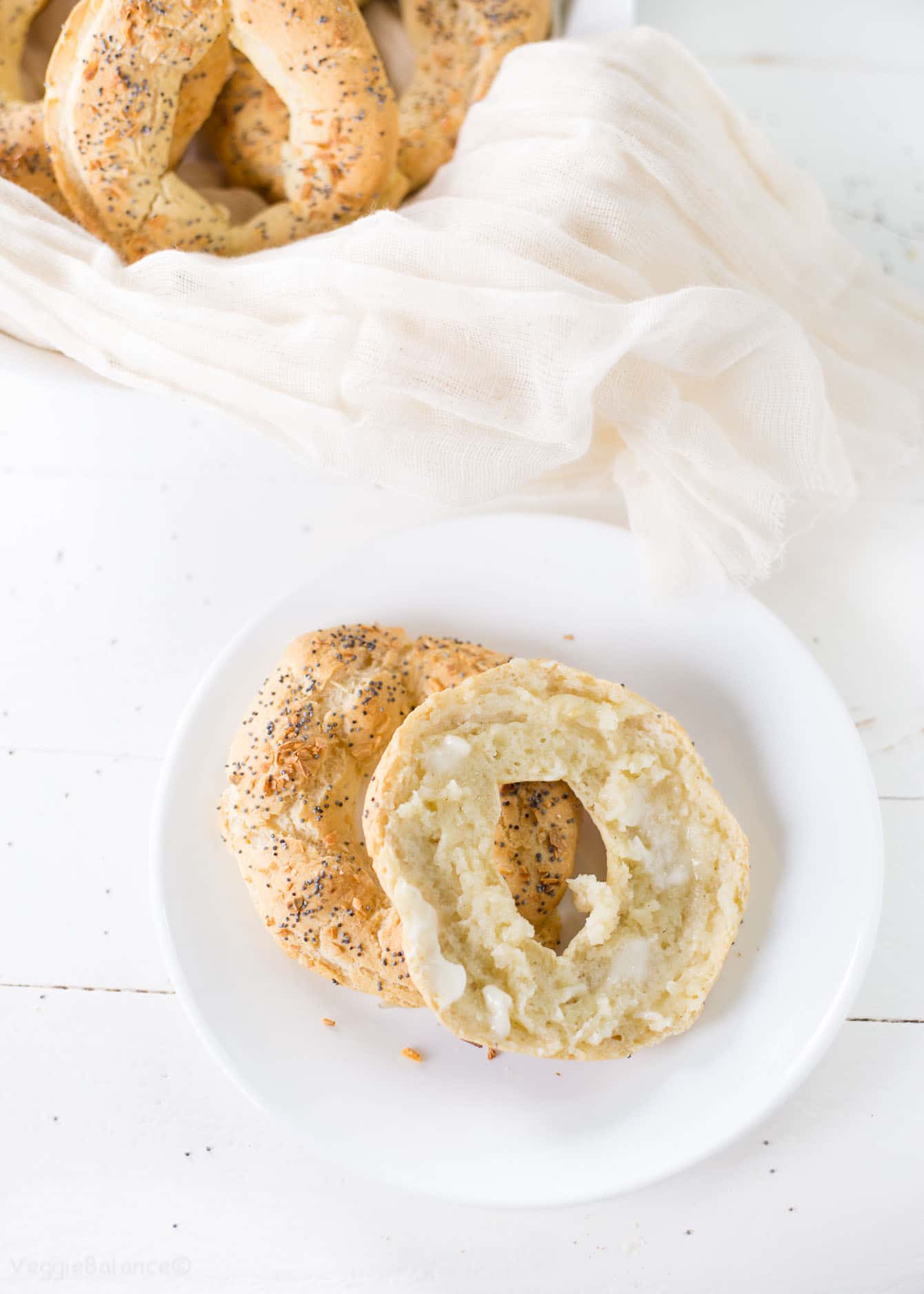 Tips to making the perfect bagels when making from scratch.
Do not over mix the dough. It's best if you use a fork while mixing it together. It'll help combine quicker then if using a spoon which can sometimes can over mix the dough.
Whip your egg before adding to the dough.
How long to bake those bagels? Depending on the size of your bagels and oven the outside may be cooked but the inside slightly uncooked. The best way I found to avoid this from happening is cooking with the information below and if they are slightly uncooked place them back into the oven with the temperature off on the bottom oven rack. Allow them to sit in there for about 5-10 minutes. This should help bake them chewy on the inside and a browned inside without burning.
check out just how easy this is to make!