Homemade Red Enchilada Sauce is so easy to make! This enchilada sauce recipe comes together in just 10 minutes and made with simple pantry ingredients.
(Gluten-Free, Plant-Based, Low-Carb, Vegan, Vegetarian)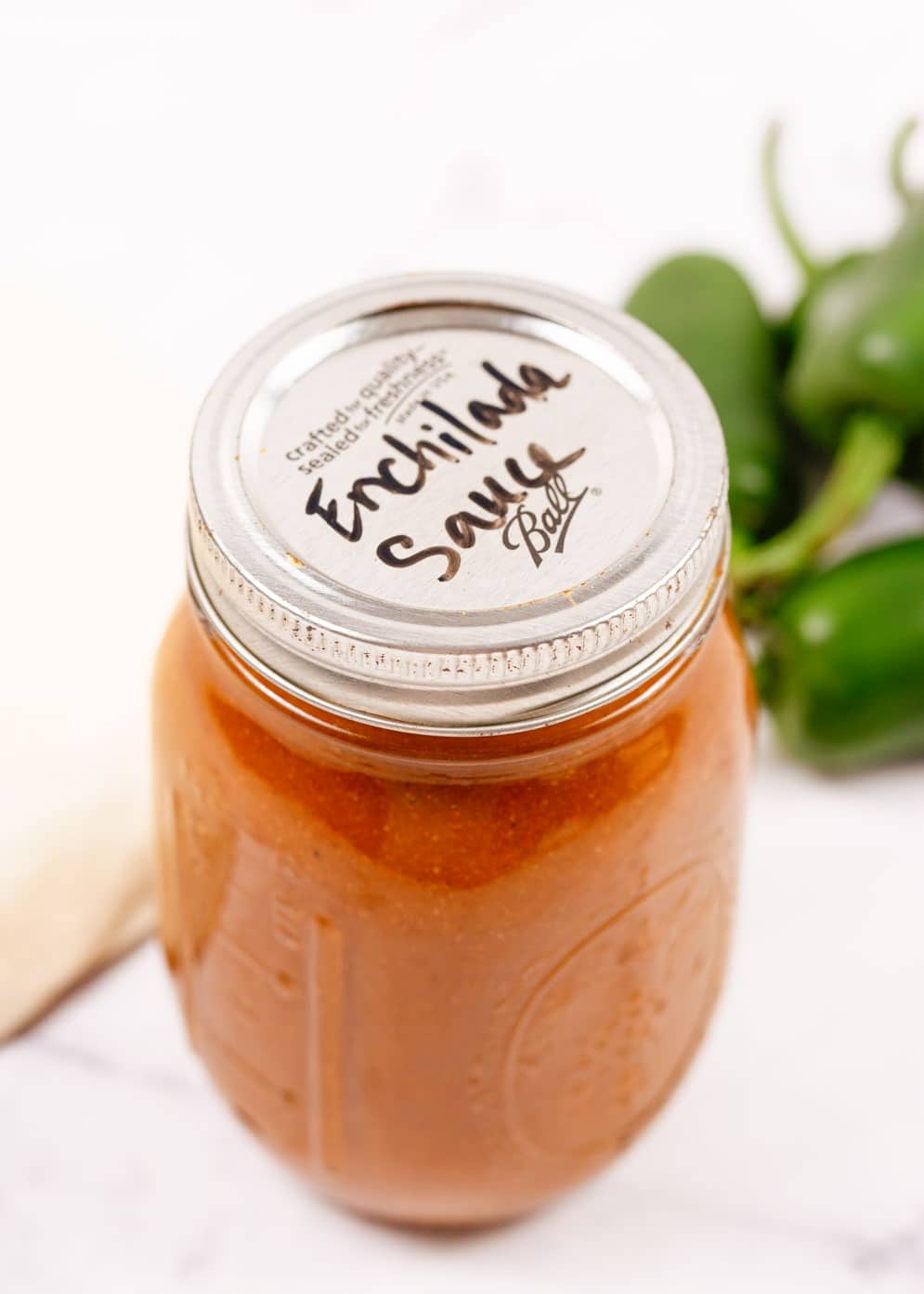 After you find out how easy this homemade red enchilada sauce is to make you will be questioning if you'll ever buy it from the store ever again.
No need to ever be wondering what you can substitute for enchilada sauce. You can whip it together in just 10 minutes with some basic pantry ingredients.
Random Fact: Ireland does not have enchilada sauce. When we moved to to Ireland a couple years ago we were gutted that enchilada sauce was not something you could get. Even the 'enchilada sauce' you may find isn't proper enchilada sauce. We've found that out the hard way too.
So much like our homemade taco sauce that is a fabulous alternative to Ortega sauce we found ourselves making enchilada sauce from scratch and really… IT IS SO EASY!
We figured now is better than ever to share this recipe with you guys. Bean enchiladas have been on our menu multiple times in the past week and with this homemade enchilada sauce you can pretty much whip together a pantry meal pretty easily now.
What is enchilada sauce made of and how to make it from scratch?
It truly is comprised of just pantry ingredients and spices.
You'll need: Olive oil, flour, chili powder, garlic powder, salt, ground cumin, smoked paprika, cayenne pepper and vegetable stock.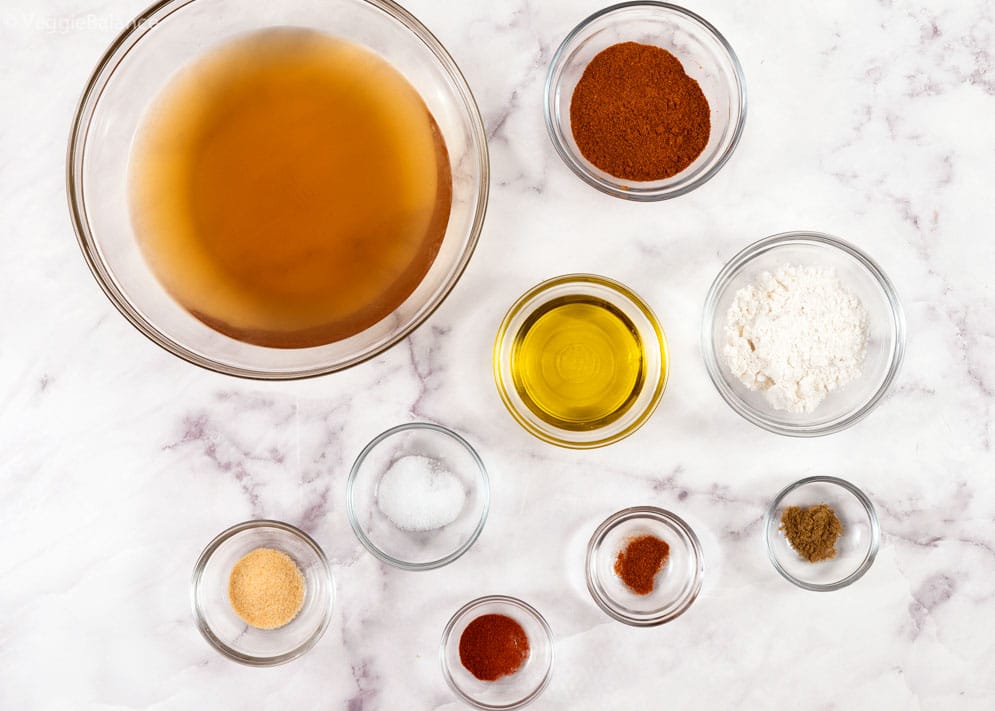 What is the difference between red and green enchilada sauce?
The huge difference is the type of chili used. So in our red enchilada sauce we are using chili powder whereas with a green enchilada sauce you generally use a combination of jalapenos and green chilies.
Salsa verde is my jam so if you LOVE salsa verde you definitely want to try and get your hands on some green enchilada sauce and make it. For the times though red enchilada sauce is going to be our friend since she is 100% pantry ingredients.
But when we can grab ingredients with ease again you'll want to try this easy chimichurri sauce or ours.
But for traditional bean enchiladas we adore a red enchilada sauce. Potentially just because it's what we grew up on?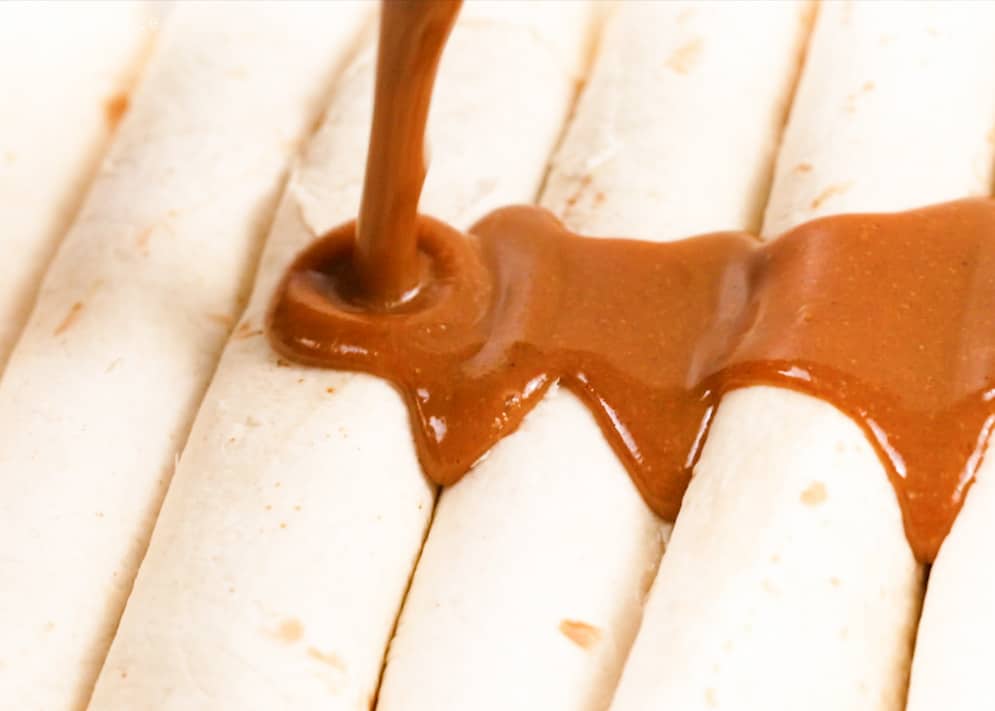 Ways to use your homemade red enchilada sauce
Just be mindful that this each recipe does require more or less enchilada sauce.
Enchiladas: Enchiladas of all varieties like our rice enchilada casserole, bean enchiladas or our quinoa enchilada recipe.
Tacos: Tacos of all kinds. baked vegetarian tacos using our vegetarian meat replacement, vegan taco dip. OR Taco Pasta Salad
This Vegetarian Quinoa Mexican Dinner is another fab one
Salad Dressing: Another fabulous alternative is thinning the sauce out by using no flour or cut the amount in half for a thinner sauce and use on our Vegan Burrito Bowls.
We have so many recipes for this sauce it's actually mind blowing as I look. It's pretty evident what my favorite cuisine is. Now you can enjoy it too in just 10 minutes. 💕