Healthy Italian Pasta Salad with a Homemade Italian Dressing recipe. This is a Trifecta of an Italian Salad because it's Gluten Free, Dairy Free and Vegan Friendly! This recipe has ALL the amazing fresh summer flavor of an Italian Pasta Salad minus the allergens.
We have ourselves an epic Healthy Italian Pasta Salad to share today.
It's totally acceptable to have cookies for dinner, just as it is to have a huge bowl of this pasta salad for lunch.
We have all we need in life: Cookies and Pasta Salad.
No?
Well, hear me out here. This Italian Pasta Salad is packed with all the veggies your heart and tummy needs, sans the dairy and meat (and they are not missed one bit).
And more importantly, there is THIS pepper in the salad. ↓↓↓↓↓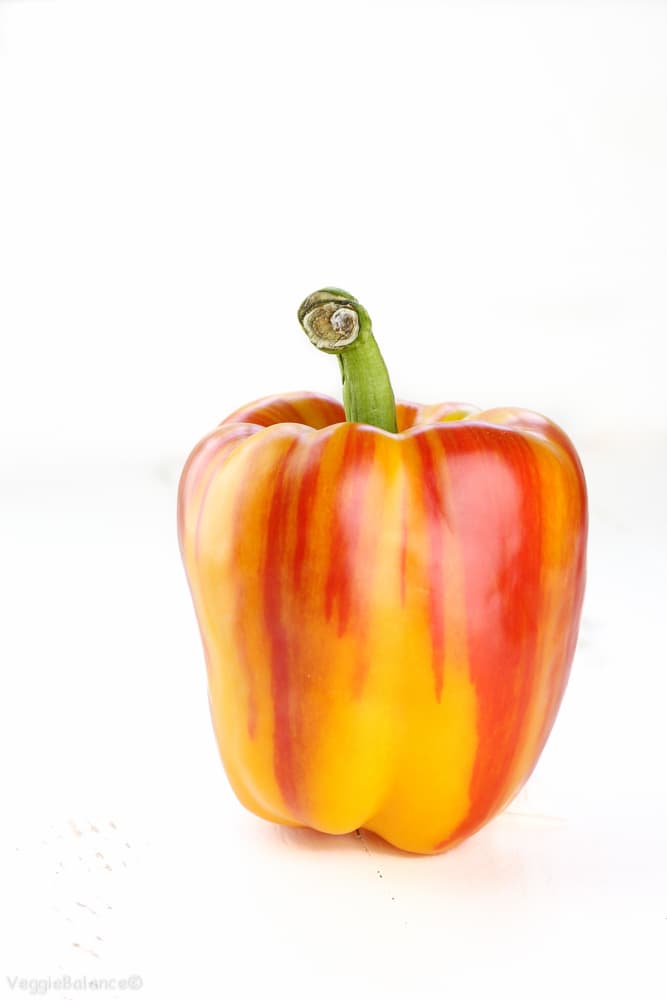 Oh my word, this pepper. She called my name from across the grocery store. (Yes, SHE, I have given this pepper a gender) Nature is so absolutely beautiful in what it can create.
This is a Enjoya pepper and it came across the ocean from Holland. In all its beauty, I had a very hard time slicing it up for the salad.
Just what we need to pull together this flavorful and tangy Italian Pasta Salad.
Cucumbers.
Banana Peppers.
Black Olives.
Corn Pasta.
Red Peppers.
Our gorgeous Enjoya Pepper.
And a blend of delicious spices, olive oil, and vinegar.
We are on our way to a delicious and Healthy Italian Pasta Salad.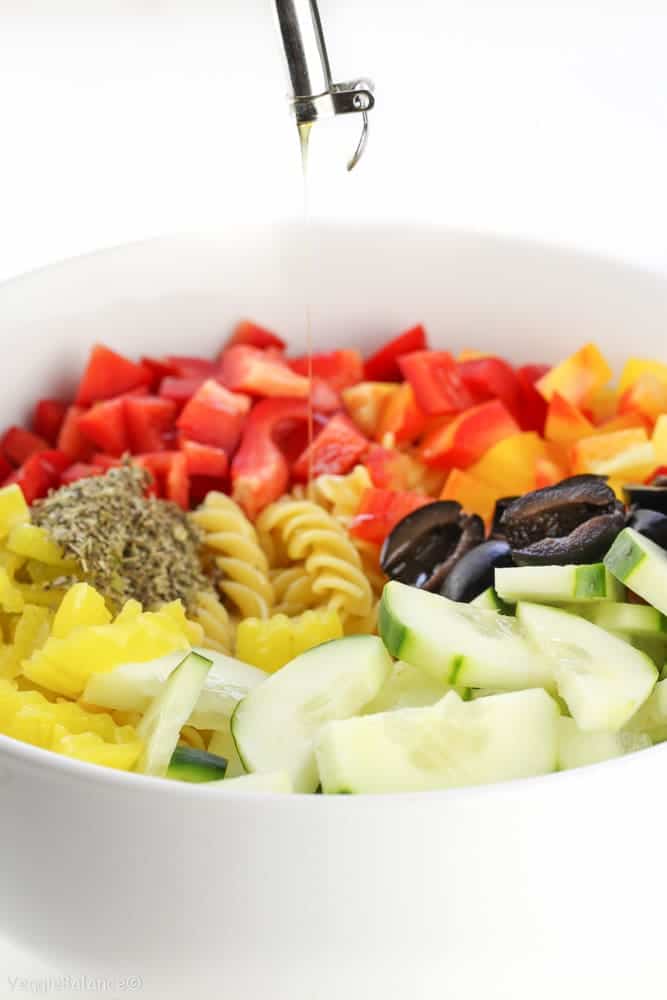 Toss those incredible ingredients together and we are in business!
Now, let me share with you a super duper insider secret for sticky gluten-free pastas. It doesn't matter if it's corn pasta, rice pasta, or a blend of the two. There is an epidemic when it comes to gluten-free pasta leftovers.
It sticks together and turns into a big, fat glob of pasta! (It has to be the starch that gels it all together like this.)
Well, here is the super duper insider secret that I figured out while making this Healthy Italian Pasta Salad:
Take cooked pasta, strain, and then toss it under cold water for 2-3 minutes.
Yep, that's it.
I now use this tip when I make ANY dish using gluten-free pasta. It rinses the excess starch off the noodles and there is no more glob of stuck together pasta. #WINNER
TIP: Noodles will harden a little when leftovers are refrigerated. I suggest you take salad out of refrigerator 10-15 minutes before serving.
Simply heat back up on the stove top or in the microwave if you want a spaghetti marinara kind of night.
Tonight though, tonight we want something that screams summer.
Why, hello you dreamy, healthy Italian Pasta salad. I believe you are just what the doctor ordered for this summer.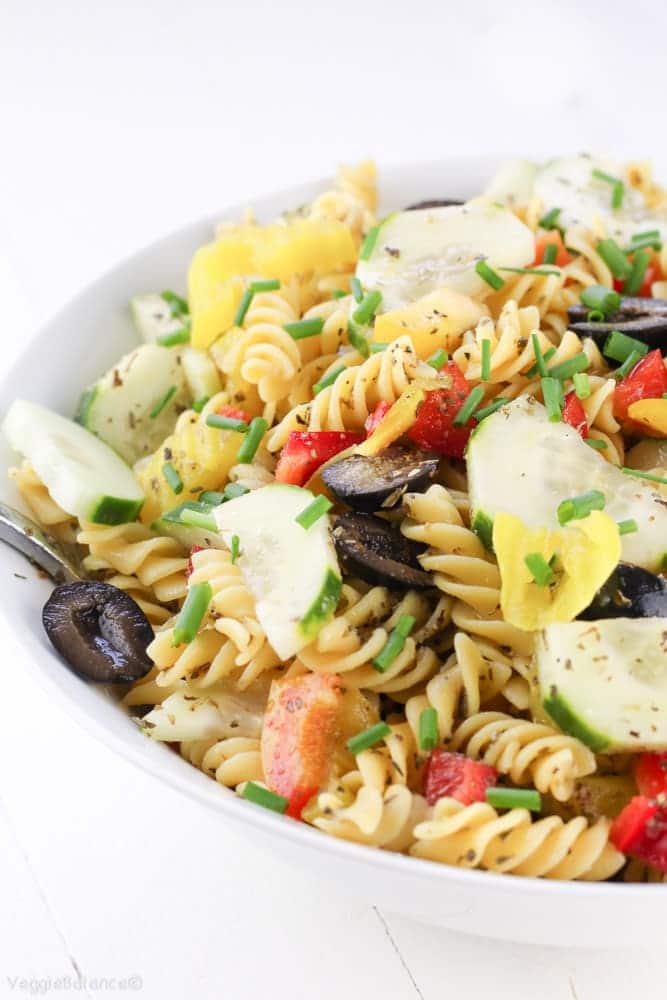 ALL WE NEED ARE RATHER LARGE SPOONS OR FORKS TO SHOVEL THIS DELICIOUS, TANGY, MOUTHWATERING HEALTHY PASTA SALAD. MISSION ACCOMPLISHED.