Almond Butter Chocolate Chip Cookies, because everything needs a little gluten-free ooey gooey goodness in their lives. (Gluten-free, Vegetarian)
Sometimes life is just better with cookies. Psh who am I kidding, life is always better with cookies. Healthier, protein packed, low-sugar cookies? Dude, we need to create a brand new meal plan just including cookies!
Chocolate chip cookies, peanut butter cookies, double chocolate cookies, oatmeal raisin cookies. Cookies, cookies, cookies!!!
Strap on those running shoes lovelies, these cookies will get you through that run.
No seriously, they will. They are actually almost the exact same ingredients of the Chocolate Chip Almond Bites which are heavenly and are the most amazing pre-workout snack. I love being able to chow one of these down as I literally run out the door for my run.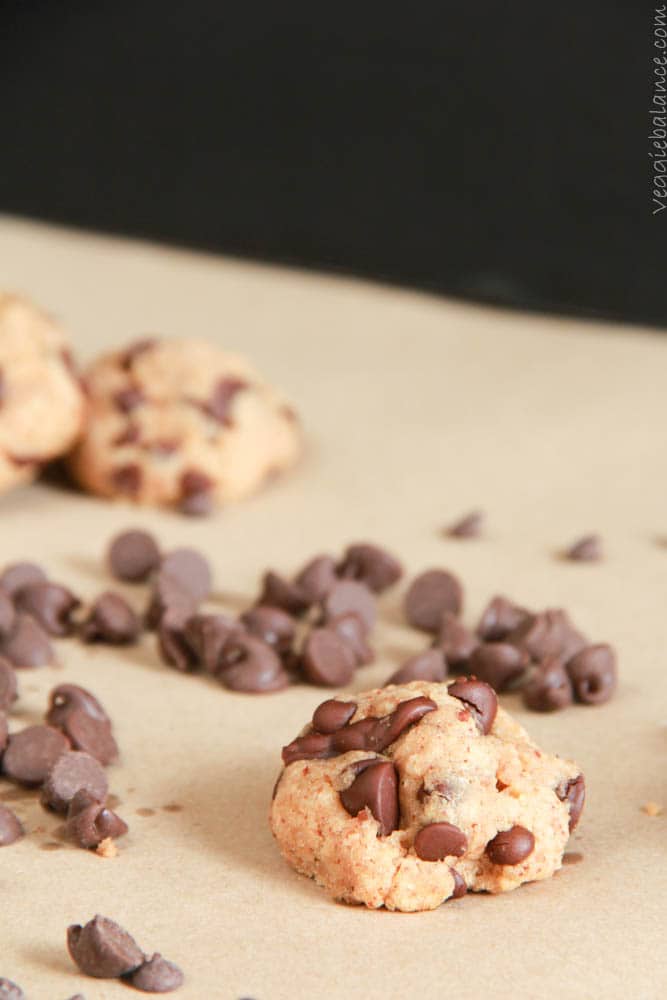 Lately I've literally been running out of the door to go for a run. I've been slightly struggling with waking up before 6 AM. Alarm goes off at 5:45 AM and it is the biggest struggle to pull myself out of bed. However, I'll naturally wake up at 6:15 AM without a problem. WTF. It happens that those 30 minutes is what gives me a buffer to get a workout in and get to work by 8 AM. #strugglebus
Love being able to run again. My shoulder will dispute after a mile or so. I'm hoping by the end of the year that will at least stop. I really wanted to run a half marathon at the end of the year. Keeping my fingers crossed. First things first, get my butt back into shape and be able to run 2+ miles again without stopping. Then I'll worry about the 13 miles.
So you know those moments you want a ooey, gooey warm chocolate chip cookie? Well, duh doesn't everyone want that at some point in their lives?
These gluten-free chocolate chip cookies are just that. The heavenly chocolate chip almond bites turned into ooey gooey warm chocolate chip cookies. I even had the idea to making them into mini chocolate chip ice cream sandwiches.
Woah Lindsay, take a step back. I know I'm going wild over here. Doesn't that sound delicious though?
I'm in such a food rut though that I keep trying to think of different ways to eat my obsessions.
My current food obsessions include; taco salads, dark rich chocolate, nachos piled high with lettuce (Aka another version of taco salad), potatoes, anything with sour cream, and throwing in random baked broccoli and baby carrots to my Mexican fiesta.