Instant Pot Lentil Soup is a versatile and easy recipe that will bring so much flavor to your table. Your family is sure to come back for seconds. And thirds.
(gluten free, vegetarian, vegan and nut-free)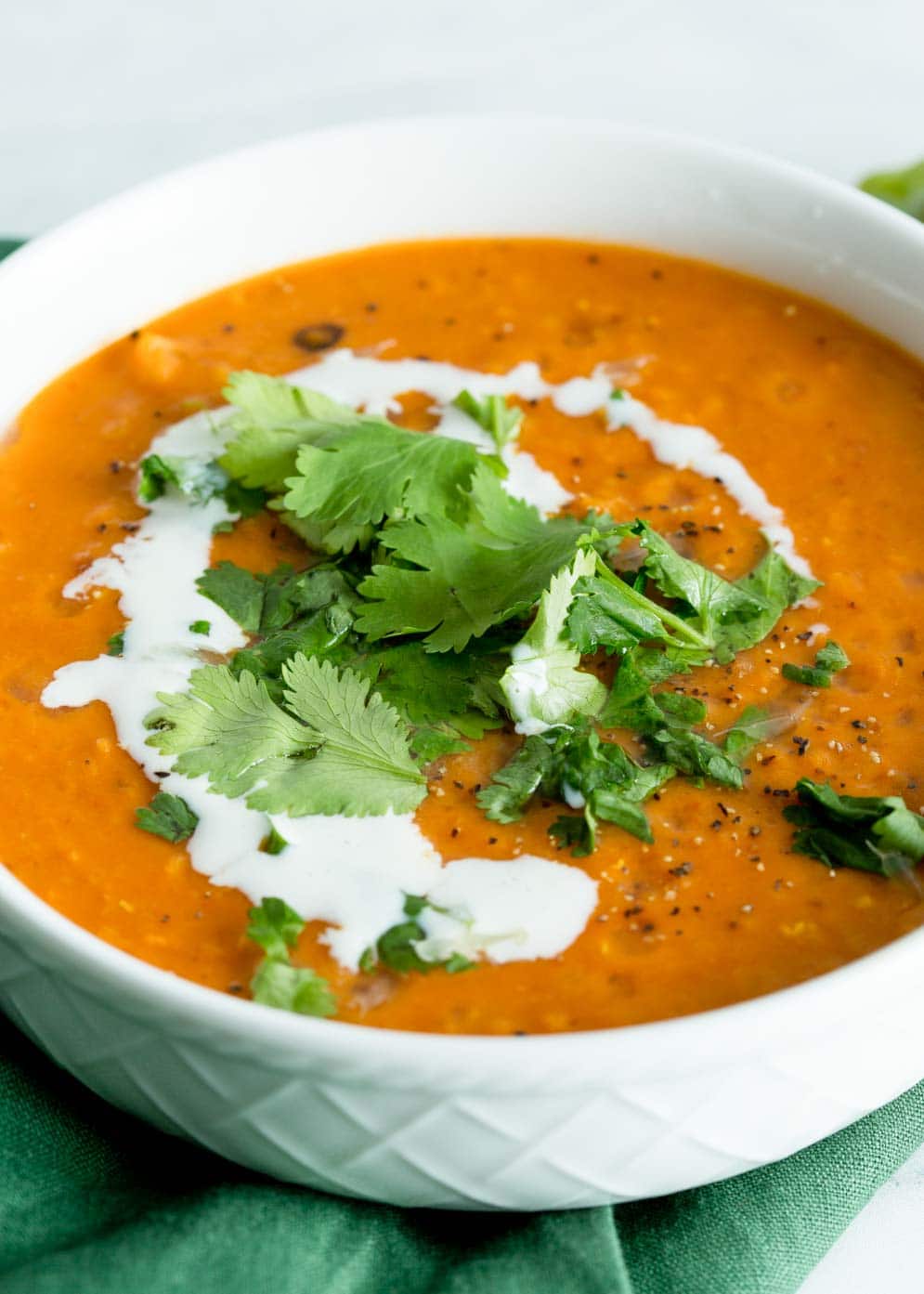 Instant Pot Lentil Soup is the very best way to warm yourself up on a chilly day. The flavors and aroma of this soup are pure bliss, with the Instant Pot doing all the hard work. If that's not winning dinner, we're not sure what is!
We've been a bit obsessed with curry these past couple months and after we made our instant pot lentil curry and served it over cauli-rice I realized I reallyyyyyyy wanted to just have a huge bowl of this lentil soup sans the rice…. this deliciousness has be born.
Instant Pot Lentil Soup 101
No need to soak lentils: Instant Pot to the rescue on this one. In some recipes sometimes you can soak lentils in order to quicken the cooking time. But with an Instant Pot, this step is not needed which is one less thing to worry about.
What does Lentil Soup taste like? This recipe brings a healthy helping of flavor for a zesty soup. Curry is the leader of the pack, bringing in some added health benefits with its anti-inflammatory properties. Add in the garlic and ginger flavors, your tummy will be happy and cozy in no time. (We have to confess that we get a little heavy handed with the garlic sometimes. But that's ok. It's delicious and amazing for you.)
Instant Lentil Soup Low Carb? We do watch the carb intake in our household because of my husband and even though this has legumes in them a bowl ended up being just 10 Net Carbs! For us following a bit on the low-carb side this was a fabulous surprise.
Don't forget to check out our Instant Pot Lentil Curry as well!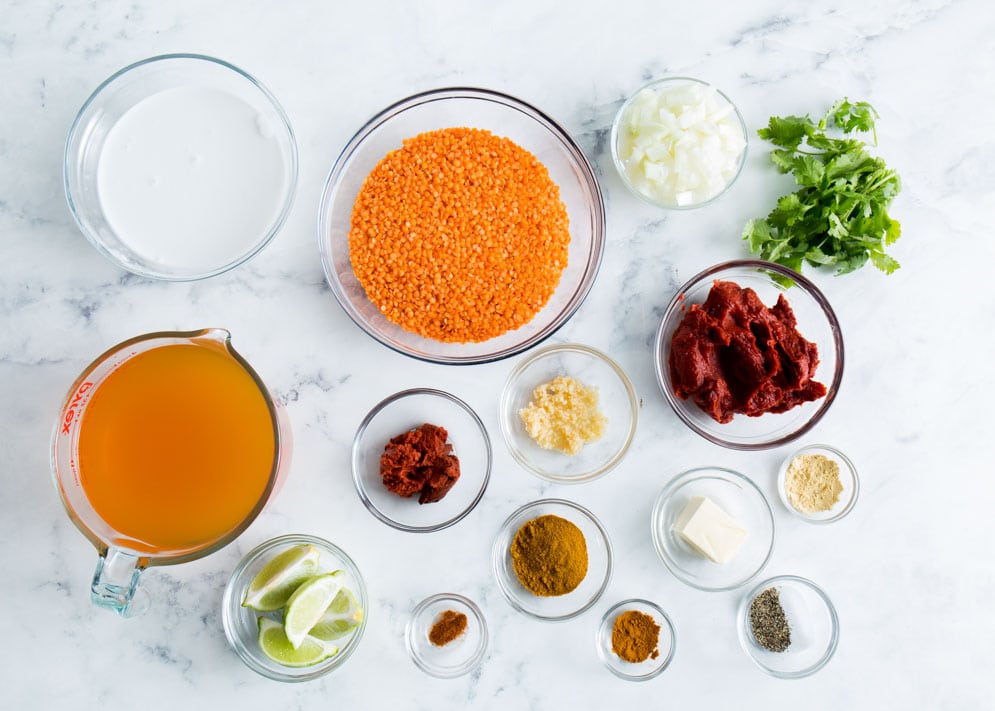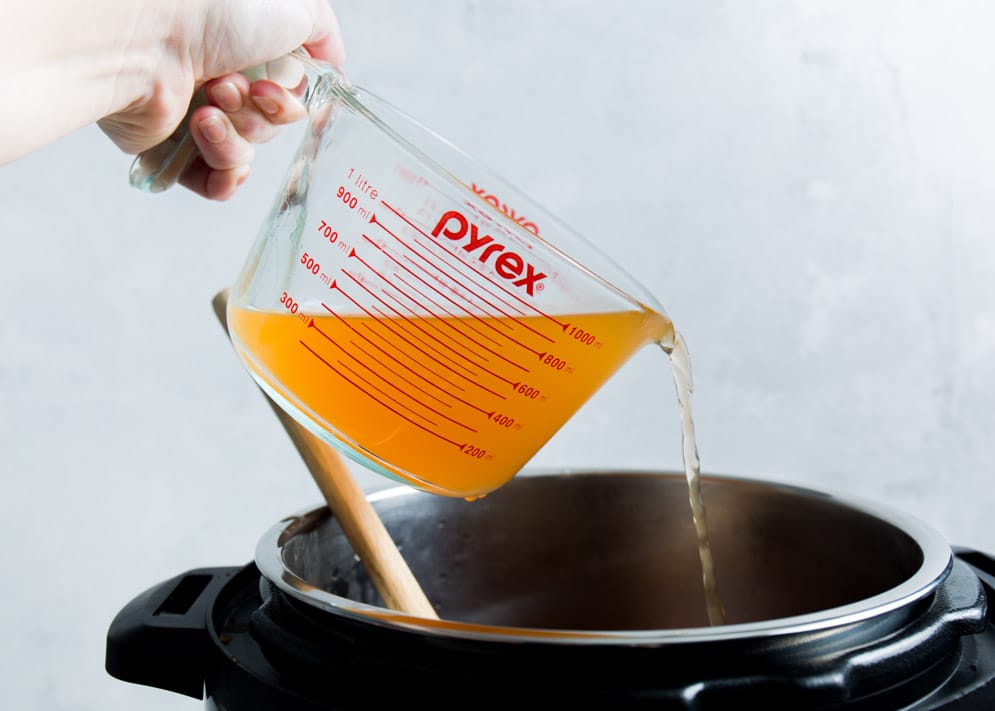 411 for your Instant Pot
Know your modes: Saute mode is how it all started, simmering down your onions to a delicious perfection for your base. Soup/broth mode makes the soup magic happen with just 3 minutes (or you can do manual pressure if you desire.)
Know the release: A manual release and natural release are the two main methods of releasing pressure so it is safe to open your Instant Pot. The manual release involves flipping the release valve after the timer has gone off. Make sure that your Instant Pot is free of obstruction above (and protect your kitchen cabinets from hot steam!) and use a towel to help protect your hands as well.
GET GEARED UP: We love Instant Pot and are happy to share some of our favorites! The Instant Pot is of course a must. But check out the Instant Pot Tempered Glass Lid so you can keep an eye on things, perfect for simmering. Also, a spare Instant Pot Stainless Steel Inner Cooking Pot is perfect for a backup.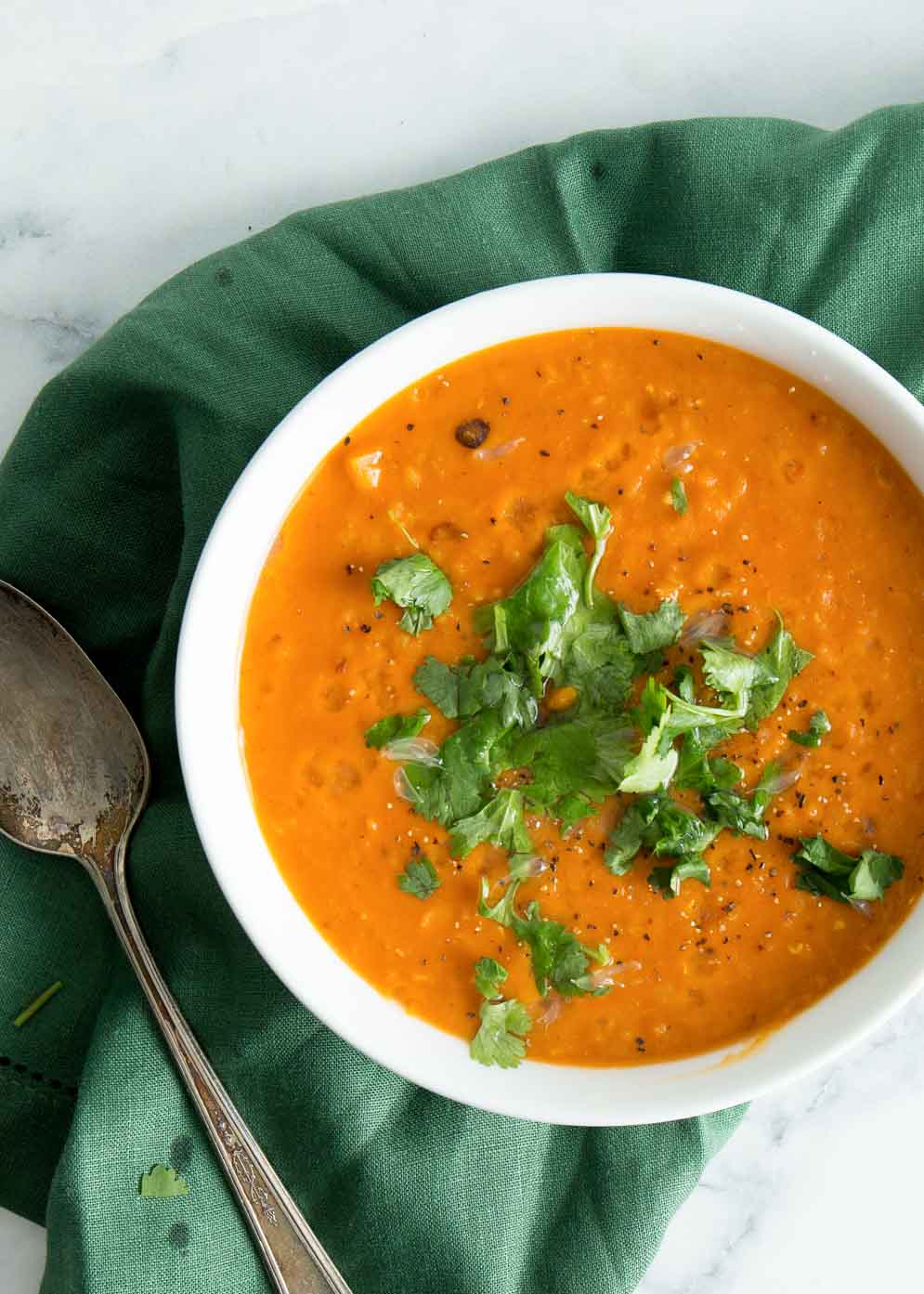 Instant Pot Red Lentil Soup: What to serve with
Because this soup packs a zesty punch, you'll want to be selective with your sides or other dishes. But have no fear, we have you covered!
You can't go wrong with our homemade gluten-free garlic bread. So. Good! The garlicky  flavor is absolutely perfect with a flavor punch link curry.
With a flavor punch like this Instant Pot Lentil Soup, a salad goes well. We love our Easy Caprese Salad for this with its crisp, cool flavor and its so easy!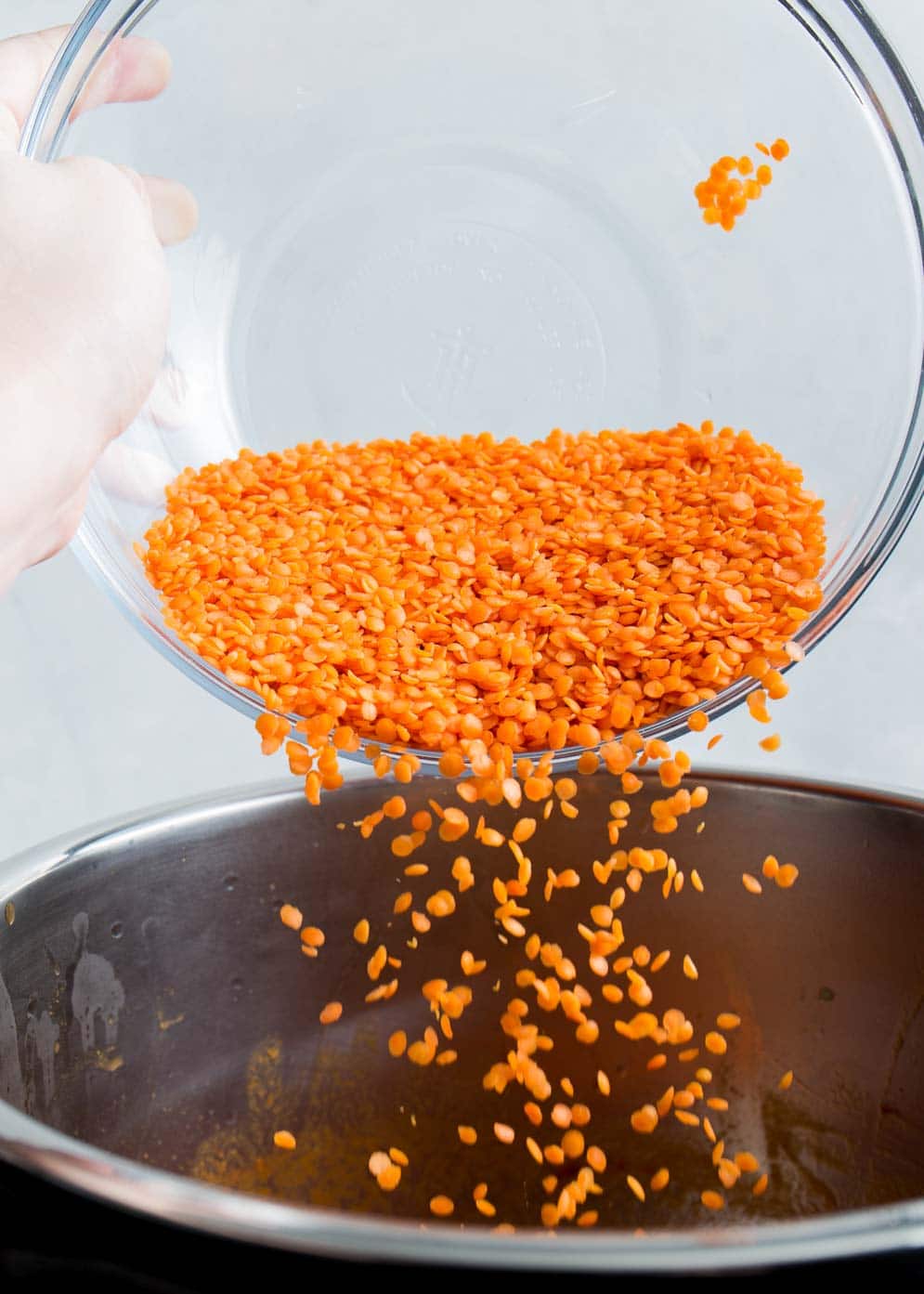 All about lentils
We LOVE lentils for so many reasons, but one of the biggest ones is their nutritional value. Lentils are a great source of potassium, fiber and vitamin B6. Extra bonus, they provide a good amount of protein as well.
They also are surprisingly palatable for even the pickiest of eaters. We saw this first hand when making Mac and Cheese with lentil noodles for a non-gluten free picky eater (a friend of Veggie Balance) and she absolutely LOVED them.
Fun facts: Lentils were one of the first domesticated crops. They are an edible legume, often use as a meat replacement/noodle replacement (and a tasty one at that!) So these are definitely a good infusion into your diet in terms of health benefits.
If you're ready to make this super easy Instant Pot Lentil Soup, just be sure to save us a bowl.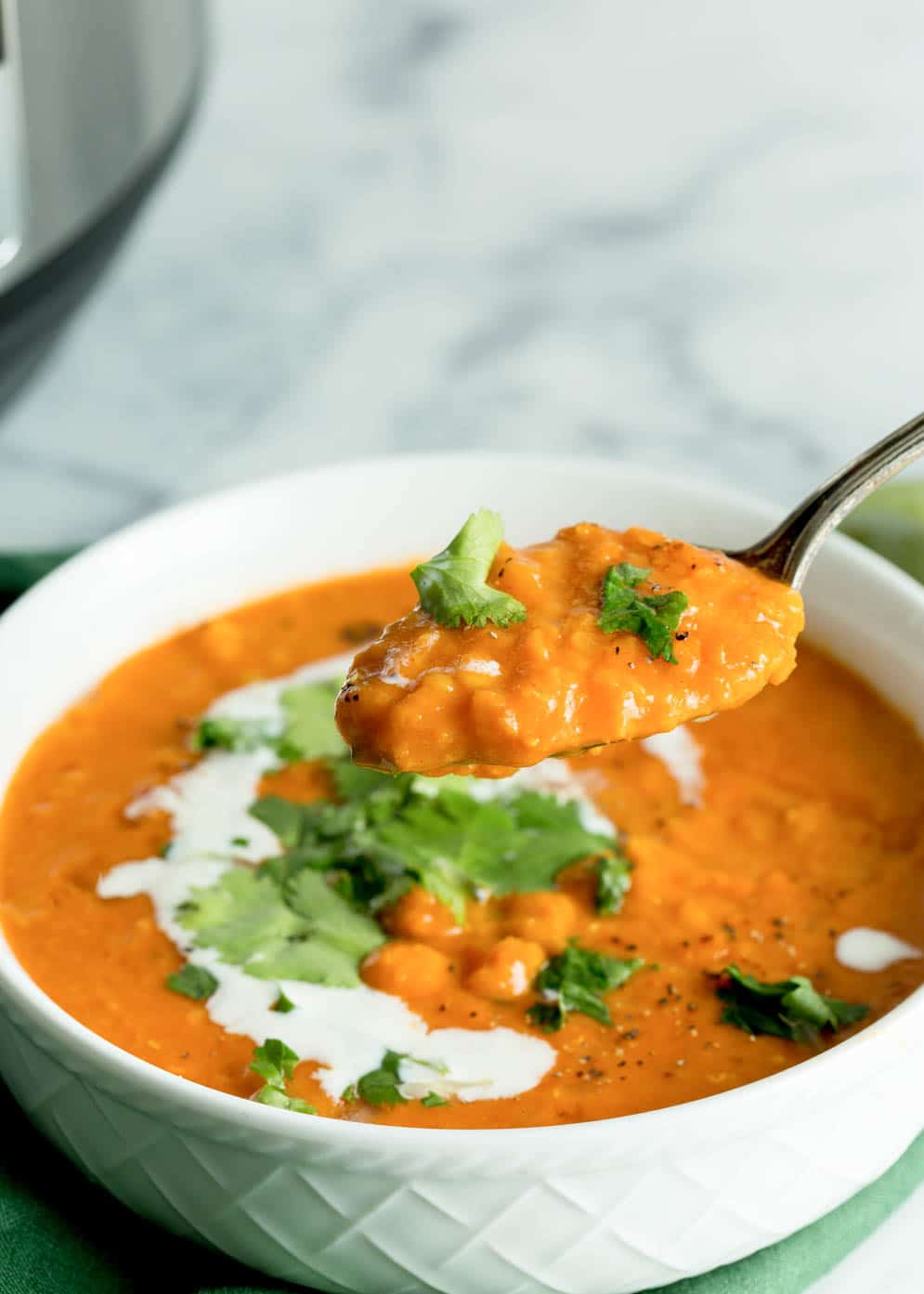 Other recipes you might enjoy: