Gluten Free Lemon Bars recipe with a healthy almond flour crust. Made with less than half the sugar and butter compared to traditional lemon bar recipes and still captures your heart as the best lemon bar recipe ever.
(Gluten-Free, Dairy-Free, Low-Sugar)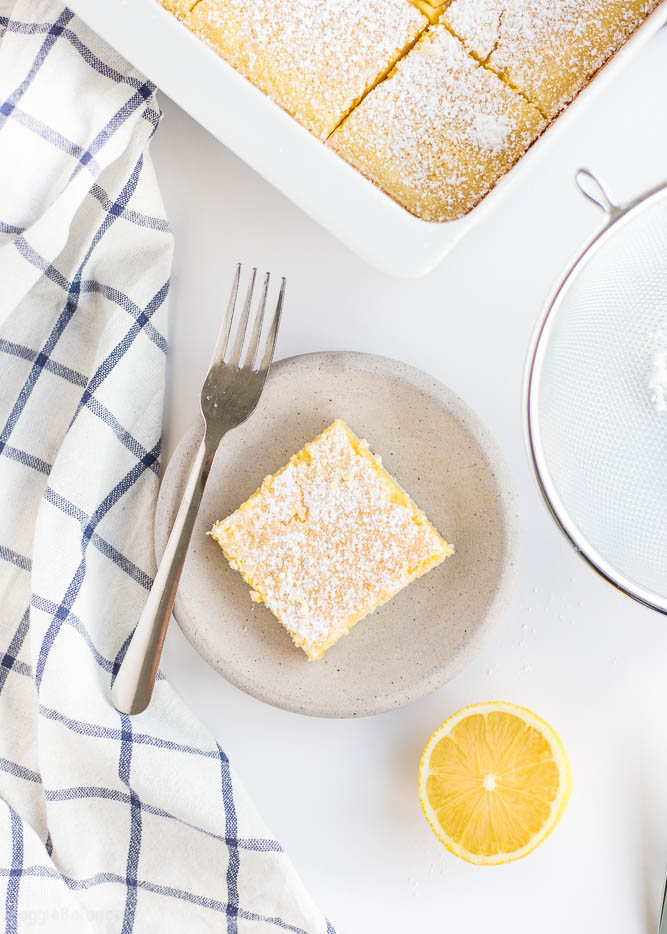 Disclaimer: These Gluten Free Lemon Bars are dangerous. So dangerous, and irresistible.
I know I say that about a lot of my desserts, but it happens to be true. The thing is, I usually don't find myself eating most desserts non-stop for breakfast, pre-workout, post-workout, lunch and dinner.
But I can tell you that with these, I demolished an entire pan in less than 36 hours. I wish I could lie and say I had help destroying this pan, but in all honesty it was all me.
As I nommed them down after a Shaun T workout, I rationalized it by reminding myself that there are four eggs in the lemon topping. Yeah, I know, I was strongly trying to justify my lack of self-control with these lemon bars.
But there is a bright side: These lemon bars are secretly healthier and better than the average lemon bar recipe!
Now in case you REALLY want something REALLY healthy after a work-out you've got to try our Healthy Lemon Bar Energy Bites.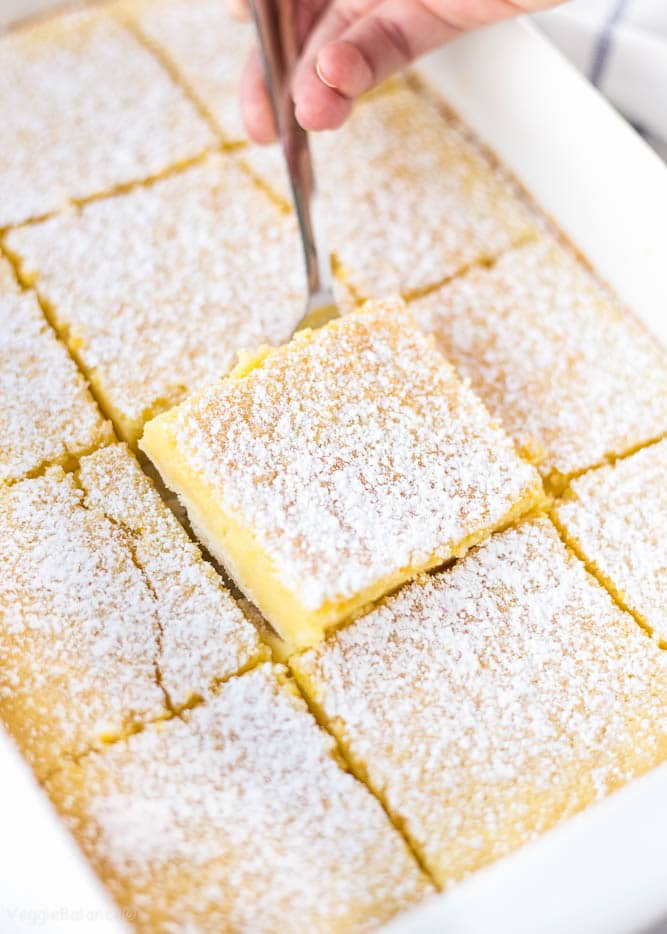 How these Gluten Free Lemon Bars Got a Makeover
I took my family favorite recipe, made it gluten-free and dairy-free, cut the sugar by more than half, and cut the butter content over half, too. Seriously, couldn't even tell the difference.
These are decadent, creamy, sweet and tart at the same time. Perfection.
It is happiness in lemon bar form.
It is not very often that I get excited over a dessert that does not involve chocolate. Lemon bars, though are a childhood favorite that still to this day make me weak in the knees.
Also, when I was growing up, they were one of the first desserts I learned to make by myself. If ten year old Lindsay can make these, anyone can.
How to Make the Best Lemon Bars
Start with our gluten-free crust with almond flour (to step up the healthiness of these healthy lemon bars), pushed it into the greased pan, and baked the crust for 20 minutes.
Meanwhile, whip up the filling by adding the remaining ingredients to the blender. If desired, you are more than welcome to add additional sugar to the filling.I kept it at 3/4 cup, though and it was perfectly sweet and tart with the fresh lemon juice (versus two cups of sugar the recipe called for).
Immediately pour the filling into the cooked almond crust and throw it back into the oven.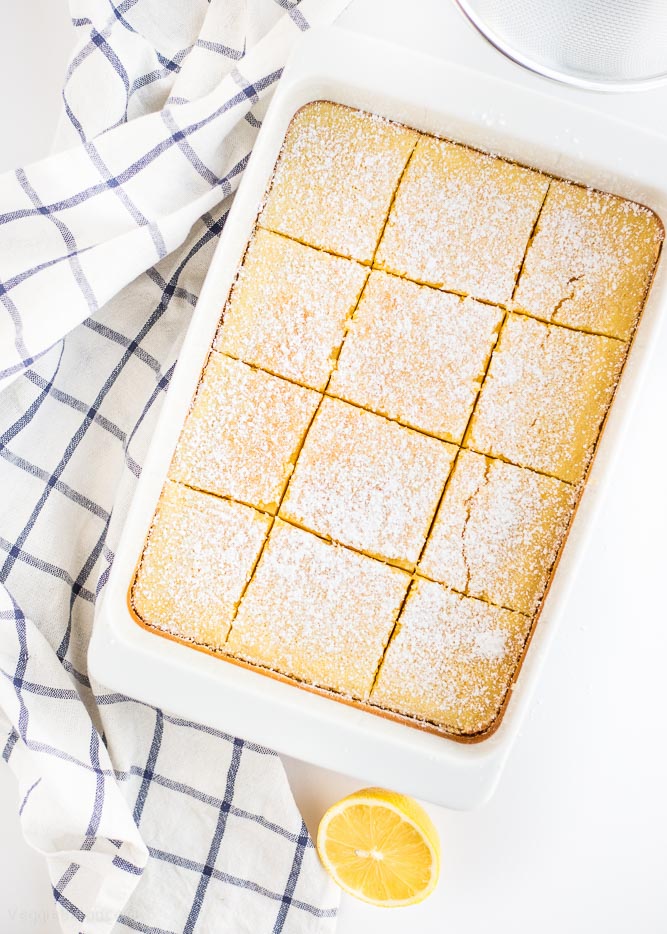 That is when the real magic happens. Seriously, thank goodness these are healthy lemon bars because once these come out of the oven with the perfectly cooked, gooey lemon bar filling . . . well, let's just say my lack of self-control begins to kick in.
Kind of like with out Gluten-Free Lemon Jelly Cake. . . I hate to admit I have no self-control with that cake. You can read that post and find out why without going on about it.
While I type this, my mouth is watering and my stomach is telling me to make another batch. All that I have left of these bars are these pictures.
If you have more than one person in your house, I give it 24 hours before these have disappeared and all that is left are the sweet memories of your childhood and an empty pan with some crumbs.
**SIGH**
Till we meet again sweet and decadent Healthy and Gluten Free Lemon Bars, till we meet again.