Summer Corn Salad recipe made healthy with simple, fresh ingredients, including a simple lime and vinegar dressing. It's the perfect dish to bring to your next get together.
(Gluten-Free, Dairy-free, Vegan)
As the years have gone by, I feel like my obsession with Mexican dishes has been very well established here at Veggie Balance. // My wish is that, if you are following, you love it, too.
Yeah? Ok, let's dive in.
Because really, this is one of those dishes that is so simple and easy to make, you literally want to face-plant into the delicious bowl and just eat it all up.
Eat it with tortilla chips or a spoon; either way, getting this delicious and healthy Summer Corn Salad into your mouth is the main objective.  #ObjectiveComplete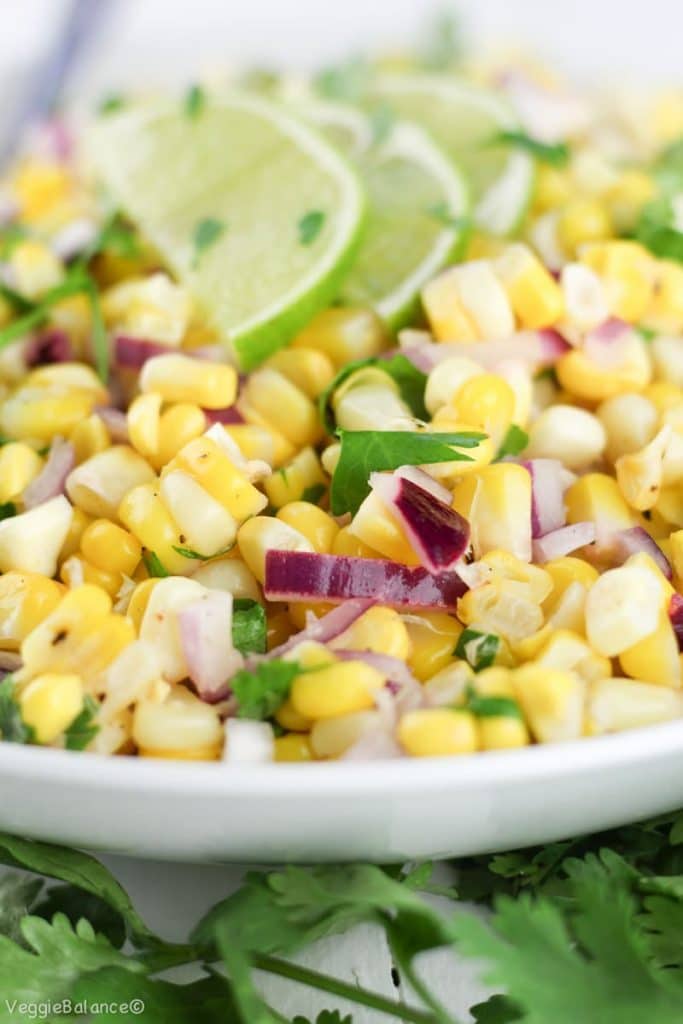 Now I know I've labeled this as a Summer Corn Salad, however, this simple salad can be made year-round. Swap the fresh corn with canned corn and you are in business any time of year.
One thing I will say about R's family: When I was first introduced into their family, it drove me crazy that their get-togethers were missing the 'traditional' Thanksgiving dinners I grew up with. Turkey, Mashed Potatoes, Tamales . . . wait, I didn't grow up with tamales.
Let me tell you though, tamales have a place in every single get together. Have I been converted? Yes.
A Thanksgiving and Christmas without refried beans or Spanish rice is no holiday at all
So when my brain thinks this would be a fabulous dish to serve over the holidays, that is why. I've officially been changed to think Mexican food has a real place in every holiday event.
This healthy Summer Corn Salad earns that place.
Storing the summer corn salad
This salad stores wonderfully for days. Make it the night before the potluck and store in the fridge.
Easy. Simple with just 6-Ingredients. Made in less than 20 minutes. Yep, this Summer Corn Salad fits the bill of what we need in our lives. Simplicity.