Crustless Vegetarian Quiche brings us a big protein-packed punch in a tiny package. All your favorite flavors with this delicious gluten-free quiche recipe needing just 4-Ingredients.
(Gluten-free, Dairy-Free, Vegetarian)
Anything in miniature form is just adorable to me. These gluten-free quiche bites are packed with your normal scrambled egg flavors but made in a muffin tin. Perfection!
On-the-go crustless quiche
We make these for R's breakfasts on-the-go. They store perfect, throw them in a Ziploc bag and just take and eat on the way.
Eat them cold or simply warm up in the microwave for 30 seconds. Breakfast on-the-go!
These vegetarian quiches become a morning staple in our house. R makes these every Monday for his 4 day work week. We like to change up the ingredients every so often but this tends to recipe below is our go-to when supplies are limited in the kitchen.
Extra quiche add-ins
Depending on the mood we'll throw in spinach, feta cheese, basil, or whatever is lying around in the fridge that needs to be used. They are extremely versatile.
Mini Muffin Quiches are the best. Easily made and you get to throw in whatever ingredients you want?
I'm making an executive decision these are a necessity for the morning.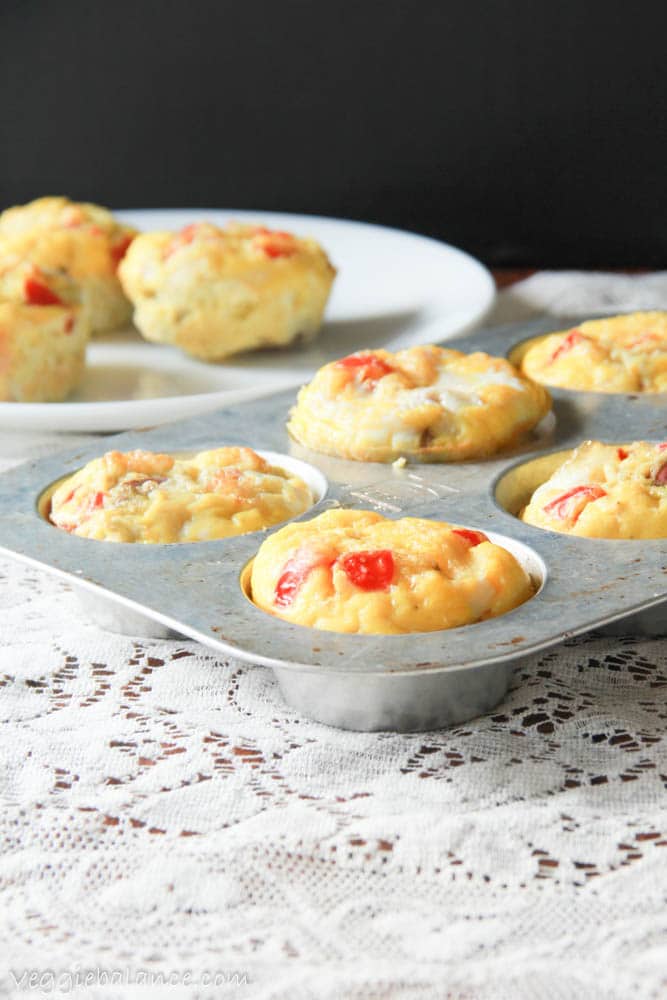 I decided to make these in a muffin tin just like muffins. It's so much easier for meal-prep Sundays and to be able to easily pack what we need for the week.
Muffin Quiche Cooking Tips
If you are using a normal metal muffin tin be sure to liberally grease your muffin tin before pouring in your egg mixture.
We've found that using a silicone muffin pan will make it MUCH easier for them to come out, no greasing required and cleaning is a breeze.
If you like these you might also LOVE our spinach mushroom quinoa egg cups. We are a little in love with every and anything made in muffin tins. Heres to being healthy and productive for the week!