Spiced Almonds bring a sassy flavor in a protein-packed treat. (Gluten-free, Vegetarian, Vegan)
If there was only one reason you need to make these right now would be to fill your house with the wonderful aroma they give off. I mean seriously these spiced almonds with cinnamon are just to die for! Why is it that cinnamon gives off such an amazing cozy feeling?
Even though it's spring and I've just been begging summer to get here, these almonds are making me miss fall a little. Just a little though, fall and winter can stay away for a while.
So let's jump into some fun. This month is actually Macular Degeneration awareness month.
I had the AMDF (American Macular Degeneration Foundation) reach out to me earlier about their Eat Right for Your Sight cookbook. Isn't that just an adorable name?
On a side note: I will never show you something that I don't like or don't think it'll give you a positive effect on your health choices. I take your trust in me very seriously guys.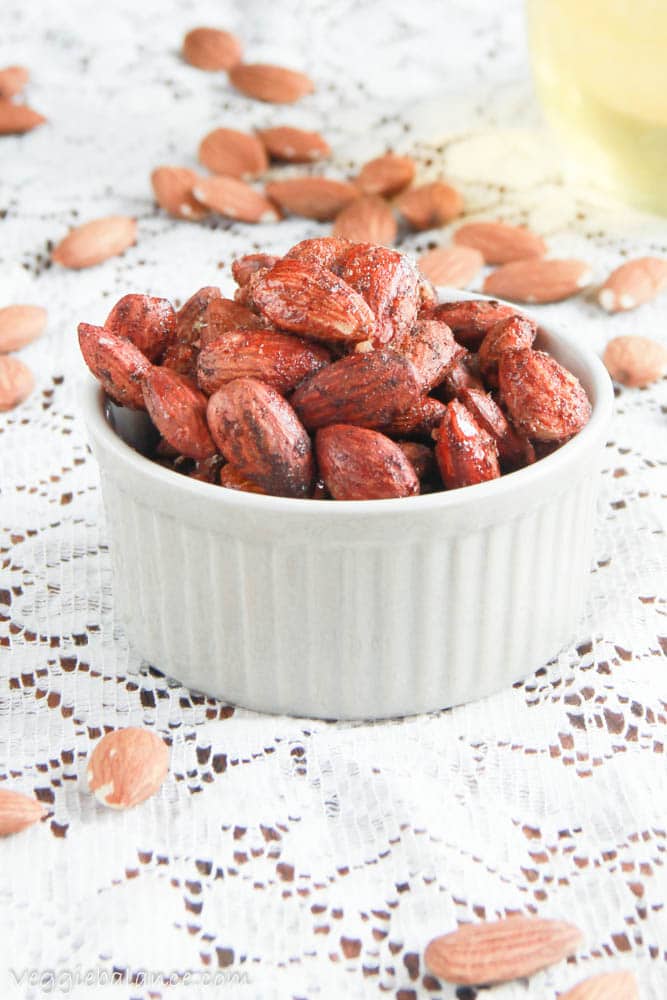 However, this cookbook totally made the cut. I liked the clean, fresh and simple ingredients this cookbook has to offer. Which as you all know it's pretty much the very foundation of how I roll. Easy is my mantra when it comes to the kitchen. The only downside is the cookbook does have some flour recipes but it certainly is not even close to 25% gluten containing recipes. Oh, and there are a lot of great juices and smoothie recipes that I haven't tried before and can't wait to get my straw in.
They have a Spiced Almonds and Cinnamon recipe which I of course gravitated to almost immediately. I love me some almonds. I've been eating almonds and dried cherries for breakfast this past week. Just can't get enough of it!
So anyways I ended up swapping the plain sugar with our fresh backyard honey and also cut the batch in half. I knew immediately this recipe was a winner when I couldn't stop taking deep breaths just inhaling the cinnamon goodness. The taste, just as heavenly.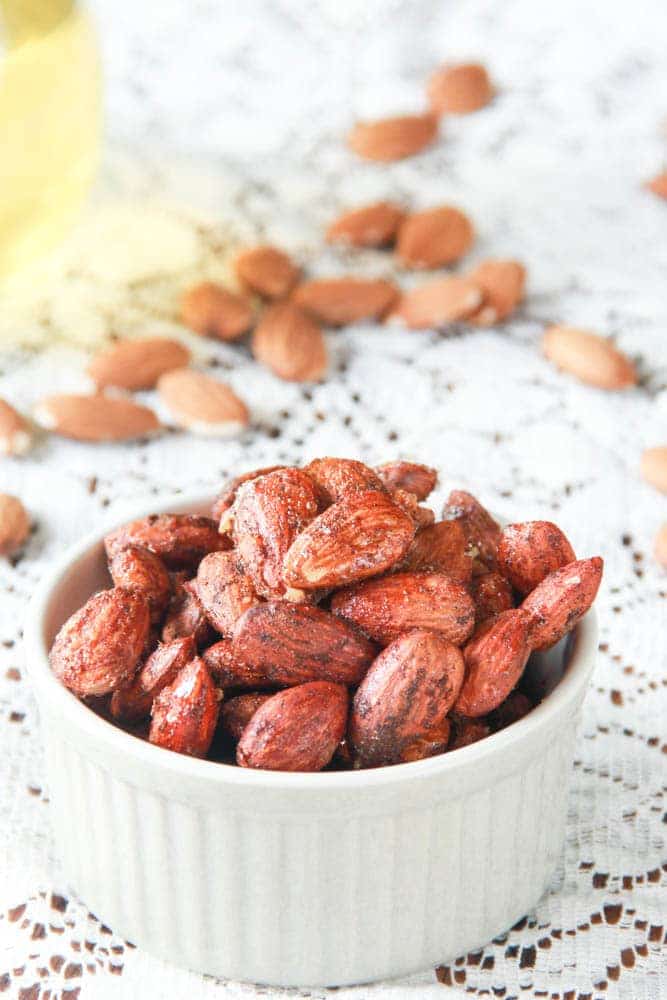 I truly believe that eating clean and eating right will give you your life back. I have been able to feel better, have more energy and finally feel like a normal 25-year-old. (Well, sort of normal. What's normal anyways?)
After almost a year of eating clean and taking care of myself I noticed it was starting to get harder to see with. Having glasses as long as I could remember I thought great, I'm getting older and my eyes are getting worse. Ahh aging, just gotta accept it, it's inevitable.
Actually, turns out my eyes got better. No joke. I left the eye doctor thinking she was crazy, I've had glasses ever since I was in 4th grade! It has now been almost a year since I have worn my glasses and sure enough she was right. Crazy. Just goes to show that our bodies and eyes are amazing organisms that need to be treated with love and care.
And lots of carrots, eating a lot of carrots can't hurt one bit.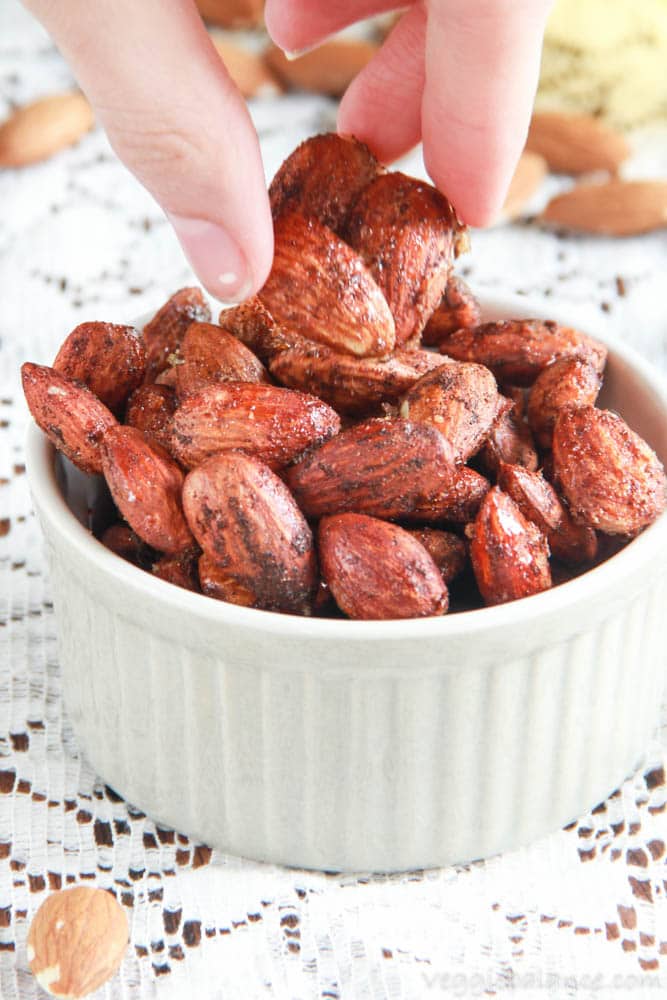 Spiced Almonds
Gluten-free, Vegetarian, Vegan
Spiced Almonds bring a sassy flavor in a protein-packed treat. (Gluten-free, Vegetarian, Vegan)
Yield: 4 servings
Prep Time: 5 min
Cook Time: 20 min
Total Time: 25 min
Ingredients:
1 small egg white

1 cup whole raw almonds

2 Tablespoons honey

1 teaspoon ground cardamom

1/2 teaspoon ground cinnamon

1/4 teaspoon all-spice

1 pinch of nutmeg

1 pinch of salt
Directions:
Preheat oven to 350 F

Line a baking sheet with parchment paper or lightly brush pan with olive oil

In a medium bowl beat the egg white until it begins to become frothy.

Add in the almonds, honey, and all spices. Continue to stir until almonds are fully coated.

Layer the almonds on the baking sheet in a single layer.

Bake for 10 minutes, stir and the continue to cook for another 5-10 minutes.

Remove and let them fully cool before eating.
Nutrition Information:
Serving size: 1/4 cup Calories: 240 Fat: 18 g Saturated fat: 1 g Unsaturated fat: 15 g Trans fat: 0 g Carbohydrates: 16 g Sugar: 10 g Sodium: 14 mg Fiber: 4 g Protein: 8 g Cholesterol: 0 mg
Recipe, images, and text ©