Campbells Bean and Bacon Soup Copycat recipe with simple, all-natural ingredients all made in the crockpot for a easy soup. (Gluten-free)
Bean and Bacon soup – Ahhh, nostalgia at its finest. Campbell's® Bean with Bacon Soup was a staple in my diet for many, many years. I was able to recreate this soup with simple all-natural ingredients, less sodium, and packed with bacon.
Packed with bacon? Sounds like heaven, right? There are a few conclusions I've come to in my cooking escapades, one being that bacon will always make something one billion times better. This bean and bacon soup is no different, packed with bacon and the flavorful bacon juices that send me right into childhood bean and bacon heaven.
All you need are 6 simple, natural ingredients and in as little as 2 hours you can have a protein packed, delicious, warm hearty soup. #winwin
We're taking another break from the dessert train this week. Lately I've been on a roll with cookies; chocolate peanut butter cookies and healthy chocolate chip cookies have pretty much been a necessity as I pull together  this cookbook. Join me as we switch tracks from the dessert train to take a ride on the nostalgia train.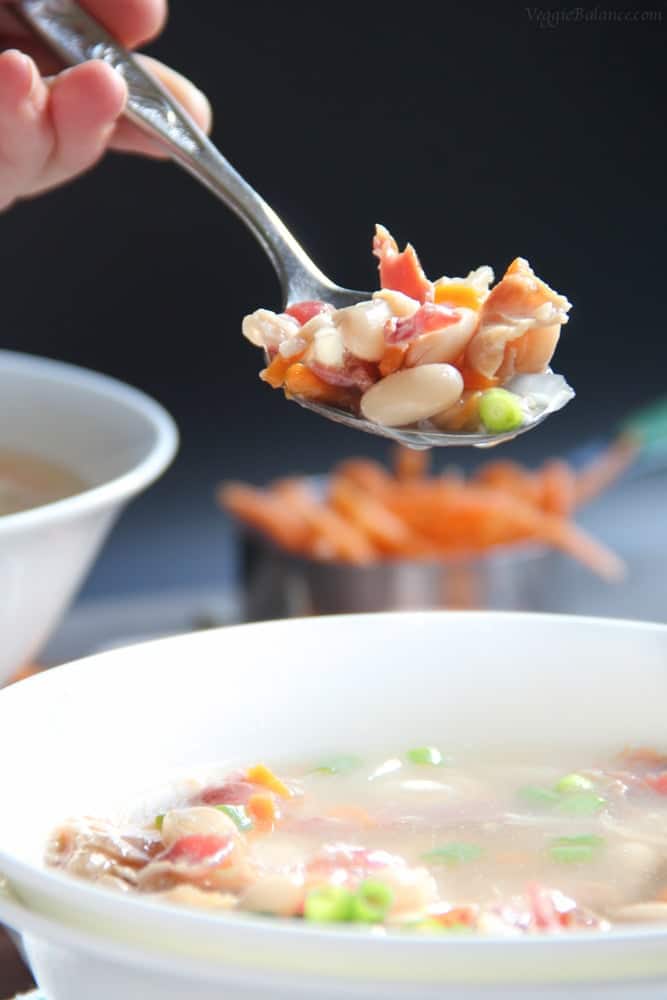 I'm going to tell you my deep dark secret when it comes to this canned soup. Campbell's® Bean with Bacon Soup and I go way back. Back in the days (circa 1998) I would go as far as opening the can and spooning out spoonfuls of the beans-with-bacon-orange-ish-sludge that would miraculously turn into soup after adding water. Who had time to add water? Well, I did, but chose not to. That highly concentrated bean and bacon stuff was my favorite growing up.
I know what you are thinking. The more I think of it, I also can't believe I would do that. But VB is a judgment-free zone, or I hope it is since I just shared something really gross. There has to be some gross things that you too used to eat as a kid!
Bologna! With more mayonnaise then bread and bologna combined. Not to mention, the whiter and gummier the bread, the better. *SIGH* Those were happy times.
Processed ingredients and uncertain meats were the furthest from my mind back then. All that mattered was a spoonful of unknown orange-ish bean and bacon flavored bits.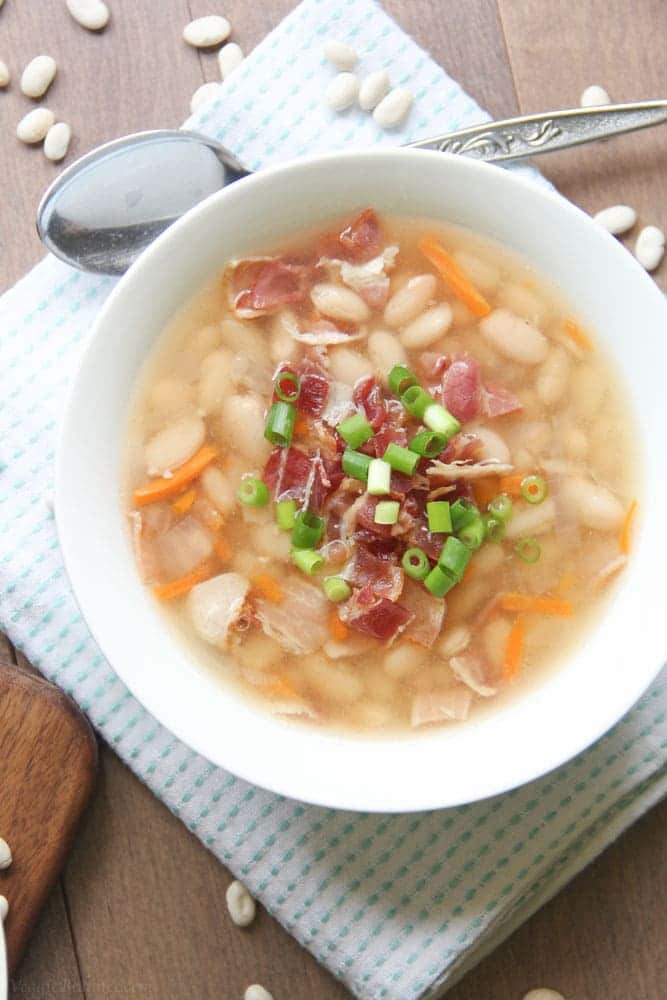 This easy
crockpot
bean and bacon soup is the best of best worlds. It has that perfect bean and bacon flavor minus the processed ingredients and high sodium content.
As you all know by now, I'm lazy. The less work to make a meal, the better. However, if you wish to go above and beyond and win the best home cook award, you can puree a little bit of the beans and re-introduce back into the soup before serving. This will give you a thicker texture of soup.
To achieve this take about 2-3 cups of beans out after they have fully cooked, add 1 cup of soup broth, and puree with an immersion blender for 2 minutes or until creamed. Pour it back into the crockpot and stir until fully combined.
Pretty simple, and easy. Again, I was not feeling it was necessary; there was bacon in the soup and that was good enough for me.
After a couple hours cooking in the crockpot, the smell wafted throughout my house, throwing me back into my childhood. The nostalgia train just took me away. Memories of hot summers in our house without air conditioning, fans blowing in the windows, The Price Is Right on the television, dial-up Internet, and house phones. Those were the good days.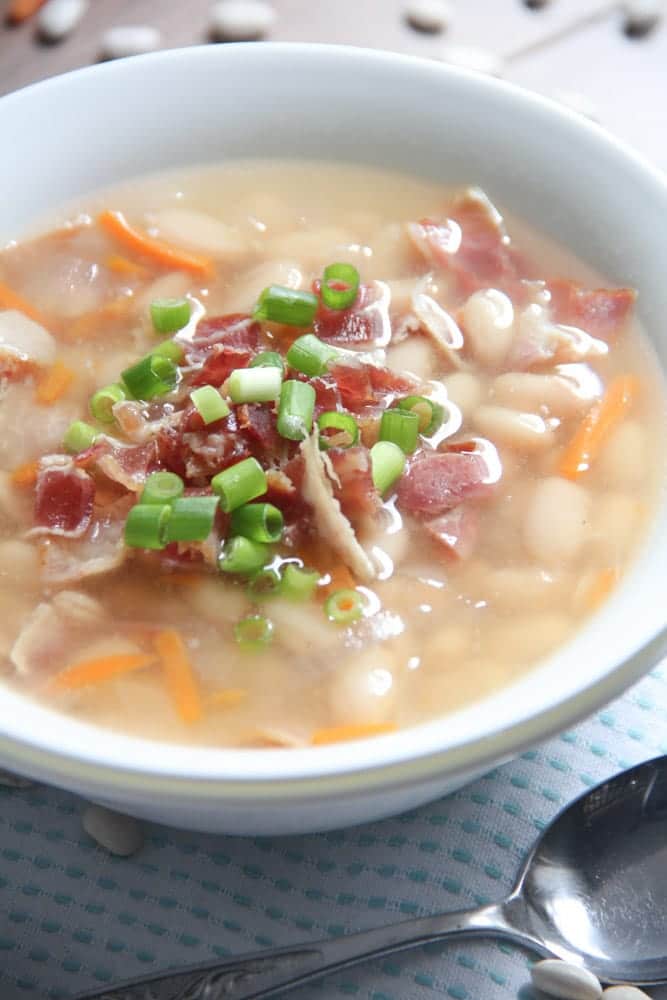 Oh, and let's not forget the bean and bacon soup eaten straight out of the can with a spoon, because that is totally normal.
During those summers, lunch was either bean and bacon soup with a grilled cheese sandwich or mac n' cheese. My sister and I normally ate mac n' cheese almost every single day during the summer. Now that I think of it, falling into food ruts runs in the family. We never got sick of mac n' cheese or bean and bacon soup, like ever.
It must run in the family genes. I have been in a taco salad rut for at least a year now; I eat it at least once a week right now. It's all I want in my life, so much so that I have to forcefully make myself prepare soups like this; otherwise I will revert to the rut of a taco salad. #noshame
I must admit, it was definitely worth stepping out of the rut to make this soup.
So whether you are also a Campbell's® Bean with Bacon Soup addict or just love bacon for the amazing, delicious meat that it is, this soup is for you.
You, yeah you–are you a Campbell's Bean with Bacon Soup addict, too? I can guarantee this recipe will get you your fix with healthier ingredients, and that's a win in my eyes.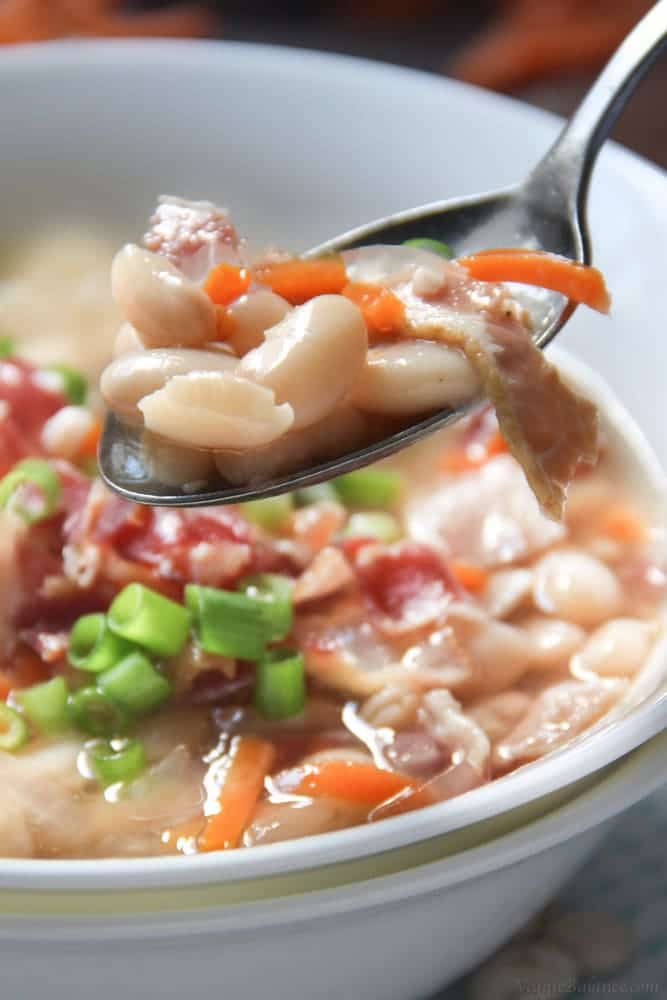 Campbells Bean and Bacon Soup Copycat
Campbells Bean and Bacon Soup Copycat recipe with simple, all-natural ingredients all made in the crockpot for a easy soup.
Yield: 8 cups
Prep Time: 240 min
Cook Time: 15 min
Total Time: 255 min
Ingredients:
8 ounces thick cut bacon

1 cup yellow onion, diced

1 cup carrots, diced

2 teaspoons minced garlic

4 cups chicken broth

3 (15 ounce) cans Great Northern beans, drained and rinsed.

Large pinch salt and pepper
Directions:
Cook bacon in microwave with microwave bacon rack (3 minutes on high) or cook traditionally on stovetop until crispy, let bacon cool, and chop.

Add bacon, onion, carrots, garlic, chicken broth and beans to crockpot.

Set on low (4 hours) or high (2 hours).

Serve with additional green onion and bacon if desired.
Nutrition Information:
Serving size: 1 cup Calories: 168 Fat: 5 g Saturated fat: 2 g Unsaturated fat: 1 g Trans fat: 0 g Carbohydrates: 22 g Sugar: 1 g Sodium: 857 mg Fiber: 7 g Protein: 11 g Cholesterol: 10 mg
Recipe, images, and text ©