Gluten Free Peanut Butter Cookies are Healthy and Skinny with Only 4 natural ingredients. So easy to make they are dangerous. . . So dangerously good that is. (Gluten Free, Dairy Free, Vegan Friendly)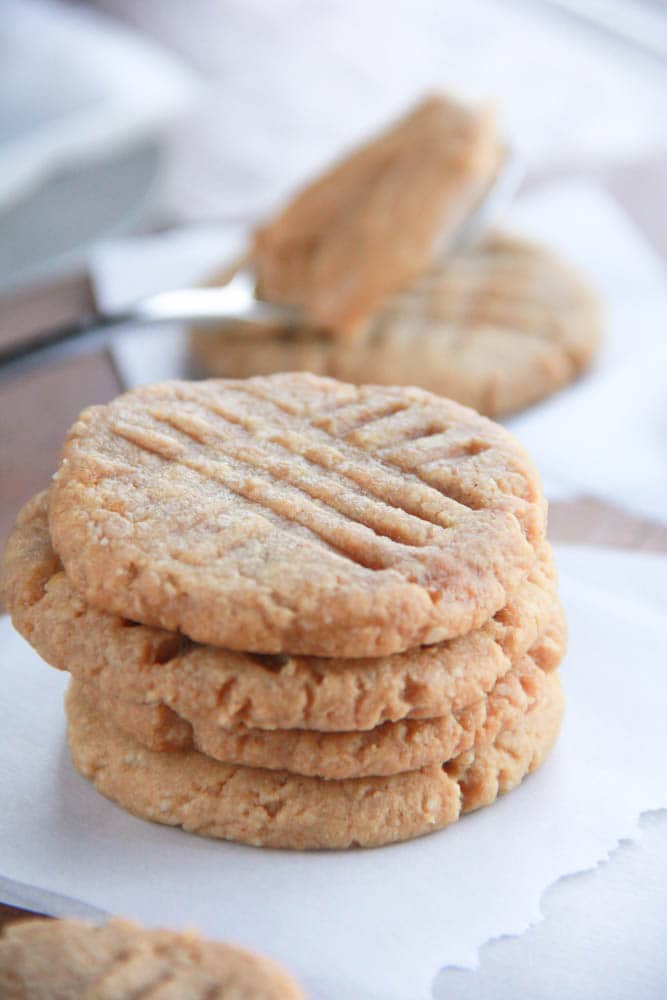 I am going to give you a total and absolute disclaimer regarding these skinny
and 
gluten free peanut butter cookies.
They are dangerous. . .
So dangerously good that is.
Give yourself a plan, either eat some and give away the rest. Or just say fudge it I'm eating the entire batch. Your choice.
I chose the latter.
SKINNY PEANUT BUTTER COOKIES. 4-Ingredients and under 100 calories a cookie!Get Full Recipe from Veggie Balancehttp://www.veggiebalance.com/gluten-free-peanut-butter-cookies/

Posted by Veggie Balance on Wednesday, October 12, 2016
All the reasons these are the best Gluten Free Peanut Butter Cookies ever:
Only 4-Ingredients!
Totally packed with protein.
Totally packed with protein means it's also healthy for you!
Healthy Cookie + 4-ingredients = Best Peanut Butter Cookie Ever.
It took me two batches to get these just perfectly right. I took my good ole' original Skinny Peanut Butter Cookie recipe and made it gluten free.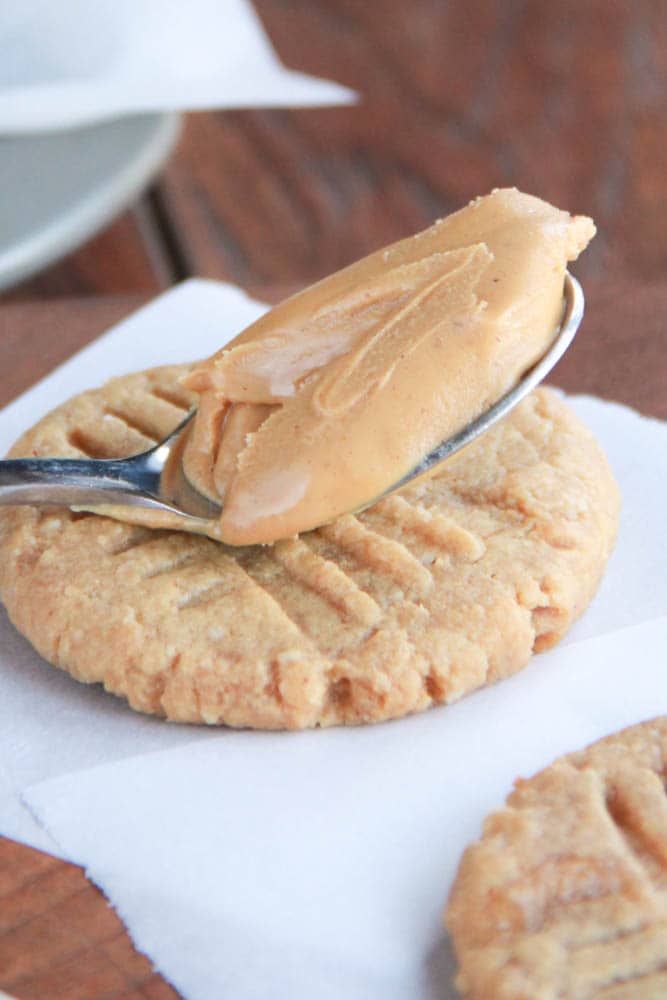 Yesss, I can start to making them again. Stupid gluten intolerance always messing me up with my previous delicious recipes.
No worries gluten intolerant friends (and me) we have a solution! Almond flour.
Well, it's the same answer on why I don't make cookies very often. I eat them all.
That's my life folks. I wake up at 6 or 7am on a Sunday morning and I bake cookies. What is wrong with me? Meh, a lot. My weird obsessive baking mornings come to your advantage.
While you sleep in on the weekend (like normal people) I'm perfecting a peanut butter cookie recipe for you to make! At normal hours that is.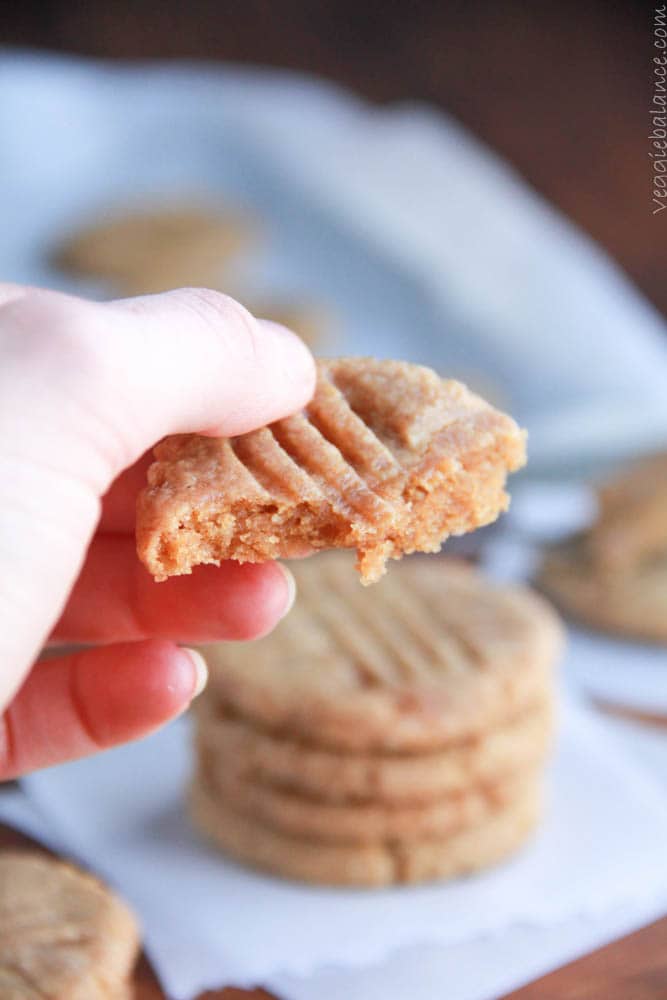 If you haven't heard about
OMG: Oatmeal Made Great
yet then go check that out.
It's my little gift to you!
10 delicious oatmeal recipes not just for breakfast. The last couple recipes you'll question if they really are made from oatmeal, and yes they are! All are lower in sugar meaning you can have dessert for breakfast! (Isn't that what we all want?)
Roland's favorite: Cookie Dough, Chocolate Peanut Butter, Cinnamon Roll (I have such a little boy in a big boy body for a husband.) 
I'm now working on my next eCookbook that I'll announce the topic of that later on. So make sure you join our Veggie Balance community to stay in the loop.
Thank you to each and every one of you. Thank you for pinning, posting and sharing. <3
Now go make these cookies. Stat!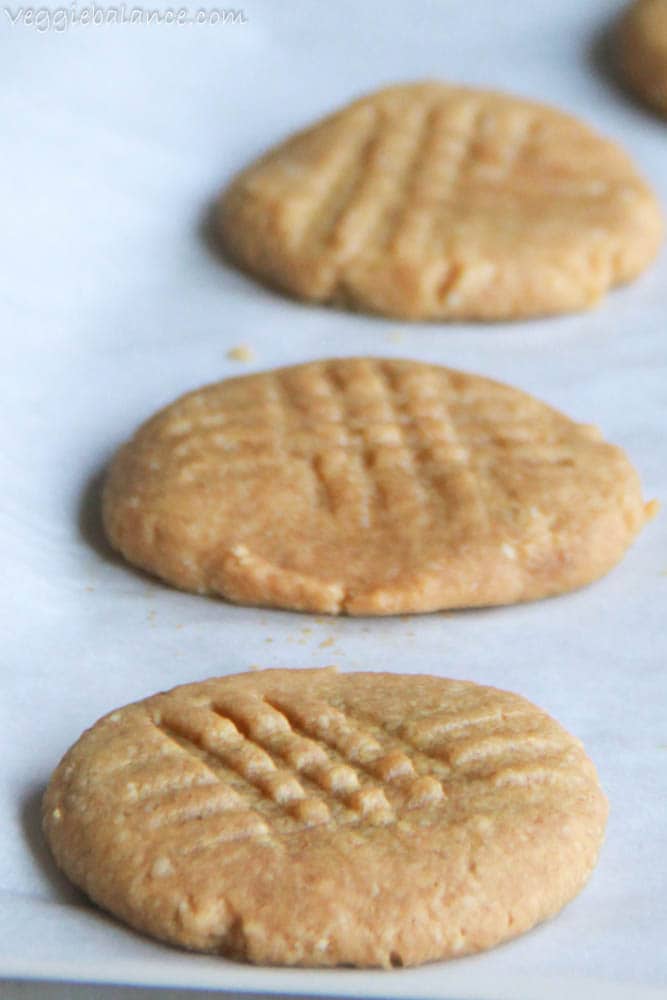 Gluten Free Peanut Butter Cookies
Author:
Prep time:
Cook time:
Total time:
Skinny Gluten Free Peanut Butter Cookies recipe are Healthy and Skinny with Only 4 natural ingredients. They are dangerous. . . So dangerously good that is.
Ingredients
1/2 cup [url href="http://www.amazon.com/dp/product/B001GQ3E28/?&tag=veggbala-20″ target="_blank"][b][u]creamy peanut butter[/u][/b][/url]
1/3 cup [url href="http://www.amazon.com/dp/product/B000EDG598/?&tag=veggbala-20″ target="_blank"][b][u]almond flour[/u][/b][/url]
1/4 teaspoon baking soda
3 teaspoons honey
1/2 teaspoon [url href="http://www.veggiebalance.com/how-to-make-homemade-vanilla-extract/" title="How to Make Homemade Vanilla Extract"]pure vanilla extract[/url]
1 egg white
Instructions
Preheat oven to 350 F
Mix all ingredients together in a medium sized mixing bowl
Form cookie balls with hands about 1 inch each and place on parchment prepared cookie sheet
Flatten each cookie ball with hands to about 2 inches diameter and 1/4 inch thick
With a fork, indent the tops of cookies with the crisscross pattern
Bake for 7-9 minutes.
Let cool for 5-10 minutes on cookie sheet before removing
Serving size:
1 cookie
Calories:
94
Fat:
7 g
Saturated fat:
1 g
Unsaturated fat:
0 g
Trans fat:
0 g
Carbohydrates:
6 g
Sugar:
4 g
Sodium:
51 mg
Fiber:
1 g
Protein:
4 g
Cholesterol:
0 mg
You might also like some of these recipes like this gluten free peanut butter cookie: