I'm going to share something that's going to unveil me as the true nerd that I am… I have a peanut butter song. I do not exaggerate when I say I eat an ENTIRE jar of peanut butter in a week. My new obsession is Krema peanut butter, no added sugar, just one ingredient. PEANUTS. Oh I'm in love. Now my song goes something like this:
I Love Peanut Butter
I Love Peanut Butter
I Love Peanut Butter, Hey, Hey Hey!
Now, any The Little Rascal fans out there.. I bet you can put a tune to that very easily. I know nerd alert. #ProudofIt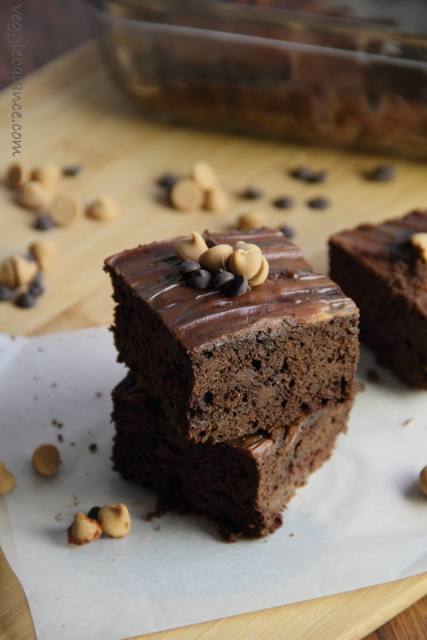 My husband fortunately shares my love for anything peanut butter . His love for brownies? Now, I think that is a close second behind peanut butter. Needless to say the way to his heart is with food, brownies and peanut butter is the secret key. I made him an unhealthy batch of brownies a while back just for him for a special occasion, and truthfully I thought my healthy version of the black bean brownies tasted better not only because they just flat tasted better, but also were better for you. The fact that I made them for him didn't tear away the fact that I consumed half a pan one night after a pretty bad day. Wasn't my proudest moment. A. I literally just ate my husband's gift from me and B. I ate a total of like 8 brownies. Instead of beating myself up about it, I found comedy in it and moved on. I'm human. Healthy dessert and traditional dessert, both need to be eaten in moderation. If I ate 8 of these healthy brownies in one sitting I would not be proud of myself. LUCKILY, I had better self control for the days these were in my house.
Initially, I told my husband that I made him another unhealthy batch of brownies to make up for the other 'not to be mentioned' incident. He was so excited and happily munched away and said, I quote. "These brownies taste better than your last (unhealthy) batch."  Instead of screaming from the rooftop and saying, HA! They are healthy brownies! I kept my mouth shut and let him devour them. It was a proud moment in the Veggie Balance realm. I eventually told him the truth just because I couldn't contain myself any longer.
 Bon Appêtit!
Peanut Butter Brownies
Ingredients
1 15oz can of white northern beans
5 Tablespoons grapeseed oil
3 eggs (3 flax eggs to make vegan)
2 Tablespoons PB2 powdered peanut butter
½ cup cocoa powder
¼ cup sugar
1 teaspoon baking soda
1 teaspoon baking powder
¼ cup mini chocolate chips
¼ cup peanut butter chips (creamy peanut butter if vegan)
Instructions
Preheat oven to 350 F
Drain beans and wash with water in strainer.
In food processor add, beans, grapeseed oil, eggs, powdered peanut butter, cocoa powder, sugar, baking soda and baking powder.
Blend until everything is smooth.
Pour into a greased 8x8 pan. I grease mine with grapeseed oil.
Bake for 30-35 minutes.
In a microwave safe bowl pour both the mini chocolate chips and peanut butter chip and microwave on high for 1 minute. Take out and stir until smooth.
Smooth peanut butter/chocolate on top of brownies.
Nutrition Information
Serving size:
1 brownie
Calories:
100
Fat:
5 g
Saturated fat:
1 g
Unsaturated fat:
4 g
Trans fat:
0 g
Carbohydrates:
11 g
Sugar:
3 g
Sodium:
18.9 mg
Fiber:
2 g
Protein:
4 g
Cholesterol:
31 mg

Or follow me on FACEBOOK and TWITTER.
If you're looking for healthy dessert options, click HERE.
If you like this, you also might like these: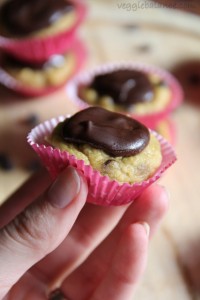 If you like this recipe please SHARE with the options below!