3 Ingredient Peanut Butter Fudge recipe made with simple, easy ingredients. Naturally Vegan, Gluten-free, dairy-free and low-calorie! Making the perfect snack or pre-workout snack to keep those New Year resolutions going strong.
Disclaimer: This shop has been compensated by Collective Bias, Inc. and its advertiser. As always, all opinions are mine alone and I wouldn't share this with you if I didn't use it myself. #StartWithJifPowder #CollectiveBias
Today's post is going to be all about some delicious peanut butter powder! This amazing ingredient is what will create our healthy and vegan 3-Ingredient Peanut Butter Fudge. // YESSSSSSS.
Have I ever shared with you how much I love peanut butter powder? I think I did when I made skinnier dark chocolate puppy chow last month. (YUM)
I was totally stoked with the opportunity to try Jif Peanut Powder. I was very happy to see this peanut powder is made with just one ingredient: fresh roasted peanuts.
Anything that gives me more opportunities to stuff my face with peanut butter is a good moment. I'll tell you what, my peanut butter obsession totally went into overdrive when I created this super simple and super easy 3 Ingredient Peanut Butter Fudge.
Total disclaimer: These peanut butter fudge bars are meant to help you stay on track with your health goals this year, not obliterate them on the spot. They are a dessert, snack or pre / post-workout treat.
These bars mimic traditional peanut butter fudge, but not when it comes to sugar and fat content (traditional peanut butter fudge contains 30x more sugar and fat than these 3-Ingredient Peanut Butter Fudge bars!).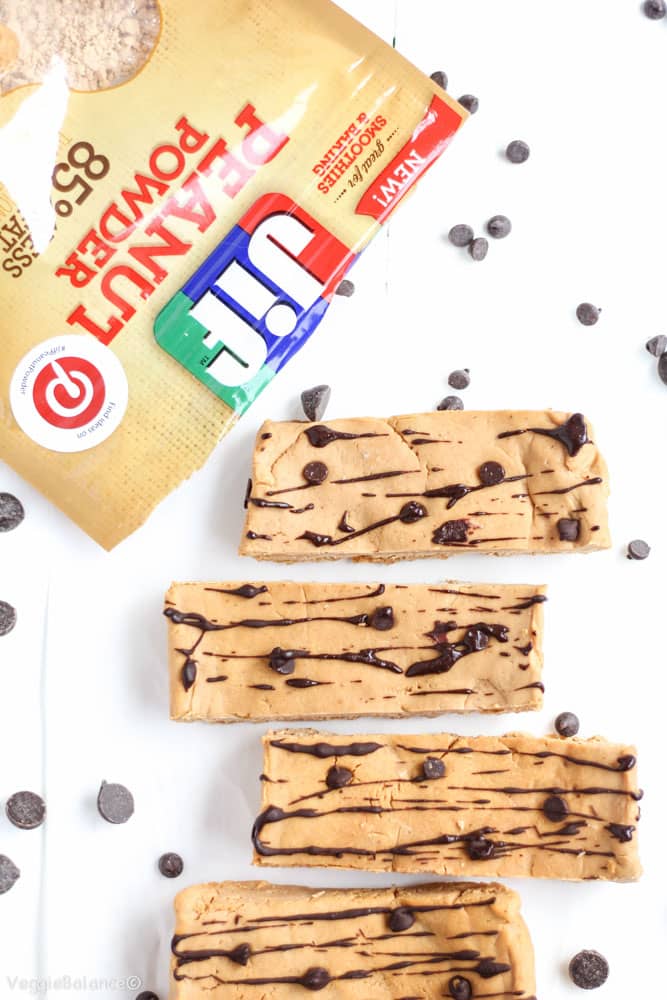 So on that note, let's talk about fat. In moderation, fat is great for our bodies.
That said, it doesn't matter who you are or what body type you have; eating out of the peanut butter jar with a spoon probably isn't the wisest choice for lunch.
(I'll admit, that's been me lately. Same problem with guacamole. I swear, if there is an avocado in my house it will be made into guacamole. I digress.)
Peanut Powder allows you to eat all the peanut butter your heart desires with 85% less fat. That translates into fewer calories and less sugar, and that is a win, my friends.
Hint: I am happy to report that I easily found Jif Peanut Powder in Walmart.
I normally  struggle to find items outside of my normal purchases, so R ends up coming to the rescue, looking for (and finding) what I cannot. I look, I really do, it just . . . it just isn't there, I swear!
So if you are like me in that respect, have no worries. 99.9% of the time you can easily find this peanut powder in your usual peanut butter aisle.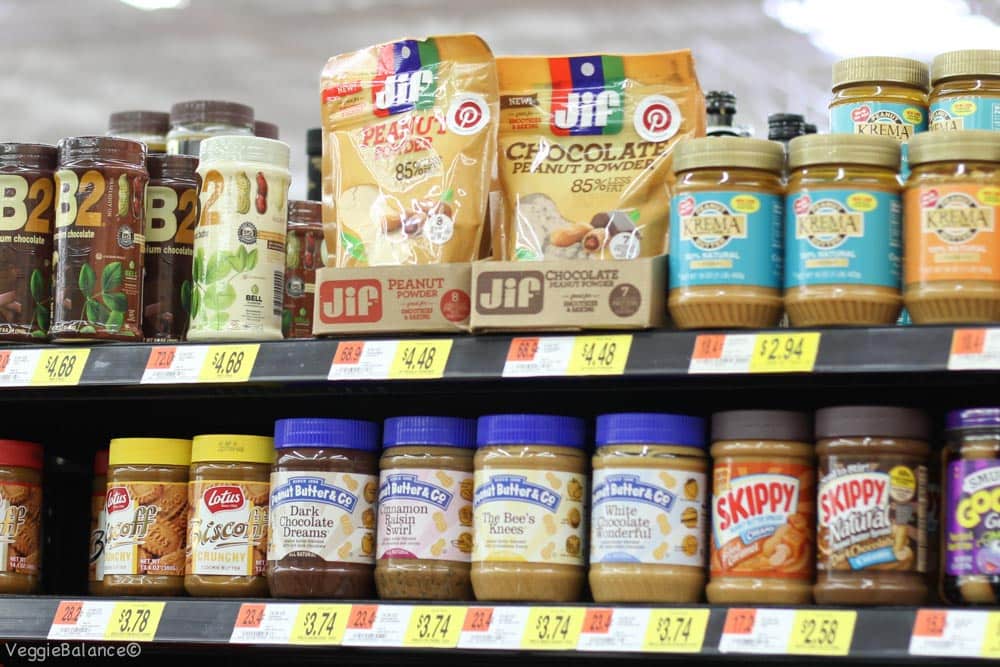 For those new to this site, I have other delicious recipes that contain peanut powder. After making these Peanut Butter Fudge bars, you can use the leftover peanut powder to make more yummy treats.
Add it to smoothies.
Make it into a peanut butter pie.
My personal favorite is just adding a little water to peanut powder and dipping carrots in it. Trust me on this. Peanut Butter and Carrots is an odd combination, but it just works.
I had a coworker show me this combination a couple years back. It's delicious and the carrot is a perfect tool to shovel more peanut butter in my mouth.
Quote of the day: "The more peanut butter in my life, the better it is."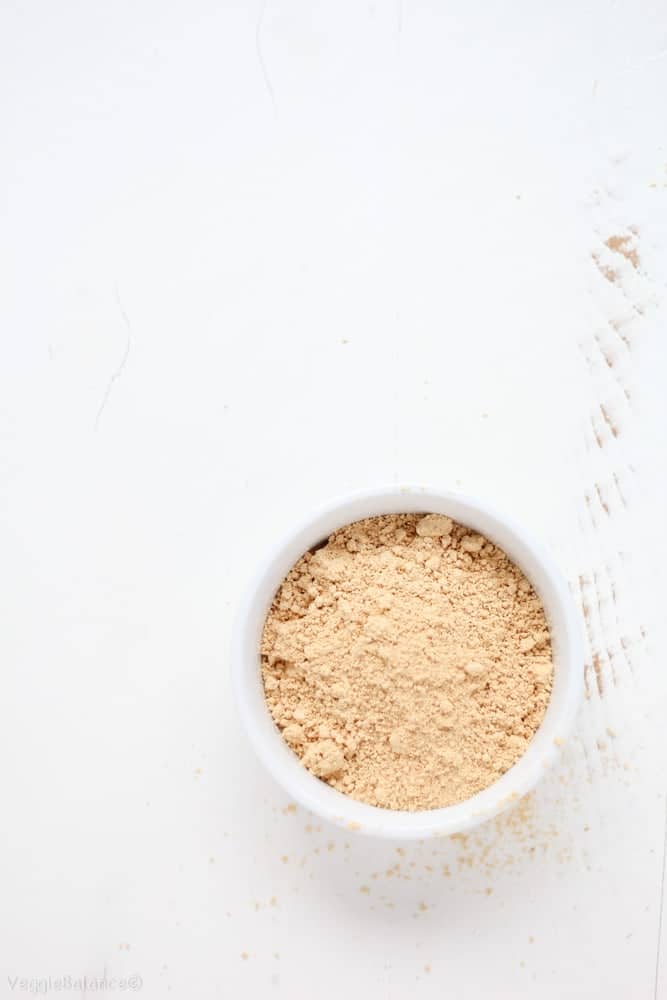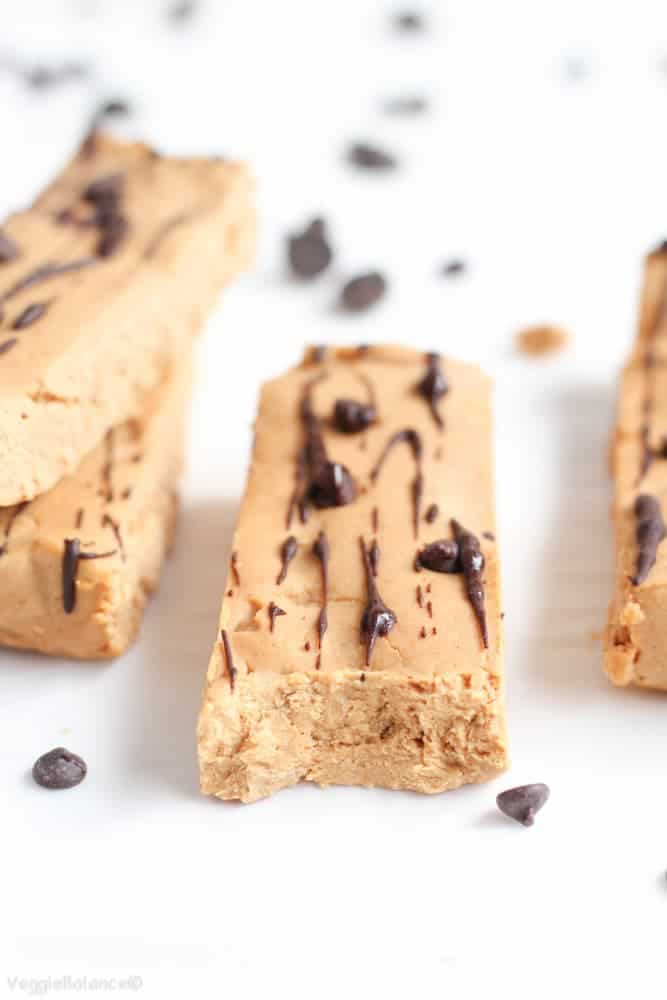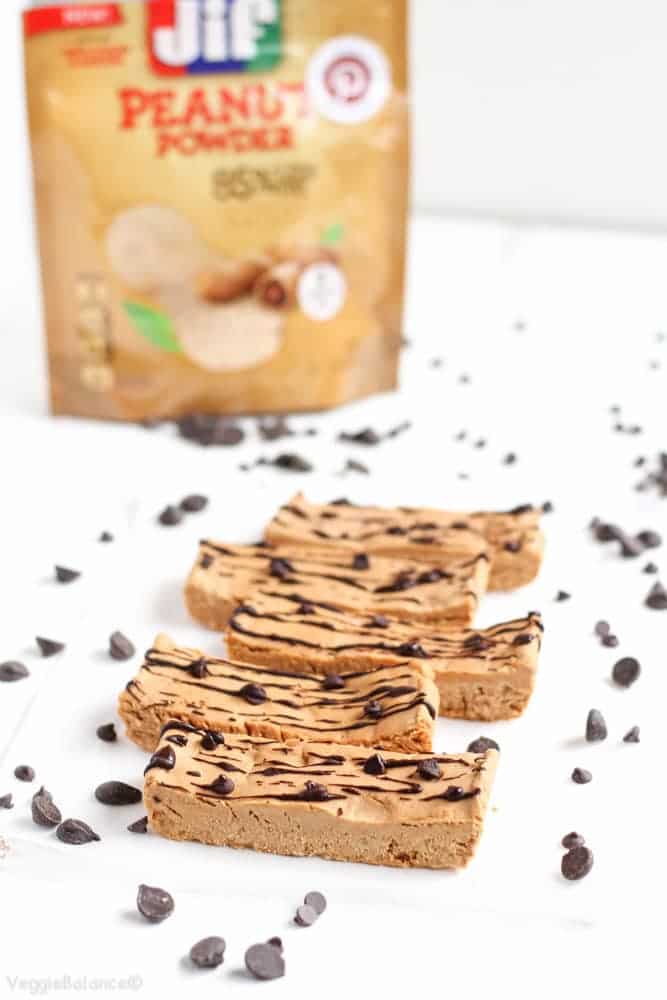 These 3 Ingredient Peanut Butter Fudge bars are really the easiest things to make since sliced bread.
But wait, I'm gluten-free, so there is no bread in my house! Here on VB, I guess the saying should be, "the easiest things to make since peanut butter fudge."
In my life, traditional fudge is not easy to make and turns into a fail every time.
But 3-Ingredient Peanut Butter Fudge is the kind of fudge even I can successfully make—YEAH!
You can eat these bars at room temperature, but I think the absolutely perfffffect way to devour them is by first freezing the entire batch, pulling one bar out of the freezer, waiting a minute or two, and then scarfing it down with a hot cup of tea or low-sugar hot chocolate.
That is the epic and perfect duo.
Creamy.
Decadent.
Lip-Smacking.
There is no sharing allowed with this kind of combination.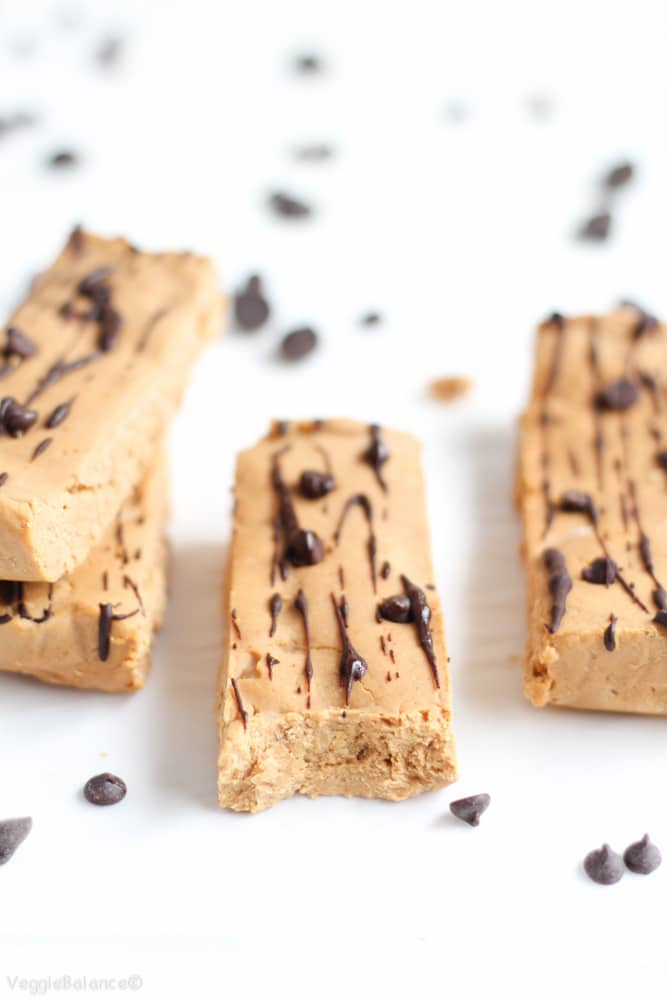 Need a little help on how to make this treat? Check out VeggieBalance YouTube channel and watch the quick video showing just how easy it really is!
I'd love to have you watch the video and subscribe to my channel! I'll be hosting a fun giveaway over there real soon for the special VB YouTube subscribers, so please be sure to join me over there.
ALSO: Don't forget to enter for the chance to win a $700 Amazon Giftcard! You can enter on this weeks Easy Crockpot Potato Soup post. Raffle ends on January 27th.
Find more information or other recipes you can make with JIF Peanut Powder.