Blue Cheese Wedge Salad recipe with crispy bacon, creamy blue cheese dressing, and juicy tomatoes. Simple and easy salad for entertaining with minimal prep work. Naturally gluten-free!!
We are on a trend these past couple weeks. Our theme is how to host your next dinner party like a G.
How? With simple, easy, delicious recipes. The emphasis is on the easy. This is entertaining like a G at it's finest.
Elevated dishes like this Blue Cheese Wedge Salad are the epitome of a sophisticated looking dish that is actually crazy easy to make.
All you need is a crisp head of iceberg lettuce and some blue cheese salad essentials, like well, of course blue cheese, crispy bacon, freshly cut scallions, juicy tomatoes, and of course the most perfect blue cheese dressing.
I am most definitely not an advocate of eating iceberg lettuce on a daily basis. There is very little nutritional value in this crispy, refreshing lettuce. Normally, in my opinion, dark leafy lettuces and spinach are the way to go.
HOWEVER . . .
When it comes to entertaining, sometimes iceberg lettuce has a great and powerful purpose. In this case, to be the vessel to carry all these delicious ingredients to your mouth:
Bacon. (Bacon makes the world go round)
Tomatoes.
Blue Cheese Crumbles.
Green Onion.
Creamy Blue Cheese Dressing.
Come to think of it, it might just be the blue cheese and bacon that are the prime ingredients that make this the most epic wedge salad.
If "blue" and "cheese" are the first words in this Blue Cheese Wedge Salad, this is obviously the most important ingredient.
I mean, obviously.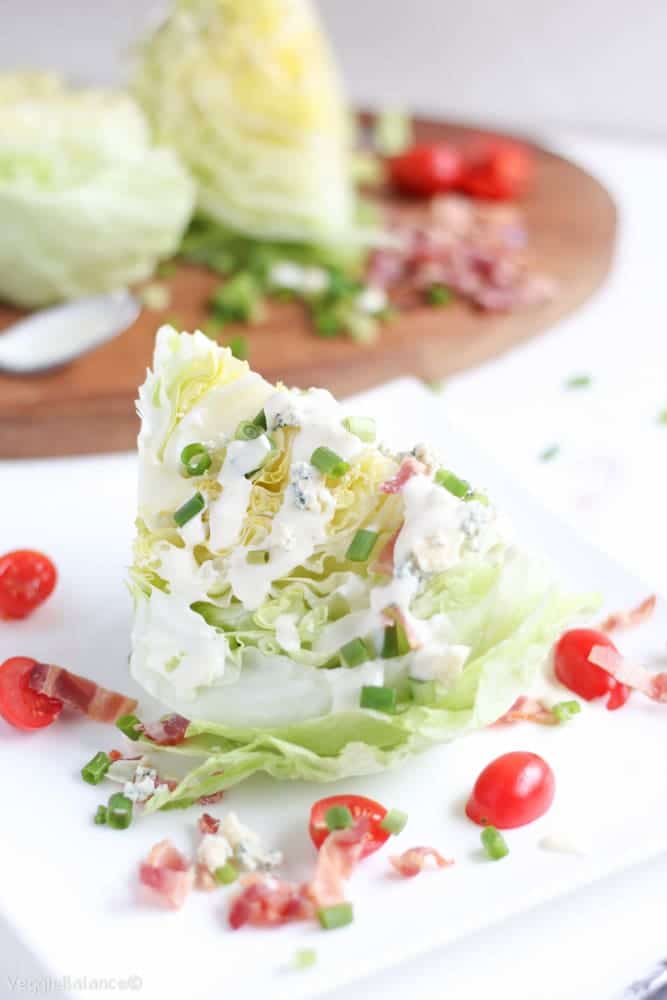 Let's do a quick recap of our current tapas entertaining like a G dinner menu:
Blue Cheese Wedge Salad √
Blue Cheese Roasted Potato Wedges √
Flourless Chocolate Cake √√√√ (Yesssss)