Slow Cooker Sausage and Peppers simmered in the crockpot and served up on a bed of rice. Add a little bit (or a lot) of your favorite hot sauce to pull it all together for this simple, healthy, nutritious dinner.
(Gluten Free, Dairy Free)
This Sausage and Peppers recipe is SO easy, it amazes me why anyone would make complicated meals during the week.
I read somewhere that Food Bloggers have ushered in an era of "Lazy Cooking." Perhaps we have. However, if lazy cooking involves all natural and fresh ingredients … I say bring on the sausage and peppers!
Lazy cooking can be just as tasty as it is easy.
Crockpot Sausage and Peppers is simple slow cooker deliciousness.
Green Pepper
Onion
Gluten-Free Sausage – My favorite? Any kind of bratwurst
Chicken Stock
Salt and Pepper
Rice
Hot Sauce
Sound natural and simple enough? I embrace lazy cooking so long as it also is healthy cooking.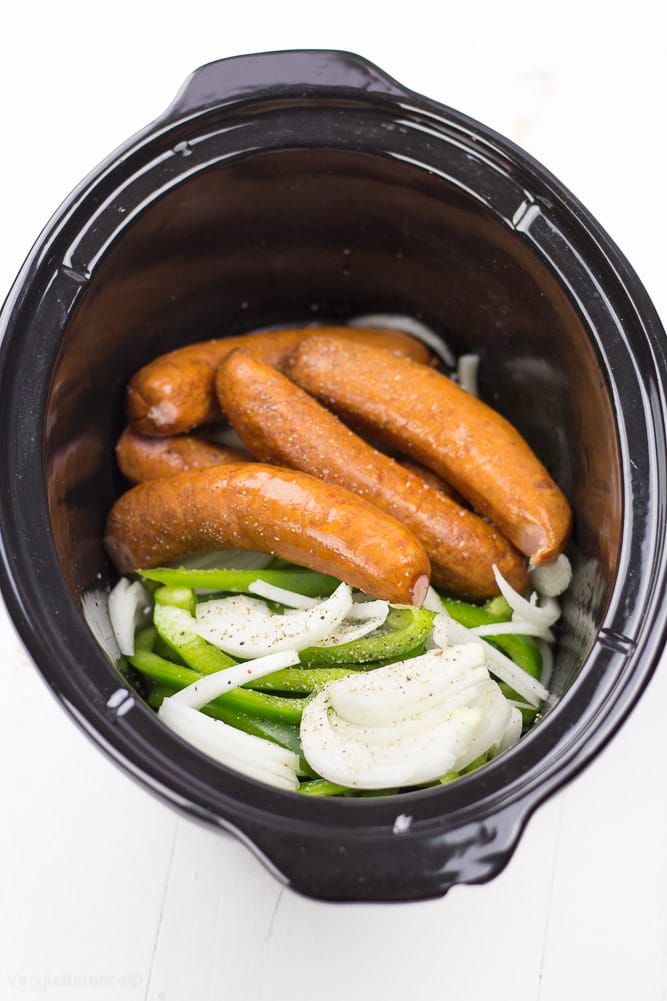 Do not get me wrong, I have zero objections to putting in time and effort when the result is tasty,  healthy food.
For example: My grandma's sugar(less) cookies? Work.
Mexican Tamales? Work.
Both of those culinary creations are 100% WORTH the effort, but not something I would recommend during the week. Definitely not the tamales – to be done right, those need more time than our busy lives often allow on weekdays.
We need something simple and spicy to get us through the week. Just toss together these ingredients and let the slow cooker get to work while you await a bowl of Sausage and Peppers spooned over fluffy rice.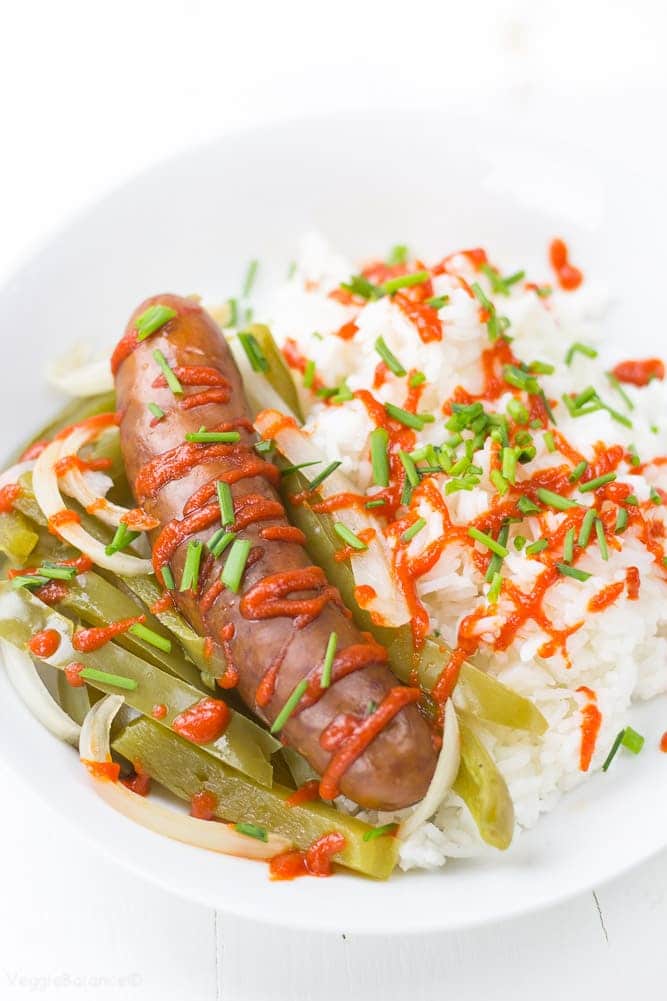 Slow Cooker Sausage and Peppers Recipe Tips:
Seasoning – Liberally season with salt and pepper. You can add the hot sauce into the slow cooker at the beginning instead of adding after – but beware, it can get super spicy with a quickness.
Prepare – I love making a big batch of rice the beginning of the week to be able to incorporate into whatever I make going through the week.
Vegetarian Option – Switch with Vegetarian Sausages for Vegetarian/Vegan diets. Beware my gluten-free individuals though! I've still yet to find a gluten free friendly vegetarian sausage. Read the ingredients.
Once you get a chance to savor this simple spicy creation, I know you will agree, lazy cooking is the besttttttt!