Cauliflower Mushroom Risotto is an elegant dish to quickly whip together.  This creamy risotto is the perfect gluten-free and low carb side dish. It's so rich and delicious you'll be wanting to add it to the weekly rotation.
(Gluten-Free, Low Carb, Nut-Free, Vegetarian, Vegan friendly)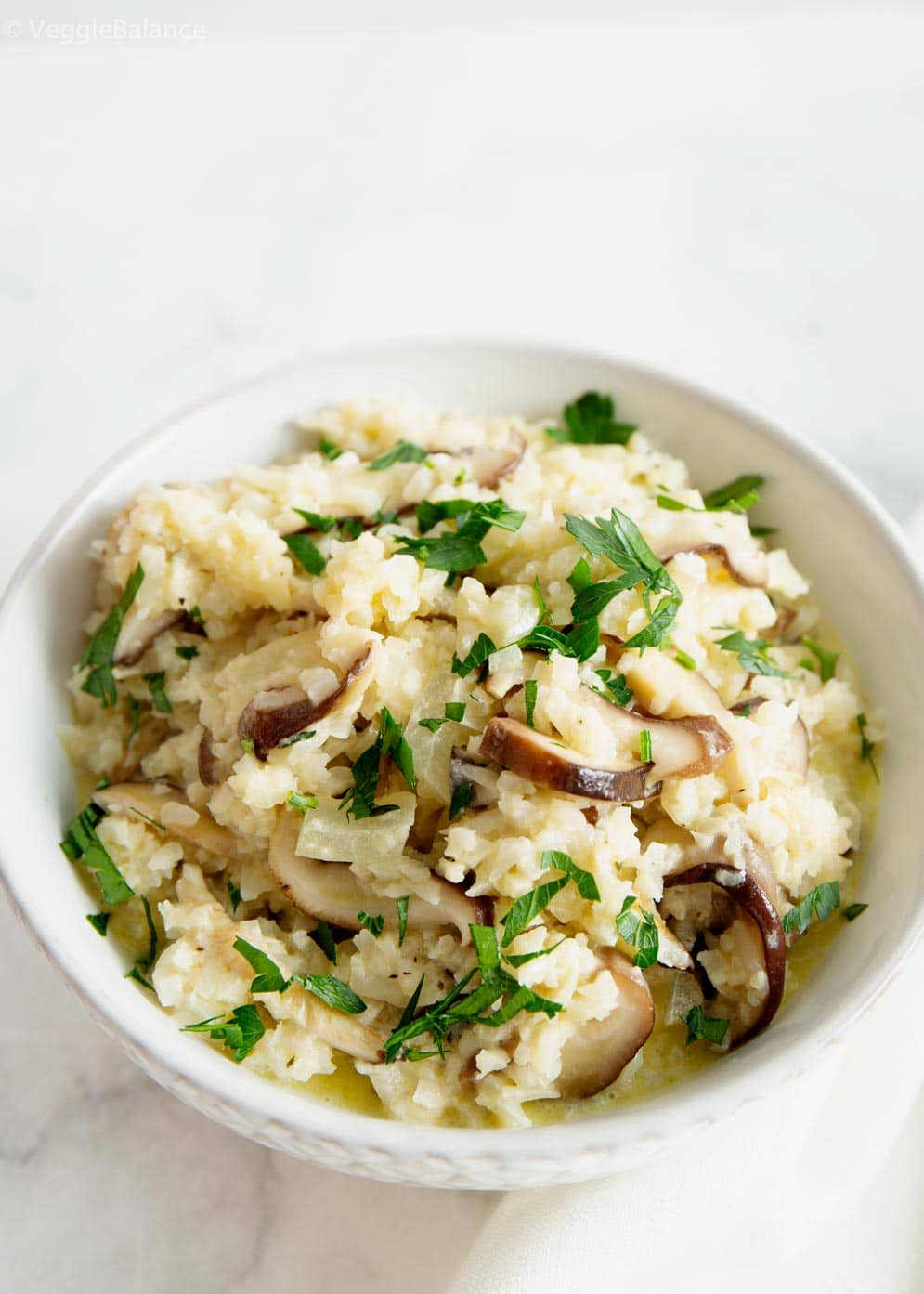 In our household we've had to get creative. A creamy risotto that was gluten-free, low carb AND dairy-free was the goal.
This creamy cauliflower mushroom risotto hits all the 'checks' and is so delicious that I was SUPER excited to share this.
Cauliflower Risotto that is also dairy-free?
We've tested this recipe out two different ways.
Low Carb Risotto – Using cauliflower rice helps keep this low carb and honestly our family could barely tell a difference with rice.
Hold onto your hats as more cauliflower recipes hit this site like our Baked Buffalo Cauliflower and this Creamy Cauliflower Risotto because we are on a cauliflower kick.
Goes right up there with our broccoli obsession. 👉 broccoli tater tots and broccoli fritters.
Vegan Risotto – so then the second thing we did was test it using vegan alternatives. Divine.
Both ways are naturally gluten-free but as I personally know I'm not the only one that is starting to either limit my dairy intake or cut it out all together I had to be sure to test and make this dairy-free as well.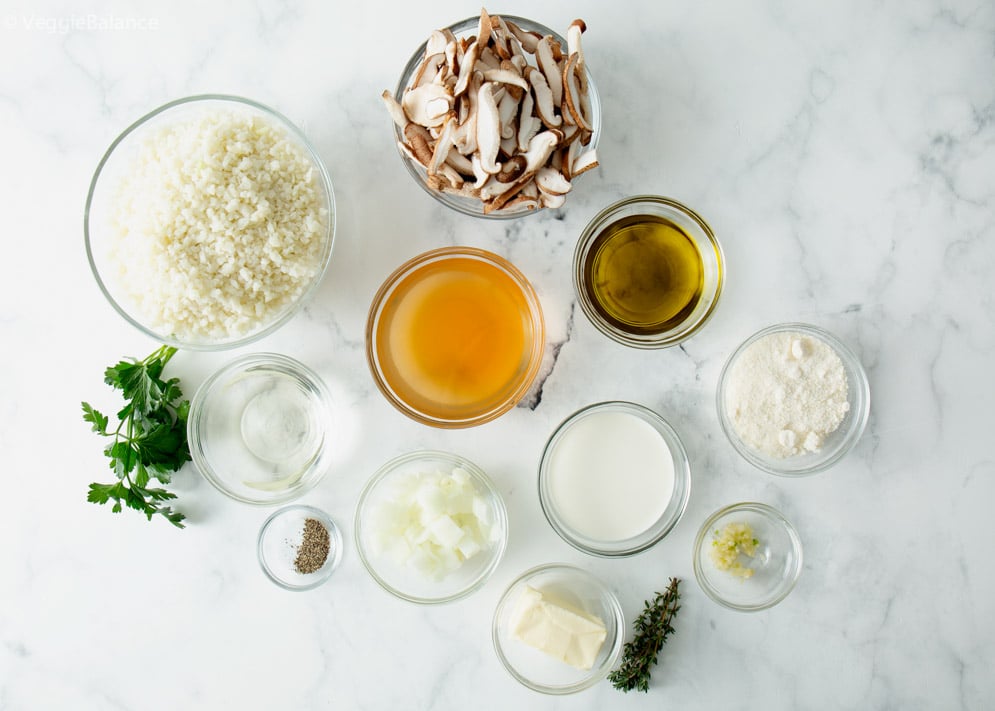 Can I make this risotto with rice?
We all know we very fortunately can still eat rice here. So why did we use cauliflower rice?
Well my husband needs to watch his carbs and therefore we've got to watch the type of meals we put together. If he had a choice he'd eat the entire bowl of rice and more. So swapping it with cauliflower rice is a perfect solution.
HOWEVER – if you are not following a low carb diet simply swap cooked rice in lieu of the cauliflower rice and proceed with delicious gluten-free and vegan mushroom risotto. Get in my belly.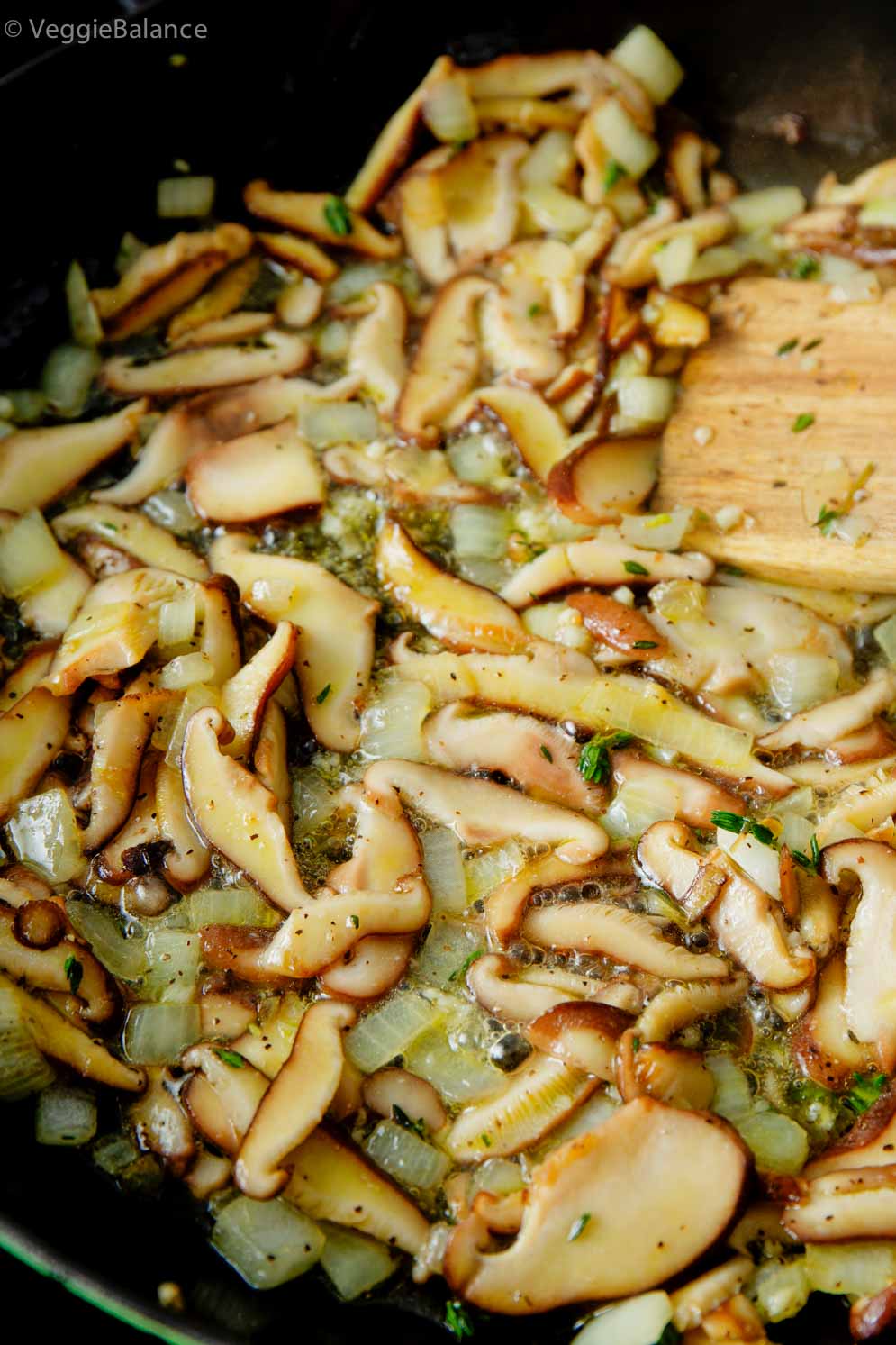 What to serve with this cauliflower mushroom risotto
Risottos are generally the 'main event' but it's always a wise decision to pair it with something. These are a few ideas. 💡
Side Arugula Salad with a lemon and olive oil dressing **divine**
Baked Broccoli is a fabulous side and addition to this.
Or our kicka** Gluten-Free Garlic bread.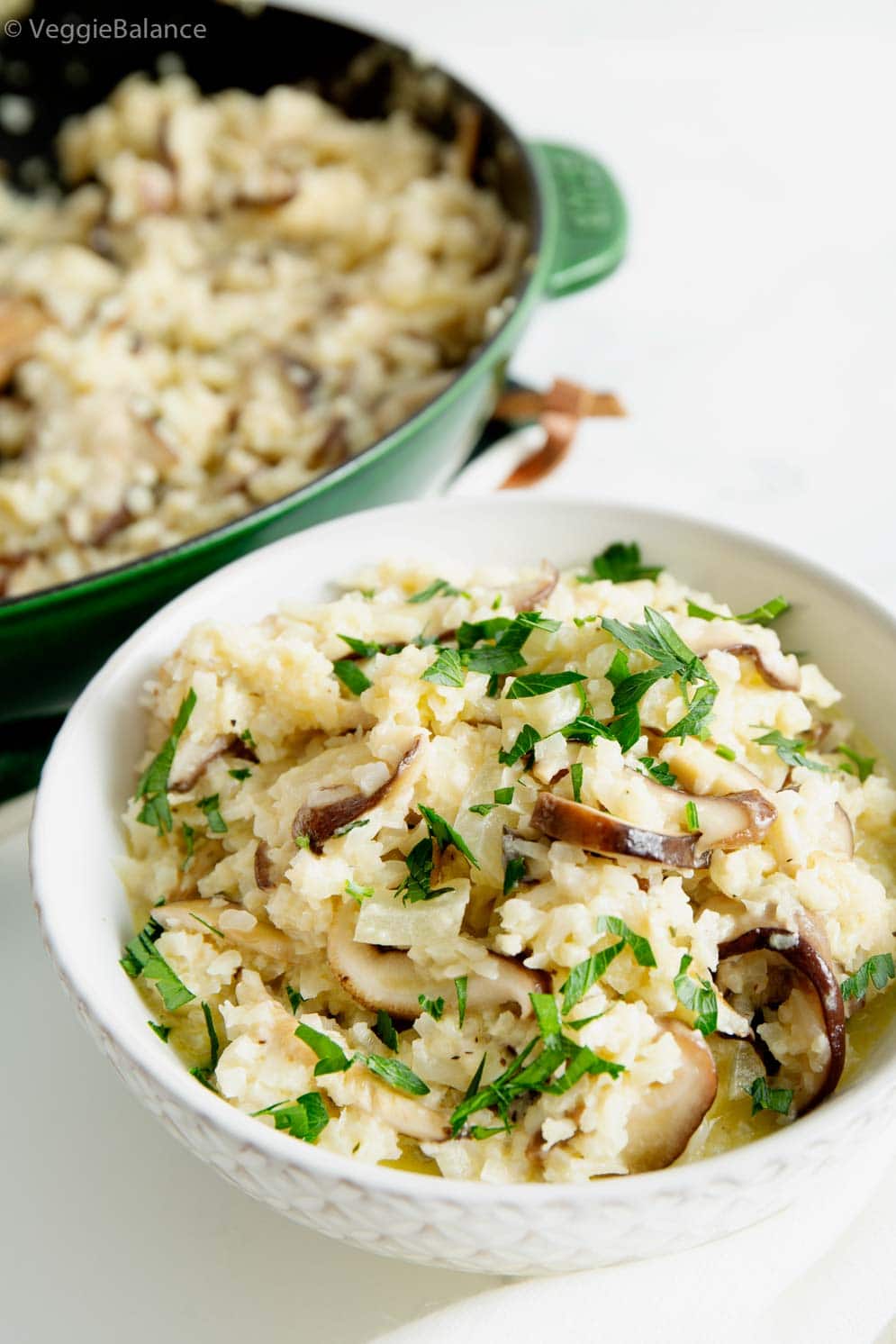 Frozen Cauliflower Rice or Fresh Cauliflower
You can use either fresh or frozen cauliflower. I've found that making you own cauliflower rice from scratch is much more economical but I can't deny and say that it's what I use all the time.
How to Make Cauliflower Rice
You can either grate the cauliflower using a box grater with medium-sized holes OR use a food processor and pulse it into small pieces.
Either way you are aiming for tiny little pieces that resemble rice.
When using fresh I would advise to press any excess moisture out of the riced cauliflower as it can cause some troubles with the risotto if as it cooks it releases excess water.
Frozen Riced Cauliflower is the perfect and quick solution to getting dinner on the table. I provided the recipe instructions for frozen riced cauliflower as I think that 95% of people are going to go the direction of easy. 😉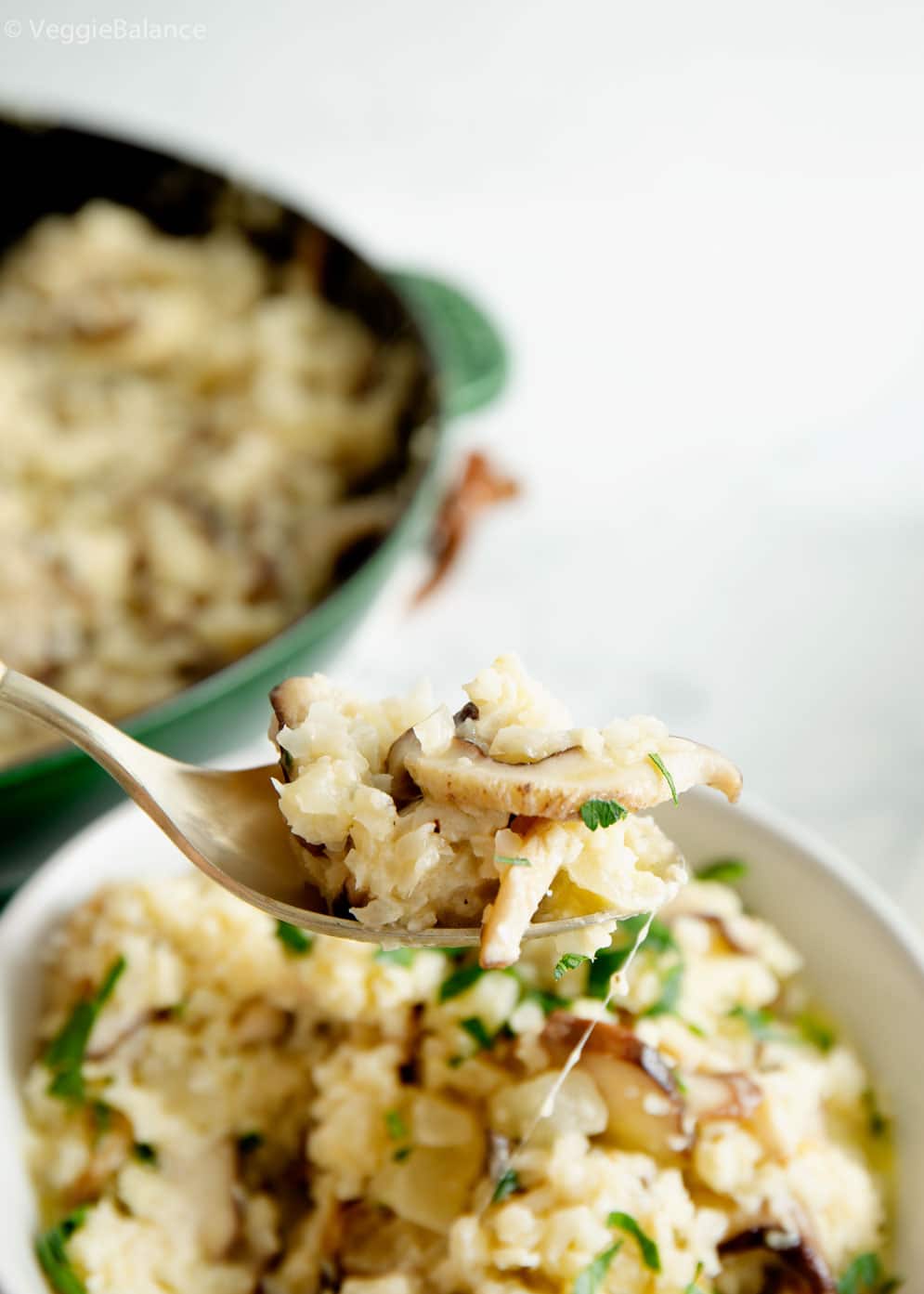 other recipes you might enjoy: