Instant Pot Lentil Curry is a cozy, creamy and zesty dinner that is so easy to make! Don't miss out on this one-pot awesome-sauce dinner sure to please the whole family.
(Gluten Free, Vegetarian, Low Carb Friendly)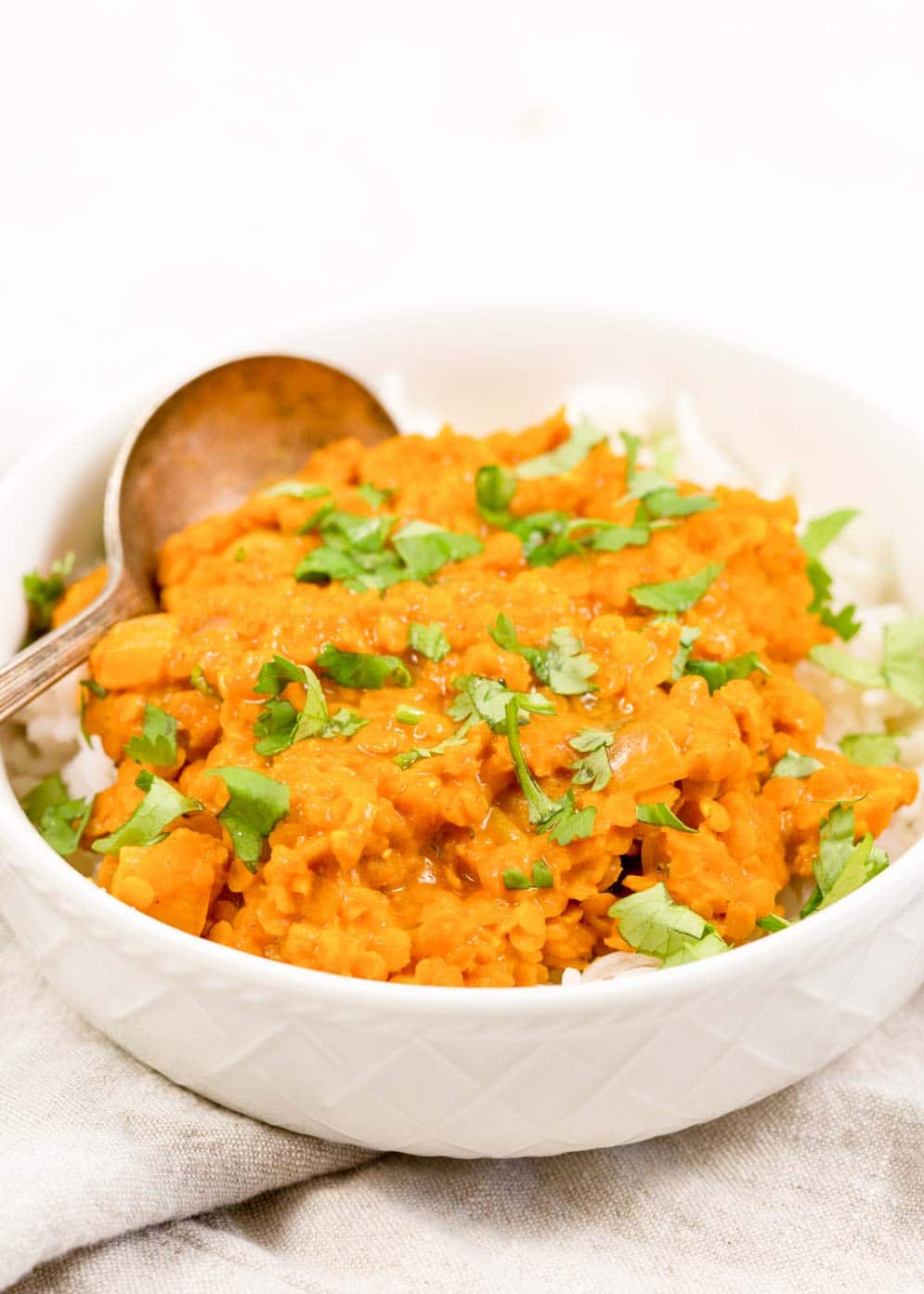 Instant Pot Lentil Curry is one of those quick meals that you'll want to put on repeat. Spicy, creamy goodness that is perfect when the weather outside is a little frightful. You can't beat how easy this is to make!
Instant Pot Lentil Curry 101
´
Getting comfortable with an Instant Pot isn't hard. It's all about the confidence and basic understanding. The Instant Pot isn't your grandmother's pressure cooker, but it deserves respect for the raw cooking power it brings home.
Do I have to soak lentils? This is possibly the best part about making lentils – you don't have to soak the lentils ahead of time. Your cooker does all the hard work and saves so much time!
Are lentils good for you? Yes they are! Lentils feature fiber, vitamin B6 and potassium which are all good for heart health. They are often used to help replace meat in meals while bringing a nutritional benefit.
Learn more how to use an Instant Pot at Evolving Table. 
What do I need to make Instant Pot Curry?
An Instant Pot, of course, is key to this recipe. Whether you have a 6 quart or 8 quart, either will work just the same for this recipe.
You can make in a slow cooker as well, but for the speed and easy, ours is Instant Pot all the way.
You'll also need: red lentils, onion, butter, red curry paste, turmeric (bonus of added health benefits!), garlic cloves, ground ginger, cayenne pepper, tomato puree, water, coconut milk, salt and pepper. You'll most definitely want to serve over rice and can add cilantro for garnish.
GET GEARED UP: We love Instant Pot and are happy to share some of our favorites! The Instant Pot is of course a must. But check out the Instant Pot Tempered Glass Lid so you can keep an eye on things, perfect for simmering. Also, a spare Instant Pot Stainless Steel Inner Cooking Pot is perfect for a backup.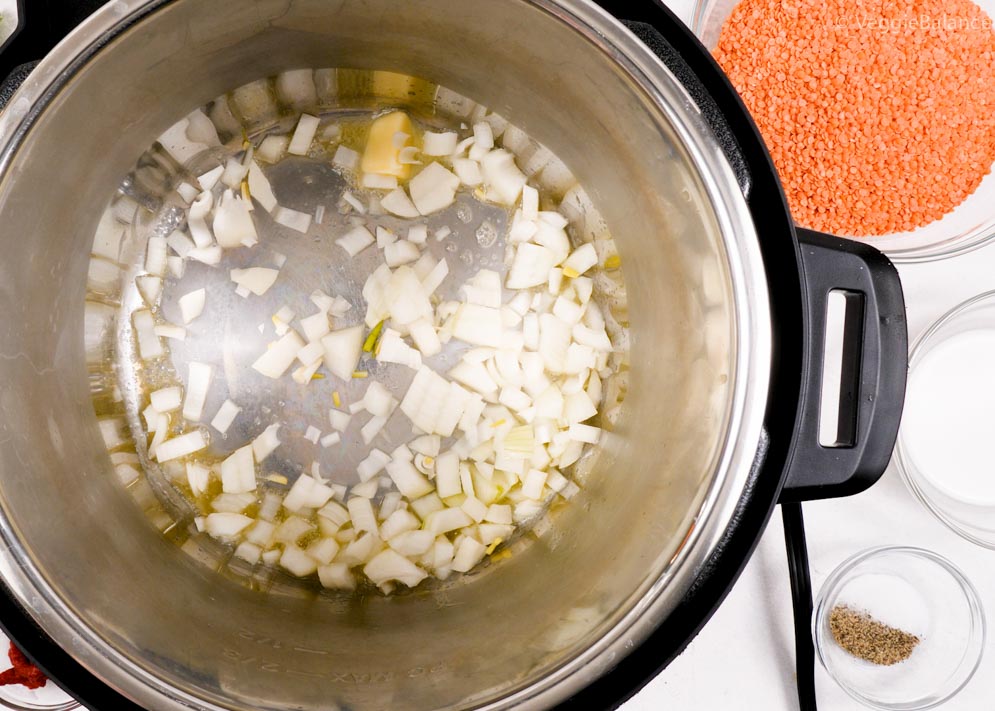 What is curry and what does it taste like?
This is truly a unique flavor, featuring savory and sweetness in the spice combination.
It is traditionally in Indian cuisine, but has made the crossover into other dishes because of its complex and zesty flavor base.
BONUS – curry also includes several spices that are anti-inflammatory, such as turmeric.  We love this added benefit because inflammation is one of those ailments we can all relate to, especially in the world of gluten free. Anything that can bring some relief naturally is a good thing! Alas, our recipe features some bonus turmeric for an added boost.
Instant Pot Tips and Tricks
As we said before, Instant Pot cooking isn't difficult. In fact, it's SO easy! For this recipe, you'll use a few different modes/features.
Saute mode: You'll use this to saute your onions with butter. Just 10 minutes to perfectly sauteed onions!
Soup/broth mode: You'll use this, or a low pressure setting, after you add your spices, tomato puree, water and lentils into the cooker. Just 3 minutes to make the magic happen!
Manual release: This is one of the three options for release, which means when the timer goes off, you flip the release valve to allow the pressure cooker to decompress quickly.
About that release: Please be careful/mindful of the hot steam. Make sure that when you are using an Instant Pot, it is away from cabinets and free from obstruction above. When you do a manual release or a 10 minute delayed release, be sure to use a towel or some other method to keep your hands from being caught in the steam.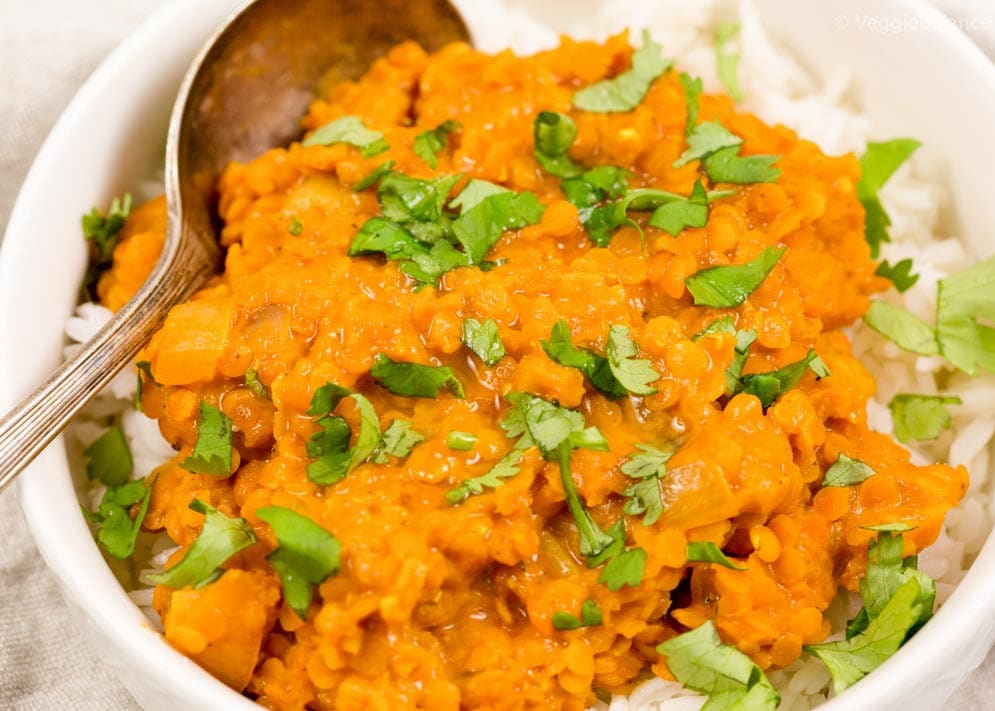 We love this recipe for so many reasons and are excited to be able to share with you today. It truly embodies our easy cooking sans the gluten way of life.
Delicious. Spicy. Easy. Now THAT is a winning combination.
Life is just better with a little savory, sweet zest.
Other recipes you might enjoy: