Lemon Mint Fruit Salad (aka The Red, White & Blue Fruit Salad) Toss strawberries, blueberries and apples together then drizzle with a homemade fresh lemon mint dressing. So simple but so delicious.
(Gluten Free, Dairy Free, Vegetarian, Vegan)
How do we create this epic Red, White and Blue Fruit Salad? It's easy peasy.
Chop your apples, and strawberries, and wash your blueberries. Toss together in a bowl.
Whisk together our Lemon Mint Fruit Salad dressing (it's just 3-ingredients. EASY)
Pour over your fruit and it's complete!
Did you not believe me when I said easy? It really isn't fail-proof.
I'll be the first to admit that I am horrible when it comes to holidays. I'm just not really a holiday kind of gal. (I know worst food blogger ever.)
Honestly, there is not a single holiday that is celebrated in the states that gets me excited. Everything we celebrate seems to be some massive big spectacle, thats just not my thing. ( I know I'm crazy)
So if you are with me, this Lemon Mint Fruit Salad is exactly what we need in our lives. A little bite of simple and delicious put together for the upcoming holiday.
If you are an avid holiday and specifically love decorating everything in Red, White and Blue, well, this fruit salad is also for you.
See how we can all still get along. 🙂
You know me by now, I want simple ingredients.
What's in our Lemon Mint Dressing for our Red, White and Blue Fruit Salad?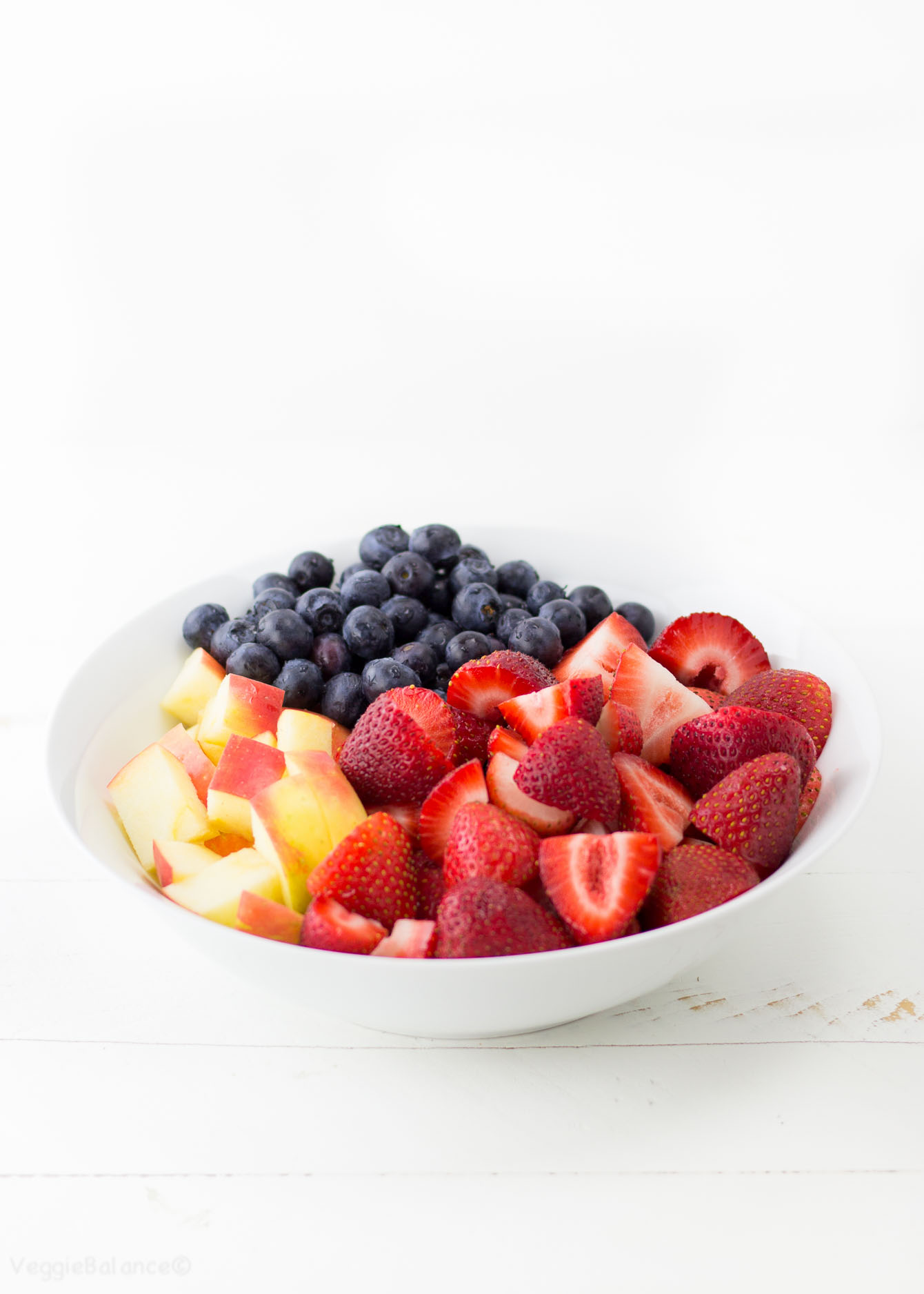 By this time in the year I have mint coming through my ears. It's actually growing on the outside wall of my photography studio and while I sit here and work get wafts of mint coming through the window.
Divine. Total summer perfection.
It's like the little plants of mint are begging me to use them.
I don't have anyyyy problems with that.
When should I prepare, make and store the fruit salad?
Making this fruit salad ahead of time is perfectly fine. Keep in mind about the apples though, the lemon mint dressing will help with the apples from browning but it's not superman lemon. They will begin to slightly brown in about 5-6 hours
Max time storing in the fridge up to 24 hours before serving.
After 24 hours the dressing will begin to break down the fruit a tad and apples with be a little brown. Not a problem at all for leftovers after entertaining but probably best you don't serve it this way.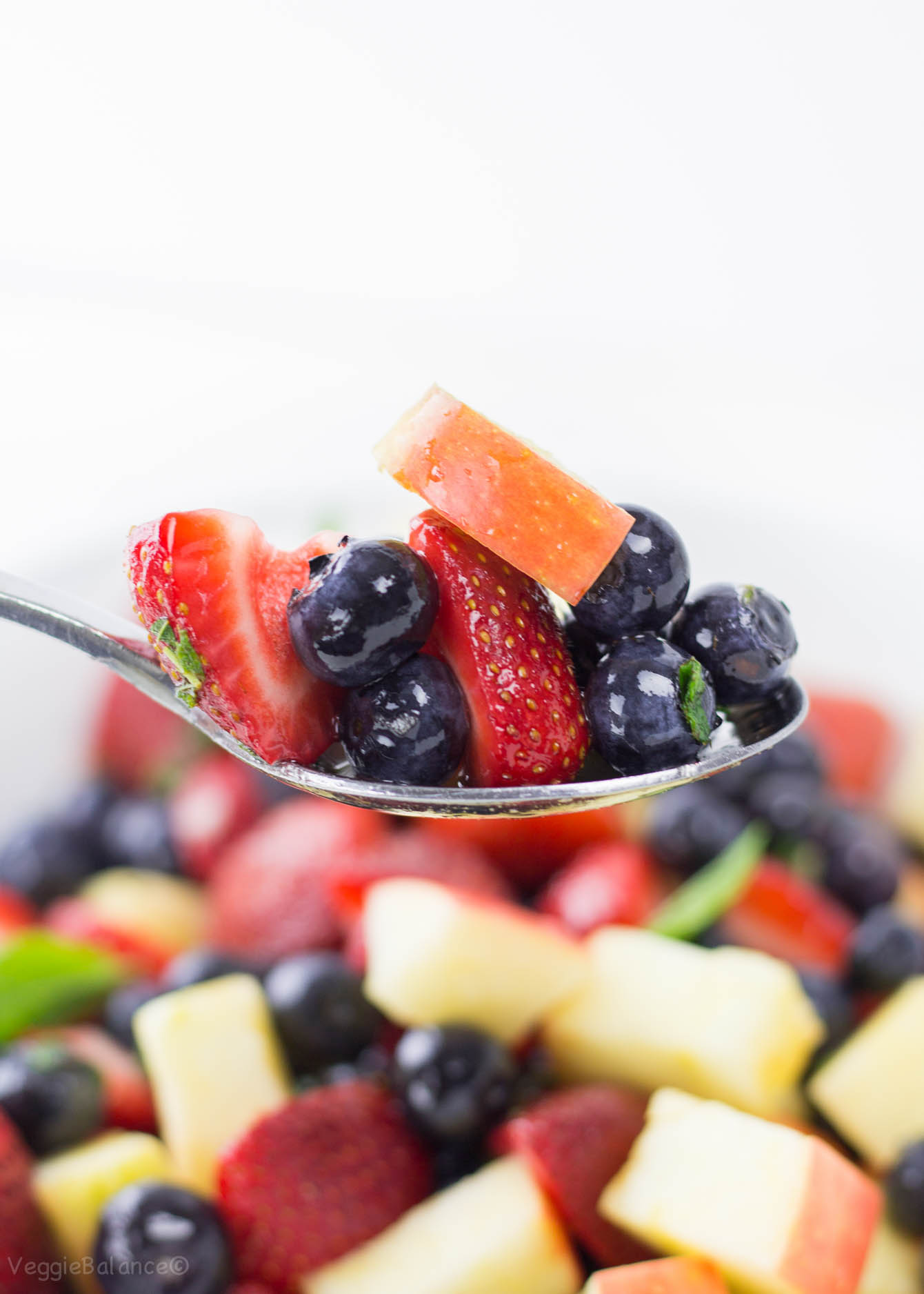 Thats it folks. The strawberries, blueberries and apples are bursting with fresh sweet flavor already we don't need a whole lot to make this salad pop.
If you are looking at keeping it even more low-sugar (and vegan) feel free to omit the honey entirely.
Such a simple fruit salad that the possibilities are endless to make this a crowd pleaser. Today though we are bringing Lemon and Mint to the mix to lively up our Red, White and Blue holiday.
Or if you are like me… just another day but I will happily eat some fruit salad… always.
For a couple fresh and delicious summer salads to make if you are really entertaining a crowd.