Sweet Potato Mexican Lasagna recipe is where comfort food meets healthy food. Sweet potato, black beans, and corn tossed in a spicy -sweet taco sauce layered between fluffy corn tortillas. It's a weeknight dinner with leftovers for lunch kind of heaven. (Gluten-Free, Dairy-Free, Vegan)
If there is one thing I've learned to accept about myself in 27 years of life, it's that Mexican food will always be my favorite.
As much as I sometimes try to take a break from it, it just keeps pulling me back.
Like really, there are only so many taco salads, nachos, tacos, chicken shredded tacos, more nachos… you get the point. There is only so much Mexican food a person should eat.// Right?
Kind of the same scenario we have with my potato problem. I just can't seem to tear myself away from my two loves: Mexican food and Potatoes.
Solution: Just accept these are the foods of life for me and keep eating.
That's what we are going to do with this mouthwatering and easy-to-make Sweet Potato Mexican Lasagna. JUST KEEP EATING IT.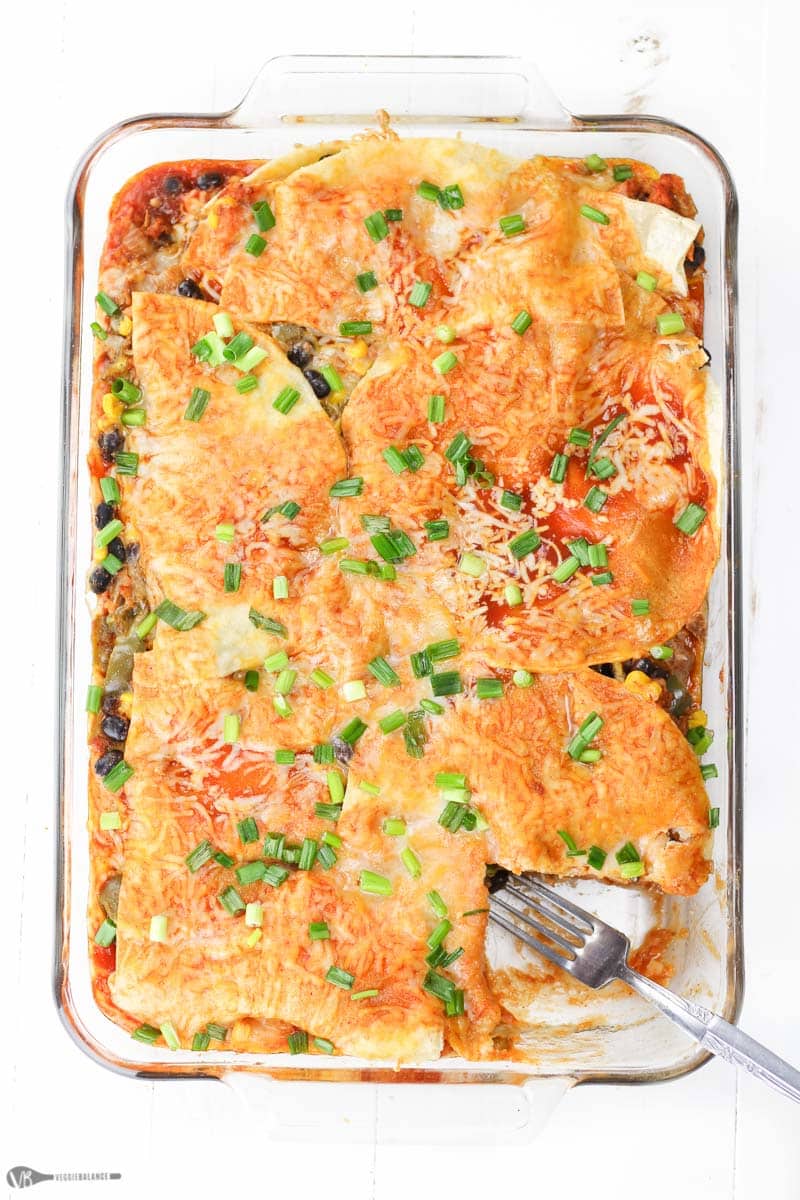 It's taken me a bit to jump onto the sweet potato in Mexican food bandwagon.
Really, it's the sweet potato craze itself that took me a bit to get into. Not a huge fan of sweet potatoes. *GASP*
But here we take my love of potatoes and love of Mexican cuisine and COMBINE THEM. This is the best day ever and happened all because I was cleaning my pantry out.
I bought a sweet potato a while back (purchased in one of my "I'm going to eat these because they are good for me" moments), and it's been sitting on the counter for too long.
Cue Moment when I just throw it in my Mexican lasagna and the Sweet Potato Mexican Lasagna dinner is born!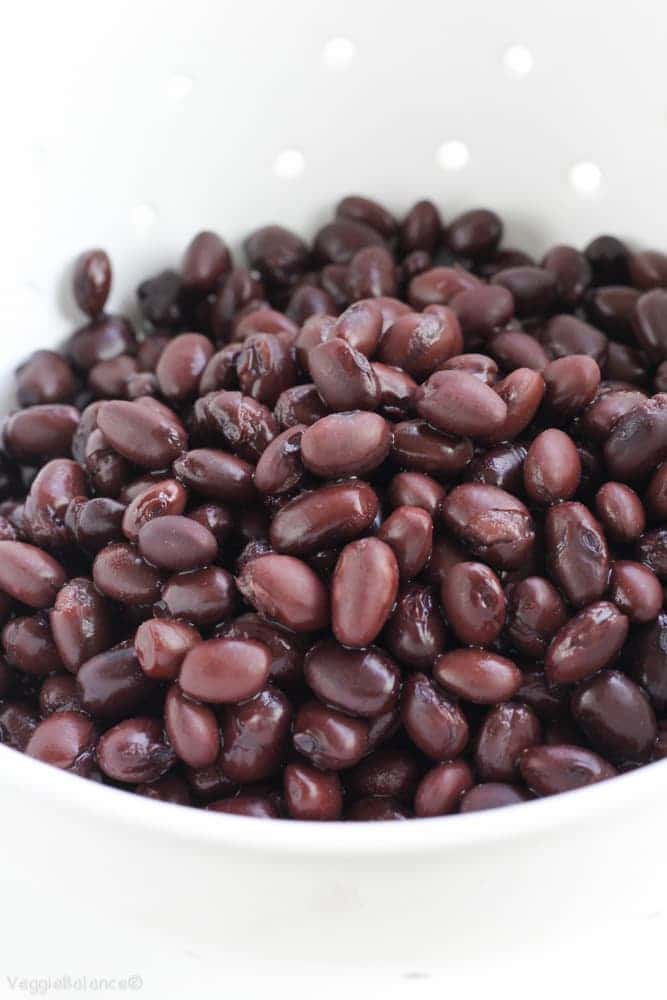 Pan roast the sweet potatoes, green pepper and onion in our homemade taco seasoning.
Mix the corn and black beans into the roasted veggies and we have ourselves a nutrient packed, healthy lasagna layer.
I used our homemade taco sauce to coat these veggies with even more flavor, and because I'm obsessed and can't get enough of the copycat sauce, I also smooth a good coating on the bottom of the pan before building the layers.
Yes, this recipe combines two of my favorite foods–Potatoes and Mexican–and is unbelievably easy to make. This Sweet Potato Mexican Lasagna is going down in history as the best weeknight dinner meal everrrr.
Or at least it'll be added to our best easy weeknight dinner list, you should too, you won't be disappointed.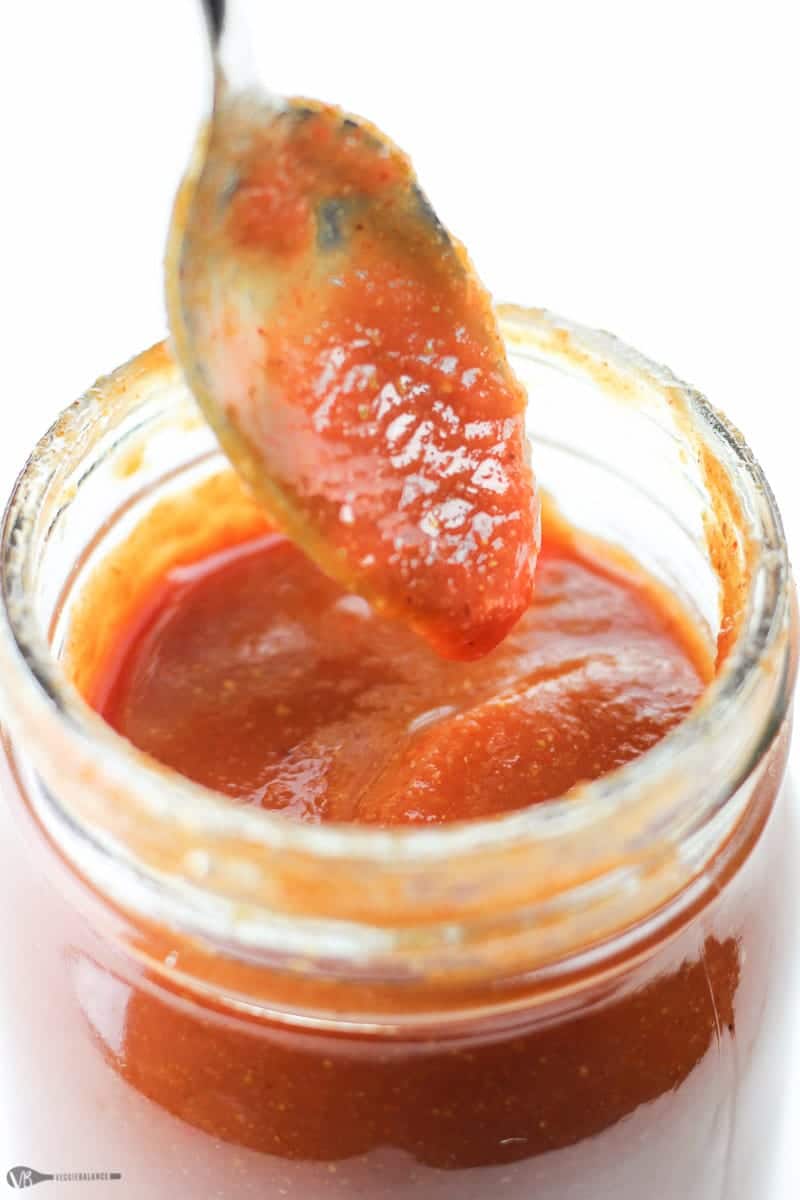 Don't believe me? Check out our Facebook Video that shows how to make it yourself.
Even if you aren't a huge sweet potato fan, this Sweet Potato Mexican Lasagna is a delicious way to pair healthy sweet potatoes with Mexican cuisine. You just gotta try it!