Cauliflower Roasted Steak is the satisfying dinner you deserve. Seasoned to perfection and topped off with a flavorful sauce, you'll love every single bite.
(Gluten-Free, Low-Carb, Plant-based, Vegan, Vegetarian )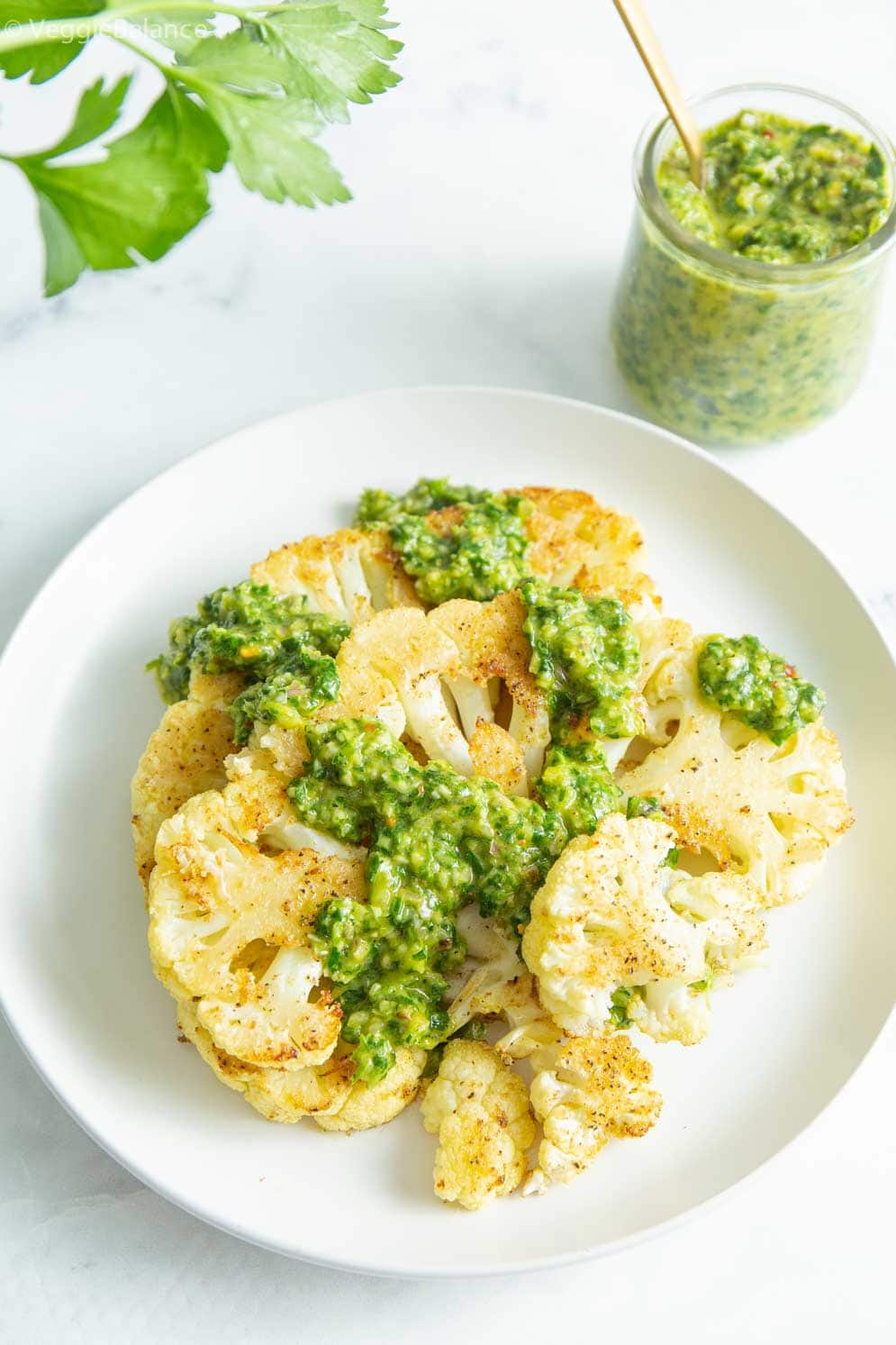 Cauliflower Roasted Steak is more than a dish of curiosity. It's OK if you start out being curious, but be prepared to fall in love with this dish.
What is a Cauliflower Roasted Steak
It's really not a secret, a cauliflower steak is when a slice (steak-ish sized) of cauliflower is roasted and seasoned like a steak. The key to this is a thick, steak-like slice for a great plant-based meal.
It's not like steak, which we have to emphasize. The description is solely to capture the size and look of this meal. But don't let that fool you, it's SUPER satisfying!
So no, this probably isn't the vegetable swap dish that will convince someone to give up meat because you can't taste the difference (these black bean burgers will though 😉), but it may convince them to enjoy more vegetables in their diet instead because of the flavor and heartiness of these Cauliflower Roasted Steaks.
If you would like another hearty, flavorful dish featuring cauliflower as the star, we recommend the creamy rich deliciousness of our Cauliflower Mushroom Risotto.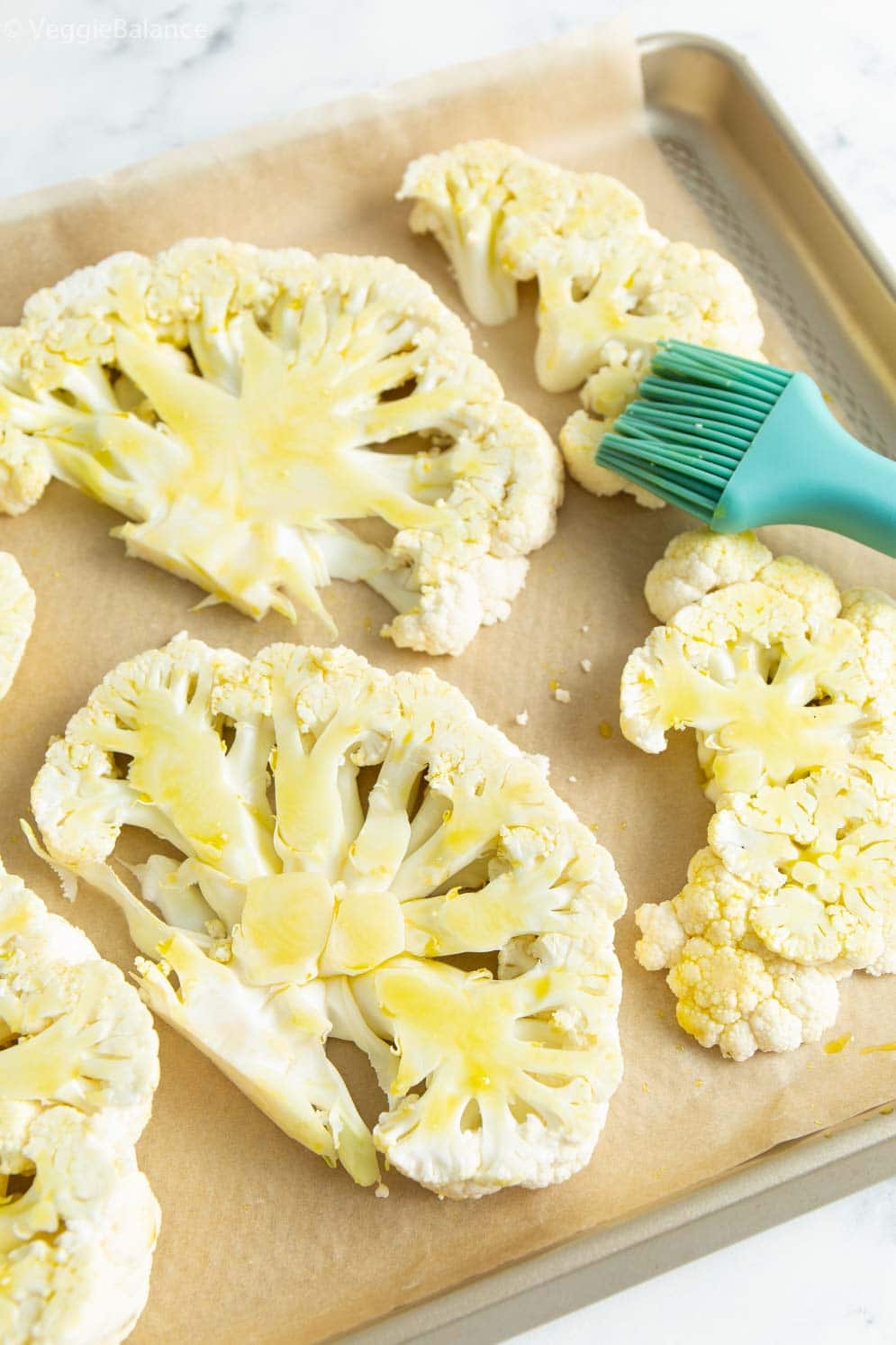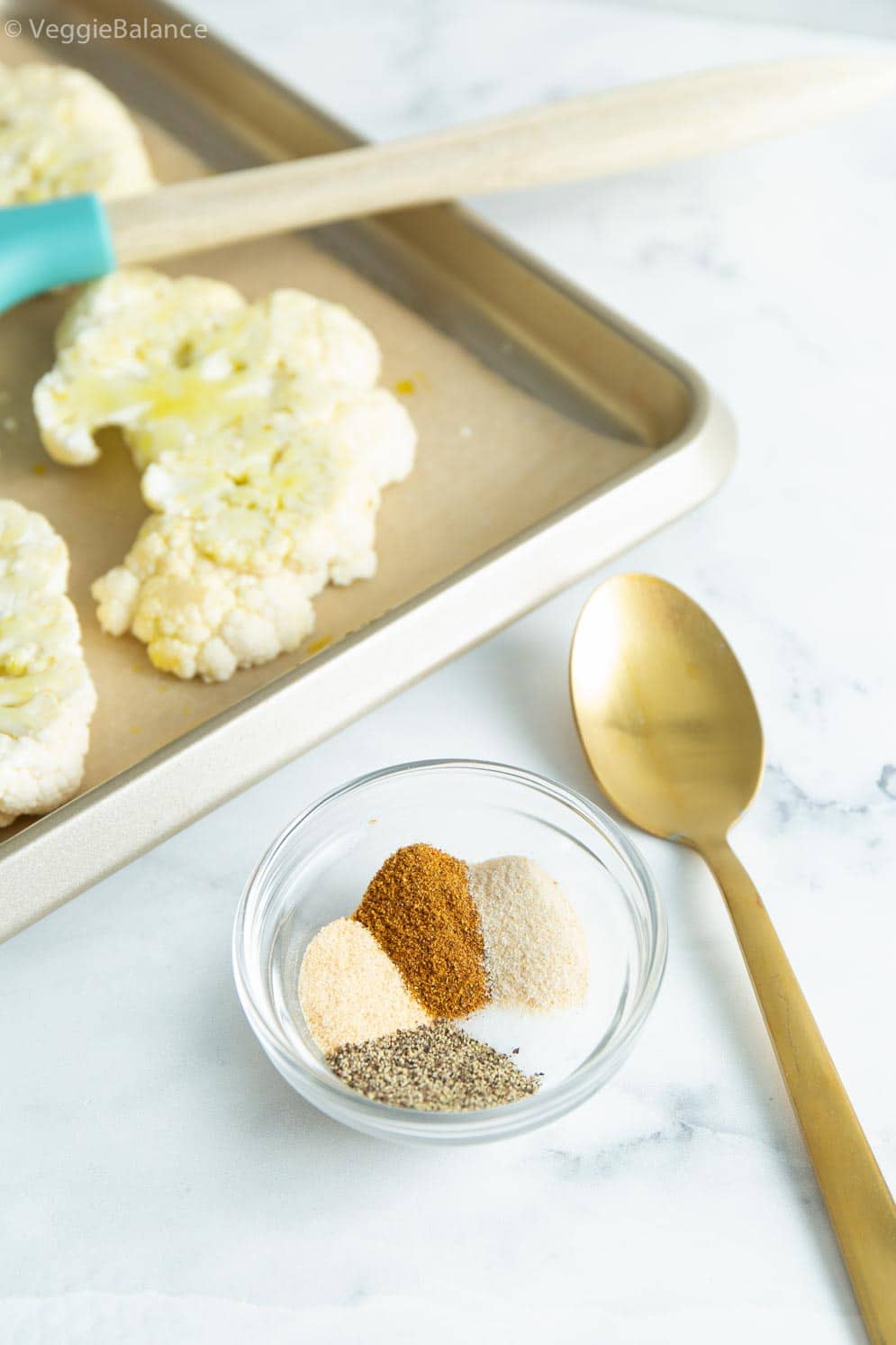 What does Cauliflower Steak taste like?
Again, no fear here. Unlike our baked buffalo cauliflower which is a solid recipe to mimic buffalo wings, this recipe tastes like cauliflower. Deliciously seasoned and crisped to golden goodness.
These Cauliflower Roasted Steaks take on all the flavors of the seasoning incredibly well. It's one of the benefits of cooking with cauliflower. It's not quite a blank slate taste wise, but it's easy to flavor and savor. Even better, our Chimichurri sauce takes it up a notch on the flavor scale.
You're left with a delicious vegetarian entree packed with flavor (and fiber) … and a happy tummy.
About reheating your cauliflower roasted steaks: They DO taste better fresh, but if you have some leftovers, there are a few options to reheat. You can place your steaks back in the oven at 350 degrees until heated through OR you can use an air fryer to reheat and recrisp your steak quickly in a few minutes.
For one of our favorite meatless meat recipes, be sure to check out these Vegetarian Meatballs.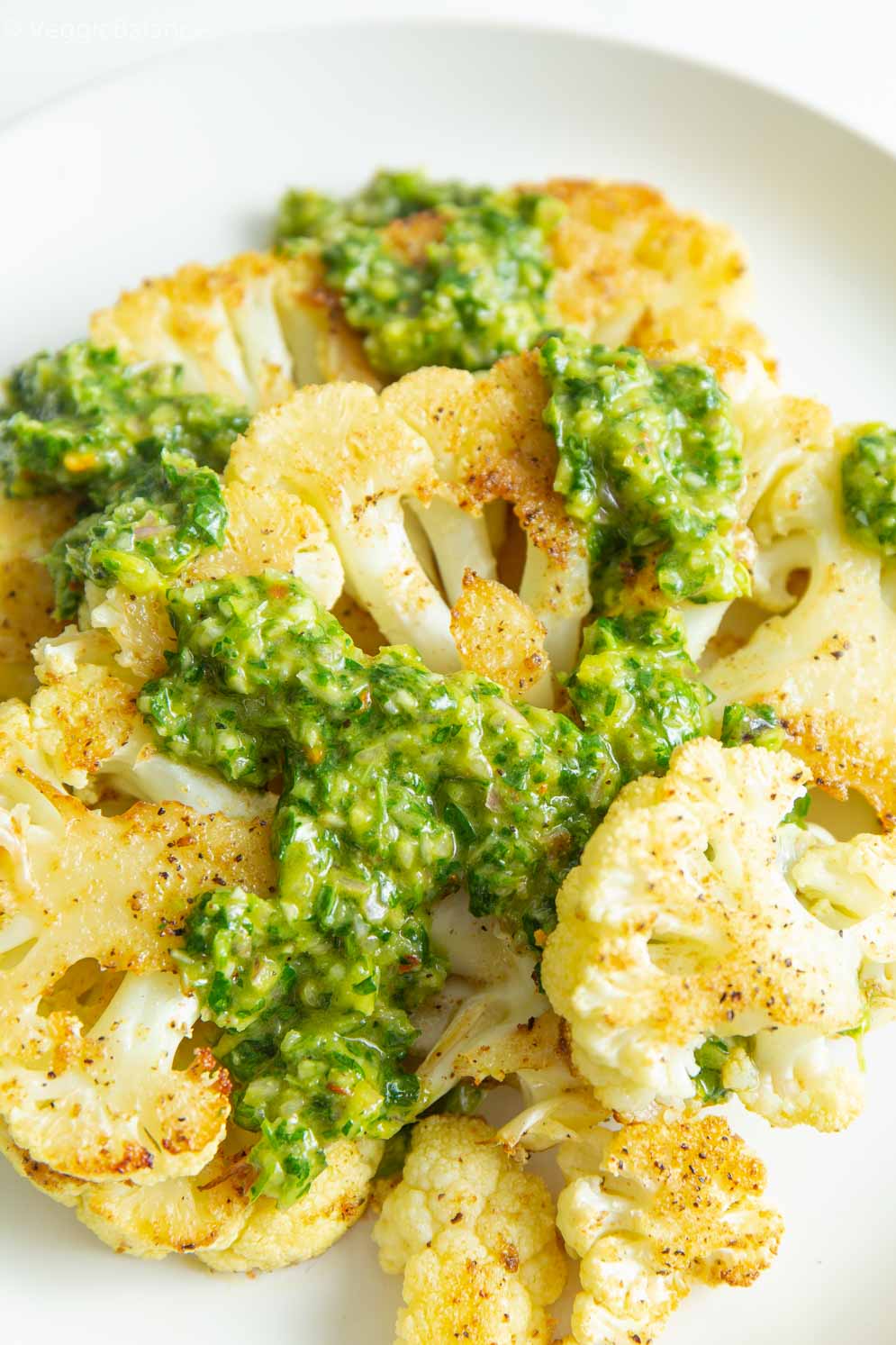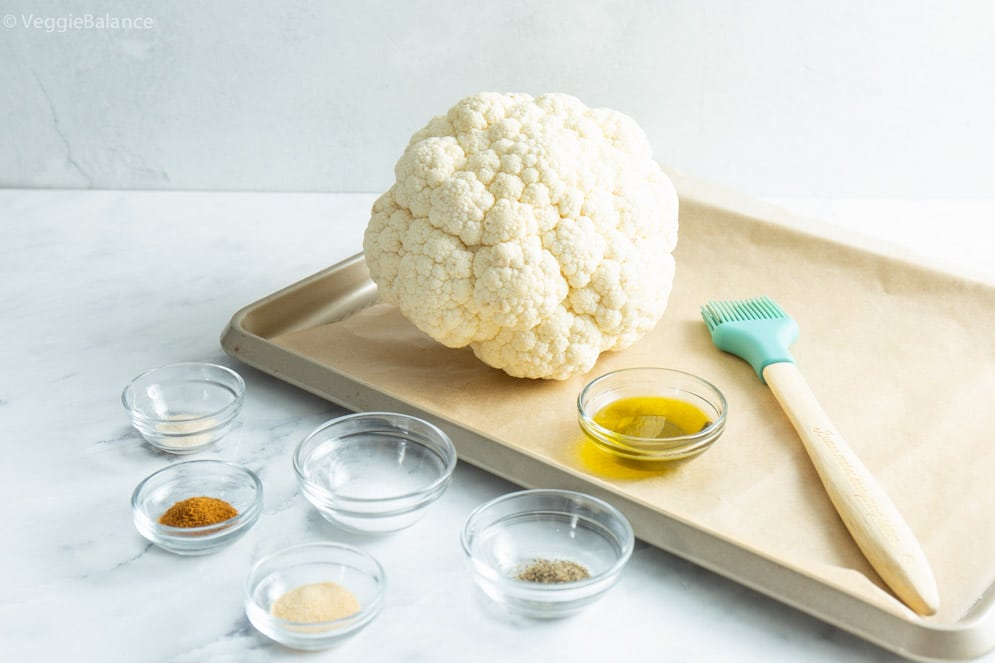 How to cut Cauliflower Steaks
There is a trick to cutting your cauliflower head into steaks. Start by cutting off the leaves and trimming the cauliflower stem (but make sure to keep the core.)
You'll want to slide through the middle of the head, creating slices that are about an inch and a half thick. This will assure that your steak doesn't fall apart while cooking.
The pieces that are left over can be used for other recipes like the buffalo recipe above or even to make cauliflower rice.
How do you know when cauliflower is cooked?
It is fairly easy to tell when cauliflower is cooked, but it most definitely is a little different from cooking other vegetables. This is because cauliflower doesn't change visually as much or in the same way as other vegetables in the cooking process.
Have no fear! You don't have to risk under cooked Cauliflower Roasted Steak. Here is the key phrase you need to keep in mind: Fork tender. That's really how easy it is to tell your cauliflower is ready to eat. This simply means that whatever you are cooking is tender enough to be easily pierced (or cut) with a fork.
This shouldn't come as much of a surprise given the phrase "stick a fork in it, it's done."  Aha. You never thought of that, did you? 😉
Roasted Cauliflower Steak sauce
While this Cauliflower Roasted Steak recipe is delicious even without sauce, we can't help but savor it with our Chimichurri sauce. It takes these steaks from savory to sensational.
Bonus, this sauce is also super simple to make!
Originating in Argentina, Chimichurri is an uncooked sauce that can be used to cook with OR as a sauce on cooked meat. As luck would have it, it goes splendidly on roasted cauliflower steaks as well.
Other recipes you might enjoy: